---
IT'S A GAS, GAS, GAS!!
MESSAGE BOARD ARCHIVES/WEEKLY ROCK POLL POST
Return to Gasx3/Poll Post Board Homepage
---
Gasland Message
---
Name: Keno
E-Mail: keno@fairpoint.net
Subject: Poll Post for the week starting Monday, Nov 2
Date: Monday, November 02, 2020
Time: 1:11:36 AM
Remote Address: 8.41.160.9
Message ID: 320747
Parent ID: 0
Thread ID: 320747

Poll Post for the week starting Monday, Nov 2
This week hopefully we can for the first time in 3 weeks have a normal week in store for our 4 weekly polls. This Poll Post will start off as usual talking about the Stones poll, which enters week 1,109 of polling, and we will take a look at this brand-new question: Rate the Rolling Stones debut cover song "Come On", from 1 (lowest) to 10 (highest)
Stones' "Come On" , The "Red sleeve", one of the 7 different color covers used for the single release
Yep, for this week's poll we start up a brand-new Stones Poll series that will rate the many different Stones songs, and yes, this series could go on forever, considering the many songs the Stones have released in the last 58 years. For this first week of asking this question, we will start off with their very first UK single release, "Come On", their 1963 Chuck Berry cover. This ditty was only released in the UK, and it became a hit, just missing the Top 20, coming in at #21. The lineup for this song was: Lead Vocals: Mick Jagger; Harmonica & Backing Vocals: Brian Jones; Rhythm Guitar: Keith Richards; Bass & Backing Vocals: Bill Wyman; and Drums: Charlie Watts. Yet, this was the very beginning for the Stones in releasing records and back then, pretty much nobody expected this new band to be around for more than 2 or 3 years at the most.
So it makes sense to start off this new series with this song, their oldest song as far as released material goes. To cast your vote in this week's poll, just click on the following link: Stones Weekly Poll.
Last week at the Stones poll we voted on this questionWhat was Jim Price's Best work heard on a Stones song?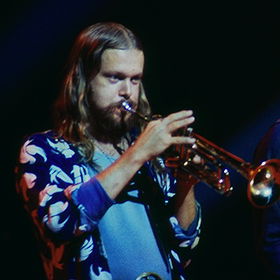 Jim Price in 1972, live on stage with the Stones
So, for our first ever poll to run for 2 weeks, well, kind of, in reality it was only voted on for one extra day, thanks to the server issues. But hey, it and the 3 other weekly polls, all became our first 8 day run polls, that took 2 weeks to finish then all up.
Jim's best song while playing with the Stones turned out to be "Rocks Off", which he played the trumpet and trombone on, taking in 11,2% of the vote. Placing was the song that lead for most of the week, until it lost the lead on Friday, "Bitch", and on which he played his trumpet on. To see where the other songs listed in this poll finished up, just click here: Stones Weekly Poll - week 1,108. Or, to see the results to this poll at the Stones List Page, just visit this page: Stones Top Picks, List Page 2, under "The Supporting Cast".
Now let's take a look at this week's Classic Rock Poll, where we enter week 749 of polling, and as usual for this one, we'll be voting in 2 different Rock Polls…. In this week's first regular Rock poll, we ask this: Uncomfortable songs: What was the hardest song for a Rock performer to play on?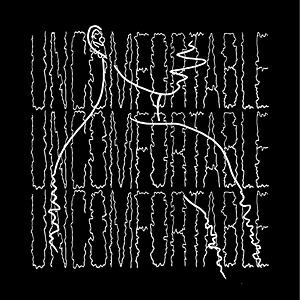 Uncomfortable songs
I looked at this poll that I put together weeks ago and realized if I didn't run it this week, well it's kinda a negative poll and I didn't feel right about running it in the next several upcoming weeks - with the holiday season approaching and with all of us trying to be cheerful after 2020 has perhaps been overall the worst year ever for most people all over the world, thanks to the world wide pandemic, and in the U.S. also thanks to the asshole in the While House who has put the entire country on edge. But it was late Saturday night when I realized I hadn't even thought about this week's polls and what I would ask, so with no clue which poll question to run this week, and while I had several half done polls made up, I didn't feel like working a whole lot on finishing any of them up after the long week I had, and this question was the only one 100% ready to go. So this one will be run, and actually it's a great question with interesting choices, as it covers the tension between bandmembers who really didn't wish to be in the studio making music with at least one of their bandmates.
The best way to look at this, is consider what you know about the tensions in the bands noted between the mentioned bandmates, and then add in what you know about the song listed. For many of these bands, it wasn't just one song that was a problem for the bandmates to record together in the studio, as for some, many songs were, so for this poll, often the last song the bandmates recorded together is what will be noted.
Now one old problem with the old poll admin will be happening this week, since this is one of those polls which has some run-on words and sentences in the choices, since the admin of the poll only allows so many words (well, text) to be used in programing the choices. So please be aware of that (not that you can't be once you see and start reading the choices and run-on words).
I have 15 songs listed for this first Rock poll for everybody to choose from, so which choice will you go with? Well you can make your choice and vote in our first Rock poll here: Classic Rock Poll, and when you get to this page, choose "Poll 1" to vote on this question.
For our second Rock poll of the week, which is our VS poll, we will vote on this: "Sloop John B' by The Beach Boys vs "The Wreck Of The Edmund Fitzgerald" by Gordon Lightfoot. Which song about a sunken boat is better?
VS
"Sloop John B" by The Beach Boys vs "The Wreck of The Edmund Fitzgerald" by Gordon Lightfoot
This verses poll is one that one day could become a regular Rock poll question if I ever decide to look up all of the boat songs out there, or songs about boats that sank, as this week's poll is looking at 2 such numbers.
"Sloop John B" by The Beach Boys, originally published as "Wreck of the John B", was an old folk song written by Richard Le Gallienne way back in 1916. It was covered by many artists in different forms including as a poem by Carl Sandburg in 1927. The 1966 folk rock adaptation by the Beach Boys was produced and arranged by Brian Wilson and was the lead single off their album Pet Sounds. It was a Top 10 U.S. hit at #3 on the Billboard Hot 100 chart, #2 in the UK, and went to #1 in several other countries. It remains one of the group's most successful recording. The Beach Boys cover was based by the cover by The Kingston Trio's 1958 recording of the tune, after Beach Boy Al Jardine suggested to the band's leader, Brian Wilson, that they should record the song. Wilson added some new lyrics to the song, including "this is the worst trip I've ever been on", and "I feel so broke up, I wanna go home".
"The Wreck of the Edmund Fitzgerald" was a true story about the sinking of the bulk carrier SS Edmund Fitzgerald on Lake Superior on November 10, 1975. The song was composed and performed by Canadian singer-songwriter Gordon Lightfoot and released in August of 1976, and it became a big hit in both the U.S., where it went all the way to #2, and in his home country it did even better, going all the way to #1 on the country's 3 main music charts. Most of what Lightfoot sang about was true, other than he got a few facts wrong, like where the ship was heading, not to Cleveland, Ohio, as sang in the song, but to Detroit, Michigan. In the end, the entire crew of 29 was lost, and it was not only the largest ship on North America's Great Lakes, but it remains to this day the largest to have ever sunk there, too.
So which song of misadventure at sea do you dig more? To vote in this week's verses poll (and to listen to both songs at the voting page before you vote), just click on this link: Classic Rock Poll, and when you get to this page, choose "Poll 2" to vote on this question.
Last week in the first Rock Poll we answered this question: What is the best Rock song about or set in the fall?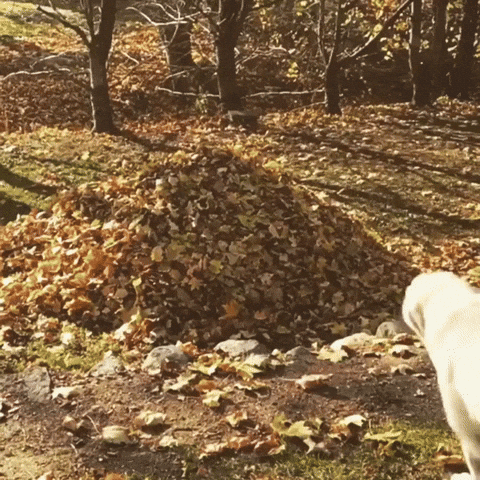 Fall
As I expected this poll was a fun one to vote in, even if it took 2 weeks to learn which song would end up first. That song was "Alice's Restaurant", by Arlo Guthrie, which won by a nice margin over second place finisher "Maggie May" by Rod Stewart.
You can click on the following link to see the poll's full and final results, here: Classic Rock Poll, week 748, Poll 1. Plus, I'll also place the poll's result at the Rock Top 10 list page 16, by clicking on this link: Rock Top 10 list, 16. However, I might either add in the other 3 season polls that we ran in the past there, or move this one to where the other 3 are located, since I believe all 4 polls should be listed together on the same list page. Only thing is, I'm not sure on what page (or pages) those other 3 poll results are on and I don't feel up to looking for then at the moment. If and when I get around to doing this, I'm make a note to where all 4 polls are listed at that time.
Last week at the VS poll, I asked and you answered this question: "You Keep Me Hangin' On" by The Supremes vs "You Keep Me Hangin' On" by Vanilla Fudge. Which cover of this song was the better take?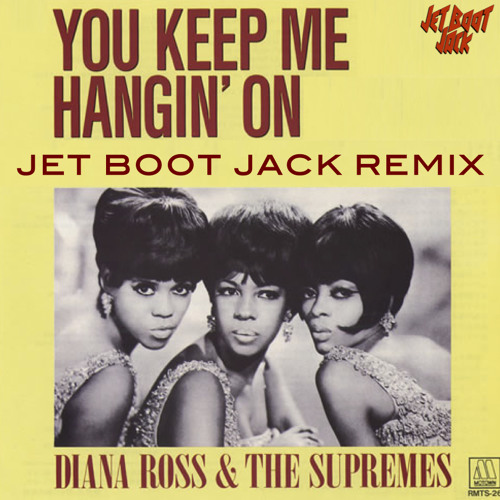 VS
The Supremes vs The Vanilla Fudge
This one was real close all week long, with the lead changing hands on several days. In the end, The Vanilla Fudge cover won out by one single vote! You can check out the final tally of votes by clicking on the following link: Classic Rock Poll, week 748, Poll 2. Or, to see the final results from this one at the VS list pages, just go here: VS Page 3, List Page 15. The results can be found at the very bottom of the page.
Let's close out this week's Poll Post looking at the Beatles Poll. This week we enter week 500 of voting and ask this: Rate the artwork for the front cover of the Beatles EP Extracts from the Album A Hard Day's Night
Extracts from the Album A Hard Day's Night EP cover
Extracts from the Album A Hard Day's Night was the Beatles seventh official EP, released on November 6, 1964 in the UK and also in France. It wasn't ever released in the U.S., as was the case with most of their EPs, since most EP by all artists aren't ever released in the States. This EP contains four tracks from the album that were not featured in the film. The front cover that we will vote on I almost skipped over since it's somewhat like the UK album cover for A Hard Day's Night, but it was different enough to vote on I felt. Unlike the EP before it, Extracts from the Film A Hard Day's Night, a different EP and which we won't vote on and skip over since it did have the same cover as A Hard Day's Night.
To rate this week's Beatle EP cover, just click on this following link: Beatles Weekly Poll.
Looking back at last week's Beatles poll, we voted on this question: Rate the artwork for the front cover of the Beatles EP Long Tall Sally
Long Tall Sally EP cover
Spot 7 took the top spot with 29.4% of the vote. To see this poll's final results, just go here: Beatles Weekly Poll – week 499Or to view the Beatles List Page that this one will show up on, click here: Beatles Album Covers List Page . I have added in a new, second standing's list to this page for greatest hits, compilation, and EPs only, now also listed on this page, so the standings are all now different, as studio albums now have their own separate list.
So that will do it for this week's Poll Post. I had a rough last week thanks to health issues and having to be back in the damn hospital again. Now I get to do more of the same this week too, well, no hospital visit again, but more doctor visits. Getting old flat out sucks, but so goes life if you're lucky enough to grow old. But this upcoming week should be a good one for those of us who live in the States, as this is the week that we kick the moron Trump out of DC and perhaps put the pig into a prison cell by early next year, where he belongs. Well no, chances are against that happening as soon as next year, but regardless, the jerk will be voted out of office, unless all of the people in the U.S. are all total morons. Well, we're not morons, but Trump sure is and Mr. Pig will lose big time come Tuesday, mark my words.
I do hope you all have a great week ahead!
Keno
Gasland Thread
---
Post Follow-up
---
Note: Do not hit the "Post Message" button more than once, even if it is taking a long time to post your message. Doing so may cause a double post to appear and could slow down your posting time even more.
Filter Threads/Archives
---
---
Download your free, customizable Burton Networks Message Board now!
© 1998 - 2020 by Keno Internet Services, except where otherwise noted. All rights reserved.