---
IT'S A GAS, GAS, GAS!!
MESSAGE BOARD ARCHIVES/WEEKLY ROCK POLL POST
Return to Gasx3/Poll Post Board Homepage
---
Gasland Message
---
Name: Keno
E-Mail: keno@fairpoint.net
Subject: Poll Post for the week starting Monday, Nov 16
Date: Monday, November 16, 2020
Time: 12:53:02 AM
Remote Address: 8.41.160.9
Message ID: 320767
Parent ID: 0
Thread ID: 320767

Poll Post for the week starting Monday, Nov 16
Welcome to this week's Poll Post, and first, there will be 5 new polls this week to vote in instead of the usual 4! I had noted last week that there would be no more VS polls run again here until late next spring, as this week we switch on over to the Video Rock polls for the late fall/winter months. But I forgot I been meaning to run a VS poll question that ended in a tie back in 2014. I don't usually run tie-breaker polls for the VS polls, since they have only 2 choices when we vote on them as it is. I figured ties didn't matter so much for a VS poll, since the tie was still an answer between 2 choices (which isn't the case when you have more than 2 choices to vote on). But this week's question is different, it's special because of the 2 choices, 2 songs that regardless if you might not even like one or both of them, they are always looked at on fan lists as the 2 best Rock songs ever made, so I really would like to see an answer to this old question that we voted on many moons ago and didn't see an answer to it back then. Plus, tie-breaker polls are always fun to run and take part in anyway, so for these reasons, we will vote in both a VS and Rock Video poll this week, giving us 5 polls to take part in this week. I'll talk more about this when it's time to talk about the Rock polls down below.
But for this week's Stones poll, which enters week 1,111 of voting, we will take a look at this new question: Rate the Rolling Stones single release "Not Fade Away", from 1 (lowest) to 10 (highest)
Stones' "Not Fade Away" , single
This tune was the Stones very first A-side single in the U.S. It was first a B side single for Buddy Holley, who wrote it, in 1957. The Stones released their cover of the song in 1964 and it was big hit in the UK, going all the way to #3 on the charts. In the U.S., where the Stones weren't known yet, it went to #48 on the Billboard chart. The Stones lineup for this song was: Mick Jagger – Lead Vocals, hand claps, and tambourine; Keith Richards – 12 String lead acoustic guitar plus the electric guitar solo; Brian Jones – Rhythm acoustic guitar, harmonica, and maracas; Bill Wyman – Bass; and Charlie Watts on the Drums. When they played the song live, Keith was the lone guitar player while Brian only blew harp while up on stage.
It's very important to remember when you go to vote, that if you visit the link to the song listed at the voting page, that we are not rating videos here, so forget what you are seeing when viewing the film clip , just rate the song only (Note: this is one of the few remaining Stones videos that we haven't rated the video for it yet, but more than likely we will in the next several weeks). So, it's time to vote on this question, just click on the following link to do so: Stones Weekly Poll.
Last week at the Stones poll we voted on this question: Rate the Rolling Stones second single release 'I Wanna Be Your Man', from 1 (lowest) to 10 (highest)
Stones' "I Wanna Be Your Man" , cover song
Yes, Stones fans like this Lennon/McCartney cover song a lot, as a 10 was the top pick with 25.7% of the votes. To see the full results from this poll, just click here: Stones Weekly Poll - week 1,110. Or, to see the results to this poll at the Stones List Page, just visit this page: Stones Top Picks, List Page 2, the result will be at the very bottom of the page under "Miscellaneous Stones' Lists". In time when we have more results from this question, this series should have its own slot listed on the page, but for now this is where the results will be placed for the time being. Also note that because of a new problem to come up with the domain's old broken server, these results won't be added to this list page, nor will any of the links on the domain be updated - until sometime tomorrow, as it's impossible for me to work on and set new links on any pages at the moment. But the issue will be fixed by sometime Monday morning - or by early afternoon at the latest. That is, other than the links shown on the Poll Menu, as that page sets everything up automatically and isn't affected by the server problem.
All right, now let's take a look at this week's Classic Rock Poll, where we enter week 751 of polling, and for this one, we'll vote in 3 different Rock Polls…. In this week's first regular Rock poll, we ask this: What was the best played viola in a rock song?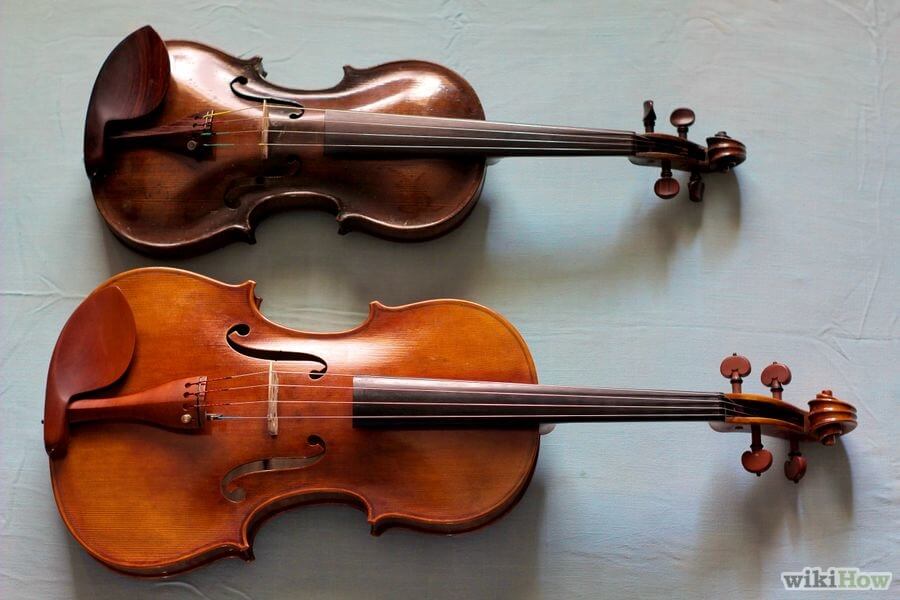 A violin on top, with the viola below it. We are voting on violas only this week!
While this Rock poll question is pretty much the longest running poll question series on the domain, I never seem to run it for that long a time when I do ask it. But gosh, we have voted on the best of so many different instruments here in the past, and all of the most common instruments heard in Rock music were voted on light years ago. So this week we'll look at an instrument that we don't think too much about in Rock music and which has only been used a bit in the past on Rock records as it is. While violins are also not used a lot in Rock, compared to a viola, they been used a lot. But first, a viola and a violin are not the same 2 instruments, even if some get the 2 confused. The most obvious difference between the violin and viola is their size. The viola is larger than the violin. The violin's body is usually about 14 inches (35 centimeters) long, while the viola is around 18 inches (45 centimeters) long. The viola also has thicker strings and weights more than a violin (both those facts make the viola a bit harder to play and hold. Plus remember, as it is, the violin is considered the overall hardest instrument to play, too, but only if you don't count the viola). Another difference between the two is that a viola is tuned to be one-fifth lower than the violin. The violin strings are G, D, A, and E, with E is highest, and G is lowest. The viola strings are C, G, D, and A, with A is highest, and C is lowest. There are a few other differences (like more musicians in all kinds of music play the violin than the viola), but these differences noted are the most important to know.
So, we have just 19 choices listed for this poll question, and perhaps you might be a bit surprised on some Rock bands that never used a viola in their music, like the Electric Light Orchestra (who instead always used several violins and cellos on their songs, but never any violas). I also was told here years ago (well, when this place was called Gasland) that there's a viola heard on the Stones classic "Moonlight Mile", but that classic isn't listed this week, since I can't to this day find any proof there is one heard on the song, as only a cello is listed not only in the band's studio logs, but everywhere else where I have looked. There were a few other songs like that one where I was sure a viola was used on, but no, usually it turned out to be a fiddle or violin used most of the time (BTW, and for the hell of it, fiddles and violins are also 2 different instruments, but they are very close to each other, too). Now a band like Kansas might be another group who you would think would show up more than once on this week's list, but Robby Steinhardt, who played viola on one of their hit songs (and it's listed in the poll), played the violin on all of the other hits the band had, and while he did play viola on at least 3 other deep track songs for Kansas, those songs the average rock fan won't know, so I didn't list them - along with several other such tracks from other rock groups, since when I do list such deep cut songs, such numbers never receive any votes as it is, so these days I just lists songs fans know best.
So it's time to vote on this week's 19 choices You can make your pick and vote in our first Rock poll, here: Classic Rock Poll, and when you get to this page, choose "Poll 1" to vote on this question.
For our second Rock poll for this week, we'll look at the VS poll, and ask this: Tie-breaker poll: "Free Bird" by Lynyrd Skynyrd vs "Stairway to Heaven" by Led Zeppelin. Which song is best?
VS
"Free Bird" vs "Stairway to Heaven" Which song is better?
So we first asked this verses poll question back in '14 - and yes, the poll ended in a tie. The 2 songs are usually, 95% of the time I would guess, the 2 songs that get listed by radio stations and other places as the 2 greatest rock songs ever made or most loved by all rock fans. This has been going on for decades now (well, I don't listen to too much radio these days, so perhaps today, maybe not anymore? But my guess is they still are). I could also note that for guitar riffs, only "Free Bird" makes the top list for best lead guitar solo, which was interesting since the guitarist who played the part and wrote the riff for Lynyrd Skynyrd, Allen Collins, wasn't usually the band's main lead guitar player. Anyway, it only figured we had a tie when I asked this one back in '14, but since we have more than double the voters here these days than back 6 years ago, I feel a tiebreaker poll should be run - whereas back in '14 I didn't feel that way at all.
Now note, I didn't see any need to add music links to this poll at the poll voting page, since everybody and their dog knowns these 2 songs well enough and can't get either song out of their heads - even if they rather not hear them any longer, since they are played too often on the radio. But if you really feel you still need to hear them first before you vote, then just visit YouTube, where they got several thousand links to these 2 songs up at. I'm also not gonna go into detail about these songs either, since again, you already know enough about them. I'll just note that "Stairway to Heaven" came out first, in 1971, and was written by Jimmy Page (lyrics & music) and Robert Plant (lyrics), while "Free Bird" was written by Allen Collins (music and opening lyrics) and Ronnie Van Zant (rest of the lyrics), and it came out 2 years after the Zep song in '73. Now when you vote, remember, we are not rating videos here, just go with the ditty that you dig more. To vote, just click on this link: Classic Rock Poll, and when you get to this page, choose "Poll 2" to vote on this question.
For our third Rock poll of the week, we have the return of the video poll, and the question will ask this: Rate Elvis Presley's Video for "Jailhouse Rock" (Click here for the video)
"Jailhouse Rock" The video comes from the movie of the same name.
Last week in the VS poll, this song was a part of that poll and I realized how much I liked this video, which of course we didn't rate last week. Made in the 1957 for the movie of the same name, 2 decades before there were any rock videos being made, yet this one seemed to be made just like a modern-day rock video from the mid-1980s for MTV. In fact, the first true rock videos were based on this clip.
To my surprise, while Elvis has shown up often in our Rock polls, we haven't rated any videos here by the King yet. Jerry Leiber and Mike Stoller wrote this song for Elvis and the movie that he was staring in at the time, and the song was released on September 24, 1957 and went all the way to the top of the charts in the U.S. (staying at #1 on the US pop charts for seven weeks, and also #1 on the country and R&B charts, too) and it hit the Top 10 in several other countries (it went to #1 in the UK a second time in 2004, when it was re-released there, becoming the oldest recording ever to top the UK charts, and only the third song in the UK to ever hit #1 twice, years apart).
Some of the characters named in the song were real people, but not all of them were criminals. Shifty Henry comes to mind, as he was a well-known musician who played many different instruments (including yes, the viola) but was best known for his double bass playing and for his writing many Blues songs. But no, he was not a criminal and died at a young age just weeks after this song became a hit. It was also interesting that a 1950s song that included gay refences (it's about prison life after all), got past the censors and wasn't banned from the radio airways in such a conservative time (chances are the censors didn't have a clue what was being sung about the "cutest jailbird" in the lyrics).
Even with this coming from a major hit movie, I can't find as much about this video that came from the movie, as I'd like to. It was directed by Richard Thorpe, while the dance sequence was choreographed by Presley himself. The movie itself had a different title when it was being filmed, but with this song and its part in the movie becoming such a hit, the movie ended up being renamed after the song. Judy Tyler, who co-starred in the film with Elvis, and who was a close friend of his, was killed a week after the movie was made in an automobile accident, and Elvis refused to ever watch the film after it was released because of her death, including his not attending the film's premiere. Too bad, as he never got to see the dance part that he performed and what many felt was his all-time best ever performance made in any of his 30 plus movies.
To vote in the return of the Rock video polls and this week's third Rock poll, just click on this link: Classic Rock Poll, and when you get to this page, choose "Poll 3" to vote on this question. But again, that's when I can add all of this new info into the page. Until then, you can click on either of the two links you see on the page, as both of them will just lead to the poll menu (where you can vote) until the links are updated.
Last week in the first Rock Poll we answered this question: Of the four favorite songs chosen as the best for each season, which one is the best of the bunch?
The four seasons, all in one
Closing voting in this one, with the Fall choice, "Alice's Restaurant", by Arlo Guthrie, beating out the Beatles song about the spring time by just 2 votes. You can click on the following link to see the poll's full and final results, here: Classic Rock Poll, week 750, Poll 1. Plus, I'll also place the poll's result at the Rock Top 10 list page 16 (again, as soon as I can), you can check out this page by clicking on this link: Rock Top 10 list, 16.
Last week at the VS poll, I asked and you answered this question: Elvis Presley's cover of "Hound Dog" vs his cover of "Jailhouse Rock". Which of these two Jerry Leiber and Mike Stoller written songs did he cover better?
VS
"Hound Dog" vs "Jailhouse Rock" both covers by The King
"Hound Dog" won this one in close voting. You can check out the final tally of votes by clicking on the following link: Classic Rock Poll, week 750, Poll 2. Or, to see the final results from this one at the VS list pages, just go here: VS Page 3, List Page 15. The results can be found at the very bottom of the page.
We close out this Poll Post by looking at the Beatles Poll. This week we'll answer this: Rate the artwork for the front cover of the Beatles EP The Beatles' Million Sellers
The Beatles' Million Sellers EP cover
This EP was released on December 6, 1965. The EP was only issued in mono and only released in the UK and New Zealand. It consists of 4 songs that had sold over 1 million copies each as singles at the time, and as of 2007, the combined worldwide sales of all four singles stood at over 27 million copies. The EP itself was number 1 for 6 weeks in the UK (but not for 6 consecutive weeks) in early 1966. The front cover picture was shot by photograph by Robert Whitaker. Something you might not know about this photo, was that 3 of the Beatles in the photo were holding on to very large springs, which they seemed to be playing with. This led to an old toy – called "slinkly", and which was first made in the 1940s - and that was totally forgotten for 20 years, to reemerge and become a very popular toy again, becoming a top seller in the following months. So many kids, from preteens to teens, had a slinkly (including myself), and it became super popular thanks to this picture, with over 250 million Slinkys sold afterwards in the next several years. The Beatles seemed to do that a lot with several different things that were not even related to music, back in the 1960s.
To vote in this week's Beatle EP cover poll (as we're finishing up rating the EP covers), just click on this following link: Beatles Weekly Poll.
Looking back at last week's Beatles poll, we voted on this question: Rate the artwork for the front cover of the Beatles EP Beatles for Sale No. 2
Beatles for Sale No. 2 EP cover
A top rating for this one was an 8, with 20.6% of the vote. To see this poll's final results, just go here: Beatles Weekly Poll – week 500Or to view the Beatles List Page that this one will show up on, click here: Beatles Album Covers List Page . For one last time, I'll add in a repeat from the last 2 weeks, that is this note: I have added in a new, second standing's list to this page for greatest hits, compilation, and EPs only, now also listed on this page, so the standings are all now different, as studio albums now have their own separate list from the studio LPs.
So that will do it for this week's Poll Post. I've had to track a low-life poll spammer who showed up last week and whom is spamming all of the weekly polls. Not a single one of this fool's votes have counted, but still it gets old after 20 plus years of these morons wasting their time trying to spam an internet polling system. Such people lose every single time they spam, yet they keep trying anyway. Can you imagine how empty their lives must be to even do this? But so goes life, and each time they vote, it's as if they are voting for my domain, since their uncounted spam vote does count in one way, as a vote for my domain, as the more hits that show up (and each vote counts as a hit, or "pageview" for the domain), the more money Google ads pays me for ad placement. Thing is, because I'm retired and on Social Security (SS) these days, and such income is considered "independent contractor" made money that the U.S. government penalizes old people over. Talk about fucking the working elderly if they are self-employed! While I don't have the exact figures, the following is real close for 2020 (as it changes each year)… BUT, if a person makes up to something like $32,000 a year working for an employer, their SS isn't touched, not a dime. BUT, if a senior like myself makes over - only $7,000 a year as an independent contractor (in other words, they are self-employed, like myself) we will lose part of our SS income and have to keep playing income taxes each year while those employed making up to $32,000 don't have to pay nothing or report anything to the IRS. What an insane and unfair rule! So these days I give 100% of any money I make away to my grandson, who needs it more than I do anyway. Some day he'll take over working this domain from me (today he has in name only), so this easy money is an early incentive to him to help me run the joint in the future and take it over one day.
I do hope all of you have a great week ahead, and thanks for voting in our polls!
Keno
Gasland Thread
---
Post Follow-up
---
Note: Do not hit the "Post Message" button more than once, even if it is taking a long time to post your message. Doing so may cause a double post to appear and could slow down your posting time even more.
Filter Threads/Archives
---
---
Download your free, customizable Burton Networks Message Board now!
© 1998 - 2020 by Keno Internet Services, except where otherwise noted. All rights reserved.