---
IT'S A GAS, GAS, GAS!!
MESSAGE BOARD ARCHIVES/WEEKLY ROCK POLL POST
Return to Gasx3/Poll Post Board Homepage
---
Gasland Message
---
Name: Keno
E-Mail:
Subject: RIP Jimmy Whitley (aka Cardinal Fang)
Date: Wednesday, March 20, 2013
Time: 5:26:21 PM
Remote Address: 66.243.197.200
Message ID: 275663
Parent ID: 0
Thread ID: 275663

RIP Jimmy Whitley (aka Cardinal Fang)
With a heavy heart I have to inform my fellow Gassers of the passing of one of us, Jimmy Whitley, who posted under his real name for a few years, and then later on as "Cardinal Fang".
Jimmy was one of the best known Gassers back in the early days and was one of our main posters, a guy who knew the Stones as well as anybody and was a person who could answer almost any Stones related question that came his way.
Jimmy, along with Gasser Syph (who broke the news to me..... the two met here at the board and became best friends in the real world) wrote and performed the now well known (on-line anyway) Gasland song "Whores Of Babylon". A song about us Gassers all being friends. It hurts to hear the song now that he's gone.
Jimmy hadn't posted here in a few years, but I know he still felt he was a Gasser regardless, and he was. I also know a few of you met him.... Below is a photo of him with Maxmeister at one of those C-10 get-togethers, this one was held in San Francisco a few years ago. Jimmy is on the left. RIP buddy, we will all miss you!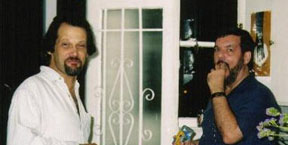 Gasland Thread
---
Post Follow-up
---
Note: Do not hit the "Post Message" button more than once, even if it is taking a long time to post your message. Doing so may cause a double post to appear and could slow down your posting time even more.
Filter Threads/Archives
---
---
Download your free, customizable Burton Networks Message Board now!
© 1998 - 2022 by Keno Internet Services, except where otherwise noted. All rights reserved.