---
IT'S A GAS, GAS, GAS!!
MESSAGE BOARD ARCHIVES/WEEKLY ROCK POLL POST
Return to Gasx3/Poll Post Board Homepage
---
Gasland Message
---
Name: Keno
E-Mail: keno@fairpoint.net
Subject: Poll Post for the week starting Monday, Nov 4
Date: Monday, November 04, 2019
Time: 12:16:15 AM
Remote Address: 97.107.69.29
Message ID: 320371
Parent ID: 0
Thread ID: 320371

Poll Post for the week starting Monday, Nov 4
Its Poll Post time for our 4 weekly polls, and we'll start off with the Stones poll, where we enter week 1,058 of the poll, and here's the brand new question: "Gunface" vs "Hand of Fate". Which Stones' Outlaw Rock songs about handgun violence is better?
vs
"Gunface" and "Hand of Fate"
"Hand of Fate" came out first, released way back in 1976 on Black & Blue, one of the best songs on an otherwise poor album - their first true poor LP ever released (but still a full light year better than DW, and better than another 3 other Stones LPs that were still to come at the time). But 'HofF' was a great little tune in itself, and has that true outlaw feel to it thanks to the lyrics - and how the guitars are played with that western style guitar riff sound being very clear indeed. I'm not sure if that's Keith Richards playing there or guest guitarist Wayne Perkins (more likely its Perkins), who for sure played most of the lead guitar parts on this song. Regardless, it sounds great in there, indeed!
"Gunface" is for sure one of those rare underrated Stones song, released on Bridges to Babylon in 1997. Yet it's a true Stones song if there ever was one! Mick wrote the song by himself, and it's about seeking revenge on his cheating girlfriend, and it's looked at by some as yet another Stones misogynistic song. Well the song is about a guy wanting to kill his gal - who he himself taught to be a nasty person, and he taught her how to lie and how to cheat and, well, he taught her everything bad that there is to know. So she is now gonna pay for being the way he taught her to be – by paying for it with her life. Some fans don't like this song, mainly because of the lyrics, yet still, the lyrics are so much the Stones kinda of music!
BTW, as far as using the term "Outlaw Rock" here in this question, yes I know that's usually used only for the subgenre of Country called "Outlaw Country" music. But heck, why?! There are outlaw rock songs (usually associated with Southern Rock/Country Rock). Outlaw Country actually was called that thanks to Country stars in the early '70s, like Willie Nelson, who were taking an outlaw and Rock n Roll approach to their country music and their resulting songs started being call "Outlaw Country" when they did this. So when Rockers play Rock songs that have an Outlaw Country feel to them - but are still Rock songs, why not call it "Outlaw Rock"? Well I do anyway… and these 2 Stones songs are just that, Outlaw Rock songs and yes, there are other such songs... so perhaps a Rock poll on this question will follow some day!
There will be links to YouTube videos on the voting page so you can hear the songs before you vote, but remember, we are not rating the videos, nor are we comparing them, but we are comparing the 2 songs, for sure. To vote in this poll, just click here: Stones Weekly Poll.
Looking back at the results for our Stones poll last week, the question was: 'I Am Waiting' vs 'Lady Jane'. On which of these 2 songs did Brian Jones play dulcimer better on?
Brian and his Dulcimer
The song I voted for came in second, or another way to look at it, it came in last. Don't get me wrong, Brian and his dulcimer playing is tops on both songs, but the unusual slide he plays on dulcimer for "Lady Jane", while a new sound for all to hear in those days, was indeed cool. But to my ears the normal way he plays the dulcimer on "I Am Waiting", is more clean and I just like it better (and I am a giant fan of slide playing, too).
To see the final poll numbers from this question, just click here: Stones Weekly Poll - week 1,057. You can also see the top pick listed on the Stones Fans Top Pick Lists - Page 2 under "Individual Stones" and then just look there for Brian Jones' listing
Okay, now let's take a look at this week's Classic Rock Poll, where we enter week 698, and as usual we will vote in 2 polls in this one week for this poll. At the first Rock poll question, we will ask: What is the best rock/pop song that has food in its title (Part 2 of 4)
This week we vote in Part 2 of a 4 part poll series. You can read last week's post on what this poll is about, but in a nutshell, as long as a song as a food item noted in the title, it gets listed in this poll - even if the songs has nothing to do about food. Plus since I can't recall if I made this clear enough last week or not, we are not voting on the titles here, only on the songs, whichever one you like best, and not whatever title you like best. I guess if you dislike every song listed, then in that case – sure - vote for the best title, but out of 34 songs listed this week, I bet you like at least several of them, and at least 2 or 3 at the least. If not, you ain't a rock fan, that's for sure!
So which song with food in the title this week do you find most delicious? To cast your vote, just click there: Classic Rock Poll, and when you get to this page, choose "Poll 1" to vote on this question.
This week for the video polls, we ask: Rate The Honeydrippers official music video of "Sea Of Love"
Robert Plant, standing sideways, while looking into the camera
Here's a video question that should spark some interest, if not for the vote (which is still doing very well - even after Gasland's closure almost a year ago) – but just maybe for board comments (which is and always was lacking), and sadly last week was the first time ever, in 1,058 weeks, that not one single person left a comment on it. I guess maybe I need to be giving out more passwords, as the few chosen 16 former Gassers who do have one, are maybe getting tired being the only ones commenting… Note: I have given out 3 more passes in the last week and anybody who wants a pass can contact me via email, although no, I haven't opened up the board for all to post yet, either. So yes, it's my own fault, but all former Gassers are welcome to comment and have a password to post with.
Now this video has - since its release, sparked a lot of talk, since nobody seems to get where it's all heading and what's the meaning of a few things in it. First, as far as the song being sung, IMO it's totally excellent, even if Robert Plant himself hated it. He didn't want it released as a single and didn't even wish to record it, since it was way too slow for his style back then, as he didn't wish to be looked at as a crooner as far as his still new solo artist status went (and while The Honeydrippers aren't officially a solo thing for him – it really was). Yet I bet today he doesn't feel this way anymore, as he has released many such songs now, but back in 1984 when this came out, singing so slow wasn't his style. This song was written and sung by Phil Phillips, and was a number 1 hit - and his only hit, and he was one of those poor dudes of the 1950s who was ripped off by his record company - on this his only song, as he only ended up making $6,800 in total payments for the song; with no loyalties for writing it, either. Yet it was a number 1 hit gold record! That did happen to a few in the '50s. Phillips never had an album released, as the only one he recorded went unreleased because of his refusal to abide to a terrible record deal what he had made after recording the hit song. So he went on to become a radio deejay for many years and is still alive today at 93.
But, let's talk about the Robert Plant/Honeydrippers cover version and its video... Just what is up with this video anyway? I looked around but couldn't find anywhere online as to whom directed this one (does anyone know?), but it shows 2 different things happening at the same time. The first part does make sense and is cool enough, and goes by what the song is about. Looking back in time and showing 2 young kids who are just falling in love with each other, as the boy courts the girl (as the lyrics go, those were the days I knew you were my friend). So nothing unusual here, but while I read somewhere that the young gal in the video is actually Plant's daughter, well I'm not sure about that, can't confirm it anyway, but the gal acting here looks like she was the right age to maybe be Plant's kid.
But it's the other part of the video that got everybody talking - the part that Plant's in. He's standing on a deck along with a Frank Zappa look-a-like - wearing a tong bathing suit and half playing the xylophone - or is it a vibraphone, or a marimba (not sure, as I didn't look close enough, yet there's no such kind of instrument played in the song itself, so why is it there?). But many have asked - and for sure today are still asking, just why - or better yet, who is this half naked man (okay, 90% naked man) in this shot standing next to Plant while (not) playing the xylophone? Plus there's many other questions, like why is there also a little boy sitting on a chair next to Plant on the edge of the deck? Or, what's up with Plant – he's standing sideways - behind laundry on a hanger - and why is laundry hanging there in the first place - on a deck over the water of all places? Perhaps it's the Zappa's looking guy's clothes? I guess that with the 3 of them - together on this deck, that might explain why the man and boy are in bathing suits, but Plant is already dressed in a tee and shorts here, so again, what are the clothes hanging next to him there for? Also, why are they (both the laundry and this trio) hanging on a deck over the water in first place? Perhaps for the two and a half men anyway, it's because of the song's title? But "sea of love" isn't about that kind of sea, either. Then finally, as some have asked, what's up with that terrible mullet haircut Plant has? Hey, it was '84, what else can I say, but the worst haircuts in the history of Rock music had to be seen and had in the 1980s.
But it is funny reading on several sites on just how many fans insist that the Frank Zappa look-a-like - is in fact, Zappa himself! That is something I never heard in the past, not until I read about it when trying to find info on this video. Yes the guy was talked about, but no, nobody ever said it was Zappa years ago, yet today its big talk. But no, it isn't Mr. Zappa, but I believe it's the same guy shown in 2 other parts of this video, on a horse driven chart very early on to start the video, and he's also shown with a young gal with a guitar, with the 2 riding a horse in the ocean in deep water, at least... I think that's him there, right? But who is he and why is he in this video, and why... oh please… make me stop asking, there really is too many questions about the guy in a tong!... which I have no answers for.
One last interesting thing about this song, is that Plant's former Led Zep bandmate, Jimmy Page, plays the guitar on this number - but no, he isn't in the video, nor does he play a xylophone, or a vibraphone for that matter!... As usual, there will be a link at the voting page so you can see this video before you vote. So to do that and vote in this week's second Rock poll, just click there: Classic Rock Poll, and when you get to this page, choose "Poll 2" to vote on this question.
Now let's look back at last week's 2 Rock polls, starting with the first poll question that asked: What is the best rock/pop song that has food in its title (Part 1 of 4)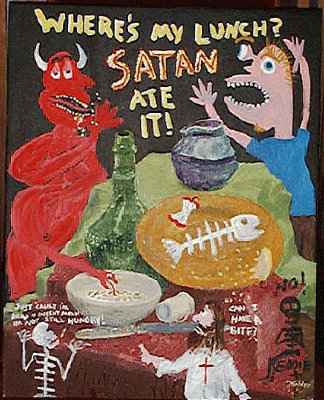 The first part of this 4 week question got started last week and 8 songs qualified for Part 4 (the final round, was looking for the Top 7, but there was a tie, so we got 8, they are: "Blueberry Hill" by Fats Domino (5.8%), "Green Onions" by Booker T. & the MG's (5.8%), "Custard Pie" by Led Zeppelin (5.7%), " Mean Mr. Mustard" by The Beatles (5.7%), "My Boy Lollipop" by Millie Small (5.6%), "No Sugar Tonight" by The Guess Who (5.6%), "Sugar Magnolia" by The Grateful Dead (5.6%), and "Sugar Mountain" by Neil Young (at 5.6% of the vote).
To see the rest of the results from this poll, just go here: Classic Rock Poll 1, week 697.
Looking back at last week's Video Rock poll, the question asked: Rate the Harry Nilsson official music video of "Coconut"
Well. The top pick in close voting wasn't a 10 last week, but a 9, which was what I gave this video myself. While the song itself is a pure 10, something just seems to be missing from this vid and I see most of you also can see it can't be a perfect 10 either, for whatever reason.
To see the full, final results from this poll, just go here: Classic Rock Poll 1, week 698. Or you can check out where the video ended up in the video poll standings by clicking here: Top Ten Lists, Page, 16, the results will be found up on top of the page, it's the second list you will see on the page.
We're almost to the close of our Poll Post, but there's still one last poll to cover, that's this week's Beatles poll, where we enter week 449 of voting, and this week we'll answer this: Rate the artwork for the front cover of the Beatles LP, Introducing... The Beatles(U.S.)
The week at the Beatles poll we enter the third round of rating Beatle album covers. But let me be honest here. Since of late I haven't been replying to the poll thread, mainly since there is nothing to reply to, I haven't been stating what I voted for - since I almost never will do that in the main Poll Post (this post). But back when Gasland was still around, my guess is that around a third or more of the time I would note what I voted on in a reply, usually about 2 days after the poll post I was replying to was made. As far as noting what or who I was voting for- directly in that main post, my good guess is I have noted the selection I was gonna vote on maybe twice in the last 1057 weeks, and that's it! But now here I will do that - well, kind of. Not totally, I won't note exactly what my vote will be, but I will note that this cover will not only get the lowest rating from me out of all the Beatles albums covers that we will rate, it will not get a rating over a 7, either, which I feel is where the best ratings start. Somewhere between a 4 and 6 will be my vote on this one, as I never cared for this photo of the Mop Tops that appeared on this cover.... I can recall back when this came out, I was just a preteen boy who had 2 older sisters who got the album the day it was released - the very first U.S. Beatle album ever released. I loved the music inside the LP, no question about it, this new band was now my favorite music group (of course, there were no Stones music in the U.S. at this time for me to like better, not yet). But the album cover was a turn-off to me, the band looked weird to me, like they were businessmen, or worst, like they were about to go to church with them wearing those suits and ties. Yes, even as a preteen I hated suits and ties, since it reminded me of being forced by my mother to wear that shit to bible class every Sunday morning - and then to church after bible school. I already by then hated church, and bible class even more, having to go to school on a Sunday?... and having to be dressed up like that no less!? I was already an Atheist by then, but just didn't know it yet, but my best friend, who was technically a Jew and lived next-door to me (the same kid who around this time also gave me my lifelong nickname "Keno", around age 7), would tell me how there was no God and that Jesus and God were all made up. Anyway, I believed him and not my parents', nor bible class, which I flat out hated and I realized how ridiculous that book they were force feeding me was (lucky for me, their brainwashing didn't work on me!). So I guess I associated wearing ties with all of that and could not like anybody who promoted that look, including this new band called the Beatles! Yes, they sounded great on this new record, and I now loved their music for sure, but hell, they didn't even have their true long mop tops yet, Ringo's hair was actually combed to the side! Then 10 days later the album, Meet the Beatles came out and wow, on that cover they suddenly all looked very cool with their long haired bangs covering up their foreheads!... and more important - no goddamn suits and ties! Heck, you really only could see their heads in the photo as it was, but the Beatles were suddenly cool looking and as the '60s grew old - and I myself also grew older and was now a young teen and no longer going to church and feeling free. Yet I still hated that first cover of the first Beatles LP, and still to this very day don't care for it as an old man! They do look like a bunch of business men from the 1980s on there!
So, please forgive me for spilling the beans here and stating how much I dislike this cover - before any of you voted. Shame on me for doing that and no, I don't want you giving it a low rating because of what I just wrote. If you love that business suit and tie look, then by all means give it a 10 rating. I want to see 10 ratings here (okay, I really don't, but I rather see 10 ratings than people changing their vote because of me. I didn't post the above to get anybody to change their vote. I just wanted to state why I disliked this cover so much!).
So how will you vote on this one? Just click here to make your pick and rate the LPs: Beatles Weekly Poll.
In last week's Beatle poll….we answered this question: Rate the artwork for the front cover of the Beatles LPs, With the Beatles (UK)/Meet the Beatles! (U.S.)
and
A real nice turnout for this poll question, with the top pick being a "10", with 52.7% of the vote. 97.1% voted this album cover an 8 or higher, with only 1% of the voters giving it a rating of less than 7! To see the full results, just go here: Beatles Weekly Poll – week 448. Or to see the final results on the Beatles List Page, click on: Favorite Beatles Album Covers List Page for top pick.
So that finishes up yet another Poll Post! I had another crazy last week, starting off the week with some minor outpatient surgery, but for whatever reason, I never recover well from any kind of surgery, minor or major, and I'm still not feeling too great tonight. But writing does keep my mind off of things like pain, too, so that's why I wrote a somewhat long Poll Post tonight… Plus there's some good news, too, Daylight Saving (nothing) Time, finally ended Sunday morning, and so we're back on Standard Time! Gosh I hate being an hour ahead for more than half of the year, and as my being my town's official weather record keeper, I and everybody else who does this work, no longer have to wait until 1 am to close out the day's weather records anymore! Yippie!
As usual, I thank you all for voting in last week and this week's polls!
Keno
Gasland Thread
---
Post Follow-up
---
Note: Do not hit the "Post Message" button more than once, even if it is taking a long time to post your message. Doing so may cause a double post to appear and could slow down your posting time even more.
Filter Threads/Archives
---
---
Download your free, customizable Burton Networks Message Board now!
© 1998 - 2020 by Keno Internet Services, except where otherwise noted. All rights reserved.