---
IT'S A GAS, GAS, GAS!!
MESSAGE BOARD
Return to Gasx3 Board Homepage
---
Gasland Message
---
Name: Keno
E-Mail: keno@fairpoint.net
Subject: ER/OOOH/B&L/Songs about Criminals/more!
Date: Sunday, January 07, 2018
Time: 11:55:49 PM
Remote Address: 66.36.114.222
Message ID: 313397
Parent ID: 0
Thread ID: 313397

ER/OOOH/B&L/Songs about Criminals/more!
It's one full week into 2018 for all of us, so how's your new year going so far for you? As is always the case here, we'll start off the poll post talking about the Stones poll, where we enter week 963, and where we always run 2 polls per week. So this week's first question asks this: Which is the most underrated song on the Stones Emotional Rescue album?

Emotional Rescue, from 1980, is the next Stones LP up for this question. Unlike their most loved LPs, where it's hard to pick a underrated song off of, since all the songs are highly rated, but for this one that won't be the case, since almost every song on here is underrated, other than maybe 2.
To see the song list from this LP, just click here: ER.
To cast your vote in this first poll, just click on: Stones Weekly Poll, and when you get to this page, choose "Poll 1" to vote on this question.
The second Stones poll is where we run the Stones album VS matchups, and this week we ask this question: Out Of Our Heads vs Blue and Lonesome, which album do you like the best?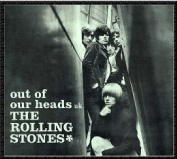 vs

I know a few of you might be thinking "Oh no, not Blue and Lonesome again!" Yes, we've voted on it a bunch in the last half year, more than any other album, but, this is still only it's 14th matchup, so the new LP still needs to catch up to all of the other LPs that had been in the battle long from before B&L was ever released. But it is catching up and be even with the rest in a few more weeks, but no, I promise I won't ask about it again next week, either. Yet it's cool to see how it rates compared to their other, older LPs, since it is the newest release, as it's good to see how much we dig it or not compared to the rest of the family of Stones LPs. So far, and I'm surprised that we (well, not I) don't like it too well at all compared to their other LPs so far, as B&L's record is a losing one, at only 5-8. I think that we all know that it's better than that... but ....it just keeps losing more rounds than it wins, and this week it's taking on a LP that's doing very well in these battles, at 12-4 in 7th place, the host LP to "The Crazy and Insane Polls", 1966's Out Of Our Heads. Normally I talk more about the host LP than the one it will go up against. But anyway, I can say that I never been too much sold on this poll's name, I guess it's okay, and I did name it after all, even if a part of me wanted to at first name it "The Headless poll". Yet I wasn't crazy about that title either and the first one won out, since that reflects the album's title better (I think)…. Now as is the case when we vote in these polls and a LP like OOOH comes up, that had a U.S and a different UK version to it, just go with the version you know best when you compare it to the LP it faces this week.
To see the song list for each album, for Out Of Our Heads, click here: OOOH UK (or , and for the US version, go here: OOOH U.S.. For Blue and Lonesome, click on: B&L. You will notice that this week I'm using the Stones official site for links instead of my site. I'm doing that since I do rate the songs at my site's album pages, and I don't wish to influence anybody's vote at all. So I'll try out using the Stones official site this week, a site that I had a hand in building years ago anyway, so while it's not my site, it's still a site I had a hand in helping to build and see come about, as those inside the Stones camp respected my input, since they know who I am and trust me. Yet I haven't been there in ages either, until today, but it hasn't changed too much from what I can see and remember when we put it together for the band several years ago.
To cast your vote in this second Stones poll, just click on: Stones Weekly Poll, and when you get to this page, choose "Poll 2" to vote on this question.
At the first Stones poll last week we answered this question: Which is the most underrated song on the Stones Some Girls album?

Very close voting in this one all week long, with "Before They Make Me Run" being the top pick in the end. Great choice; voted for it myself, and what I vote for usually doesn't win! To see the full final results, click onStones Weekly Poll - week 962, poll 1. Or, you can see the top pick from this poll and the other Stones songs picked from the other albums we already voted on for this question, here: Stones Fans Picks Page 1. It's listed about a third of the way down on the page, just before the "Songs only" lists starts.
Looking back at last week's second Stones poll, the question was: Between the Buttons vs Beggars Banquet, which album do you like the best?

vs

Well this one wasn't close at all, but did anybody think it would be? BB just beats up most of the albums it goes up against in this series. To see the poll's final results, just click here:Stones Weekly Poll - week 962, poll 2. Plus, I'll add the results from this poll to the standings at the Stones VS Page 1, where at the top of the page you can check out the updated standings on how each album has done in these long running VS polls.
Over at the Classic Rock Poll we enter poll week 603, and just like as we do at the Stones poll, we vote in 2 poll questions a week in this one too. The first poll's question this week asks this: What is the best Rock song written about people who committed crimes? (Part 1 of 3)
This we be a 3 part poll, and it easily could have been made it into 4 parts, but I went with just 3. So that means we will vote on 31 songs in part one and then again in part 2, and in week 3, the top picks from parts 1 and 2 will be revoted on again, just like we always do in our multi part polls.
Most of these songs are about murderers, but not all of them, but all of them are about people who committed a crime. Songs about drug crimes are not mainly listed, with an exception or 2, since IMO, people who deal in drugs are not criminals, but supplying a need to people that no governments anywhere should have any business in stopping. If you want to poison your own body with drugs, well it's your body and should be your choice to do so, as long as you're over 18, then that's your business, and should not be the business of the government you live under.
But anyway, and again, most of these songs are about murderers, and I almost changed the question to ask only about murderers, but there were some great songs that weren't about people who didn't comment murder, and I think the way i left the question and choices, was the best way to go with this one.
To vote in this poll and make your pick for the best song that you think is listed about people who committed crimes, click here: Classic Rock Poll, and when you get to this page, choose "Poll 1" to vote on this question.
At the second Rock poll this week, known better as the Rock VS poll, we will vote on this new question: "I'm Free" by the Rolling Stones vs "I'm Free by The Who, which one of these 2 different songs with the same title, is better?
vs
We continue with the series called "Same Title, Different Song" Polls once again this week, where, we take 2 songs that are totally different from each other as far as their lyrics go, and the only one thing they have in common, is the 2 songs have the same titles. Then we just ask for the better song of the 2.
"I'm Free" by the Stones was released in 1965 in UK on the Out of Our Heads album in September. It was also released at the same time as a single in the US and later included on the U.S. release December's Children LP. The Stones recorded a re-issued acoustic version of this song for their 1995 album Stripped, but forget about that take, we are only looking at the '65 original song here. Perhaps the only real problem with this song was that once again the Stones were rightly accused of copping the Beatles again, as in this song they used a main line in the lyrics that came directly from The Beatles' 1964 hit song "Eight Days a Week": "Hold me, love me, hold me, love me." Oh well, it wasn't the first time they borrowed from the Beatles, and wasn't to be the last time either, but in time they learned not to do that, and Jagger/Richards were lucky they were never sued for lifting somebody's lyrics, something that the Glimmers later on did to others who lifted material from them. But the 2 bands were actually close friends, and friends don't sue each other.
"I'm Free" by the Who, was written by Pete Townshend and released on the Tommy album in 1969. Yes, one of the better known songs from the LP, and in time, from the movie, too. But just like with the Stones song, don't consider the movie version of this song, only the original studio cut of the song. Interesting that Townshend has flat out said that the song was inspired by the Stones' song "Street Fighting Man". Maybe that should be a VS matchup some day? Another interesting note is that The Who's drummer, Keith Moon, barely plays on this song, and is only heard a bit on the song's breaks, with bassist John Entwistle playing the main drums instead for him on most of the song, after Moon couldn't play the drums for the song the way Townshend wanted him to play them.... The Who's "I'm Free" was released as a single and went to number 37 in the US on the Billboard Hot 100 chart.
As usual as we do for theses polls, I provided videos for both songs so you can hear the songs before you vote and compare them. Just remember, for this kind of question, as far as your vote goes, the videos have nothing to do with your vote as far as the actual film clip you see, goes. These videos links are in the voting booth only so you can near the song before you vote – and nothing more than that, so again, we are not voting on the videos, just the songs!
To vote for your favorite of the 2 songs, just click on Classic Rock Poll, and when you get to this page, choose "Poll 2" to vote on this question.
Looking back at last week's first Rock poll, we asked: What is the best Rock song about or set in the wintertime?
A close poll with 2 songs battling it out all week for first, with "California Dreamin'" by The Mamas and the Papas barely beating out the Stones "Winter" in the end for the top spot.
To see the full final results from this poll, just click here: Classic Rock Poll 1, week 602.The top 10 results also show up on Top Ten Lists, Page, 14, too.
In last week's VS Rock poll, we answered this question: "Surrender" by Elvis Presley vs "Surrender" by Cheap Trick, which one of these 2 different songs with the same title, is better?
vs
Another close race last week in this one between these 2 songs. To see which one came in first, just click here: Rock Poll 2, week 602. You can also check out the final results at the VS Classic poll results page 3. Do note if you didn't realize it last week, that I finally got to setting up the new VS poll list page 3, and for now it is only listing what I'm calling "poll theme questions". That is, VS poll series that have questions that follow a certain theme, just like the question that is being run this week. In time - and more than likely, other non-themed VS questions would be added to this page, but for now, only themed questions are appearing on this new page
We close out this poll post in the usual way, with the Beatles poll, where we enter week 356, asking this question: Rate the Beatles movie Let it Be
This week we look at the 1970 Beatle movie, Let It Be, directed by Michael Lindsay-Hogg, and released after the band broke up, hence the reason for the movie's name. Yes, the movie is all about the making of the LP of the same name, but, that LP recorded in late 1968 and in early '69, was supposed to be called "Get Back", and the band was supposed to get back to basics, and make an LP like they use to make in the early days. But they instead seemed to go to war at times against each other, other than Lennon who seemed to stay out of the fray. In the film, that was shot in the studio where the Fabs were making the LP, we see a part of the fight between George and Paul that resulted in George leaving the band for a few days, and in turn lead to Lennon filling in for him and playing lead guitar on a few songs, including that great lead riff John played on the tune "Get Back". Lennon would have made for a great lead guitar player, no question about it. Yet the song that caused George to fight with Paul, was over how Paul wanted the guitar to sound on "I Got a Feeling", you know, that fading out sound it makes at that one point of the song, and what IMO turned out to be one of the best riffs George ever played, thanks to Paul directly showing him how he wanted the guitar to sound, which was my favorite part of the movie, even if it did lead to a fight later between the 2. But as much as I dug George and would take his side against Paul, not this time, it was Paul's song and he knew what was best for the song and the sound he needed there.
But there was a second part to this movie that I loved maybe even more, and that was what would be their last live concert, played on top of the Apple building's roof in the middle of the day. They played until the police showed up and threaten to arrest them if they didn't stop playing. Gosh, who knows how many other songs they would had played that day, but they did get a few songs in before they were stopped and they sounded great.... what a show indeed, and what an underrated movie this one was! I know, I'm not supposed to say anything here before the polls are already running for more than at least 12 hours or so, and I almost always stick to that rule, but while I'm not saying here what I'll rate this one, I will note IMO, that's it's clearly the best movie out of the other movies they made - because it was 100% for real. Seeing the Beatles make an album was something great. It's exactly like the Stones movie One Plus One, that shows the Stones in 1968 making SFTD in the studio. Both movies were made at the same time as it was.
One last note, they been claiming for about 30 years now that a new version of the film will be re-released along with extra footage that wasn't shown originally in the film, but that never has happened. For a while some of that extra footage was up on YouTube, and it was great to see indeed, but the new release has never happened and it's very hard to get your hands on this movie today as it is. I have the original release on VHS of it that was out for only a year, and my copy was watched so often that the tape wore out. Then one of our Gassers sent me a boot DVD of it, and I could never thank that Gasser enough for that gift. But to this day you still can't legally buy this movie and it can't be seen anywhere, including on TV. One day they will finally release this gem again, but at this rate the people who want to see it the most, the baby boomers, will all be dead - after dying of old age.
I believe that this will be the last week of asking about the Beatles movies, since I think this is the last one we need to vote on. Or did I miss one? I don't consider that one movie made, called Sgt. Pepper's Lonely Hearts Club Band, to be a Beatles movie, since the Fabs aren't even in it. That one stared the Bee Gees and Peter Frampton, and I never even seen it myself. I didn't know, or remember, that Billy Preston, Alice Cooper and Aerosmith were all also in it too. Maybe it's worth a look? Anybody here ever see it? Maybe that should be the poll question for next week; did you ever see that movie? Na, don't think so, but who has seem it and how was it to you?
But more important, what do you think of this flick Let it Be? To vote in this poll, please go here: Beatles Weekly Poll.
In last week's Beatles poll we asked: Rate the Beatles movie Yellow Submarine
Another Beatles movie that was/is well loved indeed, as that's what the final results show, with an "8" being the top pick. To see the results from this poll, just go there: Beatles Weekly Poll – week 355. Or, you can check out the final results at the: Beatles Video and Movie page, which is located at the domain's Lennon Site.
So that does it for this week's poll post. Votes were down just a bit last week, yet all 5 polls still brought in more than 1,000 votes in each poll again, which is really great for a slow week! Plus several of you wrote me this weekend about that flamer, and I thank you for the support and for your concerns, it was cool to see all of that support and kindness in your emails to me! But please don't worry about me, or worry about the board closing down early because of that. We got a full year to go, and we will pass the 20th year on the net here together before you know it.
All of you have a great upcoming week, and don't forget to vote, and thanks to all for voting in last week's polls, too!
Keno
Gasland Thread
---
Post Follow-up
---
Note: Do not hit the "Post Message" button more than once, even if it is taking a long time to post your message. Doing so may cause a double post to appear and could slow down your posting time even more.
Filter Threads/Archives
---
---
Download your free, customizable Burton Networks Message Board now!
© 1998 - 2018 by Keno Internet Services, except where otherwise noted. All rights reserved.