---
IT'S A GAS, GAS, GAS!!
MESSAGE BOARD ARCHIVES/WEEKLY ROCK POLL POST
Return to Gasx3/Poll Post Board Homepage
---
Gasland Message
---
Name: Keno
E-Mail: keno@fairpoint.net
Subject: Poll Post for the week starting Monday, Oct 4
Date: Monday, October 04, 2021
Time: 12:52:03 AM
Remote Address: 8.41.160.9
Message ID: 321042
Parent ID: 0
Thread ID: 321042

Poll Post for the week starting Monday, Oct 4
It's Poll Post time, and that means it's time to look at this week's 4 new Rock polls that we'll be voting on this week, and we'll do so by starting off with the weekly Stones poll, where we are rating all of the songs released by the Stones. So for week 1,157 of voting, we'll ask this question: Rate the Stones song "Honky Tonk Woman", from zero (lowest) to 10 (highest)
" Honky Tonk Woman" Single cover sleeve
One of the Stones greatest songs, perhaps? Released as a single on July 3, on the same day that Brian Jones died, and recorded over two days, on March 10 and 11, 1969, the song was considered finished being worked on at that time. Those 2 days were the 2 final session dates with Brian Jones in the studio, who played guitar on the track.
The song includes an alternate second verse to it that's not heard on the single: "I'm strolling on the boulevards of Paris, as naked as the day I will die...", which Mick Jagger has sung at live shows before. In late June of 1969, new Stone Mick Taylor overdubbed Jones' guitar part and BJ's guitar was edited out, but knowing how such re-recordings happens in the studio on finished tracks, some believe not all of Jones' guitar playing was totally removed from the track (as it isn't easy to do). But officially it was, as the Stones wanted their new band member MT, to be playing on the new single, and he for sure is playing on this one, but is some of Jones work still heard on here? I bet that's so, and if it was, it would be the only such original track with the 2 playing on the same track.
HTW perhaps features Keith Richards at his best, playing both lead and rhythm guitar, but when Richards claimed that Taylor helped changed the song around, that was clearly a falsehood, orperhaps just a plug to hype up the band's new member, since the song for the most part had already been finished and was already in the can when MT's guitar fills were added in. Taylor himself stated this by saying many years later that ""I definitely played on "Honky Tonk Women", but it was more or less complete by the time I arrived and when I did my overdubs".
Now again, HTW was first released in the UK either on July 3 – or maybe on July 4th, 1969, as there seems to be misinformation as to the exact date this took place. In the U.S. it for sure was released July 11th, 1969, and it went to #1 in both countries and in several other countries, and was at the least a top 5 hit everywhere else where it was released around the world.
The lineup for HTW was: Mick Jagger – Lead Vocal; Keith Richards – Lead and Rhythm Guitars, Backing Vocal; Mick Taylor – Guitar fills; Brian Jones - Original Rhythm Guitar (all or most edited out); Bill Wyman – Bass; Charlie Watts – Drums; with Ian Stewart – Piano; Jimmy Miller – Cowbell; Steve Gregory and Bud Beadle – Saxophones; Backing Vocals: Reparata and the Delrons, Nanette Workman (credited as "Nanette Newman") and Doris Troy.
Now let's be honest, we all know what the top rating for this one will be after the voting ends, so the only question will be, just how much of the vote will this song take in? Could it over take "Sympathy for The Devil"'s first place spot in the standings (at 99.9%) for the Stones song rating standings, or maybe take away second place from "Jumping Jack Flash" (at 99.1%)? That will be hard to do, but my guess is that if there's one song that could do this, it's this one. We will know by this time next week for sure. But right now, it's time to cast your vote, ...... so let's rate this one right now. To do so, just click on the following link: Stones Weekly Poll.
Last week at the Stones poll we answered this questionRate the Stones cover song "Carol", from zero (lowest) to 10 (highest)
The Stones playing " Carol" live
"Carol" scored a 10 for it's top rating, taking in 47% of the vote. So just where in the standings does this one show up at? To find out, well first, to see the full final results from this poll, just click here: Stones Weekly Poll - week 1,156. Or to have that look at the rating's standings, for this ongoing series, just click on the following link: Stones Top Picks - Page 3, List Page 5.
Okay, we'll move on over to this week's Classic Rock Poll, where we enter week 797 of voting, and for this one we vote in 2 different Rock Polls for the week. So for this week's first poll will answer this question: What is the gloomiest Rock song? (Part 3 of 4)?.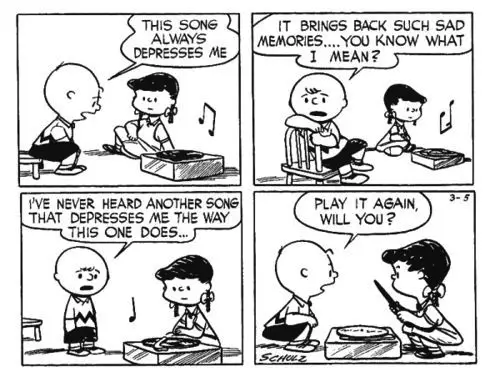 Gloomy songsDeep down, we do like them, well, some of 'em? Right?
Week 3 of asking this question, and the last week of voting on which songs will make it to the final round for this question. We'll have another 33 songs to choose from for this week.
But just remember, we aren't looking for your favorite song from this list, while we are looking for the songs that are the gloomiest. So, you totally can dislike a song directly because it's so gloomy, and that would be the main reason to vote for it!
I'm not gonna repeat what I repeated last week, as to what we mean by "gloomy", as I'm sure everybody gets what we are looking for here by now. So, it's time to vote in round 3… To do so, just click on here: Classic Rock Poll, and when you get to this page, choose "Poll 1" to vote in this poll.
For this week's Rock Video polls, we'll vote on and answer this question: Rate Crosby, Stills, Nash & Young's video for "Love The One You're With", from zero (lowest) to 10 (highest)
"Love The One You're With" live, comes from this 1974 concert
This song was of course the very first solo single for, and written by, Stephen Stills. It was released in November of 1970. He wrote the song after being inspired by and hearing the line: "If you can't be with the one you love, love the one you're with" which was a remark made by keyboardist Billy Preston to him, and Stills wrote the song from there. This was Stills' biggest solo hit single, peaking at No. 14 on the Billboard Hot 100 in early 1971, and it was a Top 10 hit in Canada. Both David Crosby and Graham Nash sang backing vocals on the original single, along with Rita Coolidge, Priscilla Jones, and John Sebastian.
A live version by Crosby, Stills, Nash and Young appears on their album 4 Way Street, and that one was from a 1970 show. But for this poll, we'll rate this song from the video taken from a live show that CSNY performed on September 14th 1974, at Wembley Stadium in London, England, in front of 72,000 fans. The lineup for this live take was interesting enough, as Graham Nash, who while in CSNY, didn't play a lot of guitar live, but does on this number, while Neil Young plays organ instead of guitar, although the organ is a main instrument on the song.
Now in reality, this isn't a video at all, and I could have just asked the question something along the lines of Rate CSNY's live take for "Love The One You're With", since that is what we're really doing. But this is a video poll and this does come from what today is a very long video of many songs. "Love The One You're With" was the opening song that they played at the forementioned concert on that day, and it being the opening song, that makes it easy to link to. Just keep in mind after this song ends, that the video and the show goes on from there, as the entire concert is shown in this YouTube link. If you're a fan, I suggest that when you got the spare time, to watch the entire concert (it's very good), but it's long, as it runs for just 3 or 4 minutes short of 3 full hours. The song that we are rating is about 6 plus minutes long. So please do remember to vote on the performance first at our polls - if you decide to watch the video now and not later.
The lineup for this live take is: Stephen Stills - Lead Vocal and Lead Guitar; David Crosby - Vocal Harmony and Rhythm Guitar; Graham Nash - Vocal Harmony and Rhythm Guitar; Neil Young - Vocal Harmony and Organ; with Tim Drummond - Bass; Russ Kunkel - Drums; Joe Lala - Percussion.
To vote in our Rock Video Poll, just click on this link: Classic Rock Video Poll, and when you get to this page, choose "Poll 2" to vote on this question.
Last week in the first Rock Poll we asked this question: What is the Gloomiest Rock song? (Part 2 of 4)?.
Gloominesssucks
Okay, so the top 10 songs picked in Part 2 that will mov on to the final round were: In the Ghetto - Elvis Presley (5.8%); Patches — Clarence Carter (5.6%); Empty Garden (Hey Hey Johnny) - Elton John (5.4%); Leader of the Pack - The Shangri-Las (5.4%); My Mummy's Dead - John Lennon (5.4%); As Tears Go By - The Rolling Stones (5.3%); Behind Blue Eyes - The Who (5.3%); The End - The Doors (5.3%); Cryin' Time · Ray Charles (5.3%); Without You - Harry Nilsson (5.3%). Yes, so very close voting in last week's poll!
To see this poll's full, final results, just click on the following link: Classic Rock Poll, week 796, Poll 1. ………………………..
In last week's Rock Video poll, I asked and you voted on this: Rate The Door's video for "Wild Child", from zero (lowest) to 10 (highest)
"Wild Child" a shot from the video
A 10 was its top rating for this one, as it took in 50% of votes. You can look over the results from this Rock Video poll by clicking on the following link: Classic Rock Video Poll, week 796. Or, to see the results on the Rock Video list page, just click on here: Rock Videos List Page, List Page 12, and when you get there, the results are located on the very top of the page.
We close out this Poll Post as usual by talking about the Beatles Poll, where this week we enter week 548 of voting, and where we are answering questions right now about The Beatles videos. This week's Beatle video poll question asks us to: Rate The Beatles' video for "Come Together" from zero to 10 (Click here for the video)
From the video for "Come Together"
This animated video was released in 2015 by the Beatles' management and somehow, I never had seen it before this past week. I ran into it while searching for Beatle videos that we hadn't rated yet. I don't have a lot of info on this other than it was developed by the Albino Blacksheep site, for the band's website, way back in 2001, and it grew from there.
The song itself was written by John Lennon and was released in 1969 on Abbey Road. It was also released as a single along with "Something". "Come Together" went all the way to #1 in the U.S. and peaked at No. 4 in the U. K. it went to either #1 or #2 in most other countries, other than in a few. John was inspired after a request from his friend and fellow Yippie, Dr. Timothy Leary, to write a song for his campaign for governor of California against Ronald Reagan, and "Come Together" was what John came up with. But Leary's campaign ended abruptly after he was setup by the corrupt police of the day and arrested, and then sent to prison for possession of a small amount of marijuana.
It was questionable as to if we are hearing Lennon or McCartney singing the backing vocals on this one, and my guess is it's both. Most of us thought we heard Paul signing all of the backups, but John and Paul both knew how to imitate each other when it came to singing, and today it's believed that it's actually just John singing both the lead and backing vocals on this record. Recording engineer Geoff Emerick said that Lennon did all the vocals himself, which frustrated McCartney, who seemed to think that the only time when it was okay for a member of the band to sing all the vocals on any record, was only when the person's first name was "Paul". Still, Paul played a very cool, excellent bass on the record, so he was heard on the track for sure.
The lineup for this song was: John Lennon – Lead and Backing Vocals, Rhythm and Lead Guitars, Electric Piano, Tambourine; Paul McCartney – Heavy Bass, Backing Vocal?; George Harrison – Lead and Rhythm Guitars; Ringo Starr – Drums and Maracas.
To cast your vote in this poll and rate the video, just click on the following link: Beatles Weekly Poll.
Looking back at last week's Beatles poll, we asked: Rate The Beatles' video for "From Me To You" from zero to 10 (Click here for the video)
John Lennon singing "From Me To You" at The Royal Variety Performance, in 1963
Okay, so yet another poll from last week that saw a 10 for its top rating, or I could just say instead: 'yet another Beatle video that's cored a 10', taking in 68.3% of the vote. To see the full, final results from this Beatle poll, just click on: Beatles Weekly Poll – week 547. To see the standings of the Beatles/John Lennon Videos, just go here: Beatles/John Lennon Videos and Movies, and look under the "Video Ratings" standings.
So it's time to close out this week's Poll Post… I noted here last week that I had had a busy week and for this past week, the same thing took place thanks to something I didn't know was about to happen. Two weeks ago I spend several days rebuilding my New York Webcam page, after not working on it for years since I was planning to close it down. Where as my Colorado Webcam site has always been a big hit and a big money maker, that was never the case with the New York site, and there were just so many fewer cams in NY state than what we have in Colorado, as hard as that is to believe. I guess folks out this way just like webcams a lot more than those back east? But anyway, after a ton of work, I totally redid the NY site and as of Monday I was all done with it. So what happened? Well my Colorado site, which is twice the size of the NY one, had to be half recoded this past week, thanks to the fact that almost half of the cams I link to in Colorado, come from CDOT, our state's transpiration people (all states have a "somethingDot". Anyway, they started up a new website (why I don't know, it wasn't needed) and ever single cam had a brand-new URL set Monday morning, while many others no long had any links to them, period. So I had to spend 3 plus full days recoding all of those broken links, while another half of them are no more. Hell, if I had known that was about to happen, I won't have done all of that other work last week! But what happened, happened. But anyway, since I took the time to bitch about this here, if you have some time to spare (I realize that CSNY fans won't) and if you dig cam sites, feel free to check out my reopened NY site here: NY Webcams. Since my Colorado site is still messed up some and still missing many cams, I won't link to it, but you could always get to it from the NY site if you want to look at some tall Colorado mountains.
I do hope all of you have a great upcoming week and do stay safe!
Keno
Gasland Thread
---
Post Follow-up
---
Note: Do not hit the "Post Message" button more than once, even if it is taking a long time to post your message. Doing so may cause a double post to appear and could slow down your posting time even more.
Filter Threads/Archives
---
---
Download your free, customizable Burton Networks Message Board now!
© 1998 - 2021 by Keno Internet Services, except where otherwise noted. All rights reserved.