---
IT'S A GAS, GAS, GAS!!
MESSAGE BOARD
Return to Gasx3 Board Homepage
---
Gasland Message
---
Name: Keno
E-Mail: keno@fairpoint.net
Subject: JJF/VL vs BB/Fake bands/Hey Jude/more
Date: Monday, November 06, 2017
Time: 12:34:50 AM
Remote Address: 66.36.114.222
Message ID: 312213
Parent ID: 0
Thread ID: 312213

JJF/VL vs BB/Fake bands/Hey Jude/more
It's time to get this week's 5 weekly polls underway, starting off with the Stones Poll, where we enter week 954, and as usual we will run 2 different Stones polls in this one week. So this week's first question asks: Rate the Rolling Stones video for "Jumping Jack Flash" (no makeup version) (Click here for the video)
This song had 2 main videos made and released for it, both around the same time back in 1968. We have already rated the version known as the "make-up" version, and the one you see most often these days. But this time around we will rate the other version made for this song, where they wore no make-up at all. This one was actually released first and filmed on the same day as the make-up version.
This video was first released with an major error shown in it that their management never noticed, that being, that the film clip was made backwards and nobody realized it and it was officially released for a 2 week period and showed up on at least one TV show, when fans noticed that Bill, Brian and Keith were shown playing their guitars left handed!
Also, I guess I should note that there is yet a third video on YouTube that is claiming to be another video for the song.... but that's totally false info and not true, and as incorrectly stated in that video, it was not released in 1968! I believe the film is from sometime in '69, and only shows the Glimmers in it, for the most part, like 99.5% of the time, and they are just sitting there listening to music and doing really nothing else. Charlie is also shown for about 20 seconds near the end. Now the version of JJF heard playing on there is the same one the Stones recorded in the studio for their 2 official videos the day before those 2 clips were made. But no, it isn't the same music or vocals heard on the single. The band made this new recording of JJF for their videos only, and it was only ever heard in the videos, and yes, that should be considered when you rate the video this week, regardless if you like what you hear here better or not.
This non-make-up video showed more of Bill and Brian in it than the make-up one did, which hardly shows them 2 at all, but still, most of this clip shows Mick more than anybody else.
Now remember before voting, that it's the entire video we are voting on here, and not just the song/music. The video is linked to from the voting booth, so you can watch it before you vote. Make sure to take the time to watch the video before you vote, to refresh your memory of it. The link to the video can also be found here in this thread (above).
So how will you rate this official video? To vote, just click on: Stones Weekly Poll, and when you get to this page, choose "Poll 1" to vote on this question.
The second Stones poll is where we run the Stones album VS matchups, and this week's question asks this: Voodoo Lounge vs Beggars Banquet, which album do you like the best?

vs

The "I Put a Voodoo Spell on you Polls" returns to the battle this week, featuring the band's Voodoo Lounge LP. VL has an even record of 7 wins and 7 loses and is smack right in the middle of the standings in 14th place. For this round it takes on 1968's Beggars Banquet. BB is doing very well in these matches, sporting a record of 11-3, which is good for fifth place.
To see the song list for each album, for Voodoo Lounge, click here: VL, and for Beggars Banquet, click on: BB
To cast your vote in this second Stones poll, just click on: Stones Weekly Poll, and when you get to this page, choose "Poll 2" to vote on this question.
At the first Stones poll last week we answered this question: Rate the Rolling Stones video for "Far Away Eyes" (Click here for the video)
82.6% of the votes went for rating the video between a 7 and 10, so yet another well-loved video put out by the Stones indeed. There was a major battle between spots 8 thru 10, with the lead changing hands everyday it seemed, and that continued up until the time that voting ended tonight, with the top pick of "9" being chosen by one single vote in the last 10 minutes of voting. Talk about going down to the wire!
To see the full final results from this very close poll, click on here:Stones Weekly Poll - week 953, poll 1. The top results from this poll will also show up at the Stones' Fans Top Picks, page 2 , along with the other videos that we have voted on in the last 2 years, so you can compare the video's outcomes there, along with direct links to each video that we voted on, in case you want to view them again.
Looking back at last week's second Stones poll, the question was: A Bigger Bang vs Bridges To Babylon, which album do you like the best?

vs

Well, I believe that after last week's newest landslide win in this poll by one of the LPs doing battle, that a landslide pick has now taken place for 7 weeks in a row. I could be off there by a week, it might be 8 weeks, but since we are more than half way thru these matchups, most of the best battles were already played out in the past.
To see which LP won last week's match, just click here:Stones Weekly Poll - week 953, poll 2. Plus, I'll add the results from this poll to the standings at the Stones VS Page 1, where at the top of the page you can check out the updated standings on how each album has done in these long running VS polls.
Let's move on over to the Classic Rock Poll now, where we enter week 594, and just like as we do at the Stones poll, we vote in 2 poll questions a week in this one too. The first poll's question this week asks a brand new question: Of the fictitious bands with a hit song, which song was the best?
So yes, the songs, not the fictitious groups, are the most important thing to look at for this poll. Now while this poll is about the best songs that these groups put out, I still would like to talk about a few of these groups, since some have interesting stories behind them. I don't feel I have to really talk about the songs listed too much, since they were all (pretty much) well known hits.
First and most interesting, was the story of songwriter and lead singer Ron Dante (a bit of the following came up here in Gasland the other day), who, while his name doesn't show up anywhere in the poll, appears on 3 of the 18 listed songs for 3 different fake bands. The first time was in 1965 on the parody - yet top 20 hit song "Leader of the Laundromat", which was a takeoff of the 1964 hit single "Leader of the Pack". He and 2 other songwriters were asked to write a parody of "Leader of the Pack", and then asked to sing on it, too, while the name they came up with for the band that session players played the music for, was called "The Detergents". After the song became a hit, they actually became a real band and stayed together as a parody band for 3 years. Then in 1969, Dante was the lead vocalist on 2 different top 10 hits in the very same week for 2 different fake bands, with the #9 hit song "Tracy" by "The Cuff Links", and the #1 mega-hit song "Sugar, Sugar" by "The Archies" - a song that would stay at #1 for a full month and would become the top selling single and song of 1969 (of all years!). Yet when both songs were charting and top 10 hits, nobody knew that Dante was the lead singer on either song, as he was uncredited and paid as just another session performer for both. Only about a year later, after "Sugar, Sugar" was named top song of '69, did some wonder who was the real singer for what was a cartoon group. Sometime after that it was noted that Dante was the lead singer on the song, and that he also sang all of the vocals for the fake group, The Cuff Links, too.
Besides The Detergents, there are 4 other groups listed in our poll that also became real bands after starting out as fictitious bands. The Monkees of course were one and the most famous of them all, and you all know their story. Most of their first album was just Mickey Dolenz alone singing the lead and backing vocals himself, while the band didn't really start to play on their hit albums until the third LP was released, with the exception of one or two songs.
Like what I just noted about Dante, there was another lead singer, named Tony Burrows, who was also in several different bands with several hit singles that some would say were made by fake groups. But mainly "no" would be my reply to that, since most of those groups he sang for where actually studio groups, which were real groups who just never played any live shows. But Burrows was involved in what at first was a true fictitious band, that being Brotherhood of Man. While this fake band never became a real band, the singers in it became a real singing group, after Burrows left the group in the early '70s, the newly hired members started to tour and are still a real singing group to this day, with only one lineup change since then, in 1987.
The Blues Brothers was another fictitious band that came from a TV show. They started out as a Saturday Night Live musical sketch, starting John Belushi and Dan Aykroyd as brothers, and then after that they became a real band, even if the Blues Brothers were not real brothers.... Then, we have a fictitious kid's band, The Naked Brothers Band, which was at first a TV show about 2 brothers and their famous band. The Naked Brothers Band became a real band after the show was a hit, but the other kids who were shown as being in the band on TV with the brothers, were really only actors, and were never in the actual real band once it became real and had a hit single and went out on tour. Only the 2 brothers, who were real blood brothers, were in the real group, along with adult band members playing with them.
Then finally, also on the list is Milli Vanilli, but in their case, they were total opposites of the 5 bands just noted, as to what took place. Milli Vanilli were supposed to be real, and they were marketed as being the real deal. But they actually weren't at all. Only after they had 4 #1 hit singles and 3 top selling albums, was it learned that they weren't for real and didn't even sing on their records or when they played live. So they were totally fake, but nobody knew it at first. Once the news got out, they were finished.
To cast your vote in this poll, click here: Classic Rock Poll, and when you get to this page, choose "Poll 1" to vote on this question.
At the second Rock poll this week, known better as the Rock VS poll, we will vote on this question: "Charlie Watts vs Ringo Starr, who is the better drummer?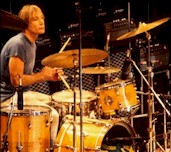 vs

We start a new line of Rock VS questions that will run for at least the next 4 weeks and involve both the Stones and Beatle members. It could expand to other matchups with other bands and their members in time, we'll just have to see first how well the poll question draws in the votes.
Now notice, while we are asking about a Beatle and a Stone here, the question is not asking who was the better drummer for their band, but is asking only for who is the overall better drummer, period. So no, this really isn't a Stones vs Beatles poll, even if it looks like one, since any solo work also counts in the voting. Yes, I know Charlie never played rock music for anybody else but the Stones, and was known as more of a jazz drummer before he was in the Stones and has done some side work in jazz, but since this is a rock poll question; we aren't looking at jazz music, although that fact can be considered if you like. Just don't weight it too much. Plus heck, if you do consider it, then also remember that Ringo has drummed on country songs and not on just rock numbers himself.
To vote in this poll for the better of the 2 drummers, just click on Classic Rock Poll, and when you get to this page, choose "Poll 2" to vote on this question.
In last week's first Rock poll, we asked: What was the best live performance of a rock song by an artist?
For the second week in a row, Michael Jackson, this time with his song "Billie Jean", was the top pick in the Rock Poll (that's never happened before, and rarely happens to anybody, but very impressive, since we ran 2 totally different questions in the last 2 weeks and the other MJ hasn't ever been a favorite in this domain's polls before!). I believe he won this question more so for his outstanding dancing than for his singing, as it's at least my opinion that several singers listed last week sang better live, but no one danced like Jackson could dance. Anyway, the polling last week, unlike 2 weeks ago, was very close, with "Billie Jean" seeing just 3.8% of the vote, to second place finisher Joe Cocker for "With A Little Help From My Friends", second, and just one vote behind Jackson, and in third place was Janis Joplin for "Ball and Chain", which was only 2 votes behind the first place pick. IMO, one of them 2 should have won the poll instead.
To see the full final results from this poll, just click here: Classic Rock Poll 1, week 593. To see the Top 10 list from this poll only, and other top 10 listings from our past rock polls, go here: Top Ten Lists, Page, 14... BTW, this poll last week, by just 4 votes, set the all time record for total votes cast in a weekly poll for the domain, with 1459 votes cast!
In last week's VS Rock poll, we answered this question: "Little Red Riding Hood" by Sam the Sham & the Pharaohs vs "Werewolves Of London" by Warren Zevon, what song about a wolf/werewolf is better?
vs
This was a fun poll to run and like the Rock poll's main question, some very close voting where the lead changed often at the close of each day. You may be surprised by which song got picked, as I was. To see which song that was, just click here: Rock Poll 2, week 593 You can also check out the final results at the VS Classic poll results page 2, at the Classic Rock site, by clicking here: VS Page 2, List Page 10. Plus I still didn't get around to building that new list page that is so badly needed. I just don't know where the time goes, and even in retirement I seem to still be real busy with the days still rushing by like they did when I worked FT. So yes, List Page 10 is too full and needs replacing with a new page. I got another busy week planned again for this new week, but I'll see if I can get to it anyway.
We close out this poll post as usual with the Beatles poll, where we enter week 347 and ask this question: Rate the Beatles official video "Hey Jude" (Click here for the video)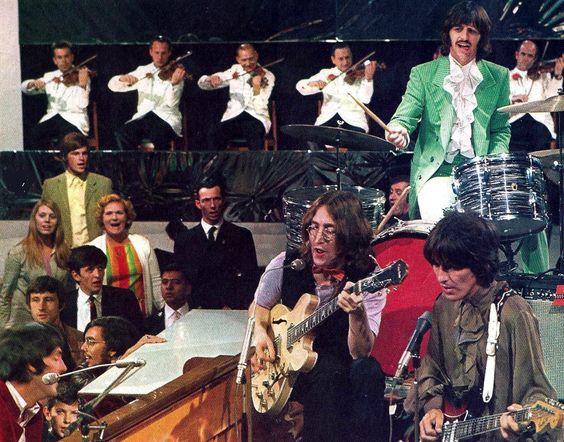 Filmed on September 4, 1968 at Twickenham Film Studios, along with a second "promotional film" that was made that day for the song "Revolution". The Beatles' lead and backing vocals were recorded live, while the music came from the single itself. They set up amplifiers for their instruments to fool The Musicians' Union, which had placed a ban on any kind of miming, so all of this was done to hide this from them.
Both films were directed by Michael Lindsay-Hogg. "Hey Jude" was the first one to be made on this day. A 36-piece orchestra was assembled for the take, with the members wearing white tuxedos, and then there were 300 extras brought in for the song's finale. That number seems too high from looking at the clip, was there really 300 people there? It didn't look like that many, even if indeed, a lot of people were there.
The film had its world premiere on September 8, 1968 on the show Frost On Saturday, with host David Frost. To make it seem as though The Beatles were at the studio where the TV show was filmed, Frost visited Twickenham on the day the film was made to record an introduction. The Beatles also performed a bit of the David Frost show's theme tune, a song that had been written by their manager, George Martin. Then before they started to play "Hey Jude", directly after Frost introduced them - in a too serious a matter for them, they instead did a quick rendition of Elvis Presley's "It's Now Or Never" as a joke, but it was edited out of the TV broadcast, since Frost didn't like it. But as George Harrison noted, they didn't make this film for just David Frost's show, even if it was shown on there first. They actually made it to be a video... well, nobody called them videos in that day, but that was actually why they made this clip, and it was decided to allow Frost to also use it on his show. Then Frost asked if he could show up and introduce it, and the band agreed. So because Frost was there, it appeared this was made just for his show, but that wasn't the case at all. In the U.S., it was shown on The Smothers Brother Comedy Hour, minus the Frost introduction.
Just like at the Stones video poll, remember before voting, that it's the entire video we are voting on here, and not just the song/music. The video is linked to from the voting booth, so you can watch it before you vote. Make sure to take the time to watch the video before you vote, to refresh your memory of it. The link to the video can also be found here in this thread (above).
To vote in this poll and rate this official video for this song, please go here: Beatles Weekly Poll.
In last week's Beatles poll we asked: Rate the Beatles official video for "Revolution" (Click here for the video)
A very well loved video indeed, with 94% of the votes being cast for spots 8 thru 10, with "10" being the top pick. Only 0.3% of the vote went to any rating under a "7"! This video saw the highest rating that any video in any of our polls has ever seen before. To see the final results, just go there: Beatles Weekly Poll – week 346. Or, you can check out the final results at the: Beatles Video and Movie page, which is located at the domain's Lennon Site.
Well that does it for this week's poll post! I thank all of you who take the time to vote in our 5 weekly polls each week!
Keno
Gasland Thread
---
Post Follow-up
---
Note: Do not hit the "Post Message" button more than once, even if it is taking a long time to post your message. Doing so may cause a double post to appear and could slow down your posting time even more.
Filter Threads/Archives
---
---
Download your free, customizable Burton Networks Message Board now!
© 1998 - 2018 by Keno Internet Services, except where otherwise noted. All rights reserved.