---
IT'S A GAS, GAS, GAS!!
MESSAGE BOARD
Return to Gasx3 Board Homepage
---
Gasland Message
---
Name: Keno
E-Mail: keno@fairpoint.net
Subject: Waiting on a Friend video/Beggars/Bang/More...
Date: Monday, October 09, 2017
Time: 12:20:29 AM
Remote Address: 66.36.114.222
Message ID: 311776
Parent ID: 0
Thread ID: 311776

Waiting on a Friend video/Beggars/Bang/More...
Time for the 5 weekly polls, and we find that week 950 is upon us at the Stones poll, which means there are only 100 more Stones polls left to go until we finish up on this long running journey of ours. I say 100 since we always run 2 polls per week, as we will do again this week and should do until week 1000 gets here. So this week's first question will ask this: Rate the Rolling Stones official video for "Waiting on a Friend" (Click here for the video)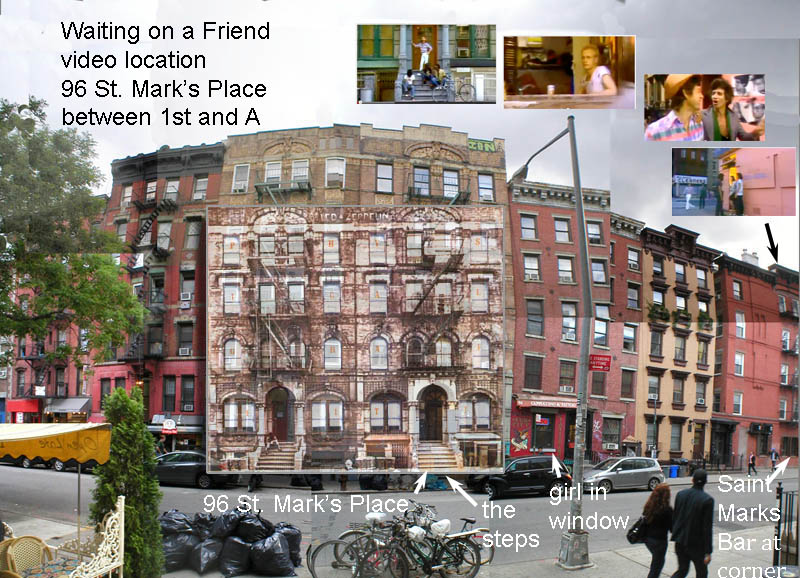 So we return this week to rating some of the Stones videos, and this week we look at "Waiting on a Friend". This song itself was one of those forgotten tunes that the Stones worked on in the studio and mainly finished in 1970, but they never released it and actually did forgot about it. So it sat on a shelf until early 1981 when Mick was looking around for some old unfinished songs that they had recorded years earlier, to use them on the band's upcoming new album Tattoo You, which would be made up of mainly songs they never finished from years ago. This one was recorded when Mick Taylor was still in the band playing lead guitar, and was IMO, the best of what MJ found in the vaults and used on TY. The only thing really added to this number in '81 was the great Sonny Rollins sax part.
The video for this song was made in 1981, with MT's replacement Ron Wood seen instead of MT, even if Ronnie wasn't on the track or in the band yet when the song was first put together. The first part of the video was filmed in front of and on the steps of what would soon be known as the Led Zeppelin Physical Graffiti album cover building (* see note at close), at 98 St Mark's Place, in the East Village in NYC. Several other rock videos have also been filmed on this same street, along with one Andy Warhol movie, too.
Mick Jagger is at first shown standing in the doorway, then he sits down on the steps, next to Peter Tosh of all people, a special guest in the video, even if this isn't s Reggae song. Other interesting things in the video are, while Keith is shown walking down the street to meet Mick, we see, looking like a street kid, Keith's then 11 year old son Marlon, who ended up in the video by accident after being in the wrong place at the wrong time. Plus another minor mistake was made in the filming at this point that many never realized. Keith is at first shown in the video walking down the street to meet Mick - from the direction where the bar is located, coming in from the east on St Mark's Place. But when he appears at the steps to greet Mick and Peter, he is shown approaching from the opposite direction from where he was just shown walking, as this time he is approaching from the west side of the street! One last note about this video, is yes, the bar they are shown in later, the St. Mark's Bar and Grill, really was located just down the corner from that building, just as shown in the video. But the joint is really no more today, still a bar, but with a new name and new owners, and it was totally redone inside years ago and the mural on the wall of the Stones, that was put in after the video shoot, is now long gone. Guess the new owners don't want Stones fans dropping in for a drink.
But getting back to this video, it's time to take a look at it again (link to the video can be found in the question above and also in the voting booth) and then rate it on a scale of 1 to 10, with of course, 10 being the highest score.
So how do you rate this video? To vote, just click on: Stones Weekly Poll, and when you get to this page, choose "Poll 1" to vote on this question.
* One last note on this, and it's about the photo shown above. When I run our polls, I like to have a photo that might go with the poll questions I'm asking, and this week when I did a web search I found the one above, and I love how they took the Led Zep album cover and show how the building and street look from across the street from there and then note where some of the things that are in the Stones video are located. Very cool indeed! I then on that web page saw a bunch of similar pictures taken from the covers of other rock albums that were taken outside just like this one was, including 2 more from the Stones, one for the sleeve of the single for "Have You Seen Your Mother, Baby, Standing in the Shadow" (the one of the Stones in drag), and then another shot taken at the very same location for the cover of Big Hits (High Tide and Green Grass) (but out of drag). I never realized that those 2 photos were shot in front of the very same building!... But one last thing on this, getting back to what is noted in the photo above, that's a girl (?) we see in the window in the video as Mick and Keith are walking to the bar?!? Really? I always thought that was a gay guy! In fact it looks a lot like my late gay brother-in-law, who used to live here in Colorado with my family for a time. I even told him once, 'Hey Chuck, you look like that guy in the new Stones video', back when the video was released and MTV was also a brand new station, and they showed this video often enough on there. But anyway, they claim in the photo that's a gal? Okay then, that one got me! But if you would like to check more of this stuff (well, I got a kick out of it anyway), just click here: Forthcoming New York City PopSpots. Strange title for a website there, but a very cool page with very cool album covers set up like the one above that you can check out if you like.
The second Stones poll is where we run the Stones album VS matchups, and this week's question asks this: Beggars Banquet vs A Bigger Bang, which album do you like the best?

vs

This week we have the return of "The Banquet for Beggars Polls", featuring the 1968 masterpiece Beggars Banquet, and the last full studio album to feature the original band. BB is doing very well in these VS polls, as you might figure, sporting a record of 10 wins to just 3 losses, good for fifth place in the album standings. For this round it takes on 2005's A Bigger Bang, which isn't doing as well in these match ups, with a record of 6-10-1, placing it in 19th place in the standings.
To see the song list for each album, for Beggars Banquet, click here: BBand for A Bigger Bang , click on: ABB
To cast your vote in this second Stones poll, just click on: Stones Weekly Poll, and when you get to this page, choose "Poll 2" to vote on this question.
At the first Stones poll last week we answered this question: On which Stones song is your favorite guitar weaving (aka interplay) performed?
This one went right down to the wire with the lead changing hands often all week. I just love when any of our polls do this! Anyway, only 2 songs were in the running, "Beast Of Burden" (weaving by Keith Richards & Ron Wood), and "It's All Over Now" (weaving by Keith Richards & Brian Jones). So which one won out in the end? To find out, click on here::Stones Weekly Poll - week 949, poll 1. The top results will also show up at the Stones' Fans Top Picks, page 1 , just click on "Songs Only" when you get there.
Looking back at last week's second Stones poll, the question was: Let It Bleed vs The Rolling Stones, Now!, which album do you like the best?

vs

Now, I'm really gonna get into repeating myself here, so for the third week in a row for the Stones VS poll results, I'm repeating word for word what I wrote here both last week and the week before about the poll's results, since it applies yet again… "I think you all know which album won last week, guess the only question is by just how much of a landslide it won by". To find out, just click here:Stones Weekly Poll - week 949, poll 2. Plus, I'll add the results from this poll to the standings at the Stones VS Page 1, where at the top of the page you can check out the updated standings on how each album has done in these long running VS polls.
Over at the Classic Rock Poll, we enter week 590, and just like as we do at the Stones poll, we vote in 2 poll questions a week in this one too. The first poll's question this week asks the following question in week 2 of this multi-week series: Of the solo artists who were in a major band/duo first, and then went solo, who had the best solo career? (Part 2 of 4)
We will vote on 26 more artists this week, to see which ones will make it to the final round, that being Part 4. Now next, I should had noted the following last week and forgot, but… do not vote for your favorite artist listed, vote for whoever you feel had the best solo career out of the bunch listed. This is one of those questions where you don't even have to like the artist to vote for them if you think they had the best overall solo career.
To vote in this poll, click here: Classic Rock Poll, and when you get to this page, choose "Poll 1" to vote on this question.
At the second Rock poll this week, known better as the Rock VS poll, we will vote on this question: "Ball and Chain": Big Mama Thornton's original vs Janis Joplin's cover, which version is better?
vs
This was one of those rare cases when the original song was released after its cover, as Big Mama recorded the song in 1962, but her original wasn't released until 1968, a year after Joplin made it famous at the Monterey Music Festival. Although not released prior, Mama sang the song live at a night club she played in San Francisco in 1966, and Joplin, who was a major fan of hers, was at the show, and afterwards met Thornton and asked her about the song, since she had never heard it before. Janis then asked if it would be okay if she recorded it, and Big Mama, who was very pleased that she liked her unreleased song, told her to go ahead and do so.

Now if you do watch both videos before you vote, the one for Janis was taken from her second performance at the Monterey Festival, while there's only a photo shown for Big Manna's video. So unlike the Stones poll where this week we are rating a video, here the video is there only so you can hear the songs before you vote, but we aren't rating the videos at all, just how the 2 songs sound, that's it.

To vote in this poll for the better of the 2 songs, just click on Classic Rock Poll, and when you get to this page, choose "Poll 2" to vote on this question.

In last week's first Rock poll, we asked: Of the solo artists who were in a major band/duo first, and then went solo, who had the best solo career? (Part 1 of 4)

The top 5 artists picked were way ahead of the next 5 picks that rounded out the top 10 and of those last 5, they too were way ahead in votes than the remainder of the pack of artists listed in the poll. So the Top 5 will be in the final round of voting for sure, while I'm not sure if the next 5 will be at this point or not, as it will depend on how the outcomes from the next upcoming 2 weeks turn out. But time will tell. The top five artists that will be in Part 4 for sure are: Eric Clapton - lead guitarist in The Yardbirds, and lead guitarist/sometime vocalist in Cream (12.3%), Paul Simon - co lead singer, songwriter, and guitarist in Simon and Garfunkel (12.2%), Paul McCartney - bassist, co-writer, and co-lead singer in the Beatles (11.9%), Peter Tosh - guitarist, keyboardist, and co-vocalist in The Wailers (11.6%), and Lou Reed - lead singer and guitarist in The Velvet Underground (11.4%).

To see who the next 5 were and where the rest listed ended up, just click here: Classic Rock Poll 1, week 589.

In last week's VS Rock poll, we answered this question: 'Angela' by John Lennon vs 'Sweet Black Angel' by The Rolling Stones. Which song about Angela Davis is better?
Not very close voting in this one. To see which song was chosen, just click here: Rock Poll 2, week 589 You can also check out the final results at the VS Classic poll results page 2, at the Classic Rock site, by clicking here: VS Page 2, List Page 10.
As usual, we close out this poll post with the Beatles poll, where we enter week 343 and ask this question: Magical Mystery Tour vs Please Please Me, which album do you like the best?

vs
Week 8 and the very final week of "the Mystical and Magical Polls", featuring the Beatles 1967 Magical Mystery Tour album. This week MMT takes on the Beatles debut LP, Please Please Me, which was released in the UK on March 22, 1963. After the release of this album, things would never be the same again on planet Earth. A release that set off something never seen before, not only in music, but in time would affect everyday life for so many people. That's not to say that this one LP was that great that it changed everything on its own, it didn't, not by any means did it do that, but we had to start somewhere and this was just that, a startup for something that nobody over 30 saw coming from the younger generation, and there were just so many young kids from that generation that were ready to take over, and the Beatles were the start of very interesting times and what was the first ever generation gap.
To see the song list for each album, for Magical Mystery Tour, click on: MMT, and for Please Please Me, click here: PPM
To vote in this poll, please go here: Beatles Weekly Poll.
In last week's Beatles poll we asked: Magical Mystery Tour vs With the Beatles , which album do you like the best?

vs
The final results were as close as I was thinking they might end up. To see the results, just go there: Beatles Weekly Poll – week 342. Or, you can check out the Beatles current album VS standings and past matchups at the: Beatles Albums page , which is located at the domain's Lennon Site.
Well that closes out yet another poll post! Hope everybody had a good weekend while the start of the new work week is here (but wait, just remembered, Monday is a U.S, holiday… so are you off today?.... from work that is). Anyway we didn't have a single cloud in the sky for the entire weekend here, day or nite, and it was nice and warm both days, so of course a possible snowstorm is about to hit the state in the next few hours. 70 degrees F today and snow likely tomorrow, that's why I love living in Colorado, you never get tired of the same old weather day after day, or ever get bored by it, either.
I thank all of you for voting each week in our 5 weekly polls! Keno
Gasland Thread
---
Post Follow-up
---
Note: Do not hit the "Post Message" button more than once, even if it is taking a long time to post your message. Doing so may cause a double post to appear and could slow down your posting time even more.
Filter Threads/Archives
---
---
Download your free, customizable Burton Networks Message Board now!
© 1998 - 2018 by Keno Internet Services, except where otherwise noted. All rights reserved.