---
IT'S A GAS, GAS, GAS!!
MESSAGE BOARD ARCHIVES/WEEKLY ROCK POLL POST
Return to Gasx3/Poll Post Board Homepage
---
Gasland Message
---
Name: Keno
E-Mail: keno@fairpoint.net
Subject: Poll Post for the week starting Monday, March 5
Date: Sunday, March 05, 2023
Time: 10:14:33 PM
Remote Address: 216.245.78.27
Message ID: 321416
Parent ID: 0
Thread ID: 321416

Poll Post for the week starting Monday, March 5
And now there are just 2. That is, starting this week, we only have 2 new weekly polls a week to vote in, as our Classic Rock Poll is now nomore. As far as which of the remaining polls to write about first here, well it's a no brainier, it will always be the one poll that started the Polls on this domain, and that's of course the Stones Poll, where this week we enter week 1,230 of voting and also week 121 of rating the band's songs. So here's this week's question: Rate the Stones song "Beast of Burden", from zero (lowest) to 10 (highest).
"Beast of Burden", from the Stones' single front cover sleeve. I'm not sure just what Mick Jagger was thinking with using this photo on the cover
This song, "Beast of Burden", a song that some longtime fans claim was the very last of the truly great classic rock songs released by the Stones. I disagree, as I feel there are others since, but then again, for a modern-day Stones song, it's in the top 2 or 3 by them - for me anyway… But then again, just how is a song from 1978 looked at as "modern day"? Ok, it's 45 years old, so how about this instead... "The best song made by the current lineup of the band (still counting Charlie Watts, of course, even if he isn't with us anymore)".
The music to this one was written first - by Keith Richards, and who also wrote the first lyrics to it, too. After that, Mick Jagger took over and wrote the rest of the lyrics, then it took 3 months to record the tune, from between October thru December of 1977. It then ended up on the Some Girls album on June 9, 1978, and became the LPs second U.S. single on August 28, 1978. It would go on to become a top 10 hit in the States (at #8 on the Billboard chart). Richards later claimed that he wrote the initial lyrics for MJ, after Mick "shouldered the burden" for him after his drug problems got in the way of things for him for several years.
"Beast of Burden" was one of the rare Stones songs made after the '60s and early '70s to just featured the Stones themselves playing on it. The lineup for this one was: Mick Jagger – Lead and Backing Vocals; Keith Richards – Electric Guitar weaving, Backing Vocals; Ronnie Wood – Electric Guitar weaving, and also Guitar solo, plus Acoustic Guitar; Bill Wyman – Bass Guitar; Charlie Watts – Drums. To rate this week's song, just click on the following link: Stones Weekly Poll.
Last week at the Stones poll, we asked this: Rate the Stones song "Memory Motel", from zero (lowest) to 10 (highest).
"Memory Motel", from the Stones Black 'n Blue LP Above is the real Memory Motel that Mick wrote about
I would call "Memory Motel" another underrated song for the Stones, as its top rating last week was just an 8, with 29.6% of the vote. To see the full, finial results from this poll, just click here: Stones Weekly Poll - week 1,229. Or, to see how low in the Stones rating standings this song ended up, just click on here: Stones Song Ratings & Standings - List Page 5
Let's move on over and look at the results from last week's finial Classic Rock Poll, as we answered this question: What's the saddest song about being unhappy? (Part 4 of 4)
What's the saddest song about being unhappy?
Yep, with tears in my eyes, it's all over now my friends for this very popular poll, and I'll miss it. I was happy to see such a strong turnout for the final week of voting - with the poll setting a new, all-time record voter turnout count - not only for the Rock poll itself, but for the domain (that is, for a weekly poll, of course). Over 4,000 voters (4,065 to be exact) took part in the voting last week (more than I was expecting to see!), and I thank each and every one of you for taking part and voting in this last Rock poll! Again, I wish I didn't have to end this, but so goes life, and sooner or later, everything does come to an end.
As far as the results from last week went for the above noted question, yet another Rock poll with very close finial results. The top song picked in Part 4 was the true story that James Taylor wrote about a girl friend from back when he was still very young, who killed herself. So yes, "Fire and Rain" was a true story and a great song to pick for the top spot. In second place was yet another true story, this time from John Lennon, a song he wrote about his parents, who deserted him as a baby, and titled "Mother".
To see the full, finial results from last week's Rock Poll, just click on the following link: Classic Rock Poll, week 866. Or, to see the Top 10 list for this poll, just click on this link: Top 10 List Page, Page 18.
Now, a closing word on this Rock poll. Please keep in mind, that the archives for this poll will remain up at the Rock Poll's Archive Pages for as long as our old ASP polls remain online and keeps working. But besides that, of course, all of the Rock List Pages, which comes from these polls, will always be online - as they are HTLM coded – and will always be online to check out - all 18 pages of them, starting with the very first Rock List Page 1, here. Yes, I can recall so many years ago when I made up that page, I had no clue at the time that another 17 such pages would follow, and unlike most of the List Pages, the first three of them also have my own personal lists noted on them, too, that were made up way back in 1998. In time, the List Pages became very popular on the domain, as even those who never voted in the polls, would check them out, too.
Damn, we did have some very interesting results throughout the many years that this poll ran! So, for the finial time, thanks so much for making these Rock polls so well loved and always voted on week in and week out! One last thing on the Rock Polls, our Ongoing Rock Polls will live on, so remember, you can vote in those polls once a year. If it's been longer than that since the last time you voted in these polls, please do so again whenever you get the chance! You can still and always will be able to reach these polls at this page: http://www.keno.org/classic_rock/rocknrollpolls.htm. Plus, as long as the poll's ASP programing keeps running, you can also reach the old polls' archives and the On-Going Rock Polls at the Poll Menu Page, too!
We close out this week's Poll Post with week 619 of the Beatle Poll, and week 53 of rating their songs. This week's question asks: Rate the Beatles song, "Get Back" , from zero (lowest) to 10 (highest)
"Get Back" Single's front cover
"Get Back" was written by Paul McCartney (with a little bit of help on the lyrics from George Harrison's song "Sour Milk Sea", early on, and then the main guitar riff came from John Lennon) and recorded by the Beatles on January 27 and 28, 1969 at the then brand new Apple Studios in London, and released first as a single on April 11, 1969, and then on the album of the same name, on May 6, 1970, although it wasn't supposed to be the LPs title song when recorded, as the album they were working on was supposed to be named "Get Back", with the name changed after the long delayed album was finally released, and by then, the band had decided to breakup, pretty much leaving nothing to "get back" to, and all everybody could really do was to "let it be".
The single was a major hit, reaching number one in the UK, the U.S., and in almost all other countries worldwide, with the exception of just two places, Italy (where it reached #5) and Finland (at #4). Another interesting fact, as hard as this may be to believe (when considering the overwhelming succuss the great Beatles had), it was the only Beatles single to debut on the UK singles charts at number one.
There were two different versions of the song put together, with the tune's beginning and ending changed for the studio album's release. At the beginning of the LP version of the song, John Lennon jokingly says "Sweet Loretta Fart (often misheard as "fat"), she thought she was a cleaner, but she was a frying pan" and producer Phil Spector, who took over working on the LP after it was recorded, decided to leave that in the opening. Then Spector also changed the ending to the song, removing the cool ending heard on the single, and used the close from the live recording the band recorded of the song up on the roof of Apple records - and shown in the movies Let it Be and Get Back, as a joking Lennon stated at the concert's close (right after we also hear McCartney say "Thanks Mo" to Ringo Starr's wife Maureen, as she can be heard applauding and lets out a "Yeah!!), "I'd like to say thank you on behalf of the group and ourselves, and I hope we passed the audition".
I'll link to the remastered version of the song from 2015 at the voting page, which to me just sounds like any other version to my ears. This is also from the single with the ending that Paul wanted used. Now since I know my voters and my fellow Beatle fans, all would love to see the live version for that link, taken from the old Let it Be movie - which for years was on YouTube, until the new doc Get backcame out and was removed from YouTube, since that's also shown in the new doc, and Disney now owns the rights to it and of course - they took all of the clips of that offline - other than a 1 minute trailer. So no, for that reason, I couldn't link to that clip.
I closing, John ended up playing the lead guitar on this ditty after George Harrison quit the band for one day - after getting into another argument in the studio with Paul, who didn't yet have a main guitar riff written for the number. So, John took it upon himself and came up with a delightful riff that was kept and played by he on the finial take of the song. The full lineup for this one was: Paul McCartney – Lead Vocal and Bass Guitar; John Lennon – Harmony Vocal and Lead Guitar; George Harrison – Rhythm Guitar; Ringo Starr – Drums and with Billy Preston on the Electric Piano.
To rate this song and vote in this week's Beatles poll, just click on this link: Beatles Weekly Poll.
In last week's Beatle Poll, we asked this: Rate the Beatles song, "With a Little Help from My Friends" , from zero (lowest) to 10 (highest)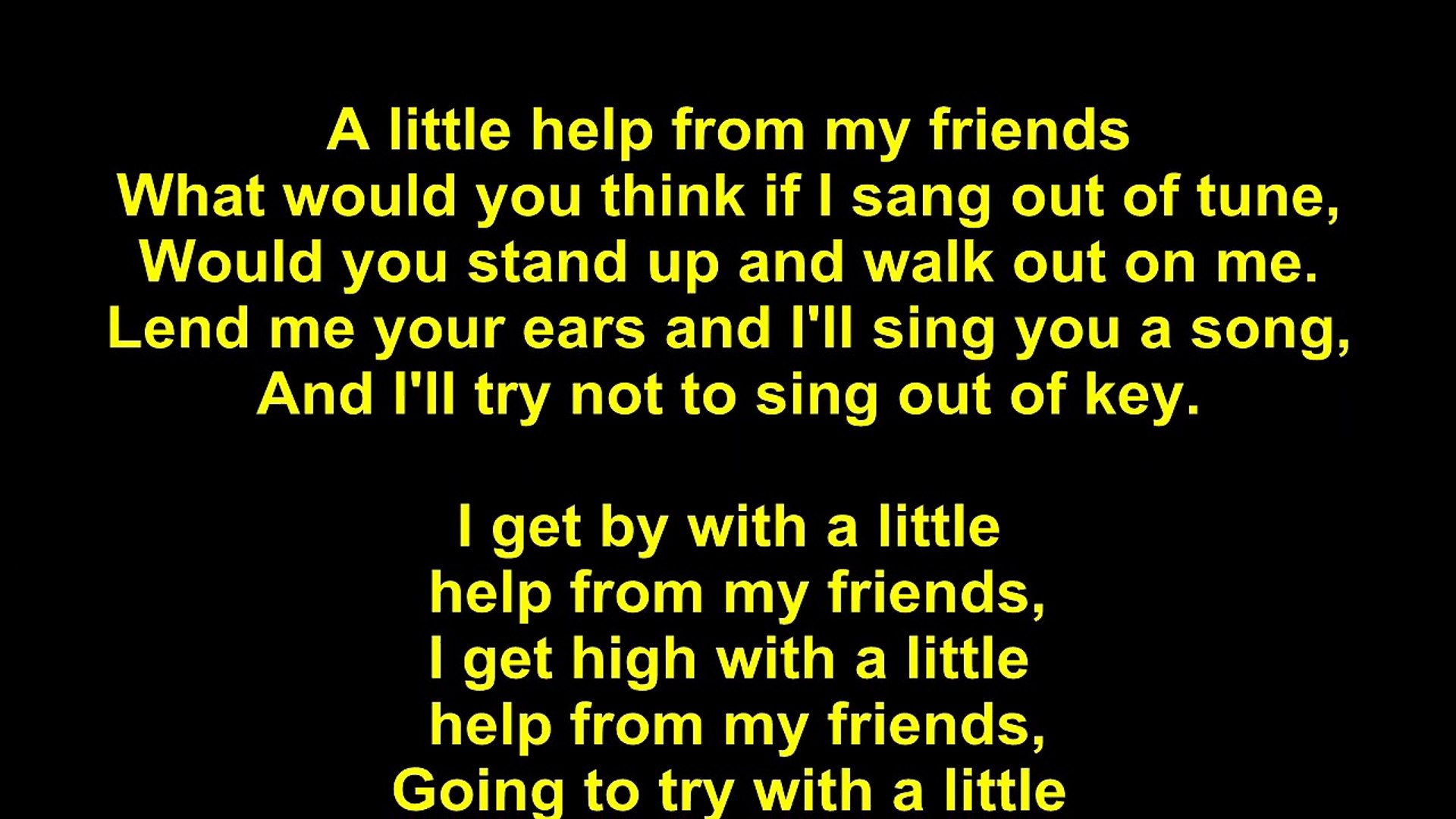 "With a Little Help from My Friends" Some of the song's lyrics
For only the second time a song that Ringo sang saw a top rating of a 10, taking in 33.9% of the first-place votes. To see where in the band's song rating standings this one landed, just click here: The Beatles Song Ratings and Standings Page . Or, to take a look at the poll's finial results from last week's question, just go there: Beatles Poll, week 618.
So that does it for this week's Poll Post. I guess this Poll Post will be getting a lot shorter and faster to read now that we are down to just 2 polls a week. If nothing more, I hope the lessen work load for me will help to keep our polls going for some time to come.
I do hope that all of you have a great week ahead, and thanks for voting in our polls!
Keno
Gasland Thread
---
Post Follow-up
---
Note: Do not hit the "Post Message" button more than once, even if it is taking a long time to post your message. Doing so may cause a double post to appear and could slow down your posting time even more.
Filter Threads/Archives
---
---
Download your free, customizable Burton Networks Message Board now!
© 1998 - 2022 by Keno Internet Services, except where otherwise noted. All rights reserved.