---
IT'S A GAS, GAS, GAS!!
MESSAGE BOARD ARCHIVES/WEEKLY ROCK POLL POST
Return to Gasx3/Poll Post Board Homepage
---
Gasland Message
---
Name: Keno
E-Mail: keno@fairpoint.net
Subject: Poll Post for the week starting Monday, Feb 27
Date: Sunday, February 26, 2023
Time: 11:05:25 PM
Remote Address: 216.245.78.27
Message ID: 321414
Parent ID: 0
Thread ID: 321414

Poll Post for the week starting Monday, Feb 27
So, Sunday night is here again, and that means it's once again time for me to tell you about this week's 3 new weekly polls by first talking about the Stones Poll, as we enter week 1,229 of voting and also week 120 of rating the band's songs. Here is this week's question: Rate the Stones song "Memory Motel", from zero (lowest) to 10 (highest).
"Memory Motel", from the Stones Black 'n Blue LP. Above is the real Memory Motel that Mick wrote about
Recorded in March and April, 1975, "Memory Motel" was released in 1976 on the album Black & Blue. A slow ballad, with the lyrics written by Mick Jagger, and in part about singer Carly Simon, whom he was seeing at the time. While the tune is officially listed with Mick as the lead singer, it's really more a duet with bandmate and fellow Glimmer Twin, Keith Richards, who wrote the song's music on piano.
The song's title comes from a real motel in Montauk, NY, located real close to the very eastern tip of Long Island, 120 long miles away from NYC. The Stones had rented out Andy Warhol's beach house (well, mansion) there and for a few months stayed there while rehearsing for their upcoming 1976 "Tour of the Americas"…. I'd been out to Montauk (aka Montauk Point) many times as a teen, and it is one of the few special places on Long Island where there were very few people, and at the Island's very eastern end. Up on a cliff, at Montauk Point is the very old (built in 1796) and very cool lighthouse, that's still in use to this day. I could totally see why the Stones choose this super cool location to live for a few months. Yet you can bet the band members never spend any nites at the Memory Motel, as even back then it was really old and even somewhat run down looking place. But it was the cool name that got MJ's attention, that's for sure, and one can't miss seeing this motel when driving on the only highway in that area, on your way to see/visit the Point, as it's located right on the main road.
When the Stones recorded this song, they were looking for a new lead guitarist to replacement the now ex-Stone, Mick Taylor. Actually, all of the lead guitarists who played on the Black & Blue LP , were gust guitarists trying out for the band, including Ronnie Wood, who played lead guitar on two of the album's songs, since he wasn't officially in the band yet - with one single exception – and found on the LPs closing number, as "Crazy Mama" was the only track on the entire album that Keith played any guitar on at all, and it's clearly the most Stones sounding song on that LP, and for that very reason. But the two guitar players on this number were Harvey Mandel and Wayne Perkins.
The full lineup for this ditty was: Mick Jagger – Lead & Backing Vocals, Concert Piano; Keith Richards – Co-lead vocal, Vocal Sample, Electric Piano; Bill Wyman – Bass Guitar; Charlie Watts – Drums; with Billy Preston on String Synthesizer and Backing Vocal; Harvey Mandel on Electric Guitar and Wayne Perkins on Acoustic Guitar. To rate this week's song, just click on the following link: Stones Weekly Poll.
Last week at the Stones poll, we asked this: Rate the Stones song "Winter", from zero (lowest) to 10 (highest).
"Winter", from the Stones Goats Head Soup LP
"Winter" scored a strong 10 rating with 75.6% of the vote. To see the full, finial results from this poll, just click here: Stones Weekly Poll - week 1,228. Or, to see just how close this song came to reaching the Top10 list in the Sones song standings, just click on here: Stones Song Ratings & Standings - List Page 5
Let's move on over to this week's Classic Rock Poll….
Well, well, well, the very last, or if you prefer, the final round not only of the current series that we been voting in for the last month, but more-so, the very last week of the Classic Rock Poll itself, as yep, that week is now here. After this week, no more Rock Poll will ever be held on this domain again, and after running it for so many years (16.6 of them), week 866 of the poll will be its last week for all of us to vote in it. Yes, while I feel real bad that it has to end, well it does and will. I've already explained why, and if you been away for the last week or 2 you can go back to last week's Poll Post, where for the last time I explained why it's ending. I also noted here several weeks ago that we just might - every once in a while, - bring this Poll back for perhaps a once a month running. I do, after all, have a handful of Rock Polls that never were run that are ready to go, and ideas for multiweek series that I could put together (and still wanted to put together) and run, that are still listed in my "future Poll" file). But no, the domains' most voted on weekly poll, will finish up its run this week and this will be its last week for sure. So - do make sure you take part and vote in it for this very last time, and also since Part 4 of this week's question, has been an interesting series, don't ya think?! Again, and as I stated last week, I wish I didn't have to close down this poll, but I have to, and also, unless things improve for me, the last 2 surviving weekly polls, that being the Stones and the Beatles weekly polls, more than likely don't have a lot of weeks left to them, either. If my health somehow temporary rebounds, and I feel more up to keeping these 2 polls running - then believe me, I will. But it's unlikely when I consider how bad and painful the last few weeks has been for me. But I've just starting taking some new pain pills and if they work (50/50 they will, so I've been told that by one of my doctors), then oh yes, the polls could continue on for a longer time than I can see at the present time. But I shouldn't really be running anything at this point, especially a broken-down polling system. Don't know if anybody even noticed, but once again the polling system was down for most of Saturday, and since I wasn't at home to see this and restart it, it took till the end of the day for me to solve the problem affecting the polls. But no, none of the recorded votes that were already cast for last week were lost (the problem wasn't in the vote count/data base, as that part of the programming still works fine). But that problem is all fixed for now; but just when will it maybe break down again? Yet with the health problems I'll dealing with today, the last thing I need to be working on is this broken-down polling admin. Perhaps, starting in 2 weeks when we will only be voting in and I'll only be running 2 polls a week - that alone might put less a strain on the polling system? Maybe, I'm not sure, but one thing I do know is, I do need less strain to be placed on my broken old body. So for now, how long the last 2 polls will run will depend not only on my health - but on the polling program that the 2 last weekly polls and the On Going Polls, all run on, too.
Okay, enough of that, here's this week's and the Rock Poll's very last question that will be asked - and answered: What's the saddest song about being unhappy? (Part 4 of 4)
What's the saddest song about being unhappy?
Part 4 and week 4 of this 4-part question of this multi week series. A total of 35 songs made it into the final round, and if you've been voting in this poll for a long time, you know that 35 choices for the final week of a multi-week poll, is a lot of choices, and that's because we had a lot of ties last week for the final spot on the list. I was half thinking that maybe I would just trim the usual list of qualifying songs for this last round of this question and poll, to only having about 20 or so choices listed. But damn, this is the last week of this poll and the songs listed did make the cut going by the long time rules set, so why change them rules in the last week? So, I didn't do that, and we have a lot of great - but sad songs to look at and consider for this finial part of the voting on this question.
To see all 35 songs that are listed in Part 4 of this poll, and then to vote for the one you feel is the saddest, just click on this link: Classic Rock Poll.
Last week at the Rock Poll, we asked this: What's the saddest song about being unhappy? (Part 3 of 4)
What's the saddest song about being unhappy?
Here are the 13 top voted on songs from Part 3 that made it into the final round (yes, 13 of them!): Fire and Rain - James Taylor (187 votes with 5.5% of the vote), Mother - John Lennon (187 and 5.5%); Patches — Clarence Carter (185 and 5.4%); A Woman Left Lonely - Janis Joplin (184 and 5.4%); Daniel - Elton John (182 and 5.3%), Sam Stone - John Prine (182 and 5.3%); A Change Is Gonna Come - Sam Cooke (181 5.3%), All My Love - Led Zeppelin (181 and 5.3%), The Needle and the Damage Done - Neil Young (181 and 5.3%); As Tears Go By - The Rolling Stones (180 and 5.2%), Baby Blue – Badfinger (180 and 5.2%), Cryin' Time - Ray Charles (180 and 5.2%) and The Tears Of A Clown - Smokey Robinson and The Miracles (180 and 5.2%).
To see the full, finial results from last week's Rock Poll, just click on the following link: Classic Rock Poll, week 865. BTW, the vote count from last week was the highest ever for this poll and the domain! I hope to see us beat that for this week's finial vote!
We close out this week's Poll Post with week 618 of the Beatle Poll, and week 52 of rating their songs. This week's question asks: Rate the Beatles song, "With a Little Help from My Friends" , from zero (lowest) to 10 (highest)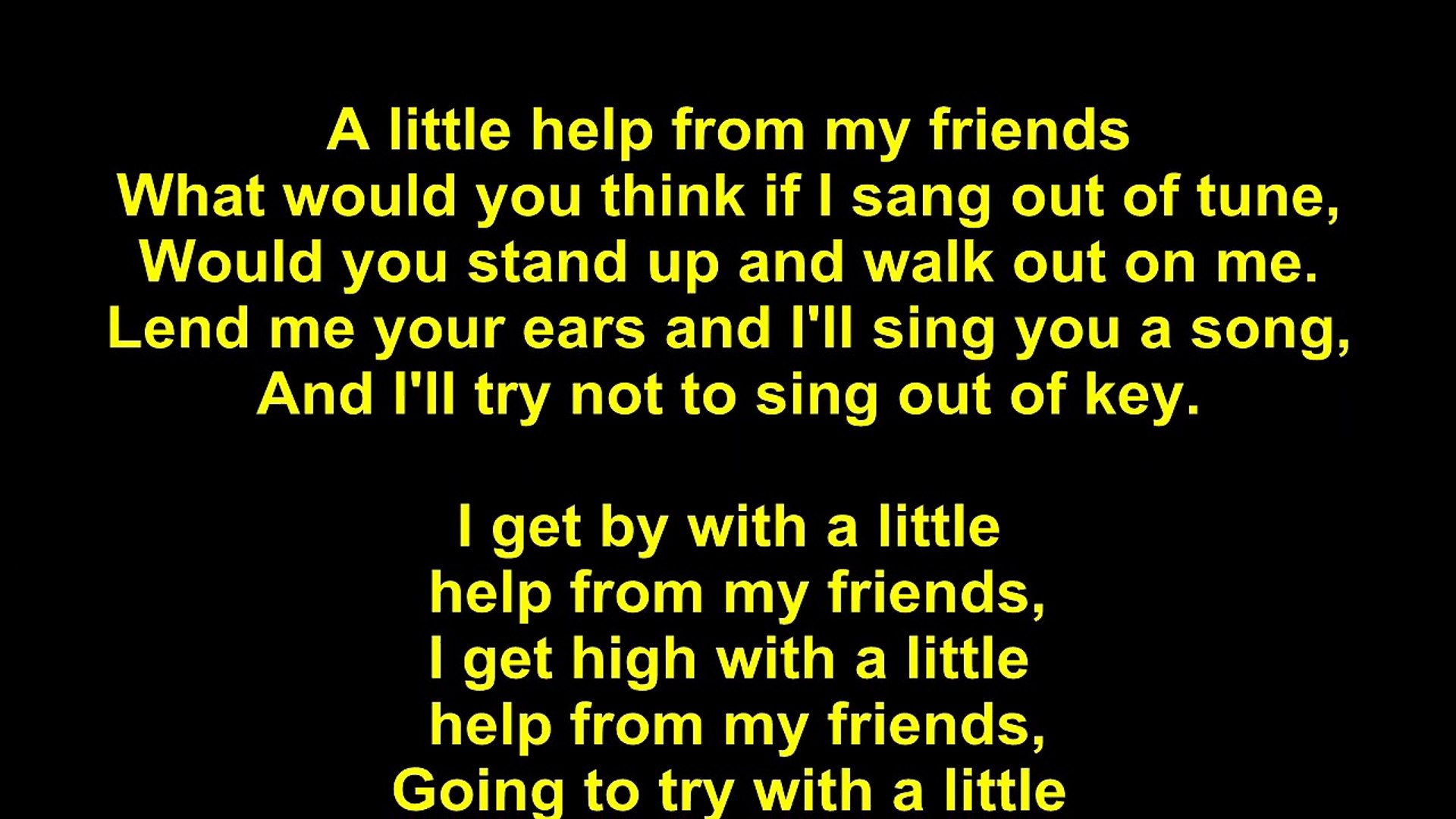 "With a Little Help from My Friends" Some of the song's lyrics
The lyrics to "With a Little Help from My Friends" was written by John Lennon and Paul McCartney as a rare "50-50 thing" as John later noted in an interview. They wrote the song together for, and then gave it to, the band's drummer, Ringo Starr, to sing the lead on (while renaming him "Billy Shears" for this song). The number had also been written for the band's upcoming LP Sgt. Pepper's Lonely Hearts Club Band (one of Rock music's first ever concept albums), in 1967, after being recorded on May 26, 1967. While the two leaders did write the lyrics together, the music came from John alone, who wrote that part on piano (with a broken finger at the time, no less, playing with just one finger on the keyboards, so at first it was titled "Bad Finger Boogie", which in turn would be the inspiration behind the naming of the band Badfinger, which John and Paul help produce at different times early on when that band was brand new and who played on the Beatles new and self-owned Apple Records label).
Ringo noted later on that the opening lyrics to the song were different and at first were written as: "What would you think if I sang out of tune, would you throw ripe tomatoes at me?". But Ringo refused to sing the line, since he felt that if he ever sung the song live, that Beatle fans would do just that to him, after their fans started to throw jelly beans at the group at their early live performances, after George Harrison noted that the band members all love to eat jelly beans. As you can guess, that was actually a dangerous thing to do, even if they were thrown out of love. While throwing ripe tomatoes may not have been anywhere as dangerous, they would sure make a mess of a person, and when Ringo noted that this might/could happen, John changed the lyrics to the line - and IMO, came up with a much better lyric, one that none of the fans would dream of doing during a live Beatle show!
The full lineup for this song was: Ringo Starr – Lead Vocal, Drums, Tambourine; John Lennon – Backing Vocal, Rhythm Guitar, Cowbell; Paul McCartney – Backing Vocal, Piano, Bass Guitar; George Harrison – Backing Vocal, Lead Guitar; with Producer George Martin on the Organ.
To rate this song and vote in this week's Beatles poll, just click on this link: Beatles Weekly Poll.
In last week's Beatle Poll, we asked this: Rate the Beatles song, "Back in the U.S.S.R." , from zero (lowest) to 10 (highest)
"Back in the U.S.S.R." A photo taken from the song's Video
Yes, you already know that this song 's top rating was a 10, taking in 87.3% of the first place votes. But to see if this Beatle song rated high enough to make it into the Beatles Top 10 of the band's song rating standings, just click here: The Beatles Song Ratings and Standings Page . Or, to take a look at the poll's finial results from last week's question, just go there: Beatles Poll, week 617.
So that does it for this week's Poll Post. As some of you may already know, and if you're an old Rock fan like myself, you may not care anymore about this news, but I'll state it anyway.... Last week, the fan's voting got underway for this year's list of nominees to the Rock n Roll Hall of Fame. Since, IMO, new Rock music started to suck for good 20 years ago (and never recovered like it did for a short while in the '80s when this first happened), well that means the "new" Rock artists from 20 years ago - now qualify to be inducted into the Hall. So, who's on this year's list? Well, here you go: George Michael, Cyndi Lauper, Warren Zevon, Soundgarden, Iron Maiden, Willie Nelson, Joy Division and New Order, Kate Bush, Sheryl Crow, Rage Against The Machine, The Spinners, The White Stripes, Missy Elliott, and A Tribe Called Quest. It's funny, other than the group A Tribe Called Quest, who I never heard of and I understand were a Rap group, I have heard of the others. But other than George Michael, Cyndi Lauper, Warren Zevon, Iron Maiden and Willie Nelson, I've only heard of the others and don't know any of their music (yet I even saw Sheryl Crow open one year for the Stones!), and I only recall one song from the Spinners. That don't mean the rest suck and aren't worthy of getting in, it just means I never gave a rat's ass to listen to any of them (perhaps my loss?). Now Willie Nelson I totally love, a great man who puts on a great live show (he usually plays around 40 plus songs a show!.... or at least did on the 2 different times I saw him live, be it many years ago when he was a lot younger, while my favorite band the Stones never came close to that number when playing live). He's also a great song writer, too, not only for himself but countless other stars who he has written songs for. But, and this is a big BUT, as you all know, he isn't and never has been - a Rock Star, he's 100% a County and Wester singer.... so, what the hell is he doing on the list?! You think the morons who nominate singers and performers for the Rock Hall would know better by now (since this isn't the first time they done this), but they are just in this for the money the Hall makes for them and nothing more. So while I do love Willie, I can't and won't vote for him, since he ain't Rock n Roll! As far as George Michael goes, I never could stand the man, I flat out hated the way he sang, but yes, he was well loved by his fans, and I bet he will get in, since he did sell a ton of records and again, had a ton of fans who loved him and his music. The only 3 who I will vote for myself this year are Cyndi Lauper, Warren Zevon, and Iron Maiden. While I never been a big fan on fan of them, Lauper I liked the most of the 3 and yes, she should get in. So should Zevon and Iron Maiden, who were/are true Rockers for sure!
Anyway, if you would like to vote for who gets into the Hall, you can vote once a day (which of course in itself, is totally an insane thing to allow, but it too makes the Hall money, and again, that's all that matters to them) here: Rock Hall Vote.
I hope all of you have a great week ahead, and I am totally touched by all of the well-wishers I've received from all of you loyal voters and our past Gasland members and friends who have been emailing me in the last few weeks. I thank you all for your kind words and emails!
Keno
Gasland Thread
---
Post Follow-up
---
Note: Do not hit the "Post Message" button more than once, even if it is taking a long time to post your message. Doing so may cause a double post to appear and could slow down your posting time even more.
Filter Threads/Archives
---
---
Download your free, customizable Burton Networks Message Board now!
© 1998 - 2022 by Keno Internet Services, except where otherwise noted. All rights reserved.