---
IT'S A GAS, GAS, GAS!!
MESSAGE BOARD ARCHIVES/WEEKLY ROCK POLL POST
Return to Gasx3/Poll Post Board Homepage
---
Gasland Message
---
Name: Keno
E-Mail: keno@fairpoint.net
Subject: Poll Post for the week starting Monday, Oct 11
Date: Sunday, October 10, 2021
Time: 10:36:49 PM
Remote Address: 8.41.160.9
Message ID: 321045
Parent ID: 0
Thread ID: 321045

Poll Post for the week starting Monday, Oct 11
We open up and start off this week's Poll Post for our 4 weekly polls as usual with the Stones poll, where enter week 1,158 of voting, and where we are rating all of the songs released by the Stones. This week we'll ask this question and rate this song: Rate the Stones song "Back to Zero", from zero (lowest) to 10 (highest)
"Back to Zero", was the B-side to the single, 'Winning Ugly" in the UK and in Canada
We rated a couple of the Stones' well-loved songs in the last 2 weeks, so let's move on over this week to their least favorite album, Dirty Work , where 99% of Stones fans would say that there weren't any well-loved songs on that disaster of an album. Now, "Back to Zero" might not be the worst song on DW (it isn't to me anyway), but it's one of those rare* Stones songs that in a nutshell, is totally forgettable (*by calling it a "rare" forgettable song, I mean counting all of the other Stones LPs, other than on DW - an album where all of the songs on it were forgettable, so perhaps not rare in this case). While the song's lyrics are good and still fit into today's world very well (35 years later, mind you), you can look back and realize this big rock that we all live on has been a messed-up place forever it seems, and why such a song's lyrics still works today. But with decent lyrics, why does his song come off as a dud? Perhaps the music is lacking? I mean, there's no Charlie Watts anywhere on this song, as he missed many sessions during the making of the DW album, including the one day that this song was recorded on.
Guess I should close noting that this song was co-written by keyboardist Chuck Leavell (who was actually given a co-writing credit!... something the Glimmers rarely ever did). Recorded in July of 1985 and edited in the studio in November & December of that year, then released on March 24, 1986 on DW. The lineup for this one was: Lead Vocal: Mick Jagger; Electric Guitars: Keith Richards & Bobby Womack; Bass: Ron Wood; Synthesizers: Bill Wyman & Chuck Leavell; Trumpet: Dan Collette; Shakers: Anton Fig. So, let's rate this one right now. To do that, just click on the following link: Stones Weekly Poll.
Last week at the Stones poll we answered this question Rate the Stones song "Honky Tonk Woman", from zero (lowest) to 10 (highest)
" Honky Tonk Woman" Single front cover sleeve
"Honky Tonk Woman" scored a 10 for its top rating, just as I noted here last week that it would, as we all knew this was to happen. Only question was, how high would its rating be? To find out and see the full final results from this poll, just click here: Stones Weekly Poll - week 1,157. Or to have that look at the song's rating and where it landed in the standings - and to see if it topped the 3 songs up on top of that list for this ongoing series (yes, it goes by the percentages that the song's 10 rating took in when there's a tie), just click on the following link to find out: Stones Top Picks - Page 3, List Page 5.
Now let's take a look at this week's Classic Rock Poll, where we enter week 798 of voting, and for this one we vote in 2 different Rock Polls for the week. So for this week's first poll will answer this one for the final time: What is the gloomiest Rock song? (Part 4 of 4)?.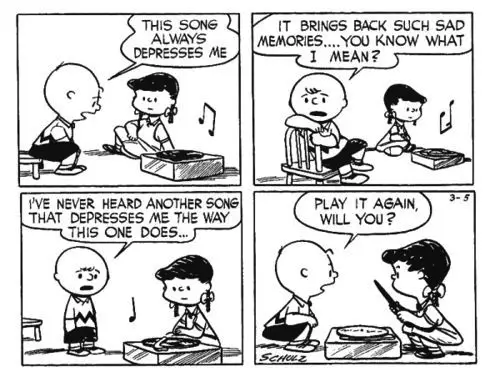 Gloomy songs Deep down, we do like them, well, some of 'em? Right?
Okay, so the final list of songs for the last round of this question is now ready to be voted on We have 31 songs that made it into this final round. Overall, the artist who shows up with the most gloomiest songs was Elton John with 3 of them, and another one of his songs last week just missed the list by one vote!.... There were several other artists who have 2 songs each listed.
But just remember before you vote, we aren't looking for your favorite song from this list, while we are looking for the songs that are the gloomiest. So, you totally can dislike a song directly because it's so gloomy, and that would be the main reason to vote for it!
Ready to vote in this last round? To make your pick for the gloomiest rock song ever, just click on here: Classic Rock Poll, and when you get to this page, choose "Poll 1" to vote in this poll.
For this week's Rock Video polls, we'll vote on and answer this question: Rate Cyndi Lauper's official video for "Girls Just Want To Have Fun", from zero (lowest) to 10 (highest)
"Girls Just Want To Have Fun",single's front cover
I've noted before that I can't stand to hear 99% of all New Wave songs, and yes, that's what this one is, a new wave song.... but... there are a handful of such songs that I do like and this is one of 'em.
"Girls Just Want to Have Fun" is a song that was first written by Robert Hazard with a man's viewpoint, with Cyndi then rewriting it to where it was now looking at a young feminist's point of view. Unlike most untalented New Wavers who couldn't play any of their instruments well, she had and still has a ton of musical talent, and she plays several different instruments. By her second LP, Cyndi had left the new wave and started to sing and play more mellow music. While she has this talent, and she plays guitar live, on many of her studio albums she often just sings, other than on several songs where she has played a bunch of dulcimer in the studio along with several other instruments from time to time.
But for this poll we are just looking at this very much New Wave song and its video. "Girls Just Want To Have Fun" was Cyndi's debut single off her debut album, She's So Unusual, released in 1983, and while the single went all the way to #2 here in the States and also in the UK, it went to #1 in several other countries, including in Canada. Its video was directed by Edd Griles, and the video was a low-budget deal. But it worked out in part thanks to a lot of volunteers working on it with no pay so it would even be able to happen. It starred Cyndi along with former professional wrestler, and at the time still a professional wrestling manager and sometime actor, Captain Lou Albano, playing the role of Lauper's father, while her real mother, Catrine, played herself. Even actor Dan Aykroyd shows up in a cameo at the video's close, in Cyndi's crowded bedroom playing his SNL character of Beldar Conehead (if you don't look for him, you'll miss him, I always did and only found out he was even in there while researching this video last week).
The lineup for this song was: Cyndi Lauper – Lead and Backing Vocals; Rob Hyman – Lead Synthesizers and other keyboards; Rick DiFonzo – Electric Guitar, Eric Bazilian – Bass; Anton Fig (yes, him again): Drum Machines; Backing Vocals: Jules Shear, Ellie Greenwich, Krystal Davis, Maretha Stewart and Diane Wilson.
So this song and its video was what made Cyndi a big star and the video won a few rewards after its release. But what do you think of it both today - and yesterday (that is, if you were around and old enough back in '83)? To vote in our Rock Video Poll, just click on this link: Classic Rock Video Poll, and when you get to this page, choose "Poll 2" to vote on this question.
Last week in the first Rock Poll we asked this question: What is the Gloomiest Rock song? (Part 3 of 4)?.
Gloominess sucks
Boy or boy were there a lot of ties last week! In fact, it was like the real old days at this poll with the kind of ties we saw. Get this, the top 11 songs that made it into the final round all had either 158 or 157 votes cast each. Really, something I can't recall ever seeing before, and it was like this for the entire week. There were 6 songs tied for first and 5 tied for second. That of course wasn't the case in the first 2 weeks, but I got a feeling the last round could be interesting to watch!
But the top 11 songs picked in Part 3 were: The 6 songs with 6.1% of the vote were: Dead Babies - Alice Cooper (the band), Eve of Destruction - Barry McGuire, Fade To Black – Metallica, I Don't Like Mondays - The Boomtown Rats, Love Hurts – Nazareth, Seasons in the Sun — Terry Jacks. Then the 5 with 6% of the vote were: Down by the River - Neil Young, Dust in The Wind – Kansas, Fire and Rain — James Taylor, Isn't It A Pity - George Harrison, Mona Lisas And Mad Hatters - Elton John.
To see this poll's full, final results, just click on the following link: Classic Rock Poll, week 797, Poll 1.
In last week's Rock Video poll, I asked and you voted on this: Rate Crosby, Stills, Nash & Young's video for "Love The One You're With", from zero (lowest) to 10 (highest)
Close voting for the top 3 spots for between 8 and 10, with 10 being the top pick with 33.3% of the vote. You can look over the results from this Rock Video poll by clicking on the following link: Classic Rock Video Poll, week 797. Or, to see the results on the Rock Video list page, just click on here: Rock Videos List Page, List Page 12, and when you get there, the results are located on the very top of the page.
Time to wrap up this Poll Post with the Beatles Poll, where this week we enter week 549 of voting, and where we are still answering questions about The Beatles videos. This week's Beatle video poll question asks: Rate The Beatles' video for "The Long and Winding Road" from zero to 10 (Click here for the video)
The single front cover for "The Long and Winding Road"
"The Long and Winding Road" became the group's 20th and last number-one hit on the Billboard Hot 100 chart in the U. S. but wasn't released as a single in the UK. This was one of those Beatle songs that was 90% Paul, with little for the rest of the Beatles to do, especially for John and George, while Ringo does his best impression of Charlie Watts, in trying to look as bored and as uninterested as Charlie used to seem to be in so many of the Stones videos. Yet Ringo was the one Beatle who supposedly loved to make videos and films (perhaps he was just too stoned for this filming?). But unlike the guitars, at least Ringo's drums are heard in this song, even if not that much. The guitars are mainly missing in action on this one... It's mainly Paul's piano that we hear, and we also hear a bit of Billy Preston's organ in the song's second half - at least in this video version, which isn't the same as the released studio take of the song and its single. Plus, Paul's very cool vocal ending to the song in its single release - his drawn out and heavy sung: "Yeah yeah yeah, yeah", is not sung and is missed here. Yet with all that, this video along with the song itself is still excellent (IMO, anyway), since it's a perfect mellow tune, and it isn't meant to be anything more than that. But yes, another later day Beatle song where Paul writes a song not for the band, but just for Paul. Still it's a great song anyway, IMO.
Anyway, here's the actual studio lineup for this song's single: Paul McCartney – Vocal, Piano; John Lennon – 6-string Bass; George Harrison – Electric Guitar; Ringo Starr – Drums; with Billy Preston – Electric Piano; and another 34 uncredited orchestral musicians playing 18 violins, 4 violas, 4 cellos, a harp, 3 trumpets, 3 trombones, 2 guitars, plus another 14 female singers (and yet Paul claimed that that the Beatles never used any female voices on their records before - after this song was made, when Phil Spector used female singers on the Beatles song that he wrote, "Let it Be", against his wishes. That's Paul!... or at least was Paul, as I believe he has mellowed out since way back then.
How do you feel about this song and its video? To cast your vote in this poll and rate the video, just click on the following link: Beatles Weekly Poll.
Looking back at last week's Beatles poll, we asked: Rate The Beatles' video for "Come Together" from zero to 10 (Click here for the video)
From the video for "Come Together"
Okay, you already know that a 10 was its top rating, right? Last week this song saw its 10 rating take in 78.1% of the vote. But we already talked last week about how most of their videos take in a 10 for the top rating. Still its cool to see just where all the videos end up in the standings even if most videos see 10s. So to see the full, final results from this Beatle poll, just click on: Beatles Weekly Poll – week 548. To see those standings of the Beatles Videos, just go here: Beatles/John Lennon Videos and Movies, and look under the "Video Ratings" standings.
That will do it for talking about this week's polls in our Poll Post. In other non-music news…. On Saturday morning, October 9, and for the first time in 25 years, I got to say "It's a GIRL!", as my grandson Cooper became a dad for the first time with the arrival of his newborn daughter, Everly Rose! Yes, only the second granddaughter for me and the first girl in the family in all of those years (at least on our side of the family, his girlfriend comes from a family of 12 kids, and has a few young half-sisters, so that doesn't apply to her side of the family). But for Coop's side, since my first granddaughter joined the kin 25 years ago, we've seen 7 boys in a row born into the family. Even if I look deeper into my sister's kid's children, the last girl born was even more than 25 years ago while their grandkids have also been all boys, too. I'm sure the odds are totally against that, since my youngest sister keeps insisting that it's always a 50/50 deal on what sex a baby will be. But after 25 years of no girls, I don't believe that at all. Anyway, I got a feeling that little Everly Rose will be spoiled for sure by her grandparents - at least on this side of the family, anyway. To say the least, we are all overjoyed with her arrival!
I do hope all of you have a great and safe upcoming week safe!
Keno
Gasland Thread
---
Post Follow-up
---
Note: Do not hit the "Post Message" button more than once, even if it is taking a long time to post your message. Doing so may cause a double post to appear and could slow down your posting time even more.
Filter Threads/Archives
---
---
Download your free, customizable Burton Networks Message Board now!
© 1998 - 2021 by Keno Internet Services, except where otherwise noted. All rights reserved.