---
IT'S A GAS, GAS, GAS!!
MESSAGE BOARD ARCHIVES/WEEKLY ROCK POLL POST
Return to Gasx3/Poll Post Board Homepage
---
Gasland Message
---
Name: Keno
E-Mail: keno@fairpoint.net
Subject: Poll Post for the week starting Monday, Feb 8
Date: Monday, February 08, 2021
Time: 12:06:42 AM
Remote Address: 8.41.160.9
Message ID: 320856
Parent ID: 0
Thread ID: 320856

Poll Post for the week starting Monday, Feb 8
We open up and start off this week's Poll Post for our 4 weekly polls as usual talking about the Stones poll, where enter week 1,123 of voting, and where we will continue to rate the band's songs. For this week we ask: Rate the Rolling Stones release of the song "Laugh, I Nearly Died", from zero (lowest) to 10 (highest)".
"Laugh, I Nearly Died", lyrics from A Bigger Bang
Okay, so for this week at the Stones poll, we will go from rating some of the greatest Stones songs in the last few weeks, to this week rating a deep cut from their very last rock album of original songs. As hard as it is to believe, it's been 15 long years now since the Stones put out a new LP of original material. Any other band would not be called a current band if they did this, but somehow the Stones are allowed to get away with this, even if us fans hate this fact.
"Laugh, I Nearly Died" wasn't one of the favorite songs on A Bigger Bang, in fact, many fans might say there was no bang at all to this ditty, including myself, and overall I loved the album, sans this tune, which seemed to have somewhat interesting lyrics (written by Jagger), but the music had little to be desire. But of course, that's only my point of view, what does the average Stones voter think of this one? Well, we will soon find out…. The lineup for this song was: Mick Jagger – Lead and Backing Vocals, Guitar, Keyboard, Percussion; Keith Richards – Guitar; Ronnie Wood – Guitar; Charlie Watts – Drums; Darryl Jones – Bass
To rate this tune, just click on the following link: Stones Weekly Poll to cast your vote (and view the video).
Last week at the Stones poll we answered this questionRate the Rolling Stones release of the song "Ruby Tuesday", from 1 (lowest) to 10 (highest).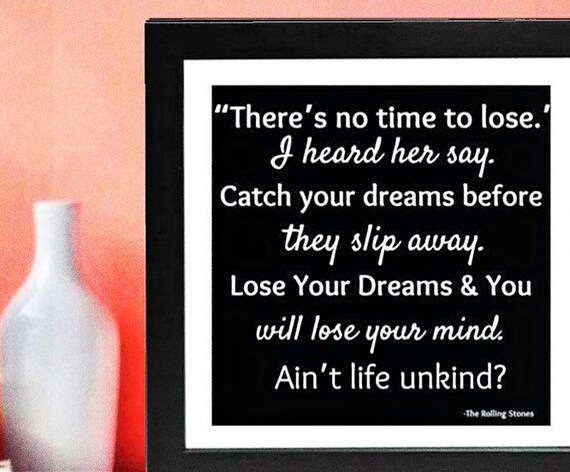 From "Ruby Tuesday""Brian's lyrics were always so dreadful" – Mick Jagger
As is the case when we rate such a song like "Ruby Tuesday", I think most of us – well, all of us, knew this one would end up with a 10 score in the end. The only question was, by how wide a margin? So, RT did very well indeed, taking in 82% of all the votes cast, for the third highest 10 score among Stones song that we have already rated. You can check out the full results from last week's poll, here: Stones Weekly Poll - week 1,122. Or, to check out the song standings, located at the Stones newest List Page, you can visit this new page here: Stones Top Picks, List Page 3., list page 5, and see where all of the songs rated so far have landed in those standings.
Okay, now let's check out this week's Classic Rock Poll, where we enter week 763 of voting, and for this one, as usual, we vote in 2 different Rock Polls each week.
This week's first question asks: Who was/is the overall best singing drummer?
Ringo Starr Perhaps the best-known Rock drummer. But how about his singing?
So yes, I decided since these questions asked in the last few weeks were doing so well in voter turnout, why not ask one last question about drummers. I came up with a list of 21 drummers who sang often enough, including a few that weren't mentioned in last week's polls that actually only dealt with songs that drummers sang lead on. But the difference with this week's poll questions is that we aren't looking at songs at all this time, and are just dealing with how well these drummers sang overall. Plus, I guess I should note that only true drummers get noted there, while sometime drummers do not. In other words, sometime drummer like Paul McCartney is not included on this list. Also note that how great or how poor a drummer a person was/is doesn't matter here, as only the fact that the person in question's main job in a band was being a drummer, that's what we're looking for here.
To vote in this week's first Rock Poll question for whoever you think was/is the greatest singing drummer, just click on here: Classic Rock Poll, and when you get to this page, choose "Poll 1" to vote in this poll.
For our second Rock Poll this week, we have the Rock Video poll, and we ask this: Rate Todd Rundgren's video for 'Bang the Drum All Day (Live)' (Click here for the video), from zero (lowest) to 10 (highest)
Todd Rundgren bangs away on the drums while actually working
Since we have been looking at drummers for the last 3 weeks at the main rock poll, why not run a rock video that deals with a song about drumming? So yes, we will go with this fun song by Todd Rundgren, "Bang the Drum All Day".
We only last summer ran a verses Rock poll here featuring this song when it went up against T-Rex's "Bang a Gong", and lost that poll by one single vote. This song deals with not wanting to work and live an easy life banging on one's drums all day long instead. I think most working people can relate to this song, especially when the weekend comes around.
Todd of course, known more so as a Rock producer on several other major artist's albums, and also was a member of the Nazz, and then later on the leader of the band Utopia. He did have several solo hits, too. Yet this one wasn't really one of them, only barely making the Top 100 charts in both in the UK and U.S. Yet in time the song turned out to be his most remembered song, since it grew on people as time went on, and also thanks to several NFL football teams that started to play the song after the home team scored a touchdown.
One last note on Todd is that, while for this video, which is taken from a live show, you can see that he plays the drums well. But no, he's not listed in the main rock poll this week for singing drummers since, well, like Paul McCartney who I noted, Todd's main instrument isn't the drums. He's a multi-instrumentalist who plays many different instruments very well, but while playing live, he mainly plays guitar.
As is too often the case with these video polls, there isn't any real info on the video we are rating, such as where the show was held, etc. But like the song, the vid is fun to watch never less. So to watch, listen to, and then rate this week's Rock video, just click on this link: Classic Rock Video Poll, and when you get to this page, choose "Poll 2" to vote on this question.
Last week in the first Rock Poll we asked this question: What was the best lead vocals sung in a song by a band's drummer
Don Henleyof the Eagles
Last week we looked at the best song sung by a drummer and Don Henley of the Eagles took first place with the song "Hotel California", with 4.7% of the votes in very close voting. Can't say I was too surprised by that pick, while the song and drummer I voted for, "Pleasant Valley Sunday: by The Monkees, with the lead vocals sung by Micky Dolenz, placed with 4.6% of the votes, and in third was another great rock song, "I'm In Love With My Car" by Queen, with the lead vocals sung by Roger Taylor, also with 4.6% of the vote, but with 2 less votes than what Dolenz song received. You can check out the full, final results from this poll to see where the other drummer sang songs ended up by clicking on the following link: Classic Rock Poll, week 762, Poll 1. Or, to see the Top 10 (well, Top 11, as for the second week in a row, there was a tie for the last spot) results from this poll at the list page, just click on here)
Last week at our Rock Video poll, we asked this: Rate The Mamas & The Papas' video for "Creeque Alley" (Click here for the video), from zero (lowest) to 10 (highest)
The Mamas & The Papas singing "Creeque Alley"
The top rating for this poll question was a "10" score, taking in a whopping 49.5% of the vote. You can click on the following link to see the full, final results from this one: Classic Rock Poll, week 762, Video Poll. Or, to see where in the updated Video standings this one lands, just go here: Rock Video Standings list page. The standings can be found at the very top of the page.
We close up this Poll Post looking at our Beatles Poll question for this week. For poll week 514 we will answer this: Rate The Beatles' video for "Maxwell's Silver Hammer" (early take of song) (Click here for the video), from zero (lowest) to 10 (highest) "Maxwell's Silver Hammer"
I'd been planning for a long time to have us rate the video of this song from the original Let it Be movie, which was up for years on Youtube, but I just never got around to it, and now it has been removed from that site in the last few months. It seems all of the videos from that old move have now been removed, since the new replacement movie Get Back, is about to come out, and while I'm sure they will have that old clip in the new version of the doc, I guess they don't want anything out there on YT for now that isn't official. Stupid move on the new movie's director, Peter Jackson, since all that old video stuff does is offer a free advertisement for the new take of this classic movie. So we'll just have to wait for the new release to happen before we can rate this song's official release, but in the meanwhile we have this short early version of the song that we can rate right now. It was filmed early on in the sessions, and seems that Paul hadn't written up all of the lyrics to this one yet, as he's more trying to get the music down right at this point with his bandmates. The clip is short, under 3 minutes, but every second of it is priceless if you're a fan of the Fabs (which 99.5% of all sane rock fans are). So you should love this clip if you haven't seen it yet - but - like I noted 2 weeks ago when we rated the "Get Back" (song) video which was also a preview from the new film, this vid could come down at any time, since it's not an official preview release. So best bet is to rate it ASP and don't wait till week's end to do so, like some here like to do, since the clip it could come down any time this week. Yes, I noted this 2 weeks ago for the GB video, and yes it's still up today, but all of these can still come down at any time. So do rate these vids asap - just in case.
To vote in this week's Beatles video poll, just click on this following link: Beatles Weekly Poll.
Looking back at last week's Beatles poll, we voted on this question: Rate The Beatles' video for "Love Me Do" (Click here for the video), from zero (lowest) to 10 (highest)
"Love Me Do" , 2 of the 3 drummers used on the 3 versions of the song, Pete Best and Andy White
Another 10 for the top rating for yet another Beatle video, this time taking in 71.1% of the vote! To view this poll's full, final results, just go here: Beatles Weekly Poll – week 513. Or you can look at the Beatles' Video standings both over at the regular Rock Video page (see the link at the Rock Video poll results above) or at the Beatles own video and movie page, here: Beatles Movie and Video Ratings and Standings list page.
That will do it for yet another Poll Post. I hope all of you stays healthy and have a great week ahead!
Keno
Gasland Thread
---
Post Follow-up
---
Note: Do not hit the "Post Message" button more than once, even if it is taking a long time to post your message. Doing so may cause a double post to appear and could slow down your posting time even more.
Filter Threads/Archives
---
---
Download your free, customizable Burton Networks Message Board now!
© 1998 - 2021 by Keno Internet Services, except where otherwise noted. All rights reserved.