---
IT'S A GAS, GAS, GAS!!
MESSAGE BOARD ARCHIVES/WEEKLY ROCK POLL POST
Return to Gasx3/Poll Post Board Homepage
---
Gasland Message
---
Name: Keno
E-Mail: keno@fairpoint.net
Subject: Poll Post for the week starting Monday, Jan 11
Date: Monday, January 11, 2021
Time: 12:12:25 AM
Remote Address: 8.41.160.9
Message ID: 320831
Parent ID: 0
Thread ID: 320831

Poll Post for the week starting Monday, Jan 11
Let's get this week's Poll Post for our 4 weekly polls rolling along by starting off with the Stones poll, which enters week 1,119, and where we'll continue rating their songs. So, here is this week's question: Rate the Rolling Stones release of the song "Brown Sugar", from 1 (lowest) to 10 (highest).
Single front sleeve for the song "Brown Sugar"
I wanted to have a song this week to rate that is just as powerful a number as the song we rated last week, which was "Jumpin' Jack Flash", and while there aren't too many that can match that masterpiece, one does come to mind, that being "Brown Sugar", which came out just 3 years after JJF, in 1971. Yet only 3 years' time back then in Stones history, meant a lot of changes for this band, as the Stones founder Brian Jones was now dead and his replacement, Mick Taylor, was on board. While Taylor was fantastic while in the Stones – be it for too short a time, this song was made a major hit thanks in part to a guy who was never officially in the band, other than as a session player and as a live player, too, that being Bobby Keys, who blew one of the greatest sax riffs (if not the greatest) in the history of rock music on this song.
While credited to "Jagger/Richards", "Brown Sugar" was written entirely by Mick Jagger and was about 2 different black woman whom he was seeing at the time, soul singer and Ikette, Claudia Lennear, but more so, it was about the mother of his first child, singer and actress Marsha Hunt. But of course, there was also a second meaning to this song, that being that it was also a drug song about the drug heroin, which "brown sugar" is a slang term used for the drug.
While this song wasn't released until '71, it was recorded in early December of 1969 at the famous Muscle Shoals Sound Studio in Alabama, and was first played live during the infamous concert at the Altamont Speedway in California, which was held just a few days after the song was recorded. It was eventually released in April of 1971 as the first single from the Sticky Fingers album, becoming a number one hit in several countries including the U.S. and Canada, and a number two hit in both the UK and Ireland.
The full lineup for this great one was: Mick Jagger – vocal, percussion; Keith Richards – electric and acoustic guitars, backing vocal; Mick Taylor – electric guitar; Bill Wyman – bass; Charlie Watts – drums; Ian Stewart – piano; Bobby Keys – tenor saxophone, which was pretty much the lead instrument in the song.
Okay, to rate this powerful song in this week's Stones poll, just click on the following link: Stones Weekly Poll to cast your vote (and view the video, but just remember, we aren't rating the video, just the song it self).
Last week at the Stones poll we answered this question: Rate the Rolling Stones release of the song 'Jumpin' Jack Flash', from 1 (lowest) to 10 (highest).
U.S. single sleeve for the song "Jumpin' Jack Flash",
Wow did this song rate high; it pretty much couldn't have rated any higher than it did (well almost), and it rated higher than any song that we have rated so far in this poll, with its top vote of a 10 seeing 99.2% of the vote! Yes, you read that right, 99.2%! To date, and be it, we've only rated 10 songs so far, so we got a long way to go in this song rate polling, but before this rating for JJF, the highest rating was for "Not Fade Away" with its 10 rating being at 32.9% of the vote. Gotta wonder how this week's song, BS, will do compared to what we saw last week with JJF? Time will tell, but in the meanwhile, you can check out the full results from last week's poll for JJF, here: Stones Weekly Poll - week 1,118. Or, to see the results to this poll at the Stones newest List Page, you can visit this new page here: Stones Top Picks, List Page 3., list page 5. This is the new Stones Song Standings page, but in time there will be other results included on the page from future polls that will be held later on.
Okay, let's head on over to this week's Classic Rock Poll, where we enter week 759 of voting, and for this one, as usual, we vote in 2 different Rock Polls each week.
This week we have a brand-new question to look over and vote on, and it asks this: Of the hit songs that artists wish they never wrote, which one is really the worst?
Oh Hell Jimmy! I hate singing this stupid song!
Technically, this is a 2-part poll series, but usually when such a series is run, I never note it in the question, since it only deals with using the same choices twice - along with slightly different questions. So to use the word "technically" again, it isn't what is really know here as a multi week poll, since with such polls, we answer to the same exact question for 3 weeks or longer, and in each new week/part there are different choices to vote on, and then finally the top picks are voted on again in the final part of the series. But not for a 2-week poll part like what we got this week, in these we just change the question around a bit while the poll choices are exactly the same in both weeks. So now I bet you get what I'm talking about, but to make it very simple in case you don't, this week we will look for the worst song listed and then next week we'll look for the best one, or to stretch this out even a bit more, going by the 2 questions we will answer, in the first poll we are totally gonna agree with the artist who hates (or dislikes) their song, and in week 2 we will totally disagree with them in whatever songs we go that lands in the Top 10. I'm sure you got that now!
Now this poll does have one problem to it that happens only once in a while, thanks to our poll admin limiting the text that I can use in each poll, since this question mainly uses quotes from artists in the choices, and most times the artists had a lot to say about why they disliked their songs - songs that their fans loved. So, the problem this week is (be it barely), that there's a lack of space for all of the text, so to cutdown on where you would see run on sentences (so all the text fits in the poll's admin limit), I did something different this week so that won't happen. What I did to get around that issue was take out some words from the text field. So some of the sentences may not read as proper grammar, but at least there's no run on words in there, which IMO, is worst.
We will have a total of 18 choices to choose from for this poll and whichever song you think was the worst of the bunch is what you should choose, but it shouldn't matter what the artist thinks, for this poll we want to know what you think!
To vote in this week's first Rock Poll question, just click on here: Classic Rock Poll, and when you get to this page, choose "Poll 1" to vote in this poll.
For our second Rock Poll of the week, we have the Rock Video poll, and this week's question will ask: Rate Robert Palmer's video for "Addicted to Love" (Click here for the video)
"Addicted to Love", from Robert Palmer's video
This 1985 video featured Palmer singing in front of a "band" of beautiful women who all looked exactly alike. They wore lots of makeup and identical clothing as they pretended to play the instruments. The ladies who played in this video were: Julia Bolino (guitar), Patty Elias (guitar), Kathy Davies (drums), Julie Pankhurst (keyboard), and Mak Gilchrist (bass).
While this song, written by Palmer, was a big hit in the UK (#5 on the charts), thanks to the video, in the U.S. it went all the way to #1 on every major chart (it also reached number one in Australia). The video was directed by British fashion photographer Terence Donovan, who came up with the idea to have all of the woman look the same. This was one of those videos that really made the song sell well, no question about it! It was about as sexy as a clean video could get, and Palmer would use the woman again in 3 more videos in the next few years. He went on to win a Grammy Award for this song, but he would also die rather young (at 52) several years later, as a heart attack blamed on his heavy tobacco smoking (3 to 4 packs a day), killed him.
To watch and listen to, and then rate this week's Rock video, just click on this link: Classic Rock Video Poll, and when you get to this page, choose "Poll 2" to vote on this question.
Last week in the first Rock Poll we asked this question : What's the Best song about Joy and/or Happiness? (Part 3 of 3)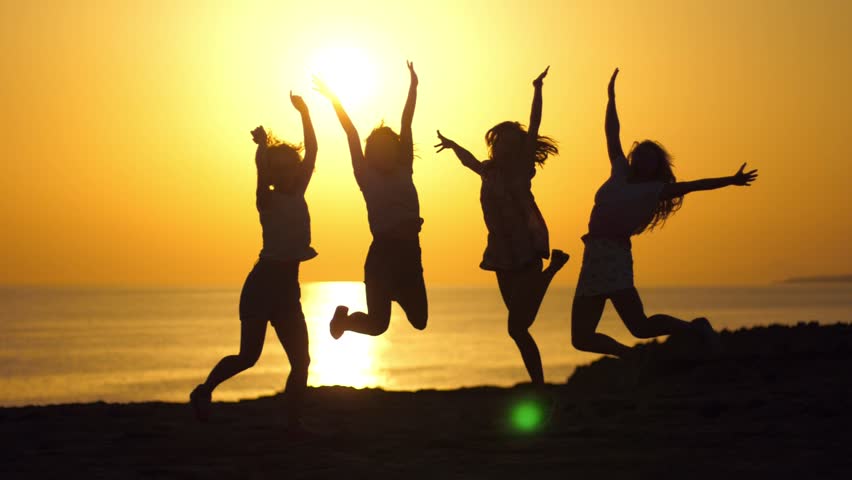 Week 3 of looking at happy songs about joy!
Well, that was one happy 3-week poll! The 2 songs listed in the poll that I liked best (but that I didn't vote for either, since I couldn't decided which one to go for, so instead I picked another song), landed in first and second place. They were "Jumpin' Jack Flash" by The Stones (with 6.3% of the votes), and "Here Comes the Sun" by The Beatles (at 6.2%). In third was "A Beautiful Morning" by The Rascals (also with 6.2% of the vote, but with one less vote than the Beatles song). I ended up voting for the one non-Rock song listed in the poll, and it landed in 4th place. Which song was that? Or better yet, you want to know where the song you voted for landed? Well you can find all that out by looking over the final results by clicking on the following link: Classic Rock Poll, week 758, Poll 1. Or, to see the Top 10 results from this poll at the list pages, just click on here)
Last week at our Rock Video poll, we asked this: Rate The Turtles' official video for "It Ain't Me Babe"
"It Ain't Me Babe" , cover song by The Turtles
The top rating for this one was a "9", with 25.1% of the vote. You can click on the following link to see the final results from this poll: Classic Rock Poll, week 757, Video Poll. Or, to see where in the updated Video standings this one lands, just go here: Rock Video Standings list page. The standings can be found at the very top of the page.
We finish up our Poll Post with the Beatles Poll, and this week's question for poll week 510, asks: Rate The Beatles' Video for "Rain" (Official Video 2) (Click here for the video)
"Rain", from video 2
The Beatles created three promotional films for "Rain" This is week 2 of rating the videos made for this John Lennon written song that was released in 1966, but more than likely, the last week for us rating the videos for the song. While the Beatles and Michael Lindsay-Hogg (the director) did make 3 videos for this one song, the third one, which never has been that available to the public, isn't anywhere on the net to be found, as far as I can tell, as I looked real good for it. I'm not even sure if I've ever seen this third video myself, since it's that rare and wasn't released until the mid-1990s in a limited release. Chances are most of us never have seen it, and George Martin hated it, and that's why it was never seen or released for so many years. From what I understand, it was shot after last week's video that we rated, was made, and shows the Fabs just sitting around eating fish and chips as the music plays, and that's it. So maybe Mr. Martin was right in not releasing it and claiming it was terrible. Still, and as we Beatle and Stones fans know, Hogg made some of the best Beatle and Stones videos out there. But anyway, if you know where on the net this lost video might be, please let me know ASAP so we can vote on it next week. But my bet is it isn't up on the net at all.
So this second video is a bit different than the first one that mainly shows them playing the song. This one only shows a bit of that and is I guess, a bit more like a regular video in what it shows, with the Beatles doing different things as John and Paul sing us the song.
To vote in this week's Beatles video poll, just click on this following link: Beatles Weekly Poll.
Looking back at last week's Beatles poll, we voted on this question: Rate The Beatles' Video for "Rain" (Official Video 1) (Click here for the video)
"Rain", John and George from video 1
This one did fantastic in not only seeing a 10 rating, but its rating that it received took in 87.6% of the votes! That is not only a new record high rating for the Beatles video poll, but for all of the many video polls that we have rated on the domain! Wow!
To see this poll's full results, just go here: Beatles Weekly Poll – week 509. Or you can view the Beatles' Video standings both over at the regular Rock Video page (see the link at the Rock Video poll results above) or at the Beatles own video and movie page, here: Beatles Movie and Video Ratings and Standings list page.
So that finishes up this week's Poll Post! I better be careful in what I say here, as last week I noted that I felt that the crazy and insane U.S. president Trump might try a coup before he leaves office on Jan 20 (the 20th can't get here fast enough!), and even if I didn't really think the jerk would go that far, well as the entire world knows now, the asshole did just that, by getting his thugs to try do it for him - but on his commands. These assholes failed of course in the end, but the damage has now been done and the USA officially looks like a banana republic, and until the fool leaves office, who knows what he'll try to do next! But I'm just not gonna say anything this week, because we are stuck with this pig until the 20th and there isn't anything that we the people can do to get him out of office sooner, even if all the polls are showing wide support for that happening right now. Only VP Pence can do that along with Trump's cabinet, but Pence doesn't have the balls to do it (I hope he proves me wrong in the next few days), even after Trump almost got him killed by what he said to his thugs. Gosh, you really got to scrap the very bottom of the cesspool to find those fools who still support Trump at this time.
Regardless of all the Trump BS, I hope you don't let it get you down and all of you good, decent folk have a great week ahead!
Keno
Gasland Thread
---
Post Follow-up
---
Note: Do not hit the "Post Message" button more than once, even if it is taking a long time to post your message. Doing so may cause a double post to appear and could slow down your posting time even more.
Filter Threads/Archives
---
---
Download your free, customizable Burton Networks Message Board now!
© 1998 - 2021 by Keno Internet Services, except where otherwise noted. All rights reserved.