---
IT'S A GAS, GAS, GAS!!
MESSAGE BOARD ARCHIVES/WEEKLY ROCK POLL POST
Return to Gasx3/Poll Post Board Homepage
---
Gasland Message
---
Name: Keno
E-Mail: keno@fairpoint.net
Subject: Poll Post for the week starting Monday, Jan 4
Date: Monday, January 04, 2021
Time: 1:58:18 AM
Remote Address: 8.41.160.9
Message ID: 320817
Parent ID: 0
Thread ID: 320817

Poll Post for the week starting Monday, Jan 4
It's time for the very first Poll Post of 2021 for our 4 weekly polls. We'll start off as usual talking about the Stones poll, which enters week 1,118, and we'll continue our rating of their songs. So, here is this week's question: Rate the Rolling Stones release of the song 'Jumpin' Jack Flash', from 1 (lowest) to 10 (highest).
U.S. single sleeve for the song "Jumpin' Jack Flash",
I figured I would start off the new year for the Stones poll with one of their greatest songs ever for us to rate. Really, this 1968 gem is as classic as a rock song can be (and of course, what our old Stones message board was named after) and it's as happy-go lucky a tune as a Stones song gets! It was recorded during the Beggars Banquet sessions in 1968, but kept off the album and released as a stand-alone single on May 24, 1968. It went to #1 in the UK, and in the U.S., and to either #1 or #2 in almost all of the other countries it was released in, other than in Canada, where it only reached #5.
We all know for this poll (so I may as well state it), that a 10 will be the top choice, and I've been avoiding rating such songs early on for this song rating poll, so that we would see some flexibly in the ratings, and so that the poll doesn't become too boring a question early on -or a poll that we know the answer to beforehand. But, with this song, well, if there's one song that can't ever become boring, it's "Jumping Jack Flash"… since it's such a Gas, Gas! Gas! of a song! The only question we will learn from this poll is just how high a 10 rating it receives, as I've never met a Stones fans who flat doesn't love this number, and of course, this is a Stones fan poll.
The lyrics to this one was written by Mick Jagger and Keith Richards while they were at Keith's house one day. It was early in the morning, after the 2 fell asleep after a night of writing songs together in the home's living room, as Jagger was awaken by the sound of heavy boots walking around outside in the garden and woke up Keith asking who that might be out there so early. Keith looked out the window and laughed and told Mick it was just Jumping Jack, his gardener, who always showed up early in the morning for work. Yeah, 'Jumping Jack' is what Keith called him and Jagger as soon as he heard that, knew there was a song in those words and on the spot the two wrote JJF! Now that true story is a Gas in itself, ain't it? Anyway, Keith Richards then wrote the music for the song later on, other than the main guitar riff to the number, he had gotten from bassist Bill Wyman, but as was usually the case, well, always the case by 1968, Bill wasn't credited for the riff. Nor was Brian Jones credited for his part, as Jones had this other, different guitar riff that the band decided to use to open the song with, since it was a perfect match for the song's music. That opening riff was dropped from the song for good when they played it live, starting in late '68 at the Rock n Roll Circus. Since they only played 2 live shows in '68 before that gig, the opening riff would only be played one last time in the mid '90s when Richards finally decided to give it a try on his guitar. Anyway, the studio lineup to JJF was: Lead Vocals: Mick Jagger; Lead Guitar, Acoustic Guitars, and Bass: Keith Richards; Electric Guitars including opening riff: Brian Jones; Drums: Charlie Watts; Maracas: Jimmy Miller (yep, stupid old Wiki got this info down wrong, it was not Jagger on maracas!); Organ: Bill Wyman; Mellotron: Brian Jones; Background Vocals: Mick Jagger & Keith Richards.
In mid-1968, a promotional film which the modern music videos evolved from, was shot for this song with The Stones performing wearing body paint and heavy makeup on their faces, along with far-out costumes. The rock band Alice Cooper copied this look, and shortly after that, the new upcoming solo artist named David Bowie copied the Alice Cooper band, and the look became the start of Glitter Rock. In turn, it also led to the look that the band KISS would adopt. Funny how just one video did all of that! But no, while I do link to the song at the voting page so you can hear it before you vote, well let's face it, pretty much nobody needs to hear it before they vote (since it's so well known), but hell, I know that we would all love to hear it anyway, so I'm gonna link to what is my favorite live take of this number, made back in mid-1968 for a European TV show (I believe it was a Swedish TV show) but no, it was not made for, nor was it ever even shown on the Ed Sullivan Show, as is wrongly noted in its title at YouTube. What I like a lot about this live take is, not only is the opening riff played, but this was one of the very last times the Stones would play a new song of theirs live on a TV show (it was the last time if you don't count the songs they played at the Rock n Roll Circus, which was of course recorded live too – and technicity a onetime special TV show, but that was an entire concert - and it ended up never being shown on TV or released until the late 1990s, and it was not the band appearing on a TV show to support a new single of theirs, as the video I'm linking to was. I should also note that the music we hear here was what was being played live that night – but not what the TV views heard on that night, as the Stones prerecorded a different take of the song the night before and it was decided to use that take of them playing instead of what they were playing live. There is a second video of this performance (it's up on YT if you wish to hear it) were you can hear that take of the song, and the truth of the matter is, it doesn't sound too different than this true live performance, which proves that the take made the nite before wasn't needed.
When you do rate this song, I usually say you should go with rating the original version of the song, so while you can listen to and watch this very cool performance by the Stones, remember we really are just rating the original take, and the video link (again) is only on the voting page so that you can hear the song before you vote. But to be honest, you aren't a true Stones fan if you don't/can't enjoy this live performance to its fullest.... Now, to take part in this very gassy and first Stones poll of the new year, just click on the following link: Stones Weekly Poll to cast your vote (and view the video).
Last week at the Stones poll we answered this question: Rate the Rolling Stones release of the song "Going To A Go-Go", from the Still Lifealbum, from 1 (lowest) to 10 (highest).
Stones' song "Going to a Go-Go", from the Still Life live album
"Going To A Go-Go" didn't do too great in the voting, but then again, for a disco like song it didn't do too bad, either, scoring a "7.0" for its top rating, with 22.8% of the vote. To see the full results from this poll, just click here: Stones Weekly Poll - week 1,117. Or, to see the results to this poll at the Stones brand new List Page, you can visit this new page here: Stones Top Picks, List Page 3., list page 5. This is that new song standings page that I've been promising everybody for weeks now (see the separate post below for more on this). Yep, I finally got it made!
Now let's move on over and look at this week's Classic Rock Poll, where we enter week 758 of voting, and for this one, as usual, we vote in 2 different Rock Polls each week.
This week we enter the final week of our 3-part question about happiness and joy, that asks this: What's the Best song about Joy and/or Happiness? (Part 3 of 3)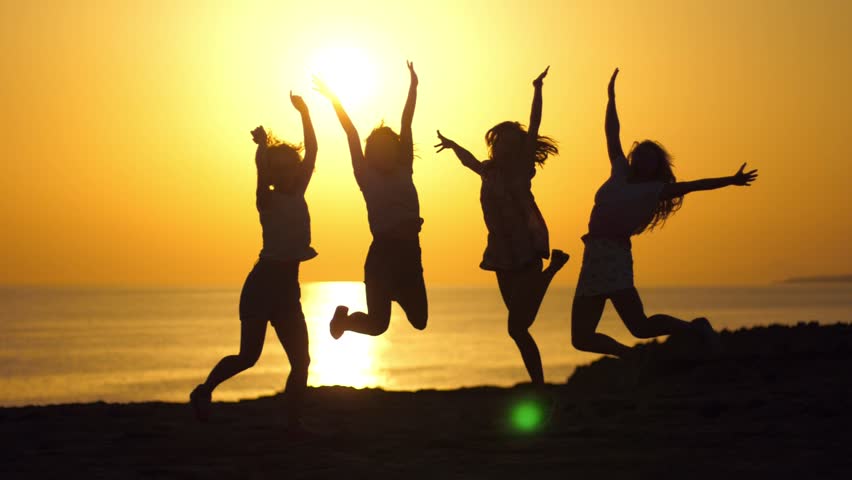 Week 3 of looking at happy songs about joy!
Yep, the last round is always the most fun poll to vote in, as we take the top 10 songs voted on in the first 2 weeks (thanks to a tie last week, we got 21 songs to choose from for this final round)…. To vote in Part 3 of this question, just click on here: Classic Rock Poll, and when you get to this page, choose "Poll 1" to vote in this poll.
For our second Rock Poll of the week, we have the Rock Video poll, and this week's question will ask: Rate The Turtles' official video for "It Ain't Me Babe" (Click here for the video)
""It Ain't Me Babe" , cover song by The Turtles
This Bob Dylan cover song goes all the way back to 1965, back to a time when everybody was starting to cover Dylan, even if some bands, like the Turtles, often enough wrote their own songs. But this cover song became a Top 10 hit for the Turtles and it was their first hit. Yet this one is so old, that we see the band's lead singer, Howard Kaylan, clean shaven, which is a big deal to see today, since he was one of the first rockers to grow a long and freaky looking beard (especially by the time the Turtles had to change their name and became known as "Flo and Eddie", thanks to legal problems with their label), and at the least in the early days, Kaylan always had a bushy stache. But this was their first appearance and yes, he looks totally different without any facial hair. But no question, he still sounds the same when he sings!
To watch and listen to, and then rate this week's Rock video, just click on this link: Classic Rock Video Poll, and when you get to this page, choose "Poll 2" to vote on this question.
Last week in the first Rock Poll we asked this question What's the Best song about Joy and/or Happiness? (Part 2 of 3)
Last week, we looked at Part 2 of happy songs about joy!
Part 2 of this question was like Part 1, with real close voting all week long, but unlike Part 1, in the last couple of days it remained tight, and 11 songs made it into the final round. They are: Here Comes the Sun - The Beatles (4.6%); Happy - The Stones (4.4%); A Beautiful Morning - The Rascals (4.3%); Blue Sky - The Allman Brothers Band (4.3%); Dancing Days - Led Zeppelin (4.3%); Daydream - The Lovin' Spoonful (4.3%); Walking On Sunshine - Katrina and the Waves (4.3%); What A Wonderful World - Louie Armstrong (4.3%); Fun Fun Fun - The Beach Boys (4.2%), Kodachrome - Paul Simon (4.2%), and You're My Best Friend – Queen (4.2%).
To see the full, final results from this very close poll and see where the rest of the other listed songs ended up in the voting, just click on the following link: Classic Rock Poll, week 757, Poll 1.
Last week at our Rock Video poll, we asked this: Rate Prince's official video for "1999" (Click here for the video)
"1999" , by Prince
So, did you last week on New Year's Eve, party like it was 1999? Well, I didn't at all, in fact I stayed home, and for the first time in my life, I spent the start of the New Year alone and didn't even have a drink. I was instead watching a movie on my computer and didn't even realize what time it was when midnight hit, and about a half hour later my grandson and his gal, who were partying down the street, dropped by to say "Happy New Year" and that was when I noticed what the time was! Damn, NYE used to be such a party night for me, yet today it means nothing, other than I'm just happy to still be alive, and here, or anywhere…. if I can steal an old-line from Mr. Richards.
You can click on the following link to see the final results from this poll: Classic Rock Poll, week 757, Video Poll. Or, to see where in the updated Video standings this one lands, just go here: Rock Video Standings list page. The standings can be found at the very top of the page.
Let's finish up this week's Poll Post with the Beatles Poll. This week's question for poll week 509, asks: Rate The Beatles' Video for "Rain" (Official Video 1) (Click here for the video)
"Rain", John and George from video 1
Released in 1966, The Beatles created three promotional films for "Rain" which are considered among the true early precursors of music videos (the Stones JJF wasn't made until 2 years later). All 3 films were directed by Michael Lindsay-Hogg, and version 1, which we will rate this week, shows the band performing the Lennon written song on a sound stage. Lennon is also the lead singer on this song, with Paul singing the backing vocals. Lennon said that the song's meaning was "about people who moan about the weather all the time".
While this song was released as the B side to "Paperback Writer", it was so popular in the States and Canada that it charted on its own, and made it to #22 on the U.S. charts – and all the way to #1 in Canada.
To vote in this week's Beatles video poll, just click on this following link: Beatles Weekly Poll.
Looking back at last week's Beatles poll, we voted on this question: Rate The Beatles' Video for "I Feel Fine" (Click here for the video)
"I Feel Fine" video
Damn, I had a feeling this one wasn't gonna do too well, and for a Beatles video, it didn't. In the end, it tied with the video made for "Eleanor Rigby", for the lowest video rating by the Beatles at our Beatles Poll, scoring only an "8". Yeah, while that won't be a record low score at the Rock or Stones polls, it is for the Beatles polls, although it had a higher percentage of the vote than "Eleanor Rigby" saw when it scored an "8", so it will show above that song in the Beatle's video standings.
To see this poll's full results, just go here: Beatles Weekly Poll – week 507. Or you can view the Beatles' Video standings both over at the regular Rock Video page (see the link at the Rock Video poll results above) or at the Beatles own video and movie page, here: Beatles Movie and Video Ratings and Standings list page.
So that will do it for the first Poll Post of the year. Boy, I just looked up at the clock and I'm running real late tonight getting this post up online! Sorry 'bout that!
I do hope your first week of the New Year went well for you…. It sure did for me! It's so nice to see 2021 get here – and the next great day this year is just a bit over 2 weeks from today, that being January 20, when Pig Trump finally leaves office!! Yes! We can all get back to more normal times on that day, although Trump is showing signs that he may try to pull off a coup. But this is the USA, and we the people won't tolerate any of that BS from him. If he wants his fat ass thrown in jail, that's what he will get if he isn't out of the White house on that day. Let's hope it doesn't come to that, and I bet it won't, as Trump has always been all talk and no real action.
I hope you all have a great week ahead!
Keno
Gasland Thread
---
Post Follow-up
---
Note: Do not hit the "Post Message" button more than once, even if it is taking a long time to post your message. Doing so may cause a double post to appear and could slow down your posting time even more.
Filter Threads/Archives
---
---
Download your free, customizable Burton Networks Message Board now!
© 1998 - 2021 by Keno Internet Services, except where otherwise noted. All rights reserved.