---
IT'S A GAS, GAS, GAS!!
MESSAGE BOARD ARCHIVES/WEEKLY ROCK POLL POST
Return to Gasx3/Poll Post Board Homepage
---
Gasland Message
---
Name: Keno
E-Mail: keno@fairpoint.net
Subject: Repost of last week's Poll Post
Date: Saturday, October 10, 2020
Time: 9:34:55 AM
Remote Address: 8.41.160.9
Message ID: 320726
Parent ID: 0
Thread ID: 320726

Repost of last week's Poll Post
This is a repost of last week's Poll Poll since the first post of it has been lost thanks to the server being lost......
Damn, I forgot to published the polls for this week on Saturday morning like I usually do, as I've been busy and just forgot to build them. Only after I finished up working on my house early this evening, that's when I realized it. Yep, cutting it all real close indeed, but at least I did know what the questions were gonna be and they were ready to be set up, so not too much harm in my forgetting. For this week's first poll, which is, as usual the Stones poll, and which enters week 1,106 of voting, I will ask this: Which is the Stones' Best Political Song?
Just one of the Stones' Political Songs
While I hate to repeat questions from the past, you could say this week's question is Take 2, or even take 3 of this question, depending on how you look at it. When we first voted on this back in the middle of 2001, in what was only week 108 of the Stones poll, just 181 people voted. This was back when only one poll a week was run, and only when I started up the Rock polls did we see an increase in voters to our Stones poll. So, with so few votes, this question really needs a rerun now that we have so many more voters today. But in a way, when running a poll question with more choices to vote on the second time around, well that really doesn't make it a rerun at all, since the playing field is different. So, with the addition of 2 more songs to the option list from 2001 ("Dangerous Beauty" and "Sweet Neocon" came out in 2006), things aren't really totally the same this time around. Now, why I also noted "even take 3", is because in 2006 this following political question was asked in yet another Stones poll: "Which political song by the Stones works best lyrics wise, in making a statement?". But overall, that one really is a different question, even if it was still about politics and the Stones songs.
Also note one other change with one song that was listed in 2001. That being the tune "Petrol Gang". First, its title was renamed to "Petrol Blues" when the new reissued of Some Girls came out in 2011, and this new version of the song was big time shorten in its running. Really, while the SG reissue package was great, that change was the only mistake the Stones made in releasing that short version of the song, since it sucked compared to the long take (83% of you Stones fans said so in a poll back in 2014, and I totally agree). But, even the short version of "Petrol Blues" still has political comment in it, too. So both takes of that song are listed together and just one or both can be considered.
So, for this take 2 (or 3) of the question, there is a total of 20 songs that we will choose from. Bet you didn't think the Stones put out that many such songs, but they did, and all of songs listed are at least part political in their statement, indeed. BTW, the reason I'm asking this question is because everything - at least here in the U.S., is political these days, and more so than what we need things to be, thanks mainly to the moron in the White House.
To cast your vote in this week's poll, just click on the following link: Stones Weekly Poll.
Last week at the Stones poll we voted on this question: What's worst, the several disco songs made by the Stones, or most of the songs on Dirty Work?
VS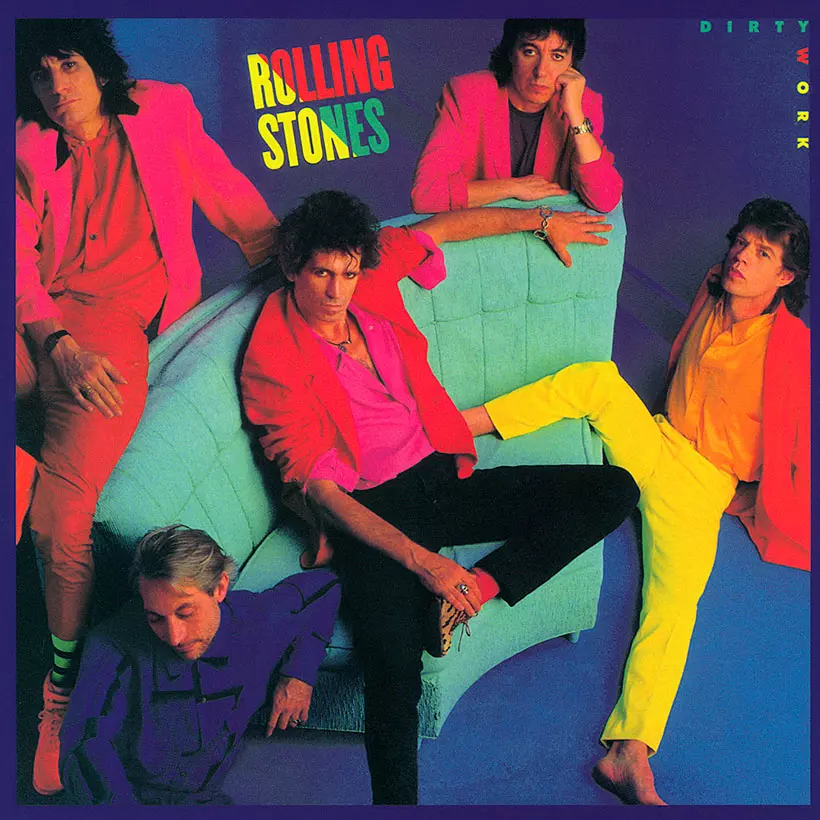 The Stones Disco Songs VS the Stones Dirty WorkLP
This was one of those poll questions that I had no clue how fans would vote on this one, since fans seem to hate both choices equally. Well, that's what I was thinking, but what I learned was that most fans, like myself – and no matter how much we hate disco, we would still rather hear the Stones disco songs than the songs on Dirty Work.
To see the final results from last week's Stones poll, just click here: Stones Weekly Poll - week 1,105. Or, to see the results to this poll at the Stones List Page, just visit this page: Stones VS List Page 2 and look under "Songs.
Now let's take a look at this week's Classic Rock Poll, where we enter week 746 of polling, and as usual for this one, we'll be voting in 2 different Rock Polls…. In this week's first regular Rock poll, we ask this: What was the best Acid Rock Guitar song ever made? (Part 4 of 4)
Acid GuitarIt's not just for humans
So we have made it to the final round of this question, which has been well received by our voters, going by the total poll count for parts 1 thru 3. We will have 31 songs to choose from in this last round, a bit more than what I preferred to list, but all of the songs that finished in the top 10 each week were all so close to each other in the voting, there was no good way to shorten the list even a bit. So this last round will be fun to vote in and we will soon see how all of this turns out.
To look over this week's choices, and then vote in our first Rock poll, just click here: Classic Rock Poll, and when you get to this page, choose "Poll 1" to vote on this question.
For our second Rock poll of the week, we got a week or 2 left of voting in the Rock VS poll until it goes on hiatus and before I bring back the Rock Video Polls. This week we vote on this question: "'Everybody's Talkin'" vs "I Guess the Lord Must Be in New York City", both by Harry Nelison and both were considered for the soundtrack to Midnight Cowboy, but only one was chosen. Which one would you have picked?
VS
"Everybody's Talkin'" vs "I Guess the Lord Must Be in New York City
First notice that the full title of one of the songs, "I Guess the Lord Must Be in New York City", doesn't all show up in the question because of space limits in the poll's admin, so instead, it shows as '...Lord in New York City'. That's the best I could do since this is a longer than normal question. Yet the full title does show up in the poll's choices, barely, where the space limits are a bit higher, and even with me adding in the link to the song. Of course the code I have to use to link the songs with, doesn't show in the question, just the link does, but the code still counts in the space limits - even if it doesn't show online, since it's still text as far as the admin goes, so because of that, the very end of that poll choice has a run-on to it, and also no quotes around the song title, too. That was the only way to fit in the poll choice.
Now about the 2 songs…. Known as just "Nelison" in 1969 when the movie Midnight Cowboy was made, Harry Nelison was asked by the film's producers to write and sing a song for the movie's soundtrack, and was told what the movie would be about. Nelison was more so known as a songwriter in those days, but he could also sing some notes that most singers never could reach, too, so they wanted him to also sing the song himself. He ending up writing a song titled "I Guess the Lord Must Be in New York City", which was pretty much about a guy (named Joe Buck in the movie), who was lost in life and moves to NYC from Texas to start all over again. His song fit what the movie was about, and yes, the movie was actually a takeoff (some say rip-off) of the Andy Wahole movie "The Hustler", which came out in 1967. But for whatever reason, the producers didn't totally love the song and decided to consider to use a second song that Nelison had recorded, a cover song called "Everybody's Talkin", which was written by Fred Neil in 1966 and covered by Nelison in '68. It was a real good song too, and it also fit what the movie was about, even if it wasn't written for the movie and didn't fully address Joe Buck in the same way as the song that Nelison wrote did. ET was more negative a song, it was about a very lonely person who was totally lost, and not one who was trying to make things better for himself, either, as "I Guess the Lord Must Be in New York City" addressed. In the end, "Everybody's Talking" was chosen to be used in the movie and also for the movie's soundtrack.
"Everybody's Talking" became a hit thanks to its placement in the movie, reaching No. 6 on the Billboard Hot 100 chart (for its first release by Nelison in '68, it had only made it to No. 13 on the same chart) and it went on to win a Grammy Award. Not bad. Really, the songs' connection to the move ended up being as strong as any song has ever been to any other movie, period. In time, Nelison's version of this song would also been used in several other movies, too.
"I Guess the Lord Must Be in New York City" was finally released later on in 1969 on Nelison's LP Harry, and it has also been used in at least a couple of major movie releases, too. It also became a hit single, making it to No 3 in Canada, where it sold best, and it did make it to one of the Top 10 lists in the States, peaking at No. 7 on Billboard's Easy Listening chart. Really, both songs would have worked for the movie, and IMO, both should have been used. But that isn't what the question is asking this week, and you can't (well you shouldn't) consider how "Everybody's Talkin'" turned out after it was used, either, since the other song never had that same chance to be looked at in that light. So you need to just pretend it's early 1969 and before the movie was released when you make your choice for this poll, as that was all the producers had to go with. The question isn't asking you if the right song was chosen or not (I think clearly that it was, but that doesn't matter for this poll, since that's not being asked. I myself at first would had gone with the other song instead, not knowing what lied ahead for the song that was picked). What did happen afterwards to the chosen song, happened, but not until after the choice was made. In other words, nobody knew before it was chosen that it was going to win a Grammy, so that's why your answer should not have any bearing on how it turned out in the end. Just compare the 2 songs for what their lyrics are about and what the movie was about, then cast your vote.
So which version of this song will you go with? To vote in this week's verses poll (and to listen to both songs at the voting page before you vote), just click on this link: Classic Rock Poll, and when you get to this page, choose "Poll 2" to vote on this question.
Last week in the first Rock Poll we answered this question: What was the best Acid Rock Guitar song ever made? (Part 3 of 4)
Acid Guitar
Another 10 songs made it into the final round after all the votes were counted from Part 3. They are: Are You Experienced - Jimi Hendrix - Acid guitar by Jimi Hendrix (6.5%), Cold Turkey - John Lennon - Acid guitars by Eric Clapton and John Lennon (6.4%), In-A-Gadda-Da-Vida - Iron Butterfly - Acid guitar by Erik Braunn (6.3%), Mr. Soul - Buffalo Springfield - Acid guitar by Neil Young (6.2%), Sunshine Superman - Donovan - Acid guitar by Jimmy Page (6.2%), 2000 Light Years From Home - The Rolling Stones - Acid guitar riffs by Keith Richards (6.2%), Crimson And Clover- Tommy James And The Shondells - Acid guitar by Ed Gray (6.2%), Layla - Derek and the Dominos - Acid guitars by Eric Clapton and Duane Allman (acid slide) (6.1%), Ma-Ma-Ma Belle - Electric Light Orchestra w/ Marc Bolen - Acid guitar by Marc Bolen (6.1%), and With A Little Help From My Friends - Joe Cocker - Acid guitar by Jimmy Page (6.1%).
You can click on the following link to see the poll's full and final results, here: Classic Rock Poll, week 745, Poll 1.
Last week at the VS poll, I asked and you answered this question: "Sentimental Lady" by Fleetwood Mac VS "Sentimental Lady" by Bob Welch. Which version of this song is better?
VS
"Sentimental Lady", Fleetwood Mac's take vs Bob Welch's solo version
This poll was a lot closer than I was thinking it would be. Which version of the tune won-out in the end? You can find out by clicking on the following link: Classic Rock Poll, week 744, Poll 2. Or, to see the final results from this one at the VS list pages, just go here: VS Page 3, List Page 15. The results can be found at the very bottom of the page.
We finish up this week's Poll Post as we usually do by looking at the Beatles Poll. This week we enter week 497 of voting and ask this: Rate the artwork for the front cover of the Beatles EP Twist and Shout
Twist and Shout EP cover
So this week we return to answering questions about the front covers to the Beatles albums, except what's left are the EPs only. To those in the UK, you all know what an EP is, yet here in the States, we only pretend to know, since they are almost never released here. In a nutshell, an EP (for "extended play") is a shorter version of a LP and contains between 3 and 6 songs on it. So, it's a "mini-album" one might say.
Twist and Shout was the Beatles first EP, and it had four songs on it, the title cut along with "A Taste of Honey" on side 1, and "Do You Want to Know a Secret" and "There's a Place" on side 2. The EP went to No. 1 on the UK charts and stayed there for 21 weeks. Its wasn't ever released in the U.S., and while the Beatles released 14 EPs in the UK, most of which went to No. 1 and all of them were Top 10, in the States, they only released 2 EPs, both of which barely charted in the Top 100. But all that counts here is how the cover looked and nothing more, and even those of us in the U.S. can rate that even if we never had the EP (or in my case, any EP put out by anybody). As is often the case when I ask a question like this one, I can't find anything online about who took the cover shot for this front cover. But again, that doesn't really matter either (yet it would still be nice to know), just how much we like or dislike the cover photo is what counts here.
To vote in this week's Fab poll, just click on this following link: Beatles Weekly Poll.
Looking back at last week's Beatles poll, we voted on and answered this question: 'When I'm Sixty-Four' by The Beatles vs 'Grow Old with Me' by John Lennon. Which song written by a Beatle about getting older, was better?
The BeatlesA drawing from 1968, on how they might look at 64. Sadly, 2 of them never made it, and the 2 who did don't look like that when they were 64
Yet another real close battle for the top spot last week. Who won in the end? Well, not the song that I voted for (as usual). To see this poll's final results, just go here: Beatles Weekly Poll – week 496Or to view the Beatles List Page that this one will show up on, click here: Beatles VS Page and look under "songs" to see the results from this poll.
So that will do it for this week's Poll Post. Since I did talk a bit about politics here, at the Stones poll, have you seen the latest ads from the Republicans who are against Trump? These folks have finally shown me that yes, there are at least a few good apples inside the GOP. Never figured I would ever say that, but with them it's true. But here's their latest ad, titled "I'm Smart", in which Trump tried to talk about Biden not being smart in the last debate, and his claim that he held an edge in that field. Yeah, he's real smart alright, smart enough to where he's the only reason why he got COVID19. So please don't do like Trump and do remember to keep wearing your masks whenever away for your home, and Trump is the perfect example as to why you need to wear one all of the time! To think he actually last Tuesday, at the debate, made fun of Biden for wearing a mask all the time! Talk about instant karma getting somebody, for sure! It got old Donnie boy and knocked him right off his feet!... just like the way John Lennon said it would!
I hope all of you have a great upcoming week, and do stay safe out there.
Keno
Gasland Thread
---
Post Follow-up
---
Note: Do not hit the "Post Message" button more than once, even if it is taking a long time to post your message. Doing so may cause a double post to appear and could slow down your posting time even more.
Filter Threads/Archives
---
---
Download your free, customizable Burton Networks Message Board now!
© 1998 - 2020 by Keno Internet Services, except where otherwise noted. All rights reserved.