---
IT'S A GAS, GAS, GAS!!
MESSAGE BOARD ARCHIVES/WEEKLY ROCK POLL POST
Return to Gasx3/Poll Post Board Homepage
---
Gasland Message
---
Name: Keno
E-Mail: keno@fairpoint.net
Subject: Poll Post for the week starting Monday, June 15
Date: Monday, June 15, 2020
Time: 12:24:04 AM
Remote Address: 8.41.160.9
Message ID: 320594
Parent ID: 0
Thread ID: 320594

Poll Post for the week starting Monday, June 15
This week at our weekly polls, we return to voting in the usual 4 new weekly polls a week, instead of the 5 new polls that we voted on last week. One thing that never changes in this Poll Post is that I always talk to you about the Stones poll first, since that's where all of these polls first started out a very long 1,090 weeks ago. For this week we ask: "Stewed And Keefed (Brian's Blues)" vs "Munich Reggae". Of these 2 never released Stones instrumentals, which one is better?
VS
" Stewed And Keefed (Brian's Blues)" and "Munich Reggae" appeared on the 2 LPs shown above, amongst others
We enter our last week looking at some of the Stones' instrumentals, this time with 2 never released songs. A simple question as to which one you dig more... Looking at "Stewed and Keefed (aka Brian's Blues)", this one was recorded on June 11, 1964, exactly 56 years and 4 days to this day (Monday), at the legendary Chess Studios in Chicago. There have been questions raised as to if Brian Jones plays on this song or not. Officially no, and supposedly the reason for the sub-title "Brian's Blues", was because he was out sick when they recorded it, a story I always believed to be true (well, that he was not on the song). But in the last few years a new story has emerged that Brian does indeed play on this tract and that the song was his idea and why it was titled "Brian's Blues", as the "blues" didn't mean feeling ill, but it was the music BJ loved to play. Some fans are now claiming that Keith in '64 couldn't even play guitar in that matter. To that I say "bull". I still totally believe BJ wasn't there, but the story I heard was he wasn't sick but hanging out at a local blues club and got back to the studio late and the Stones were playing without him or Mick. So, going by the session logs that I've seen and believe, this was the lineup for the song... "Stewed and Keefed (aka Brian's Blues)": Guitar: Keith Richards, Piano: Ian Stewart, Bass: Bill Wyman, Drums: Charlie Watts.
Not a lot to go by for "Munich Reggae", other than it was recorded first during the time period of March 22 to April 4 in 1975 at Musicland studios, in Munich, Germany, during the Black and Blue Sessions (I have also read that it was first worked on at Pathé-Marconi Studios, Boulogne-Billancourt, France, on 7 December 1974, but I don't believe it to be correct info), and then this reggae number was reworked on in April of 1981, and after more than 50 takes of this song, it was then abandoned for good and never released…. But the only thing that really matters is - how will you vote in our poll this week? To do that, just click on this link: Stones Weekly Poll.
Looking back at the results for our Stones poll last week, we answered this question: "Now I Got A Witness" vs "2120 South Michigan Avenue". Of the only 2 released Stones instrumentals from the 1960s, which one is better?
VS
"Now I Got A Witness"and "2120 South Michigan Avenue"
Another busy week at all of the polls on the domain, and for this one, the top pick was "2120 South Michigan Avenue", which won the poll with 50.5% of the total votes.
To see the final results from this Stones poll, just click here: Stones Weekly Poll - week 1,089. You can also check out the final results from this poll at the Stones VS List Page 2: here.
Okay, now I'll talk about this week's Classic Rock Poll, where we enter week 730 of polling, and as usual for this one, we'll be voting in 2 different Rock Polls. The first Rock poll asks this: "Who was the most underrated member of Steely Dan, back when they were an actual band? (excluding Donald Fagen and Walter Becker)
Steely Dan in 1973, with David Palmer singing the lead vocals for "Reelin In the Years" on The Midnight Special TV show
This week we bring back - for the first time since 2013, the old Rock Poll series where we ask for the most underrated member of each rock band. We have covered 38 bands to date, but again, it's been awhile since the last time we ran this series. We will re-start it asking about a band that has to go down as the most fucked band (and I don't mean sex wise), as the band's founders pretty much stole the band away from the others. Truth being was that bassist Walter Becker and keyboardist and main singer Donald Fagen, wrote all of the songs, but still, has this ever happened to a big successful band before? Well yes, but not on this level, and that still doesn't make it right, either. Formed in 1972, Steely Dan - named after a sex toy (true story), was a real band and a band that made it to the big time – thanks to the entire group, and not just Becker and Fagen. While Fagen sang the lead vocals on all but 3 songs on their debut album Can't Buy a Thrill, he had stage fright and didn't sing lead at all live, so singer David Palmer was hired and sang lead on all of the songs when they were up on stage (he also sang lead on 2 of the songs on the first studio album, while drummer Jim Hodder sang lead on the other one).
Palmer was let go a year later and replaced by singer Royce Jones for a year, until Fagen finally had the balls to sing live in concert. Then a riff began to take hold in the group in late 1974 when the band members wanted to do more touring, other than Becker and Fagen, who didn't want to tour and by the time the LP Katy Lied was to be recorded, Hodder and guitarist Jeff "Skunk" Baxter, quit the band over the fact that Becker and Fagen were to take total control of the band and make Steely Dan a duo, with the band from now on just being a supporting band and nothing more. Hodder actually had left months earlier, when he first heard the rumors that this was going to happen, and was replace by Jeff Porcaro, who when hired wasn't told that he was joining what would soon be a backing band. It's amazing the entire group didn't quit at that time, but in short time they all would. This was one very talented band, with Baxter's guitar skills known as being amongst some of the best in rock, not to take anything away from perhaps one of the most underrated Rock guitar players ever, that being Denny Dias, who stayed in the band for another 3 years until finally realizing that he was just being used by Becker and Fagen. Baxter was of course no fool (he was a true brain, and a part time rocket scientist in his spare time who to this day does work for NASA, as it is), left and joined The Doobie Brothers, where he made a big name for himself there.
Michael McDonald was another member of Steely Dan who wasn't too happy in what was going down. As the main keyboardist in the group, he was only allowed to sing backing vocals, when he was actually a true lead singer, and some in the band felt he was better a singer than Fagen was. So in 1980, after being fed up with Steely Dan, his old bandmate Baxter informed him that the Doobie's were in need of a new lead singer and well, the rest was rock 'n roll history when he too left Becker and Fagen behind and had bigger success in his new band as its lead singer. The Doobie Brothers were much more popular than Steely Dan ever was.
But yes, Steely Dan at one time was a great band that was torn apart by the 2 guys who formed it, and was turned into a duo because of their greed for more money and more power. They could have become one of the all-time greatest bands had the others been allowed to grow in the group, but the real band was killed off one member at a time and instead they were now just a good duo at best. Today with Becker dead and gone, Fagen goes on and still calls the former band and now former duo, "Steely Dan", even if he is alone today and just a keyboard player who doesn't play any other instruments. Seems ridiculous to still use the name, but perhaps he just doesn't believe anybody will pay any attention to him if he tries to go solo.
But the hell with Becker and Fagen, it's the other guys who were a part of Steely Dan back when they were a true band, who we will look at in this week's poll. At first, I had an extra choice to choose from, that being "the entire band was underrated", and with this group, that might have been a top pick. But that has never been a choice in this poll before and I felt since I been listing the names of the band members only for every other group that we have voted on with this question, I felt I might as well keep it as all the other choices have been, asking for band members only.
To vote in this week's first Rock poll, just click here: Classic Rock Poll, and when you get to this page, choose "Poll 1" to vote on this question…. BTW, if you would like to see the list of the most underrated members of the 38 other bands that we voted on, just follow this link: http://www.keno.org/classic_rock/top_ten_lists_16.htm. You will see this list right up on top of the page.
For our second Rock question of the week, we have the usual Rock Video Polls, and we will answer this question: Rate Paul McCartney and Michael Jackson's Video for "Say Say Say"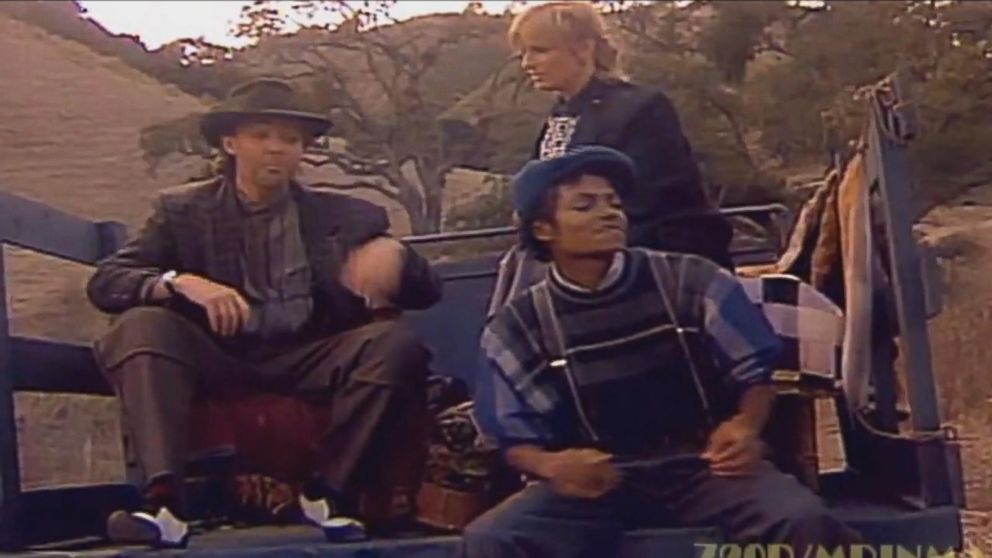 Paul, Linda and Michael after they ripped off a bunch of innocent people, from the video for "Say, Say, Say"
I've been wanting to have a video poll this week that featured solo Paul McCartney, as these polls are lacking solo Beatles big time. While John Lennon's "Imagine" received the most votes and highest percentage in these polls ever (and by a large margin), that is the only solo Beatle video/song that we have voted on so far (yes, we voted on a ton of Beatle videos - but that don't count here since it isn't solo work and the Beatles and Stones aren't even a part of this Rock Video poll, since they got their own separate video polls. So, I started to look around on Friday for a good McCartney solo video and couldn't really find any at first. He's got more than one vid where he shows himself and his family living in the country, but really there isn't a lot to any of them and my guess is they won't be well received by our voters (of course, I've been wrong before). But then I thought of the 2 songs he did with Michael Jackson. As it is, we have never rated a anything from the other MJ either - and unlike Paul, Michael has a a few interesting videos that I've been wanting to rate, but no, this one wasn't one of them. But as far as Paul goes, this video is as real a video as he has ever made and been in, with a story to act out within it.
The video was directed by Bob Giraldi, who had previously directed Michael Jackson's music video for "Beat It". In this vid, the two play "Mac and Jack", a pair of medicine show con men who sell a phony "miracle potion" and then rip people off. But this is Paul McCartney and Michael Jackson, who are just too good to be looked at as bad conmen, so of course the guys they play, go and donate all of the money earned from the scam to an orphanage (really, and how nice.... and how ridiculous, indeed, like this would really happen in the real word with conmen thinking in that matter).
BTW, I should note that the song itself went all the way to #1 in several countries, including the U.S, and to #2 in the UK…. But it's time to vote and see how much you like this video. To view and vote on this one, just click here: Classic Rock Poll, and when you get to this page, choose "Poll 2" to vote on this question.
Last week, in the first Rock Poll question we answered this: "Godzilla" vs "Frankenstein". Which song taken from a monster movie is the best?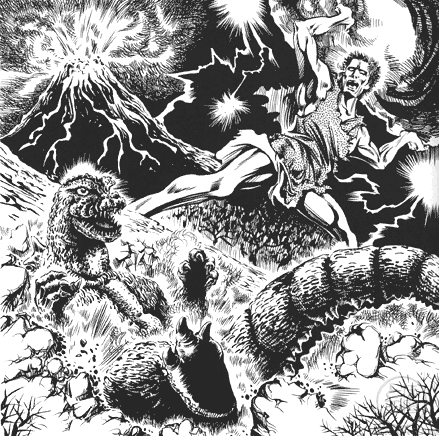 "Godzilla" vs "Frankenstein" This promo bit comes from a 1964 movie flyer that ended up never being made
"Frankenstein" by The Edgar Winter Group won this one by a mere 2 votes! To see the results from this poll question, click here: Classic Rock Poll, week 729, Poll 1. Or, to see the Rock VS poll list page for this poll and many other past polls, you can find that all here at: VS Polls List Page, Page 3. The results can be found at the bottom of the page.
Last week in the Rock Video Poll we voted on this question: Rate Sam The Sham & the Pharaohs' Video for "Woolly Bully"
Mattie saw a Wooly Bully, and then told Hattie
A "10.0" was the top choice in rating this tune, taking in 33.1% of the votes. Spots 8 thru 10 took in 98% of all the votes, so this song is still well liked today. You can check out the full, final results from the poll here: Classic Rock Poll, week 729, Poll 2. Or, to see where this video lands in the video standings, just visit the domain's all in one video page, here: Top Video Ratings and Standings Page.
As is always the case, we closeout the Poll Post with the Beatles Poll, where this week we enter week 482 of voting and yes, we still continue to answer questions about how much we like or dislike the Beatles albums covers. This week we return to just one poll instead of the 2 we ran last week. This one asks this: Rate the artwork for the front cover of the Beatles compilation album, The Beatle Ballads (UK)
The Beatle Ballads UK front cover
This really is a double album, yet it was put out on just one vinyl disc, even with its 20 tracks and just under one hour running time. That's always enough material to release a double album with, but for whatever reasons, it was put out on one single vinyl record. Released in 1980 - just 4 years before CDs were made, the album never was released on CD when the change to compact disks were made. The album was also not released in the U.S, but pretty much everywhere else on the planet where there were Rock and Beatles fans. Why wasn't it released in the States? Beats me!
The LP was a hit almost in all the places where it was released, and did best down under in Australia, where it was a big success, spending seven weeks at number one. It reached number 2 in the New Zealand. Yet it was only top 20 material in the UK, where it peaked at #17. In South Korea, the song "Norwegian Wood" was censored on the LP, until 1993 by their leaders (morons!), so it was replaced with "Girl". Yet that makes one wonder, why wasn't "Girl" on the LP anyway?
The art work on the cover was done by "Patrick" (aka John Byrne) and had been created in 1968. It was at first to be used as the cover for the album A Doll's House, and yes, the Fabs were drawn up to look like Raggedy Ann dolls. But then the band decided they didn't care for the name and the LP was then renamed The Beatles (and renamed by us fans The White Album). But it was a cool drawing never less and in time was used on this LP's front cover. I like it, do you? Let us all know how you feel about it by voting in this week's Beatles album poll question. You can do that by clicking on this following link: Beatles Weekly Poll.
Last week at the Beatles poll, we voted in two polls and answered this in the first poll: Rate the artwork for the front cover of the Beatles compilation album, Rarities (UK), and in the second poll we asked: Rate the artwork for the front cover of the Beatles compilation album, Rarities (U.S.)
and
The Beatles Rarities UK front cover and The Beatles Rarities U.S. front cover
One LP did well enough - scoring an "8" as it's top pick, while the other LP did see the lowest rating ever for this now long running question, as its top pick was only a "5". To see the 2 poll's full results, and see which poll scored better than the other one, just go here: Beatles Weekly Poll – week 480, Poll 1 (UK LP) and here. Beatles Weekly Poll – week 480, Poll 2 (U.S. LP)Or to see the album rating standings on the Beatles List Page, click on: Favorite Beatles Album Covers List Page. The standings can be found up on the top of the page.
Well, this was one very busy week for me, as amongst other things, it was time to replace the cams up on my house and add in 2 new ones to boot, so now not only are new cameras are being used, but all direction are covered and all of them are streaming. The great thing is these cams don't cost me a dime, other than I pay for their electricity, but that's it, I don't even own them. You can check them out if you like at this web page: http://www.keno.org/colorado_web_cams/crestone_cams.htm. But putting these cams up took time - an entire day to install them, and while I didn't do the actual installing, since I have no peripheral vision (aka tunnel vision), so I can't be up high on a roof, as I could fall off, since I don't see things correctly) but I still helped my friend Tommy, who drove almost 4 hours from Denver to perform this work (he owns the cams). Real nice guy to say the least, and an old friend of mine who, as he puts it, "loves to visit this hippie town that his friend Keno lives in". I've lived here for so many years now that sometimes I forget just how far out my hometown is in so many different ways compared to most other American towns.
I hope that all of you are doing great and taking care of yourself. I am for the most part still social distancing, other than I had Tommy here for 3 days and allowed by grandson to move back in after he wasn't following the stay at home orders. Kids! But at least here in Colorado, we've seeing things improving for over a month now, unlike what, 20 other states that are seeing increases in cases. I just hope things start to get better foir all places while things keep improving here where I live.
Keno
Gasland Thread
---
Post Follow-up
---
Note: Do not hit the "Post Message" button more than once, even if it is taking a long time to post your message. Doing so may cause a double post to appear and could slow down your posting time even more.
Filter Threads/Archives
---
---
Download your free, customizable Burton Networks Message Board now!
© 1998 - 2020 by Keno Internet Services, except where otherwise noted. All rights reserved.