---
IT'S A GAS, GAS, GAS!!
MESSAGE BOARD ARCHIVES/WEEKLY ROCK POLL POST
Return to Gasx3/Poll Post Board Homepage
---
Gasland Message
---
Name: Keno
E-Mail: keno@fairpoint.net
Subject: Poll Post for the week starting Monday, March 2
Date: Monday, March 02, 2020
Time: 1:30:53 AM
Remote Address: 97.107.69.29
Message ID: 320456
Parent ID: 0
Thread ID: 320456

Poll Post for the week starting Monday, March 2
Yep, it's Poll Post time, starting off with the Stones Poll, like we do each week, and where we enter poll week 1,075. This week we ask: "Get Off of My Cloud" live, from 1965 Hullabaloo vs "Get Off of My Cloud" live from the 2012 Anniversary Concert performance. Which live take is better?
or
It's been almost a year since we last rated any of the Stones videos, and there still is several of them left to do. So I was gonna re-start that this week, but decided instead, for this week anyway, let's make this a VS video poll and compare a live performance from the 1960s with a modern day live performance of the very same song and see which one we like better overall. So at least for this week, we will do just that!
Yep, the Stones are one of the few Rock bands (maybe there's 3 or 4 such bands total still around today?) where we can take performances from 50 or even 60 plus years ago and compare that with them playing the same song live today. This week we will compare the hit 1965 song, "Get Off of My Cloud", taken from a live show made in that same year and then later shown on the Hullabaloo TV show, and put it up against the live take of this song from their 50th Anniversary Concert, which was held in the UK back in late 2012.
For the '65 live take - and of course on the studio version too, Brian Jones came up with and played the lead guitar riff for this song, which we will see in this video. But with Jones long dead and gone, for the 2012 live take we have Ronnie Wood playing the lead. Interesting, because I recall back in the '90s when I saw them play this one live, Keith Richards took over and played the lead guitar part on the song - and he sounded great, as he had BJ's riff down perfectly. But by the time this Anniversary Concert took place some 15 plus years later, Ron took over the lead from Keith - but at this show anyway, it appears that Chuck Leavell's keyboards are playing the lead riff along with Ronnie's guitar. All you got to do is look closely when they show Ron and Keith playing together - and the lead sound we are hearing isn't coming from either guitar. Yes, it's either that or the Stones went and dubbed in an extra guitar later on to help fill in the sound for the film clip, something many fans wish they would stop doing and something they been doing for years now.
A few closing notes, first, of course there's links to the 2 performances in the voting booth…. Then, for the '65 show, this has to be the only live performance that I know of, where we see Keith wearing eye glasses - just what was up with that!? I've never known of him needing eye glasses or have seen him wearing such glasses ever again (that is up on stage, and yes, we have often seen him wearing sunglasses here and there, which is of course a totally different thing).... Finally, when you click on the link for the 2012 video, you might want to save some time and skip to the 50 sec mark of the video, as that's when we finally see the Stones and when the song actually starts.
Now, one thing that still bugs me about the 2012 show, was that retired Stones bassist Bill Wyman was at this show, invited by the Stones to be there (as he should have been) and he wanted to play for the entire show with his former bandmates for this very special occasion, and we could have had Bill back on bass for this song again - and for that matter - all of the songs for that show. But no, he was only allowed to play on just 2 songs (and this was sadly the same case with MT, too, and no, the 2 didn't even get to play together that day, but instead played on separate songs - total bullshit, indeed!) – but that's why the modern day Glimmer Twins, IMO, suck! They don't really give a rat's ass about their old bandmates, or their longtime fans who made them rich and famous in the first place, and whom would have loved to see for a final time Bill and MT playing together with them - and for more than just 2 songs each!
But getting back to this poll, when we rate these 2 songs, our views of the band today, or back in the 1960s, has nothing to do with how we rate these performances. All that matters for this poll is how the live performances sounded in 1965, and then again in 2012, and that's it. We are comparing both the music and the singing, including not only Jagger's lead vocals, but the backing vocals, too, which in 2012 has Keith no longer singing on this song anymore. Music wise, the famous lead riff that Brian played on this number, does sound different in '12, as I guess we should expect some change after four and a half decades has passed and the new guy is now playing the riff today (and yes, he's still the "new" guy even today, after what, 45 years in the band).
To vote on this week's question and watch the videos, just click on this link: Stones Weekly Poll.
Looking back at the results for our Stones poll last week, the question asked: "Back Of My Hand" vs "This Place Is Empty". On which song did Mick Jagger play the better slide guitar?
Mick Jagger playing slide, in 2005
This poll question wasn't really that exciting, and I apologize for that, but these were the only 2 songs that Mick had played slide on. Yet the poll count was so low all week long that for a while it almost looked like we might for the first time in years, not pass the 1,000 voter mark. But Sundays are a funny day for this poll, sometimes on some Sundays, very few show up to vote, yet a bigger than normal voter turnout took place at the Stones poll for this Sunday and yes, we got pass the 1,000 threshold with 19 votes to spare.
But I guess we all knew which song was gonna win this one as soon as we saw the question, and yes, it won in a total landslide. To see the final results from this Stones poll, just click here: Stones Weekly Poll - week 1,074.
Okay, now let's talk about this week's Classic Rock Poll, where we enter week 715 of the poll and as usual we will vote on 2 different Rock Poll questions. The first poll asks this: What is the worst Disco song made by a Classic, non-disco Rock band or Artist? (Part 1 of 3)
Disco Ball
Normally with these kind of questions, I ask everybody to pick their favorite song, or which song is the best. But this is a disco question for a Classic Rock Poll. My guess is that 90% of all Classic Rock fans hate disco music, so we sure as shit aren't going to ask for the best song or which one is your favorite. But does all disco music really suck? Well yes, indeed - it does all suck, but then again - maybe not 100% of them do. Some of these songs - that is, the ones that are borderline disco tunes - well some of these borderline songs are good songs indeed and don't suck. But when I first saw some of the songs that were listed as being disco songs while I was searching for such songs to list for this poll, I said to myself, no way that song is disco, I like this song! But then I played the song and realize that yes, most of the songs I questioned at first, were borderline disco tunes and I just never realized it! I mean, I always have liked the Dead's "Shakedown Street", yet I never realized it had a disco beat to it, not until I played it and as soon as it started to play, well holy shit, that is disco music! The Kinks' "Superman" is yet another borderline disco song that I dig, and yes, there are several such songs like those 2 listed in Part 1, which has a total of 21 songs to choose from. But don't worry, there also plenty of true, 100% disco songs to choose from in both Parts 1 and 2. Have you ever heard The Who's disco version of their classic hit "My Generation"? I had heard of it, but I never wanted to hear it and up until last week I never did. But since I had to put this poll together, and since I too will vote in it, I went to YouTube to finally hear it - and damn, I wish I hadn't. My gosh, it has to be the worst remix of a major hit song ever done! What the hell got into Pete Townsend to even consider doing this to one of his best ever songs? I'm sure it was too much booze. Anyway, while it is the worst remix of any great song that I've ever heard (and no, I didn't make it all the way thru the entire song when I gave it a listen), that doesn't mean I'm saying it's the worst disco song ever made - or that I'm voting for it this week. It's gonna be very hard for me to pass over the worst remake of a Stones song, which is also listed this week, that being "Rock and a Hard Place" (you know, the terrible hard disco version). Since I'm a Stones fan, I almost feel like I have to vote for this one. But then again, "Rock and a Hard Place" wasn't a masterpiece to begin with, but with this disco take of "My Generation", well on this one a true masterpiece has been totally destroyed. This would be like the Stones making "Satisfaction" into a disco song. Sorry, I didn't mean to make any Stones fans sick to their stomachs with that comparison, but it's the only thing I can think of to get my point across.
BTW, I had just enough songs listed to make this a multi-week question. We will vote on 42 songs in the next 2 weeks, and at first I was thinking that maybe one week dealing with this question was enough. But a 3 part poll gives us an extra vote in Part 3 so we can all vote for the song we hate the most – two different times, that is, if the song we voted for makes it into Part 3!... To see all of the songs listed and to cast your vote in this week's first Rock poll, just click here: Classic Rock Poll, and when you get to this page, choose "Poll 1" to vote on this question.
For our second Rock question of the week, we have the Rock Video Polls, and will ask this: Rate David Bowie's Official Video for "Ashes To Ashes"
"Ashes To Ashes" video
"Ashes To Ashes" was Bowie's 1980 lead single from his album Scary Monsters. The tune was a #1 hit in the UK and did well all over the world - other than in the U.S. where it only at best made it to #79 on the charts. The song was a sequel to his 1969 single "Space Oddity" and where he revisits with his fictional astronaut, Major Tom. Some fans believed that Bowie was actually using Major Tom as a substitute for himself in this song. Major Tom is described in this number as being a "junkie", and we all know what that means. So yes, the lyrics seem to some to indicate that the song is really mainly about Bowie himself, rather than perhaps a continuation of the Major Tom story. Could the lyric "strung out in heaven's high, hitting an all-time low", be referring to Bowie's real life and his getting high everyday on cocaine, while his life is on the low side because of that? This made some think that the song is really about Bowie's own history of drug problems, and that the "Major Tom" lyrics are really autobiographical. Maybe to a point, but for the most part I don't totally buy this. After all, while a junkie is used to describe a drug addict, it usually is used for one who's addicted to heroin only. Then again, a person with a craving for something sugary is known as a "sugar junkie". But those who are addicted to cocaine are known more so as either a "cokehead" or a "coke fiend". I don't think I ever heard them called junkies, as "junk" in drug slang means heroin. If you ask your local drug dealer for some junk, you will be getting H and not coke.
But no question, Major Tom in "Ashes To Ashes" for sure is a junkie who can't quit his addiction, even if he wants to, as another lyric in the song talks about being stuck with a "valuable friend", with that being his drug of choice. This song wasn't to be Bowie's last visit with Major Tom, either, as in the music video of Bowie's 2016 song "Blackstar" (on the album of the same name, and released just two days prior to his death), a dead astronaut is depicted. His skull is retrieved by an alien who takes it back to worship the relic. Many fans believe this astronaut was once again Major Tom, and this is what his final fate became. The video's director Johan Renck said on a BBC documentary that yes, it was supposed to be Major Tom, 100% for sure. Okay then. Well, Bowie did know that he was dying when he made "Blackstar", so I guess he felt that Major Tom should die along with himself.
This "Ashes To Ashes" video that we will rate this week was directed by both Bowie and David Mallet, who has directed a few hundred music videos, including several of Bowie's, along with a few for some band called The Rolling Stones, that perhaps you might of heard of before? "Ashes To Ashes" was at the time the most expensive music video ever made and still today remains one of the most expensive of all time. While I very much like this video and song, like most who has watched it, nobody can say for sure what it's all about for sure (and yes, that's exactly the way Bowie wanted it to be). But one rumor that went around for a while after its release, wasn't true at all, as the elderly woman lecturing Bowie at the end of the video was not his real mother, as some fans had claimed.
To view and rate this video, just click here: Classic Rock Poll, and when you get to this page, choose "Poll 2" to vote on this question.
Last week in our first Rock Poll, the question was: What's the best Rock Song written about Cats or has "Cat" in its title?
Zzz
I must say I was surprised at the final vote count for this one, as if I'm remembering correctly, it saw about 300 plus more votes total than Part 3 of the Dog Poll that ran the week before saw. Aren't we all supposed to like dogs more than cats? Well I can tell you one thing for sure, since I'm both a dog and cat owner. Cats could care less – about anything, other than getting to sleep long hours every single day.
To see the full, final results from this poll, just go here: Classic Rock Poll, week 714, Poll 1. Or to see the Top 10 results from this one at the Rock Top 10 page 16, click on: http://www.keno.org/classic_rock/top_ten_lists_16.htm. The listing will be found on the very bottom of this long page.
Last week in the Rock Video Poll we voted on this question: Rate The Clash's official Video of "Rock the Casbah"
"Rock the Casbah" video
Well, for the second week in a row, the Rock Video Poll's featured video, didn't score a 10 for its top vote. I'm not sure if that ever happened before – going 2 weeks in a row without the top pick not being voted a ten. But then again, I don't think I ever ran 2 non Classic Rock video polls back to back, either. Anyway, "Rock the Casbah"'s top score was a 9. To see the full, final results from this one, just go here: Classic Rock Poll, week 714, Poll 2. Or to view the video standings and see just where this one fits in on that list page, the new stand-alone Video page for all if the videos that we have voted on – and not only for the Rock Poll, but for the Stones and Beatles video polls, too, are now on one single page. To view this new page, just click here: Top Video Ratings and Standings Page.
We finish up the Poll Post in the usual matter, talking about the Beatles Poll. This week we enter week 466 of this poll, and we'll continue to answer questions about how much we like or dislike the Beatles albums covers. This week's question is: Rate the artwork for the front cover of the Beatles U.S. LP, Magical Mystery Tour
Magical Mystery Tour U.S. LP album cover
This is the American LP cover, which isn't as "clean" as the UK EP cover. There's a ton of text on the U.S. cover, where for the UK release, which came out a month later (in late 1967), it's just the cover photo (same one used on the U.S. cover) of the band along with the name of the album and "Beatles" written up on top, and that's it. The U.S. cover on the other hand lists all of the songs on the LP and the photo is much smaller than what appears on the UK EP album. Problem is, as far as the British album goes, is that we are rating album LP covers and while this was an LP in the States, it was released only as a EP in the UK (with only half the music; U.S. running time is 36:35, while the UK's total running time is only 19:08), and no, we aren't rating EP album covers (at least, not right now, we may or may not rate them after the studio LP albums are finished up and we move on to greatest hits albums, etc). But regardless if we do or do not rate all of the UK EP album covers, we will for sure vote on these 2 covers for MMT in a Beatles VS poll (as we have already done this for a few of the Beatle albums that had more than one cover*). I already know what cover I'll go with when that poll takes place in the future.
About the cover photo of the band, they are all wearing animal costumes, as the photo was taken during the shoot for the "I Am the Walrus" video. This cover was the very first time that the band members' faces were not visible on a Beatle EP or LP album release.
To cast your vote on this LP's cover, just click on this following link: Beatles Weekly Poll.
Last week at the Beatles poll we asked: Rate the artwork for the front cover of the Beatles LP, Sgt. Pepper's Lonely Hearts Club Band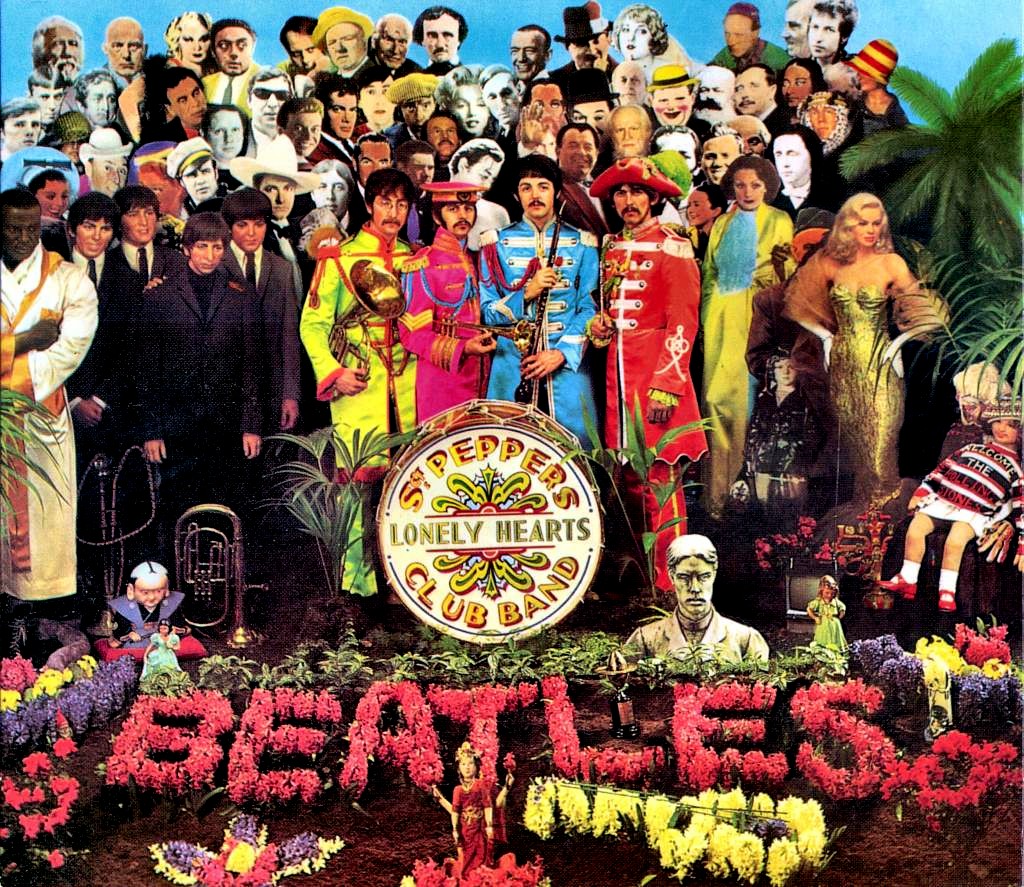 Sgt. Pepper's Lonely Hearts Club Band front album cover
I think all of us knew when we started to vote on this, that no question about it, this cover was gonna receive a 10 rating. Only question was, just how much of the total vote would its 10 rating score? Well, with all the albums covers that we have ever rated on this domain, including these Beatle covers, never have we ever seen a score as high as what we saw last week, and again I nor you should be surprised by any of this. The top pick of a "10" that Sgt. Pepper's Lonely Hearts Club Band scored, did so with a whopping 92.5% of all the votes! Just 7.2% voted it a "9", and after that just 2 more votes gave it an "8", and one single person voted it a "5". So only 3 persons rated it lower than a 9, and in all of the years of polling we have never seen such results, or anything even close to that. I really don't think we will ever again see such results like this no matter what album cover we may rate in the future.
To see the actual poll's final result, just go here: Beatles Weekly Poll – week 465. Or to see the album rating standings on the Beatles List Page, click on: Favorite Beatles Album Covers List Page.The standings can be found up on the top of the page. I'll guess I should note that yes, on this very same page where you will find the standings, *also listed on this page is the other album front covers that we ran VS polls on, and that I just wrote about above. So you can check those lists on this page too, if you like.
That will do it for this week's Poll Post! By this time next week I should have my new computer which was supposed to be here last Friday, and which I stayed home all day to receive, since I have to sign for it. But the FedEx driver never got here and I've been promised it will be here Monday around noon. Yet it's snowing tonight and is supposed to do so for at least part of tomorrow, and the way the FedEx drivers are around here, they refuse to drive down my long driveway (which is actually a long dirt road, an acre long, that is snow covered all winter long) and deliver in snow if more than an inch of new snow falls on it, and a bit more than that is forecasted. Oh if I only had a sled, I could meet the driver up on top of the road put the computer on that and the FedEx truck won't need to come down the driveway. But I haven't had a sled since I was a kid and my grandson gave his away a good 4 or so years ago. Thing is, getting down my long driveway/road is not that bad, it's just getting back up it to leave that can be impossible sometimes since I do live on the side of a mountain. Yeah, I use my 4 wheel drive all winter long on that road, but delivery people don't wish to chance it, and I can't afford to pay to have it plowed and it's way too long for me or even my teenage grandson to remove all of the snow ourselves off the entire drive and the very large parking area by the garage. We do clear off some parts of it if a lot of snow falls, but unless the entire thing is cleared, no delivery driver will dare try to drive down it! So I got a feeling that I won't be seeing my new computer being delivered tomorrow as promised by FedEx. Had they gotten here on Friday as promised, they would have been fine.
Anyway, I thank you for taking the time to read this long post, and I thank all of you who take part in voting on our weekly polls each week!
Keno
Gasland Thread
---
Post Follow-up
---
Note: Do not hit the "Post Message" button more than once, even if it is taking a long time to post your message. Doing so may cause a double post to appear and could slow down your posting time even more.
Filter Threads/Archives
---
---
Download your free, customizable Burton Networks Message Board now!
© 1998 - 2020 by Keno Internet Services, except where otherwise noted. All rights reserved.