---
IT'S A GAS, GAS, GAS!!
MESSAGE BOARD ARCHIVES/WEEKLY ROCK POLL POST
Return to Gasx3/Poll Post Board Homepage
---
Gasland Message
---
Name: Keno
E-Mail: keno@fairpoint.net
Subject: Poll Post for the week starting Monday, July 1
Date: Monday, July 01, 2019
Time: 1:11:26 AM
Remote Address: 97.107.69.29
Message ID: 320274
Parent ID: 0
Thread ID: 320274

Poll Post for the week starting Monday, July 1
It's time to get this week's Poll Post going, where we talk about our 4 new weekly polls that start up at Midnight Eastern Time Zone each Monday morning. As usual let's look at the Stones poll first, as poll week 1,040 is here, and this week's question is:Exile On Main Street vs Their Satanic Majesties Request, which album do you like best?

vs

For this week's album battle we head back up to the very top of the heap for this poll series with the very first series that was ever run - but not the first ever matchup in the overall poll series. This will be the very last time we will visit this top spot, as this week's host album enters its very last battle. Yes, match number 24 for Exile On Main Street is here. Exile sits in third place in the album series standings at 21-2, with the only 2 albums to beat it being ahead of it in the standings (you can guess which ones they are, or you can look it up). This week it takes on 1967's Their Satanic Majesties Request. In this series overall, TSMR has a record of 10-11-1 and sits tied in 13th place.
To see the songs that appear on Exile On Main Street, click here: EOMS , and for the songs on Their Satanic Majesties Request, click here: TSMR. Just remember when looking over the songs on each LP, ignore my ratings for the songs that you will see, as I never wish to influence anybody with what I have down there for each song before anyone votes. You need to decide on your own what LP you feel has the better songs on it.
To vote in this week's Stones poll, just click on: Stones Weekly Poll.
Looking back at our Stones poll last week, the question was: Emotional Rescue vs Black and Blue, which album do you like best?

vs

While there was no landslide win last week and the polling was a lot closer than what I expected to see, up until early Sunday anyway, Black and Blue went and took a bit larger lead than it had for the rest of the week and hung on to win this round. Just click on the following link to see the full results: Stones Weekly Poll - week 1,039. Or, you can check out all of the past final results from all of our Stones Album VS Polls and view the updated, current album standings at the Stones VS Page 1.
Now let's move on over to this week's Classic Rock Poll, which enters week 680, and here we vote on 2 different poll questions in one week. At our first poll, the question asks: Of the most unusual songs made by a Rock band/Artist, which one turned out best?
This question could really be looked at as Part 2 of the question asked last week, since in a way it is - but then again… no, it isn't. It isn't because when we refer to multiple week questions, it's the same exact questions asked each week along with different choices to vote on, and then in the last week we vote on the best of the choices in the final week. Here we aren't doing that at all. The choices this week (and next week too) won't be different at all, they will be the exact same choices from last week (with slightly different wording on some of them that explains them a bit), plus the question is a bit different this week too and it will be different again next week, so in reality, no, it's not a true multi week poll.
Now again, I did change the wording on what is written for some of the songs for this poll's choices. Whereas I noted last week that it didn't matter if you liked a song or not when it came to voting on it, obviously this week it does. So, for example, on the Stones song "Too Much Blood" (the long disco version - 1, that is), where I described the song in the poll choice last week as "Super disco, their fans felt it was the apocalypse!"... Well, it won't have that wording this week. While what I wrote last week about that version of the song is true for most Stones fans, well saying that wasn't swaying the vote at all since again, you could hate a song and still vote for it as the most unusual song from a band. But that won't be the case for this week's and next week's questions. So that wording is gone now and I'll just note that it was a disco song, period. Guess I should had noted this next bit last week too, and I will note it now since I just brought this song up here as an example, but for non-Stones fans reading this, or Stones fans who aren't hardnosed fans, this is not the well-known 1983 album version of the song (from Undercover), which most fans found okay. But it's the very long and super disco version of the tune (which runs for 12 minutes and 33 seconds!) that we are voting on here, and which was released as a twelve-inch single in December of 1984. If you never heard it before (then you're lucky), it's up on YouTube. But if you do check it out, if you're a true Stones fan or true Classic Rock fan who hates disco, I bet that you can't (or won't what to) get past the 5 minute mark of the song. For sure you'll want to slit your wrists if you hate disco and still have it on around 10 minutes in, as you get to hear the weird lyrics (okay the entire song has weird lyrics, so more weird lyrics) that has Mick telling us to "dance with a one legged woman". But then again, I guess if you really dig Disco music and poor lyrics all rolled into one, you're gonna love this 12 and a half minute version!…. Now I should note that the same deal goes with the Stones hard disco version of "Rock and a Hard Place", as that one isn't the version found on Steel Wheels or the single (which was shorter), which most fans found okay at best, but this one is the 12", 7 minute long disco version, and it's super disco for sure. Yet some fans don't mind it. I may not care for it, but I can handle it, at least this one doesn't have any stupid lyrics to it! But then again, that beat does drive me batty after about 3 minutes or so, too.
BTW, to represent this poll this week I chose the Beatles Rev 9 song for the picture placed on top of the question, as you can see. I assume most of you got what the backwards wording there all mean, right? It just shows I couldn't (because of space limits in the poll field), list all of the reasons why that song was listed, but yes, the hidden backwards messages in that song was yet another unusual thing with that song. Or was there really such messages in there to begin with? Oh well, we know now that Paul wasn't really dead, right? Or did he die back in the late '60s?
To vote in this week's first Rock poll, just click there: Classic Rock Poll, and when you get to this page, choose "Poll 1" to vote on this question.
For our second Rock poll this week, we have the Rock VS poll, which asks this question: Björn Ulvaeus and Benny Andersson of ABBA vs Barry, Robin and Maurice Gibb of the Bee Gees. Which songwriters were better?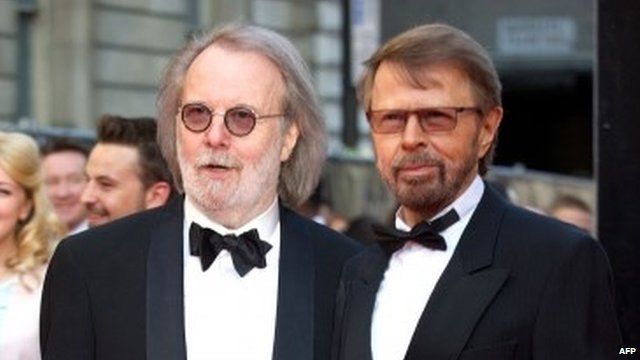 vs
Week 8 of our songwriters' poll is here. Being that this is a major U.S. holiday week and some of our regular Americans voters will miss voting this week, my feeling is this week is the best time to ask a question about some very famous non Americans that most Americans know very little about and never cared too much for. But no, I'm not talking about the Gibb brothers, they were very much liked here in the U.S., at least until they turned into disco singers and disco songwriters, anyway. But while most Americans have heard of Björn Ulvaeus and Benny Andersson of ABBA fame, they know little else about them. ABBA was a major band with many major hits all over the world - except in the U.S., where nobody really seemed to care about them. Okay, they did actually have several minor U.S. hits, and one or 2 big ones, too. While "Waterloo" made it to number 6 in the U.S. in 1993, long after they broke up, they finally had a number 1 U.S. LP in the form of a greatest hits album that was released at that time.
Björn and Benny wrote almost all of the songs their group sang together, with the occasional help with the lyrics from their 2 (ex) wives, who of course were the other 2 members of ABBA (Agnetha Fältskog and Anni-Frida Lyngstad). The group's name is an acronym of the first letters of their first names.
The BeeGees were a UK band of mainly 3 brothers (Barry, Robin and Maurice Gibb), along with a lead guitarist and a drummer (in the '60s anyway, then they were a trio after that), who like ABBA were worldwide stars too, including in the U.S. as both Pop and Classic Rockers. Well, at first anyway, but sadly, around 1976-77, they became the face of a disco music.
Overall, they sold more than 220 million records worldwide, making them one of the world's best-selling artists of all time. Like ABBA, they were also inducted into the Rock and Roll Hall of Fame too, in 1997. Robin was the main lead singer throughout the '60s and early '70s, but when they embraced disco music, Barry, with the higher singing voice, took over that role.
Pretty much all of the most famous Classic Rockers have praised their singing and the 3 brothers together wrote most of the songs that they sang. Maurice sadly died suddenly of a heart attack in January 2003 at the young age of 53, and that ended the trio, although Barry and Robin would reform as a duo in 2009 and stayed together until Robin passed away from liver cancer 3 years later.
To cast your vote in this week's second Rock poll, just click here: Classic Rock Poll, and when you get to this page, choose "Poll 2" to vote on this question.
Looking back at last week's 2 Rock polls, the first question asked: What was the most unusual song made by a Rock band or Artist?
Somewhat close voting in this one, at least for the first 11 songs that made it into the Top 10 anyway. For the 3 top songs picked, "Revolution 9" by the Beatles was the number 1 pick with 6.3% of the vote. "Coconut" by Harry Nilsson came in second at 6%, and in third was "Crocodile Rock" by Elton John just behind at 5.9%.
To see where the other songs listed in the poll ended up in the voting, click here: Classic Rock Poll 1, week 679. Or to see the Top 10 finish only, you can do that at our newest list page: Top Ten Lists, Page, 16.
Looking back at last week's VS Rock poll, the question asked: Elton John (music)/Bernie Taupin (lyrics). Of these songwriting partners, who's writing is more important to their songs?
This one was very close all week long, but for the most part Elton lead the entire week (whenever I looked anyway) but as of Sunday morning the lead was only by one vote. But Elton held off and won the poll. I must say that I was shocked by that, as I figured when I put this one together, that Bernie would win this one (and he should have won this one, as if there was no Bernie writing those great lyrics, it's highly possible that nobody ever would have known who Elton was, as he cannot write lyrics at all). But this isn't the first time I saw results like this happen in our polls, as our voters can't get it right 100% of the time. To those of you who voted for Elton, I'm not saying you voted wrong, but by just 3 votes the wrong guy got the top spot, and that's what's wrong, IMO, which really don't mean anything anyway. You can click here to see the final totals from the poll: Classic Rock Poll 2, week 679. Or to see the results on the VS list page only, please go here: VS Page 3, List Page 15 and look under the "Songwriters VS Polls".
We close up this poll post in the usual matter with the Beatles poll, where we enter week 431, and the question asks: Name your least favorite Opening and Closing song combo on a Beatles UK Studio Album
Last week at this point of the poll post I noted that I knew beforehand which song was gonna be chosen - and in a landslide (without naming that song) and yes, that's what happen in the end. So for this week, the same deal applies, only thing is I bet you know this too, as it just isn't me who can see this one and where it's gonna end up come this time next week… Some might say, why run a poll if you already know the answer to it? Well, why not, we don't know the percentage of what the final vote count will be, so let's vote and find out I say.
To see the opening and closing song list and vote... just click on: Beatles Weekly Poll
In last week's Fab poll….the poll question was: Pick your least favorite song to close a Beatles UK studio album
Well 2 weeks ago and for the first time since Gasland was closed down and our Stones weekly poll lost about a third of its voters because of that, the Stones poll didn't finish last in the voting and beat out the Beatles poll in total votes cast. Last week that happened again. What, has the lost Gassers returned to vote?!? Nope, the vote count at the Stones poll ain't actually doing any better; in fact the vote total last week was lower than 2 weeks before by about 10 votes. BUT, as I noted, Beatle fans hate negative Beatle Poll questions, like the ones we been asking here of late, and well, that's the issue. The Beatles poll always pull in the second highest vote counts each week – unless the question is negative, then in those weeks even the Rock VS poll beats it. So all I can say is, please vote this week in this poll, because the vote is gonna count regardless if you vote or not, so you might as well be a part of that, right?
Anyway, yes, "Yellow Submarine in Pepperland", off of the LP Yellow Submarine, was chosen the least favorite song to close an album. 86.2% of the voters who did vote (including myself) voted for this pick. Another 11.1% voted for "Her Majesty", the hidden track far off of Abbey Road. After that, the rest of the closing songs listed saw only 2.7% of all of the combine votes. 3 of those closing songs, "I'll Be Back", off of A Hard Day's Night, "Money (That's What I Want)" off of With The Beatles, and "Twist and Shout" off of Please Please Me, didn't receive a single vote each, or in other words, that saw 0% of the total votes. But one person actually voted "A Day in the Life" for their least liked song to close a Beatles album. If I was to pick the one song I expected not to see any get any votes cast last week for this poll before the poll started, it would have been that one.
To see the full results from this poll, just go here: Beatles Weekly Poll – week 430. Or to see the top results on the Beatles Opening and Closing songs page, click: here and look under "songs" for the results.
So with that it's time to close up this week's Poll Post! I noted here last week, and for the second week in a row at the close of this post, how the weather here in Colorado has been on the cold side and how much I love that fact. Well I should have just not have said anything, because this week summer came on real fast, with temps in the upper 80s! Yuck! 2 weeks before it's record cold and snowing above 9,000 feet, and now it's hot as hell! So I actually had to open every window in the house this last week for the first time since last summer, and then went and found my one and only fan (nobody, and I mean nobody in this town has air conditioning, we don't need it). Anyway, when I went to turn on the old 40 year old fan – nothing, the SOB won't work! Hell, in the 17 years that I lived in this town, I only use it maybe 5 to 10 times a year on average and not for too many hours a day at that, as by midnight the temps are in the 40s (F), even on days like Sunday when we hit the upper 80s. So tonight of course as I type this it's not in the 40s and it's after 1am now, and a swelding 59 degrees outside and 79 degrees inside the room I'm in at the moment – with no fan to cool the room off with. Plus my bedroom is upstairs, where it's several degrees warmer. Guess I'm sleeping downstairs tonight! Meanwhile the grandson is staying at his girlfriend's parents' house tonight, where they got fans in every room. But they got a small house, too. I guess I need to buy a new fan this week… it's either that or I'll be bitching to close out the poll post for the next 5 or 6 weeks! Damn, I can't wait till fall gets here!
I thank all of you for taking part in our polls both this week and last! Try to keep cool, but then again I understand that most people like or love hot weather. Why is that? I guess only about 20% are like me and prefer the winter months. Oh well, I am different, that's for sure!... I do hope all of you have a great week ahead!
Keno
Gasland Thread
---
Post Follow-up
---
Note: Do not hit the "Post Message" button more than once, even if it is taking a long time to post your message. Doing so may cause a double post to appear and could slow down your posting time even more.
Filter Threads/Archives
---
---
Download your free, customizable Burton Networks Message Board now!
© 1998 - 2019 by Keno Internet Services, except where otherwise noted. All rights reserved.