---
IT'S A GAS, GAS, GAS!!
MESSAGE BOARD ARCHIVES/WEEKLY ROCK POLL POST
Return to Gasx3/Poll Post Board Homepage
---
Gasland Message
---
Name: Keno
E-Mail: keno@fairpoint.net
Subject: Poll Post for the week starting Monday, May 13
Date: Sunday, May 12, 2019
Time: 11:42:16 PM
Remote Address: 97.107.69.29
Message ID: 320242
Parent ID: 0
Thread ID: 320242

Poll Post for the week starting Monday, May 13
I just got finished putting together this week's polls, cutting it just a bit short this week, which seems to be the norm for me of late in having them ready to go on time. So as usual, I start off talking about the Stones Poll, where we enter week 1,033 of polling and ask this question: Rate the Stones live performance video for "Love In Vain"
This one comes from the greatest Stones movie ever made, the 1974 flick Ladies and Gentlemen, The Rolling Stones, taken from a live show that took place back on June 25, 1972 at the Pavillion (today named "The Fertitta Center"), in Houston, Texas, back when the Stones were at their true peak as a band. If you like your Stones with a lot of Blues, well this is as good as they ever got! While I did get to see them play on this tour, I didn't see this show, but my future wife Sue sure did, her first time at a Stones show, and what a show she got to see that night, in this small hall that sat about 8,000 people.
To see the video and then rate it from zero to 10, just click here: Stones Weekly Poll, and when there, then click on Poll 1 to vote on this poll.
For the second Stones Poll this week, the question is: Some Girls vs Their Satanic Majesties Request, which album do you like best?

vs

This week "The Some Girls Polls" returns - and for the very last time, as the host LP, Some Girls takes part in its final battle. It becomes the first of the Big 4 to finish up this series and it sports a current record of 19-4, good for 4th place in the standings, right behind the Big 3, just as I guess it should be.
Their Satanic Majesties Request is the only Stones LP not to face SG yet, it's in 13th place in the standings with an even record of 10-10-1.
To see the songs that appear on Some Girls, click here: SG, and for the songs on Their Satanic Majesties Request, click here: TSMR. Just remember when looking over the songs on each LP, ignore my ratings for the songs that you will see, as I rather not influence anybody with what I have down there for each song before anyone votes. I have no choice but to link to my own site now for these polls for the album's song list, thanks to The Stones official site taking down all the album pages that were up there for years, so there's nothing there to link to anymore!
To vote in this week's second Stones poll, just click on: Stones Weekly Poll and click on Poll 2.
Looking back at our first Stones poll last week, the question was: Rate the Stones 1965 TV performance of "Heart of Stone"
This one did a little better than I expected in the voting, with an "8" being its top score, and a "10" being the next highest pick. You can click the following link to see the full, final results: Stones Weekly Poll 1 - week 1,032 Or, check out how all of the videos that we have voted on so far have been rated by clicking here .
The second Stones poll last week asked this question: 12x5 vs Some Girls, which album do you like best?

vs

I think we all know that Some Girls would win this one and sure enough, that's how it turned out. To see what the final totals were, you can click on the following link: Stones Weekly Poll 2- week 1,032. Or, you can check out all of the past final results and view the updated, current album standings at the Stones VS Page 1.
This week's Classic Rock Poll will enter week 673, and in this one we also vote on 2 different poll questions in one week. At our first poll, the question is: Who sang the best vocals for singing nontraditional lyrics in a Rock song?
Several months ago I was listening to the Righteous Brothers' hit single of the song "You've Lost That Lovin' Feelin'". It features a (at the time) unknown singer named Cher on the backing vocals singing along with a girl group called "The Blossoms". But Cher also sang alone on here, as she sang the "high pitched, be it brief backing vocals" (not sure what else to call it), where there aren't any lyrics being sung at all, just a super high pitched sung line (perhaps the highest pitched ever sung on a rock song) that producer Phil Spector used as part of his wall of sound. Anyway, whenever I hear this song now and Cher's crescendo vocal, I think to myself how excellent that was sung and how only a handful of singers (all females) could even pull that off. That in turn got me to thinking of this poll question, as to who sang the best nontraditional lyrics in a Rock song. I came up with 23 such songs (many of them in the last few hours, as the poll wasn't finished yet for it to be use for this week). Many of these songs are doo-wop songs, and most of the time these vocals were the backing vocals to the tune... and I bet I'm missing a song or 2 - you would think there's a bunch more such tunes than just 23 of them.
To see this week's song list that we will choose from, click here: Classic Rock Poll, and when you get to this page, choose "Poll 1" to vote on this question.
For our second Rock poll this week, we have the Rock VS poll, which asks this question: Lennon/McCartney vs Jagger/Richards, which was the better song writing team?
vs
Can't believe I didn't ever ask this one before, but with this question I have a feeling it could be the beginning of many more such questions to come, including asking for the best writers overall in a non VS poll, since I don't think such a poll was run yet (but it might have been years ago, I'll have to check). But I know this week's question wasn't asked, so, let's do this one now for this week's VS poll.
To cast your vote in this week's second Rock poll, just click here: Classic Rock Poll, and when you get to this page, choose "Poll 2" to vote on this question.
Looking back at last week's 2 Rock polls, the first question asked: Which Rocker had the most bizarre or unusual death?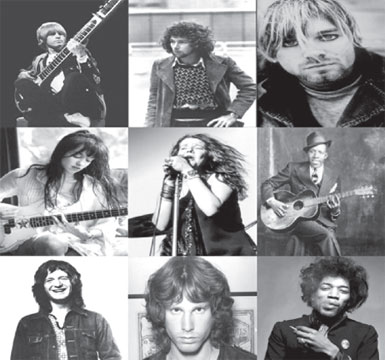 Well that was an unusual question to ask about something unusual, and it done very well in the voting as far as turn out went. The top pick was for the 19 year old up and coming folk-rock singer Taylor Mitchell and her death. She had just released her first LP and was on tour when she went for a walk in the woods on a day off and was attacked and killed by a pack of mad coyotes. The attack was the only one ever reported on a human in Canada. A very sad thing to happen to such a promising and very young artist. To see what other deaths we looked at as being the most unusual, click here: Classic Rock Poll 1, week 672. Or to see the Top 10 finish only, you can do that at this list page: Top Ten Lists, Page, 14.
Looking back at last week's VS Rock poll, the question asked: Abbey Road by The Beatles vs The Dark Side of the Moon by Pink Floyd, which is the better Concept Album?

vs

Somewhat close in this poll, but still, the LP that won out lead for the entire week and never gave up first place even once. To see which song that was, click here: Classic Rock Poll 2, week 672. Or to see the results on the VS list page only, please go here: VS Page 3, List Page 15.
We finish this poll post with the Beatles poll, where we enter week 423, and the question asks: What was the best lead guitar heard on a Beatles song not played by George Harrison?
You may be surprised when you see this week's list of - and how many songs George Harrison didn't play the lead on guitar for the Beatles songs. Whereas last week when we looked at the songs that Paul McCartney didn't play bass on for the Fabs – there were 16 of 'em, this week for Harrison, there are 46 such songs (actually there's about 4 or 5 more such Beatle songs not listed that also had no lead guitar on them, but those songs had nobody else playing lead guitar on them either, so they aren't listed). Heck, this poll could have been a 3 week poll question since there are so many choices to choose from for one week. Now just like last week with the Macca poll about bass, George did play on most of these 46 songs, as he just played another instrument besides lead guitar on the songs.
The breakdown for whom played the lead on guitar instead of George – well the list only includes 3 others, and one wasn't a Beatle - and you all know which song I'm talking about and who that was playing the lead on the song (hint for those who are having a brain freeze here, his initials are E.C.). Then on the other 45 songs, it was either John Lennon, who played lead guitar on 24 of these songs, or Paul McCartney, who played the lead on another 22 of 'em. Plus I should note that on an 8 of these numbers, George actually did play the co-lead guitar on the song, so while 46 is still the true number of songs for us to look at somebody else playing the lead, George didn't play the lead at all on 38 on them. I think when you see the list of the 46 songs listed; you will realize just how good a lead guitarist Lennon was. I'm not noting that here to boost him any, as I don't have to, but most of the best Beatle hit songs listed for this poll that had a very interesting lead guitar played on it was played by he (IMO), whereas Paul seemed to play more of a lead acoustic guitar when he took over the role, and you half gotta think that Paul was the best acoustic guitar player in the group when you see this list of songs. Some prefer the acoustic guitar, too, and if that's the case, you will disagree with me here and vote accordingly. But while I love a great acoustic guitar, I love a good hard hitting electric rock guitar blaring away on most of my songs – more so. That was more Lennon's thing than either Paul or George, and why I always have said here in the past (when this place was Gasx3), that when we talked about the Beatles, that John Lennon would have made for a great and even better lead guitar player in the group than George. With that note, while most (but not all) of the acoustic guitar playing in a song is noted as a such, most of the electric guitar played isn't noted as "electric guitar" and just shows as "lead guitar", since that's what we expect to hear being played on rock songs.
So which lead guitar payed on Beatle's song other than George playing, did you dig the most? To vote in this Beatle poll, just click here: Beatles Weekly Poll – week 421
In last week's Fab poll….The poll question was this: What was the best bass on a Beatles song not played by Paul McCartney?
Another cool poll to vote in last week, with the best bass played going to John Lennon on the song "Helter Skelter" (with 10.7% of the votes). For a guy who wasn't known as being a great bassist, he sure was on that song. "Back in the USSR", with the bass played by both George Harrison and John Lennon, placed at 10.5%, and third went to "Two of Us" with the bass played by George Harrison (at 10.2%)
To see how the rest of the choices polled, just go here: Beatles Weekly Poll – week 423, or to see the top results on this Beatles List Page, click: here.
So another new week is here and I'm surprised at how busy I've been of late. Retirement hasn't been anything like I expected, but maybe because I do a lot of volunteer work around town and that keeps me busy for sure. Got a big community meeting to attend early tonight followed by a pot luck dinner, which is always fun. I'm bringing the potato salad, as I guess word has gotten out around town about how I make it, to the point that it was requested, and for pot luck, that isn't how it's supposed to work. But I guess that's what I'm bringing and I guess I'll make it tonight so it's good and cold by Monday night. But anybody who gets bored in retirement, just needs to go out there and find things to do, as if there's a lot of things to volunteer for in this tiny little town where I live, anyway, I bet there's a ton more such jobs in a big city
I thank all of you for voting in last week's pols!
Keno
Gasland Thread
---
Post Follow-up
---
Note: Do not hit the "Post Message" button more than once, even if it is taking a long time to post your message. Doing so may cause a double post to appear and could slow down your posting time even more.
Filter Threads/Archives
---
---
Download your free, customizable Burton Networks Message Board now!
© 1998 - 2019 by Keno Internet Services, except where otherwise noted. All rights reserved.