---
IT'S A GAS, GAS, GAS!!
MESSAGE BOARD ARCHIVES/WEEKLY ROCK POLL POST
Return to Gasx3 Board Homepage
---
Gasland Message
---
Name: Keno
E-Mail: keno@fairpoint.net
Subject: Sweet Virginia/IORR/12x5/Loner songs/More...
Date: Sunday, March 10, 2019
Time: 11:40:29 PM
Remote Address: 97.107.69.29
Message ID: 320195
Parent ID: 0
Thread ID: 320195

Sweet Virginia/IORR/12x5/Loner songs/More...
We kick off the poll post tonight for our 5 weekly polls as usual starting with the Stones poll, where we enter week 1,024 of polling, and at this poll we always answer 2 different poll questions in the week. So for the first Stones poll, here's the new question: Rate the official live video for "Sweet Virginia"
We should have finished up this round of the Stones video poll series last week, as I like to run 6 of them in a row for each series and then go on to other questions. But I only realized on Saturday morning that I had run the 6th round last week, and I didn't have any other Stones poll really to go with for this new week. So since these questions are popular enough and I do have a bunch of video questions lined up (if nothing else), it won't be a big deal to run the series for one more week before we take a break in video voting.
I believe this live take of "Sweet Virginia" is from the movie Ladies and Gentleman, the Rolling Stones but I haven't seen that movie in years and can't recall for sure - even if I've see the flick about 20 times. But it notes on the YouTube page that it was from a live show in Texas, in June 1972, so yes, that's the film where this is from… To watch the video and then rate it for this week's first Stones poll, just click on: Stones Weekly Poll and when there, then click on Poll 1.
For the second Stones Poll this week, the question is: It's Only a Rock 'n Roll vs 12x5, which album do you like best?

vs

The "It's Only a Rock 'n Roll Poll", Polls return to action this week featuring the 1974 LP It's Only a Rock 'n Roll, which is doing well enough in these matchups with a winning record of 13-7-1, good for a spot in the Top 10 at #9. This week it takes on 1964's 12x5, the Stones second U.S. LP, which also is doing almost as good as the IORR album with a record of 10-9-1 and just 2 spots away from IORR in 12th place.
An update before I link you to each album's song lists. The Stones official site – where I usually link you to go and where you can check out the songs on each album, is still all down, other than for the few pages still up that are trying to sell either albums, or tickets to a few of the upcoming shows. I have no clue why they took down all of those pages (or why they are being blocked)… Is selling tickets all they care about these days? More importantly, why are the tickets selling so poorly? Maybe it's the outrageous prices perhaps? I guess I'm not the only one who has seen them enough already, but I bet if they lowered their tickets to more a reasonable price, many of us would maybe think of attending their shows one more time? But I'm not gonna pay $600 for up close field seats either, and the hell with nosebleed seats up high and a mile away from the stage. I saw them in their prime and then on many other occasions at their near prime. Now today they are old men, no longer in their prime, and they are selling their tickets at overpriced rates as if they were still in their prime. That's why they can't sell out all of their shows anymore. Fans would still come out to see them and they could sell out these places if they only would lower their prices. But the Glimmers still care too much about making money off of us fans than just playing music anymore for us at a more reasonable price, I see. So the hell with that, and it's total BS that they took down all of those pages at their main site. Hell, MJ should know better, that pages like the ones they are blocking bring in more people to their site and in turn might sell a few more tickets because of those pages! But instead they block the pages? Mick, take it from a guy who make a killing in life in sales and at selling things… this action at the Stones site is flat out moronic, to say the least! It makes the band look bad, and it's gonna result in even less tickets being sold, not to mention less traffic at the site.
As I noted last week, I don't wish to sway your votes, that's why I don't send you to the song lists at my site where each song is rated. So to check out the song lists for each album outside of my site and the Stones site, I'll send you over to Wiki again like I did last week… for It's Only a Rock 'n Roll, click here: IORR, and for 12x5, click here: 12x5.
To vote in this week's second Stones poll, just click on: Stones Weekly Poll and click on Poll 2.
Looking back at our first Stones poll last week, we answered this question: Rate the Stones live video for "Everybody Needs Somebody to Love"
Close voting between spots 7 thru 10, with 10.0 taking the top spot with 25.3% of the vote! To see the full, final results from this poll, please click here: Stones Weekly Poll 1 - week 1,023. The final results to this poll can also be found here: Stones Fans Top Pick List, Page 2, where you can also check out how all of the other videos that we have voted on in the past, have ended up, too.
The second Stones poll last week asked this question: Voodoo Lounge vs Out Of Our Heads, which album do you like best?

vs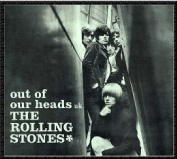 or

Out Of Our Heads won this one by a 12 vote margin. To view the actual vote count, just click on this link: Stones Weekly Poll 2- week 1,023. Or, you can see all of the final results and see the updated, current album standings at the Stones VS Page 1.
Let's move on over to the Classic Rock Poll next, where we enter poll week 664, and in this one we also vote on 2 different poll questions in one week. For the first Rock poll, we have a brand new question that askes this: What is the best Rock song about people who are loners
We go from looking at songs about the dead in the last few weeks to songs about loners this week. Now do pay attention to the wording of this poll's question, as we aren't looking for the best song about lonely people here (we already answered that question a few years back). The songs here have to be about a loner, which isn't totally the same thing as being lonely, as most people who feel lonely aren't loners, while loners mainly like and want to be alone. We have 22 songs to choose from, and most of them weren't listed in the lonely poll that we ran a few years ago, since again, this is a different subject. To see the poll choices and vote, just click here: Classic Rock Poll, and when you get to this page, choose "Poll 1" to vote on this question.
For our second Rock poll this week, we have the Rock VS poll, which asks this question: "Mr Tambourine Man" by the Byrds vs "Green Tambourine" by The Lemon Pipers. Which song about a tambourine player do you like better?
vs
This week's VS question is the oldest future poll question that I had in my old poll file. I thought up this question way back in 1998, yes, in the last century, back before the polls even started up, and long before we ever had or voted in any verses polls. It ain't a bad question, although it was worded differently back when I first thought it up. I just never got around to asking it and for whatever reason, this past week I changed the question around a bit, and well, liked how it was re-worded and decided to go with it - after 21 years has passed! That's really is a long time to hold on to something! So yes, this is the last of the original poll questions that I came up with, and I guess it's about time to ask it now.
First let's look at the Bob Dylan written song "Mr. Tambourine Man", that both Dylan and the band the Byrds, both recorded (separately) in January of 1965 - within 2 weeks of each other. The Byrds single was recorded first but released second, after Dylan's take of it came out in March of '65. The Byrds cover was released on April 12, '65, and was the band's debut single. The cover was a major hit, reaching number 1 on the Billboard Hot 100, and number 1 on the UK Singles Chart, making it the first recording of a Dylan song to reach number 1 on any pop music chart. It was also with its distinctive 12 sting guitar, the first folk rock song and it alone gave rise to the term "folk rock". The song sounded nothing like Dylan's version - and when he heard it for the first time, he loved it, which in turn was why the Byrds used it as their first single.
While "Green Tambourine" is clearly Psychedelic rock music, it was also looked at as the first successful early bubblegum pop song, too. Written by Paul Leka and Shelley Pinz, it would be the biggest hit put out by the 1960s group The Lemon Pipers. Released in November of 1967, it went all the way to #1 on all of the different U.S. and Canadian charts by February 3, 1968 (and a top 10 hit everywhere else in the world) and sold over a million copies. Shelley Pinz wrote all of the lyrics to the song after watching a man holding a tambourine outside of her office who was begging for money. She had no clue what became of the man, whom she never saw out there again. Leka, her partner, then wrote the music to go with the lyrics and then got the band the Lemon Pipers to record it, while he produced it.
Now remember, we are not rating the 2 videos to these songs against each other, as I like to point out, as they are there only so you can hear both songs before you vote. All we are voting on here is asking which song about a tambourine player turned out better, that's it. To cast your vote in this week's second Rock poll, just click here: Classic Rock Poll, and when you get to this page, choose "Poll 2" to vote on this question.
Looking back at last week's 2 Rock polls, the first question asked: What is the best song made about a deceased person, somebody dying, or going to a funeral? (Part 4 of 4)
The song I really didn't wish to see win, did so, that being "Paint It Black" by the Stones. Great song, just not the greatest death song, IMO. Spots second and third were both great picks, with "The Needle and the Damage Done" by Neil Young placing and the song I voted for, "Candle in the Wind" by Elton John, taking third place.
To see the full results from this poll question, just click here: Classic Rock Poll 1, week 663. Or you can also check out the top 10 results at this page Top Ten Lists, Page, 14, all the way at the bottom of the page.
Looking back at last week's VS Rock poll, the question asked: "Saturday in the Park" by Chicago vs "Saturday Night's Alright For Fighting" by Elton John, which song about Saturday is better?
vs
A close race for sure took place at this one last week. To see the poll's final results, just click here: Classic Rock Poll 1, week 663. Or to see the results on the list page only, please go here: VS Page 3, List Page, 15.
I close out the poll post as usual with the Beatles poll, where we enter week 415, and its question is: What's your favorite one line lyric from a Beatles song? (Part 2 of 4)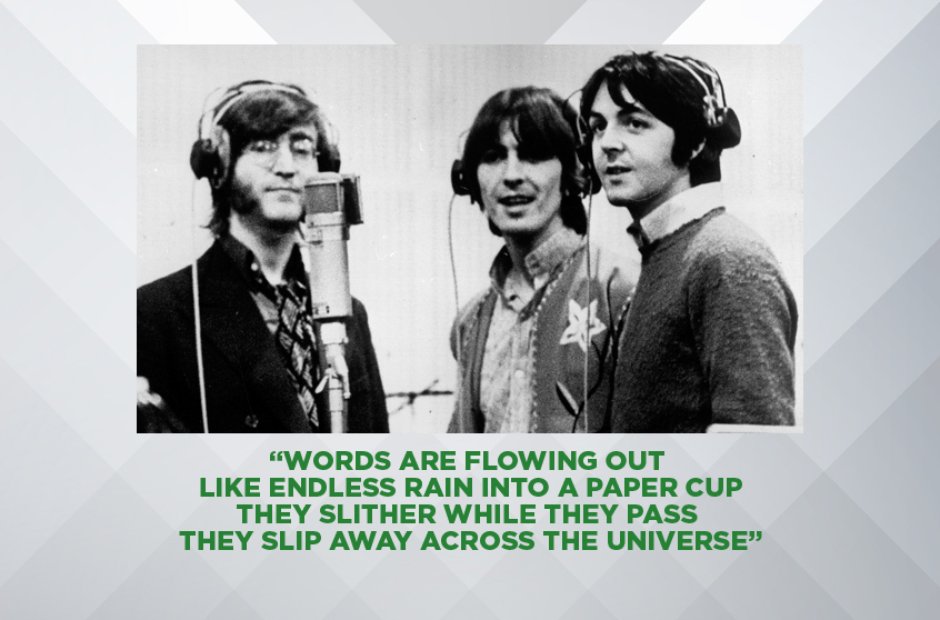 As I noted last week, we are only looking for the best one liners in this poll, while the above lyrics are 2 lines. But it is hard to find a one line lyric with a good Beatle photo to use for the photo that I post up on top of the page, so like last week, I went with yet another 2 liner.
We have another 30 song lyrics to choose from in Part 2, and like last week, it won't be easy to pick put just one. To see this week's choices and vote, please go here: Beatles Weekly Poll.
In last week's Beatle poll the questions was: What's your favorite one line lyric from a Beatles song? (Part 1 of 4)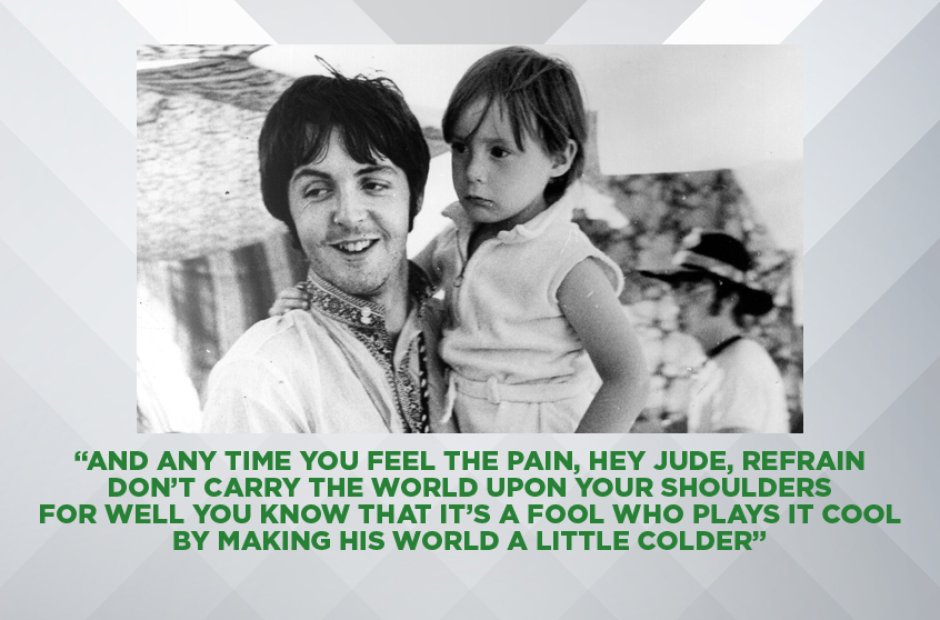 Since this was only Part 1 and first place doesn't really mean anything in Part 1 - while the top 8 spots do, since they all get voted on again in Part 4, well, it would take up too much space to list them all here. So to view the full result from last week's Beatles poll, including the top 8, just click here: Beatles Weekly Poll – week 414.
In closing, I have 4 different things to note and write about. First note is about the Classic Rock site - as for the first time in over 2 years, I added songs to both the Misheard and Double Meaning pages. I used to do that twice a year at one point early on, but anyway, especially for the Misheard lyrics page, I had a ton of song lyrics to add that I never got to, so I finally added them onto the list earlier this week. Anyway, if you would like to check out the new added songs and lyrics to either page, you can start off using this Link for the Misheard Lyrics page and go on from there if you like.
Next, and in a totally non music comment, if you've been reading this former Stones board long enough, back a few years ago when we used to make a lot of NSC posts, I noted along with most others, how much I hate Daylight Saving Time, and what a waste of time and loss energy it is. Well as most of you know, that ridiculous time hit us in the U.S again Sunday morning, and chances are you are hating it right now that your weekend was a full hour shorter, and maybe you're acting like a zombie right now trying to get used to the unneeded change while dreading the mornings even more so, since you will now have to get up in total darkness with no early morning daylight. More than half of all people are affected in a negative matter by this useless time change - which saves us nothing at all and only hurts the health of many people. It is a fact that most people today hate it (at least in the U.S. anyway, where 65% of Americans in a recent poll came out against it!). So why do we put up with it? There's this petition to the U.S. Congress to get rid of this late winter time changing event. If you agree with me, and again polls show that most Americans do, then please use the following link and go to the congress.com website and sign the petition there to end this farce: Official petition to the U.S. Congress to end Daylight Saving Time! The more who sign this, the better!
Next, and this is totally personal but very cool to my family, so I want to publicly congratulate my grandson Cooper for being the only kid from his school and this entire area of Colorado, to make the southern Colorado High School All-Star basketball team! The state is split up into 4 different parts for this team, and we're in the southern part of the state. I always knew he was the best player on his team, but I didn't realize others saw this in him too. I was thinking it was just a grandpa-parent thing with me, as most parents think in that way about their own kid. But Coop plays guard and is the smallest player on his team at only 5'9". But since he was only a toddler and was old enough to pick up a basketball (which at the time the ball was almost his size), he has loved playing the game. Thing is, my grandson isn't into any other sports at all; he doesn't even care for the NBA. But he loves to play the game for sure, and is very good at it. It's crazy that he's so short and still loves a game that is custom made for giants, and sure it's unfair that his 2 older brothers who are now 6'4" and 6'3" tall - never wanted or liked to play the game, yet the only short kid in the family - loves to play it! Since I raised him mainly on my own (his grandma died when he was just 8, and his mom doesn't live with us), I'm so very proud of him making the State's all-star team! Way to go Cooper!
So that takes me now to one last non music close to this poll post, and another interesting story that happen here this weekend. You may want to skip this part if you rather not read about the death of wildlife and it's consumption by other animals. But as I built this week's polls on Saturday morning - while sitting at my computer, there was this major commotion happening in my front yard, as all of these birds and big hawks were going crazy way up near where the road is. They were all on the ground but I couldn't see what they were after, as we don't have any lawns in this town, your yard is 100% natural, with lots of boulders, rabbit brush, and pine trees. So about a half hour later, after most of the newly fallen snow from Friday nite had melted away, and with these birds still going crazy, I finally figured I needed to go see what was up (and I kinda knew I would find something dead), but again, I couldn't see anything from the window of the family room sliding glass door, as this action was going on a good acre away - but still on my property. Turns out as I got over there, that it was a dead deer, one that wasn't there the day before, and it's front legs were already gone and its chest was eaten out, with its rib cage totally exposed, with all the meat around it also gone along with its guts. But the rest of the animal was still all there and intact. I felt bad finding this, since here the deer visit our land every single day, and they do become your friends. I knew this doe from a marking on her back, she was a regular visitor on my land (which of course was her land, too). Couldn't tell what killed her, but I'm pretty sure it was just old age, as I've known her a long time, and there were no signs of a struggle, it looked like she just laid down and passed away. She picked a beautiful spot to die and leave this planet of ours at…. Being that it was a Saturday, there was nobody to call to get the body removed, so I had to worry about the local coyotes showing up, and or even worst, maybe a mountain lion getting at it (at least the bears are still asleep right now, so they are no worry this time of the year). But the coyotes are a major pain in the ass here, as they're all over the place, and I sure as shit don't want any more of them showing up here. But there was nothing to really do other than maybe bury it. But the ground is frozen solid and partly covered by snow, so I just let it slide, knowing it won't be there too long, that the birds alone would eat most of it soon enough. I did let my next door neighbors know about it too, since it was nearly on their property, and I didn't want their 2 little ones to find it on their own and try to do something with this dead animal (you all know how little boys can be sometimes)... By Saturday at dusk, half the animal was gone, the entire middle part was by then nothing but it's rib cage, the tail was now gone too, as well as its eyes, but the rest of the head and the behind weren't touched yet at all. But then come Sunday just before noon, and about 24 hours later, this deer was mainly all gone, other than it's skeleton and some fur here and there... I've said it many times before, we don't have to put up with any real crime here where I live, but we do have to put up with wildlife problems like this. Then again, it wasn't a real problem, just something to watch and make you realize that around here anyway, if you don't bury the dead, there will be nothing left to the body other than bones in a day or 2. I'm just glad it wasn't a dead bear, as that would take longer to be eaten and worst to deal with. The deer on the other hand is pretty much no more in just 24 hours' time, other than its bones. But it got me to thinking, that even if the deer do live a full life and die of old age, they will still be dinner for other animals regardless once they are gone. And to think that they are vegetarians, too. They don't ever eat others, but others will eat them in time. So goes life in the Rockies, and in nature in general.
So that's how my weekend went, watching a deer get eaten up by the local wildlife. Stuff like that does make one think about life in general just a bit more, and what our true reason is as to why we are all here on planet Earth. But anyway, with that, I hope everybody has a great week ahead and I thank all of you for voting in our polls each week!
Keno
Gasland Thread
---
Post Follow-up
---
Note: Do not hit the "Post Message" button more than once, even if it is taking a long time to post your message. Doing so may cause a double post to appear and could slow down your posting time even more.
Filter Threads/Archives
---
---
Download your free, customizable Burton Networks Message Board now!
© 1998 - 2019 by Keno Internet Services, except where otherwise noted. All rights reserved.