---
IT'S A GAS, GAS, GAS!!
MESSAGE BOARD
Return to Gasx3 Board Homepage
---
Gasland Message
---
Name: Keno
E-Mail: keno@fairpoint.net
Subject: Stones Albums/Cheesy rock songs/Beatles lyrics/+
Date: Monday, August 07, 2017
Time: 12:18:10 AM
Remote Address: 66.36.124.25
Message ID: 310268
Parent ID: 0
Thread ID: 310268

Stones Albums/Cheesy rock songs/Beatles lyrics/+
Time to talk about our new weekly polls for what will be the first full week in August, and yes, that means that summer is half over.
Now the server our board and polls are on is still a mess, and my host, AIT, still hasn't moved the domain to a decent server that works yet. Tonight (that's Sunday nite) the database for the polls and board crashed, and not only were the polls down, but Gasland was down too. So I had to deal with all that (but at least no data was lost). Anyway, after losing about 40 minutes of voting time and board time, starting around 10:30 Gasland time, I got everything working again. But hell, that's no way to start off a new week at the domain. It seems every time AIT moves my domain around, major problems like this start up that weren't there before.
Now before we go over the new polls for this week, at least I got some good news to report here … I'm happy to note that the very last goal of these polls (set by me anyway), was to is see all 5 polls reach the 1,000 vote mark each, all together in the same week, and yes, that happened last week! So that's so very cool indeed, other than I now have no other goals for the polls that I can think of, other than getting to the 1,000 poll week run marker at the Stones poll, which is coming up in the not too distance future, since this week will mark week number 941 of polling.
Now, as we always do at this poll, we will vote in 2 poll questions for this one week. The first question will ask this: It's Only Rock n Roll vs Beggars Banquet, which album has the best drawing on its cover?

vs.

Back in 2016, we matched up the drawing of the It's Only Rock n Roll cover with the drawing on the cover of Still Life, and IORR came out on top. So this time that LP's cover will go up against the drawing on the cover of Beggars Banquet, well, the photo of the drawings made all over a dirty rest room wall. This was of course the original cover that Decca Records refused to go with, and which held up the LPs release for several months until the Stones gave in to the censors and went with the very boring white RSVP invitation cover, that made it looked like the Stones were once again copying the Beatles, since the Fabs had just released a similar cover for their LP The White Album. Years later when CDs came out and the band was no longer under the control of Decca Records executives, the original cover was finally used and replaced the second unwanted cover, and is what we now all think of today when the album comes to mind. So at least the censors did lose out in the end on this one.
The It's Only Rock n Roll cover was also very popular, perhaps the most liked Stones cover ever made (?), drawn up by the Belgian painter Guy Peellaert, who was the same guy who drew up the cover for David Bowie's Diamond Dogs, and who put out one of my favorite rock books of paintings. called Rock Dreams, which included several far out paintings of the Stones that you more than likely already seen before.
So which album cover drawing will you go with? Remember, what's inside the album music wise has nothing to do with your vote, only the 2 covers matter in this poll, To cast your vote in this first Stones poll, just click on: Stones Weekly Poll, and when you get to this page, choose "Poll 1" to vote on this question.
I'm not sure if we will vote on anymore album drawings matchups after this one, as the other few Stones covers with drawings really aren't that great, or as great as the 3 we have already voted on. I mean, does anybody reading this think that the GRRR! cover could win anything other than worst Stones album cover ever put out? GRRR! was voted a "zero" out of a scale of zero to 10, by fans when its cover was rated, the only Stones album cover to do that, and the only time in the history of any of our long running polls where there was a "zero" voted on as the top vote getter.
The second Stones poll is where we run the Stones album VS matchups, and the week's second poll will ask this: Their Satanic Majesties Request vs England's Newest Hit Makers, which album do you like the best?

vs

The Satanic Polls return to the battle this week, featuring the 1967 LP Their Satanic Majesties Request.TSMR isn't doing bad at all in these matches, with a winning record of 7 wins and 6 losses, placing it in the middle of the standings in 12th place. This week it goes up against the Stones debut U.S. album, 1964's England's Newest Hit Makers, which is having a harder time in these battles (not sure why), at 5-7, and in 18th place in the same standings.
To see the song list for each album, for Their Satanic Majesties Request, click on: TSMR, and for England's Newest Hit Makers, click here: ENHM
To cast your vote in this second Stones poll, just click on: Stones Weekly Poll, and when you get to this page, choose "Poll 2" to vote on this question.
At the first Stones poll last week we answered this question: Who was more of a musical genius in the Stones, Mick Jagger, Brian Jones, or Keith Richards?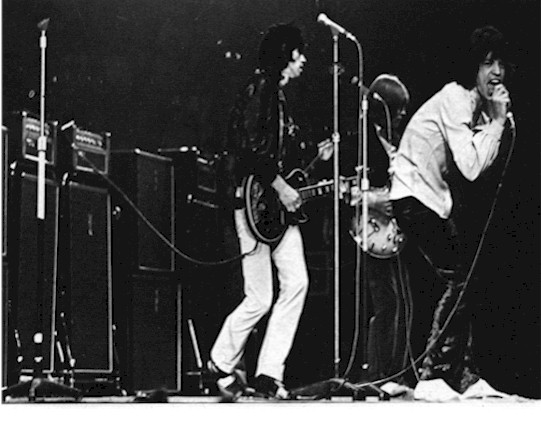 Brian Jones was the runaway pick in the voting, and I'm sure it had a lot to do with how the dude could play every instrument that he ever laid his hands on. Anyway he took in 51% of the votes. To see the final results from this the poll, just click here::Stones Weekly Poll - week 940, poll 1. The results will also show up at the Stones Fans Top Pick Lists - Page 2 under "Individual Stones".
Looking back at last week's second Stones poll, the question was: Steel Wheels vs Sticky Fingers, which album do you like the best?

vs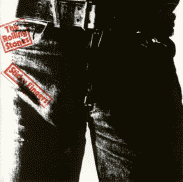 This poll also saw a landslide result last week, and I'm sure you know which LP came out in first. To see the final results, just click here:Stones Weekly Poll - week 940, poll 2. Plus, I'll add the results from this poll to the standings at the Stones VS Page 1, where at the top of the page you can check out the updated standings on how each album has done in these long running VS polls.
At the Classic Rock Poll, we enter week 581 of these polls, and just like as we do at the Stones poll, we vote in 2 poll questions a week at this one, too. The first poll's question this week asks: What was the most cheesy rock/pop song ever released? (Part 3 of 3)
The final week asking this question, with 22 songs that made the final cut and which will now go up against each other to see which one of these songs is the cheesiest. Two artists made the list twice, that being Rod Stewart, and David Lee Roth, with Roth making it once on his own, and once with the band that he's best known for being the frontman in, Van Halen.
I would say that yes, we did a good job in picking the songs that we will vote on in this final part. To see the songs that us fans feel are loaded with cheese, and made the final list, and which we will now vote on, just click here: Classic Rock Poll, and when you get to this page, choose "Poll 1" to vote on this question.
At the second Rock poll this week, known better as the Rock VS poll, we will vote on this question: 'One' by Three Dog Night vs 'One' by Metallica vs 'One' by U2, which one of these 3 songs with the same title, is better?
It is very rare when our Rock VS poll has a 3 way matchup, as is the case this week. One of the main reasons for that is a 3 way battle takes up too much space in the poll's subject field, but in this week's case, with just 3 letters in the song's titles, that isn't the case, and since there are 3 such, but different songs with the very same title, well, let's vote on all 3 at once since they all fit!
Now you more than likely remember we started asking this kind of question earlier this year, in March, looking at songs with the exact same title - but which were different songs with totally different lyrics. Since the first few matches went well, it's time to look at a few more starting this week. First we have a song about being lonely, written and recorded by singer/songwriter Harry Nilsson, but since Three Dog Night had the biggest hit when they covered the song, instead of using Harry's version, we will go with the cover since that one made the song famous. Three Dog Night's cover was a top 10 hit, making it all the way to #5 on the U.S. Billboard Hot 100 singles chart in 1969.It also made it to #2 on the Cash Box Top 100, and also reached the #4 spot in Canada. It also did well down under, but wasn't released as a single in the UK.
The Metallica song of the same title is a strong anti-war song. It was the third single from their 4th studio album, ...And Justice for All, which came out in 1988, with this single released in January of the next year. It was written by band members James Hetfield and Lars Ulrich. The song is about a soldier who has been blown up by a landmine and has lost all of his limbs and is now also blind, and who only wishes to die so his pain will end. A very heavy songs to say the least, and it was a hit, being Metallica's first top 40 hit single in the U.S.. It was also a number-one hit in Finland.
The last song recorded with the same title comes from U2. It's found on their 1991 album Achtung Baby, and it was released as a benefit single, with proceeds going towards AIDS research, in February 1992. It became a number 1 in several countries, #7 in the UK, and a Top 25 U.S. single at #24. The lyrics were written by lead singer Bono, and was about the problems that his band was having at the time, and if they should continue on as a band, or just break up.
As usual, there will be links to the 3 songs at the voting booth if you need to hear them before you vote. To listen to the songs and vote in this poll, just click on Classic Rock Poll, and when you get to this page, choose "Poll 2" to vote on this question.
In last week's first Rock poll, we asked: What was the most cheesy rock/pop song ever released? (Part 2 of 3)
Like in Part 1, there were 11 songs in the Top 10 in Part 2, thanks to a tie for last spot. Here are those songs: Sugar, Sugar - The Archies (5.7%), Billy Don't Be A Hero - Bo Donaldson and the Heywoods (5.6%), The Candy Man – Sammy Davis Jr.(5.5%), Do Ya Think I'm Sexy? – Rod Stewart (5.3%), Do You Really Want to Hurt Me - Culture Club (5.3%), Summer Nights – Olivia Newton-John Travolta (5.3%), You Light Up My Life – Debby Boone (5.3%), (God Must Have Spent) A Little More Time On You - 'N Sync ( 5.2%), Go Away Little Girl – Donny Osmond (5.2%), Jump - Van Halen (5.2%), Wake Me Up Before You Go-Go - Wham! (5.2%).
To see the full final results, just click here: Classic Rock Poll 1, week 580.
In last week's VS Rock poll, we answered this question: 'I'd Much Rather Be With The Boys' by The Stones vs 'Boys' by the Beatles, which song about boys is better?.
This one wasn't close at all. To see the poll's final results, just click here: Rock Poll 2, week 580 You can also check out the final results at the VS Classic poll results page 2, at the Classic Rock site, by clicking here: VS Page 2, List Page 10.
Now it's time to close out this poll post with the Beatles poll, where we enter week 334, and the question is: What's your favorite lyrics from a Beatles song? (Part 3 of 4)
Part 3 of this question, and it will be run in the same exact way Parts 1 and 2 were run. Looking at some of the lyrics that we will choose from this week, we can note that this will be the only week where one of the lyrics you can choose from comes from Ringo Starr. But of course, he only wrote 2 Beatles songs as it was.
As was the case with a few of the Beatles songs, several of the lyrics we have voted on already were either written while under the influence of marijuana, or written about the wonder weed itself, or other stronger drugs. Yet this week, 2 of the lyrics listed are anti-drug lines, both written by John Lennon, and both about tobacco smoking (which is of course one of the most deadly drugs around) with the lyrics coming from 2 different songs, one makes comments about "choking smokers", while the other puts down Sir Walter Raleigh, who was responsible for hooking most adults in the UK on tobacco back in the late 1500s and early 1600s, as he introduced and pushed the drug in the UK during that timeframe. Lennon himself was a tobacco addict, which he hated being hooked on, and he tried to quit more than once, but as far as I know, he never could stop, and so he curses Walter Raleigh in the song for introducing cigarettes to England.
Also in the lyrics choices this week, are 2 of the 3 times that Lennon/McCartney brought up a transsexual person in their songs, one being Loretta Martin, and the other being Polythene Pam. The third person, "Desmond", Molly's old man, didn't make the grade for this poll, at least not that part of the song about him, did. Yes, in a way a lot more Beatles lyrics could have been included including that one, as Lennon/McCartney wrote so many more great lyrics, but if I included all of them, we would to be voting on this question for the next several weeks. But I know we got the best of the Beatles lyrics covered in the first 3 weeks that I have run this poll, and that's most important.
So there are 33 more new lyrics to vote on this week, which one will you pick? To vote in Part 3 of this poll, go here: Beatles Weekly Poll.
In last week's Beatles poll we asked: What's your favorite lyrics from a Beatles song? (Part 2 of 4)
We got 8 more song lyrics picked from last week to move on to the final round. To see the top 8 lyrics chosen that will be voted on again in Part 4, just click here: Beatles Weekly Poll – week 333. You will also see just how important your vote is when you will notice in the final tally that 6 other song lyrics just missed being included in the final round by one vote each!(Note, in the last minute of polling, one of those 6 lyrics got voted on, so there's 9 song lyrics now that will make it to the final round from this poll)
Well, another poll post has come to its end. I noted early on about summer being half over already, yet here it only felt like summer for the last couple of weeks in June, that was it. The last several weeks have been cool here, and it almost felt like fall the other day. But that's the kind of summers I love, so no bitching from me this year, as the weather is just fine where I live! But damn, is the season just racing by! Hell, the kids here start school in just 2 weeks, so summer break is pretty much over for them. I do like the cool summer, but I hate how time just races by every day, and the older I get, the faster it seems to race by. Why is that? I know it isn't just me; time is fleeting for all adults! Where are the brakes to slow things down a little, Ronnie?
As always, thanks to all of you for voting in our polls each week!
Keno
Gasland Thread
---
Post Follow-up
---
Note: Do not hit the "Post Message" button more than once, even if it is taking a long time to post your message. Doing so may cause a double post to appear and could slow down your posting time even more.
Filter Threads/Archives
---
---
Download your free, customizable Burton Networks Message Board now!
© 1998 - 2018 by Keno Internet Services, except where otherwise noted. All rights reserved.