---
IT'S A GAS, GAS, GAS!!
MESSAGE BOARD
Return to Gasx3 Board Homepage
---
Gasland Message
---
Name: Keno
E-Mail: keno@fairpoint.net
Subject: This week's polls!
Date: Monday, May 15, 2017
Time: 12:05:35 AM
Remote Address: 66.36.115.94
Message ID: 308395
Parent ID: 0
Thread ID: 308395

This week's polls!
It's late Sunday night, or early Monday morning for others, and time for our poll post.
As usual, we start off talking about the Stones weekly poll, which enters week 929, and as usual, we will have 2 different Stones polls to vote in this week. This week for the first poll, we will be looking at the Stones still somewhat new album, Blue and Lonesome.

Released last December, I figure and hope you all know the new album well enough by now, since for the next few weeks we will be looking at it in the polls, starting this week with this question: What Is Your Favorite Song On The Stones' Blue and Lonesome Album?
It seems like there has never been a Stones album around here in the Land of Gas that has been talked about so little than this late 2016 release.... in fact... there hasn't been. I'm not sure why that is; the overall talk about this blues LP has all been positive from what I can recall, other than one or 2 exceptions, and totally unlike what was stated by at least a third of the Gassers for ABB when it was released, which some disliked. So maybe that has something to do with it, as most fans seem to like this album. But in general, nobody here talks a lot about it, and at the album review page there's been only one review sent in so far, which is a record low. Yes, the album review page couldn't accept reviews until only the last 6 weeks or so, and I bet that did stop an early review or 2 from appearing, but what's the excuse now? Fans just haven't seen to be excited about this album, and I don't think it's because it's a Blues LP, but instead I feel it's because it's a 100% cover LP. Stones fans seem to want originals from this band and not covers. I bet if the album was 100% Jagger/Richards written original Blues, it would have been real big talk and would have sold even better than it has. Yet still, overall fans do like this LP, and now it's time to vote on our favorite song found on it, and then in 2 weeks we'll rate the LP.
To cast your vote in this first Stones poll question, just click on: Stones Weekly Poll, and when you get to this page, choose "Poll 1" to vote on this question.
At the Stones album VS poll, each week we bring back an older series to do battle once again, so this week the question is: Sticky Fingers vs Emotional Rescue, which album do you like the best?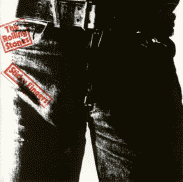 vs

The Sticky Polls returns this week featuring the 1971 classic LP Sticky Fingers. SF is the only album that is undefeated in this series, at 12-0 and in first place in the standings. This week it takes on the Stones album that was released in 1980, Emotional Rescue. Its record in the standings is 2-10, which puts it in 21st place, or 4 spots from the bottom.
Now one thing I never do before a poll is run, is predict which album I feel will win, or at least should win, since I don't ever want to sway any votes. Yes, I sometimes state which album I voted for, but only well after the poll has started and not in this poll post. But how many reading this don't think they already know which album is going to win this week? One might wonder why to even run such a question? Well, because this is a long running series where every Stones album will go up against every other Stones album. That's why, and SF has already gone up against all of the biggest and best Stones albums already, so I'm now placing it up against the albums that are left.
To see the song list for each album, for Sticky Fingers , click on: SF, and for Emotional Rescue, click here: ER.
To cast your vote in this second Stones poll, just click on: Stones Weekly Poll, and when you get to this page, choose "Poll 2" to vote on this question.
At the Stones two polls last week, both polls set all time high vote counts, and looking at all 5 of the weekly polls, they all saw over 900+ votes cast for each poll, a first, and actually, 4 of the 5 polls set records highs. The only one that didn't was the main Rock poll, but it saw over 1,100 votes, a nice total, just not a record for it, as going over the 1,000 vote count each week is becoming normal for that poll.
But getting back to the Stones poll results from last week, the first one asked this question: Rate the Rolling Stones official video for 'She Was Hot' (Click herefor the video).
Oh yes, this video is well liked I see, as it got the highest first place rating that it could have gotten. To see the final poll results, just click here::Stones Weekly Poll - week 928, poll 1. Plus, you can also check out how all of the other videos that we have rated in the past have done, by going here: Stones Fans Top Pick Lists - Page 2, under "Video Ratings". Also, as you might have noticed, this is the last week for a while in rating Stones videos. But they are clearly a hit question, so yes; there will be more to rate here in the future.
Looking back at last week's second Stones poll, the question was: Exile On Main Street vs Between the Buttons, which album do you like the best?

vs

Between the Buttons put up a nice battle against Exile On Main Street, but the double LP is just too well liked for it not to still win by a nice margin. To find out by how much it came out on top, just click on here:Stones Weekly Poll - week 928, poll 2. Plus, I'll add the results from this poll to the standings at the Stones VS Page 1, where at the top of the page you can check out the updated standings on how each album has done in these long running VS polls.
Now to the Classic Rock Poll, where we enter week 569, and just like as we do at the Stones poll, we run 2 poll questions a week at this one, too. The first poll's question will ask this: What's the best opening lyrics to a song? (Part 4 of 5)
Part 4 of this question, and the last week of seeing which 7 songs will make it to the final round. So this week there's another 26 great opening lyrics to choose from. There has now been 104 songs that we will have voted on in 4 parts (well after this week is over), then next week, in Part 5, the top 7 songs voted on from the first 4 weeks will be voted on again in that last week of voting.
Now, as I noted before in the past few weeks about this poll, I had to compile all the songs that will be used along with their opening lyrics on a separate page, outside of the voting booth, since the poll's admin only takes so many characters in the poll option field, and therefore there wasn't enough room to show the lyrics in most cases. So since the lyrics are too long to fit into the said field, I had to list the lyrics on a separate page, and that's the only place where you will be able to view them. So the lyrics won't be shown in the poll where you vote, instead, only the song and the group who recorded it will be shown there. When you vote you can either try to remember the exact opening lyric, or you can read the actual opening lyrics on the special page that I placed them on and which will be linked to at the poll. To see all of these opening lyrics that you will choose from this week, again, the link will be in the voting booth, and I'll also directly linked to it right :here
The list at the voting booth is of course listed as usual, in alphabetical order, but on the special page it's in no order at all, other then it's broken up into the 4 parts.
To vote in this poll, just click here: Classic Rock Poll, and when you get to this page, choose "Poll 1" to vote on this question.
At the second Rock poll this week, known better as the Rock VS poll, we ask this question: 'I Shot the Sheriff': Original by Bob Marley vs the cover by Eric Clapton, which version is better?
'I Shot the Sheriff' was written by the great Bob Marley and released by his band the Wailers in 1973 with Bob on the lead vocals. One story I heard just the other day on the radio, was that originally the song, before it was recorded, was titled and sang live a few times as "'I Shot the Police". But Bob was warned by the local police that he needed to drop the word "police" if he wanted to remain a free and healthy man. So "police" became "sheriff" instead, and still really didn't change what the song was about.
Eric Clapton released his cover of this song in 1974, and it became the biggest hit for this number recorded by anybody, going to number one on the Billboard Hot 100 chart.
As usual, links to the 2 songs are in the voting booth for you to listen to, if you would like to do that before you vote. But just remember, we aren't rating the videos for this poll question, not at all. They are only there so you can hear the song before you vote.
So which song will you vote for? To make your pick, just click on Classic Rock Poll, and when you get to this page, choose "Poll 2" to vote on this question.
In last week's first Rock poll, we asked: What's the best opening lyrics to a song? (Part 3 of 5)
For the second week in a row, thanks to a tie, 8 songs end up in the top 7. Those songs that will live on to Part 5 are: 'Honky Tonk Women' - The Stones (7.5%), 'Lucy In The Sky With Diamonds' - The Beatles (7.4%), 'Like a Rolling Stone' - Bob Dylan (6.8%), 'The Sound of Silence' - Simon And Garfunkel (6.8%), Aqualung' - Jethro Tull (6.6%), 'Baba O`Riley' - The Who (6.6%), 'Killer Queen' – Queen (6.6%), and 'Lawyers, Guns, and Money" - Warren Zevon (6.6%).
Some very close voting indeed. You can view the full, final results from this poll, by clicking here: Classic Rock Poll 1, week 568
In last week's VS Rock poll, we asked: 'Oh, Pretty Woman' by Roy Oribson vs '(Oh) Pretty Woman' by Van Halen, which version is better? One of the biggest landslide wins ever to take place at the VS polls, happened with this question, and this was the second time that David Lee Roth (but not the rest of the band) was included in such an outcome. He's been on the losing side both times, and both times he was singing a cover. To see just how big the landslide was, just click here: Rock Poll 2, week 568 You can also check out the final results at the VS Classic poll results page 2, at the Classic Rock site, by clicking here: VS Page 2, List Page 10.
Time to close out this poll post as usual with the Beatles poll, where it's week 322, and this week's question is: The White Album (aka The Beatles) vs With the Beatles , which album do you like the best?

vs
This week at the Beatles VS poll it's week 8 of the White polls, featuring The White Album, and this week it takes on the band's second album, With the Beatles , which was released in the UK on the same day that JFK was killed in the U.S., November 22, 1963. It has a 2-1 record so far in this series; The White Album is now at 7-3.
To see the song list for each album, for The White Album, click on: TWA, and for With the Beatles, click here: WTB.
To vote in this poll, go here: Beatles Weekly Poll.
In last week's Beatles poll we answered this question: The White Album (aka The Beatles) vs A Hard Day's Night, which album do you like the best?

vs

The final result in this one was very close indeed! You can check out which LP won, here: Beatles Weekly Poll – week 321. Plus, check out the series standings here: Beatle albums vs Beatle albums.
Well that does it for this week's poll post. I hope all of you mothers reading this had a great Mothers Day today, and I hope everybody has a great upcoming week!
Keno
Gasland Thread
---
Post Follow-up
---
Note: Do not hit the "Post Message" button more than once, even if it is taking a long time to post your message. Doing so may cause a double post to appear and could slow down your posting time even more.
Filter Threads/Archives
---
---
Download your free, customizable Burton Networks Message Board now!
© 1998 - 2018 by Keno Internet Services, except where otherwise noted. All rights reserved.