Keno's Classic Rock n Roll Web Site


ROCK 'N ROLL BIOGRAPHY
LED ZEPPELIN
Formed: 1968 in London, England
Years Active: 1968 through 1980.
Group's Main Members: Jimmy Page, Robert Plant, John Paul Jones, John Bonham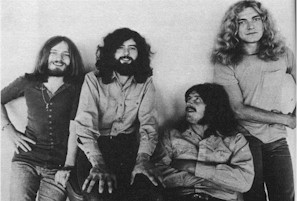 Led Zeppelin was rock's first real Heavy Metal band. Yet many of their fans were not even fans of metal music. They came about after guitarist Jimmy Page, (who was rock's most sort after session man in the early and mid sixties) was left with what was the remains of theYardbirds. He had join the Yardbirds to record with them on what would be their final album, Little Games in 1967. In the spring of 1968, Page played lead guitar on Donovan's song "Hurdy Gurdy Man" which also featured bassist John Paul Jones. Jones had heard rumors that the Yardbirds might break up and told Page he would like to be part of any new band he might put together. By the summer of '68 the Yardbirds' frontman Keith Relf, along with James McCarty left the band leaving behind Page and bassist Chris Dreja with the rights to the name and obligation of fulfilling an upcoming fall tour. Page wanted to hire vocalist Terry Reid as Relf's replacement, but Reid was still with Procol Harum and suggested Page check out his friend, Robert Plant, who was singing for a band called Hobbstweedle. After hearing Plant sing, Page asked him to join the Yardbirds. About the same time, Dreja left the band and Jones joined the group. Plant then suggested that Page hire his former drummer John Bonham, who played with Plant in the group, The Band Of Joy. At first Bonham turned them down as he was being offered more money by others, but by that September he agreed to join them. They played the previously booked Yardbirds engagements in late September '68 as the "New Yardbirds". The following month they changed the name to Led Zeppelin (the name was suggested by the Who's Keith Moon, who got the name from fellow Who member John Entwistle, who came up with the name and wanted to use it for his backup band). Page felt a new name was needed since they really were no longer in any way the Yardbirds. They wanted to play the blues, but in a way not yet done by any other bands.
Led Zep then signed with Atlantic Records in the United States and began to record their debut album, which was released in early 1969, along with a tour of the U.S. They started their tour in America since they felt England would only look upon then as the "old" Yardbirds. They were paid very little at first, playing one show for only $200. But quickly they got hot. The album Led Zeppelin, made the US top ten and the band toured non stop the entire year in both America and England. While on the road they recorded their second album Led Zeppelin II, which was released on October 22, '69 and spend seven weeks at number one. Considering it passed the Stones new album Let It Bleed and knocked the Beatles' Abbey Road from the number one spot two months after its release, it was most definitely a powerful statement.
Led Zep kept touring through 1970. They found the time to record their third LP and Led Zeppelin III was released that October. Although it still had some heavy numbers like "Immigrant Song", the album was a little more mellow than the first two albums. That December they started to record their fourth album and sessions lasted till the next summer, several things held up the new album and the LP would not be released till the end of 1971. The band not only wanted the album to be untitled, but wanted nothing written on it; no credits or any text anywhere on the album, on its inside or outside sleeves. They wanted the music to do the talking. They were eventually talked out of it by Atlantic Records and there were credits added to the inside paper sleeve, but still, nothing was written on the front cover to identify the album or who put it out, and the album was left untitled by the band. It did get to be know unofficially as Led Zeppelin IV. The songs on the album were indeed powerful and the album reach number two on the charts. One of the songs was "Stairway to Heaven", which would not only go down as Led Zep's best song ever, but rock's best ever song too, as far as most rock fans feel. In 1972 the band did less touring and worked on their fifth album. It would be released in the spring of '73 and titled Houses Of The Holy. Once again the album was filled with a little bit of everything and was another top seller, reaching number one, despite bad press reviews about it. The tour that supported the album broke just about all of the then records for attendance, as did the nightly gate cash receipts. Near the end of the tour while in New York City, someone broke into their hotel's safety deposit box and got off with the first nights gross from the NYC gig, $205,000.00 in cash. It was the single highest theft from a deposit box in Manhattan's history. Yet the band's members didn't seem to be fazed one bit by it.
There would be no new releases in 1974 but they did establish their own record label, Swan Song. In '75, the double album Physical Graffiti came out.on their new label. Once again it was an immediate success. But a planned tour had to be canceled when Plant and his wife were involved in a serious car crash. It took a full year for Plant to recuperate. Unfortunately, more bad things were on the horizon for Plant and the band. In the spring of '76 their new album Presence debuted at number one in both America and England even though it didn't get good reviews. Later that year their film The Song Remains The Same also received poor reviews. In the spring of 1977 they returned to tour America, but only two months into the tour tragedy hit when Plant's six-year-old son died of an infection and the rest of the tour was canceled.
Their eighth studio album, In Through The Out Door, wasn't released till September of 1979. What would go down as their final tour started in May of '80 in Europe. That September as they were preparing for their upcoming American tour at Page's home, Bonham was found dead in bed following an all-day drinking binge. More than likely rock's best drummer, Led Zep knew they could not go on without him and disbanded a month later. After the breakup the remaining members went on to solo careers. In 1985, they reunited to play Live Aid. Then in '88 the got together one more time to play at Atlantic's 25th Anniversary Concert. Page and Plant would get together as a duo in '95 and completed a successful international tour.
- Keno, 1999
Back to Rock Bio Page

- Rock Store -