Keno's Classic Rock n Roll Web Site


ROCK 'N ROLL BIOGRAPHY
LYNYRD SKYNYRD
Formed: 1965 in Jacksonville, Florida
Years Active: 1965 through 1977 & 1987 to present
Group's Main Members: Ronnie Van Zant, Gary Rossington, Allen Collins, Bob Burns, Billy Powell, Leon Wilkeson, Ed King, Artimus Pyle, Steve Gaines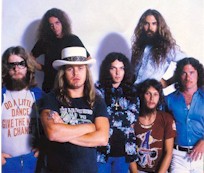 When you think of southern rock n roll, one of the first bands to come to mind is Lynyrd Skynyrd. Their blues-hard rock, three-guitar weaving line-up was a Southern image hard to forget. The band was formed by a bunch of high school friends in 1965, vocalist/songwriter Ronnie Van Zant, guitarists Gary Rossington and Allen Collins, bassist Larry Jungstrom and drummer Bob Burns. They played the first few years under various different names (Noble Five, Wildcats, Sons Of Satan and My Backyard), after they released a single in 1968, they changed their name to Lynyrd Skynyrd. The name came as a mock against their high school gym teacher Leonard Skinner, who was notorious for punishing male students with long hair and proclaimed that Van Zant and his friends would never amount to anything good in life. Shortly after they changed their name Leon Wilkeson joined the group on bass replacing Jungstrom and also around this time they added keyboardist Billy Powell. The group was discovered in Atlanta by Al Kooper in 1972 while they were playing a gig and he signed them to his Sounds Of The South label. As they began work on their first album guitarist Ed King (formerly of Strawberry Alarm Clock) join and their triple guitar attack lineup was now in place.
Their debut album, Pronounced Leh-Nerd Skin-Nerd, was a big hit, and was stronger than any other debut album released by any other band. Being the opening act for The Who's Quadrophenia tour in 1973 also help expose the band too. But it was the song "Free Bird," a tribute to the recently deceased Duane Allman, with it's great guitar ending that really got the band going. The song is still today considered one of rock's best ever. As great a song as "Free Bird" was, it would not turn out to be their biggest hit. The single "Sweet Home Alabama", which appeared on their second album Second Helping in 1974, would. Although a tongue-in-cheek song, it would solidify their redneck image. In the song the lyric "I hope Neil Young will remember, southern man don't need him around anyhow," was a amusing shot at Young who had wrote the songs "Southern Man" and "Alabama". But the band and Young were best of friends and Skynyrd even opened some shows for him.
After the release of Second Helping, Burns left the band and Artimus Pyle took over on the drums. By the end of '74 King would also leave and for a time Skynyrd would be a sextet. They released their third album Nuthin' Fancy in 1975 and it was a Top Ten hit. In 1976 they had a new producer, Tom Dowd for their next album Gimmie Back My Bullets and after heavy yearly touring, they now had a strong following on the road. This would lead to another album release in '76, the live album One More For the Road, which also was a huge hit. This album also would feature King's replacement, guitarist Steve Gaines and a trio of female backup singers, and it became Skynyrd's second Top Ten album.
Things were going great for the band in 1977 as they recorded their next studio album, Street Survivors, which would turn out to be one of the band's biggest hits. But only a few days after its release, on October 20, tragedy would hit. The band was on tour and on their way to a show in Louisiana when their plane crashed, killing Van Zant, Gaines, his sister Cassie (one of the three backing singers) and manager Dean Kilpatrick. The rest of the band was seriously injured. Lynyrd Skynyrd broke up after this devastating crash.
In 1980 The Rossington-Collins Band was formed, featuring four surviving Skynyrd members. But another tragic event would take place in 1986 when Collins was in a bad car crash which killed his girlfriend and left him paralyzed; four years later, he died of respiratory failure.
In 1987 Lynyrd Skynyrd would reform for a "reunion" tour featuring Rossington, Powell, Pyle, Wilkeson and King, with Ronnie's brother Johnny Van Zant on vocals and Randell Hall added on guitar. Pyle would leave after the 1991 album Lynyrd Skynyrd 1991 with no real permanent replacement for the time being. They would regroup again in the mid 90s with former Blackfoot guitarist Rickey Medlocke replacing King, ex Outlaw Hughie Thomasson replacing Hall and new drummer Michael Cartellone. They continued to record and tour to this day with a loyal following, but not quite like it was in the old glory days of Ronnie Van Zant and company.
- Keno, 1999
Addendum - On July 27, 2001, Leon Wilkeson would also pass away from emphysema, yet another free bird.
Addendum 2 - Hughie Thomasson died on September 9, 2007 of an apparent heart attack
Addendum 3 - On January 28, 2009, Billy Powell died from heart failure.
Addendum 4 - Bob Burns was killed on April 3, 2015, after his car hit a tree while out on a late night drive.
Addendum 5 - Ed King died of lung cancer on August 23, 2018.
Addendum 6 - Gary Rossington passed away on March 5, 2023
Back to Rock Bio Page
- Rock Store -