THE BUNGALOW SONG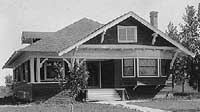 My father, Lewis Menechino Sr, wrote a few hundred songs in his younger days, mostly love songs, a few of which were recorded. "The Bungalow Song" was his most famous, and most loved by his family. He wrote it for a night club singer who he was dating back in the 1940s, but then changed the lyrics a bit and turned it into a kids song for his friend's children. I'm placing this song here in honor of my dad, who passed away on April 16, 2002. I do not have the music that goes with the song, but here are the lyrics. Hope you like it and pass it on to your little ones, as pre-schoolers do love nursery rhymes and songs like this one!


The Bungalow Song
(Lewis E Menechino Sr)

I saw a little playhouse
In the department store
With electric lights
You turn on nights
And carpets on the floor

My daddy says he'll buy me one
And that's why I've been good
I know we'll have lots of fun
We really, really really should

So.....Oh....
Won't you, won't you,
Won't you come and see me
In my little bungalow
If the door is locked
Just give a little knock*
So it's you I'll know

You're always more than welcome
And you'll never, never want to go
Give a rap
And a tap
On the door of my little bungalow!

* Note: After singing this part of the song, you knock twice or make a noise like you are knocking (the kids love it..)
Back to: Me & Mine
First Copyright © 1945 by Lewis E Menechino. Second Copyright © 2000 - 2017 by Keno Internet Services.