---
IT'S A GAS, GAS, GAS!!
MESSAGE BOARD ARCHIVES/WEEKLY ROCK POLL POST
Return to Gasx3/Poll Post Board Homepage
---
Gasland Message
---
Name: Keno
E-Mail: keno@fairpoint.net
Subject: Poll Post for the week starting Monday,Feb 22
Date: Monday, February 22, 2021
Time: 2:34:08 AM
Remote Address: 8.41.160.9
Message ID: 320867
Parent ID: 0
Thread ID: 320867

Poll Post for the week starting Monday,Feb 22
My gosh, this week's Poll Post has got to be one of the latest posted ones ever. Other than a couple of years ago when the PP was a full day late! But I'll start off this week's PP for our 4 weekly polls as usual, talking about the Stones poll, and for week 1,125 of voting, I'll ask you all the following question as we will continue to rate the band's songs: Rate the Rolling Stones release of the song "Under My Thumb", from zero (lowest) to 10 (highest)".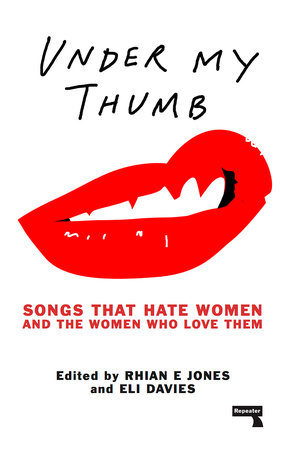 "Under My Thumb". The cover of a book about woman who love music that doesn't love them back
First, I had never heard of the book shown above, that uses the Stones song for its title, but it makes for a good title for such a book about songs that are not kind to women – and yet women love these songs anyway. Yep, this Stones number, "Under My Thumb", was very much a misogynist song for sure. While credited to "Jagger/Richards", Keith Richards had nothing at all to do with writing its lyrics (which were written alone by Mick Jagger), nor did he had anything to do with writing its music, which was written alone by Brian Jones, who wasn't credited for his work on the song (but you already knew that). But this number also was totally unlike any rock song before it and everybody, women and men alike (well, those who were under 30 when it was released, anyway) loved it and didn't really pay any attention to the lyrics. This was the Rolling Stones after all, a band who already in 1966 when this song was released, were looked at as the kings of the bad boys of and for the Baby Boomer's generation.
But this song was very different since it's lead instrument, a marimba (used often at the time in Jazz, but not in Rock), and played by Jones, was never really ever used on a rock song before. But after this one's released, they started to be heard much more often in the genre. Yes, it was a song about a guy who had total control over his gal, after she at first controlled him. But the use of the marimba on here and the wonderful beat it gave the song, made most fans not really think or even listen to exactly what the lyrics were about.
The lineup for "Under My Thumb" was: Lead Vocals: Mick Jagger; Marimba and Piano: Brian Jones; Acoustic & Electric Guitars: Keith Richards; Fuzz Bass: Bill Wyman; Drums: Charlie Watts; Percussion: Jack Nitzsche.
To rate this tune, just click on the following link: Stones Weekly Poll. Plus, please remember, the video that is linked to the song at the voting page is there only so you can hear the song before you vote, but it should have no bearing on how you rate the tune, as the song itself is all that matters when we rate songs for this poll series.
Last week at the Stones poll we answered this question:Rate the Rolling Stones release of the song 'Undercover Of The Night', from zero (lowest) to 10 (highest)".
From "Undercover Of The Night", with Mick's big lips on full display
While I always loved this song, I wasn't sure if it was as loved by my fellow Stones fans or not, who very much didn't care for the LP it was on. But just like I voted it a 10 myself, so did 51.7% of the voters, which was its top pick in the poll. You can check out the full results from this one, here: Stones Weekly Poll - week 1,124. Or, to check out the Stones song updated rating standings for this ongoing series, all of that can be viewed at the Stones newest List Page, which you can view here: Stones Top Picks, List Page 3., list page 5, and see where all of the songs rated so far have landed in those standings.
BTW, on a side note, last week was week 1,124 of voting for the Stones poll and not week 1,122 as I had noted in the poll and in last week's Poll Post. I had been off on the Stones poll's week for 3 full weeks and didn't notice it until late tonight (okay, it's long after midnight, so "last night", I guess) when I started writing this post up. Since the Stones poll is well past week 1,000 (for almost 2 and a half years now), well, 1,000 weeks was all it was actually programed for, and in the archives where I program them, only week 1,000 shows now, making me having to make sure I double check the week when I make up new polls so I get the week right. But somehow 3 week ago I didn't do that correctly and only noticed the mistake tonight. Sorry 'bout that!...
Okay, let's move on over to this week's Classic Rock Poll, where we enter week 765 of voting, and for this one, as usual, we vote in 2 different Rock Polls each week. This week's first question asks: What was the best Marimba, Xylophone, Vibraphone, Glockenspiel, or Flapamba played in a rock song? (Part 1 of 3)
A Marimba left, and a Flapamba, right Just 2 of the 5 percussion instruments we are looking at this week
Well for the first time since the first week of the year, or in what, 7 weeks, we return to running a multi-week poll question. That's a very long run of no multi-part polls here for the Rock Poll, which rarely goes more than 3 weeks in not asking such a question, since multi week polls just work out so well for our Rock poll, as there's just normally so many choices when you cover so many different bands and solo artists. Multi week polls are also a break for me in having to come up with new poll questions each week, too, and yes, I could use 2 extra weeks off from thinking up and putting together a new Rock poll question at the moment.
With this 3-week question, we will look at 5 different percussion instruments that are played very much in the same way, but each looks somewhat different and are different in size, too, and they are different in several other ways. But all 5 of them are played by using mallets to strike their keys with, too.
Let's briefly look at the differences between the xylophone vibraphone marimba, glockenspiel, and flapamba. We'll start off with the marimba, which has pretty much throughout the years has been used the most of the 5 in rock music. The marimba consists of a set of wooden bars set up on top of the instrument, which are struck with yarn or rubber mallets (with its shaft commonly made of wood) to produce its musical tones. Resonators or pipes (or tubes, usually made of aluminum) are suspended underneath the bars to amplify their sound. The bars of a marimba are arranged like the keys of a piano, with the groups of two and three notes raised vertically, overlapping the natural bars to aid the performer. It has lower-pitched range than the xylophone has.
The vibraphone, like the marimba, is also used often in rock music today and resembles the marimba. It consists of tuned metal bars and is usually played by holding two or four soft mallets while striking said bars. One of the main differences between the vibraphone and the other instruments we are looking at in this poll, is that each bar suspends over a resonator tube with a motor-driven butterfly valve at the top. The valves connect together on a common axle, which produces a tremolo or vibrato effect while the motor rotates the axle. The vibraphone also has a pedal below it that's similar to a piano's pedal. With the pedal up, the bars produce a muted sound. With the pedal down, the bars sustain for several seconds, or until muted with the pedal.
The glockenspiel is composed of a set of tuned keys arranged in the fashion of the keyboard of a piano. In this way, it is similar to the xylophone, although where the xylophone's bars are made of wood, the glockenspiel's are made of metal plates or tubes. It's a small instrument and because of both its material and smaller size, is higher in pitch. A pair of hard, unwrapped mallets, generally with heads made of plastic or metal, are used to strike the bars, are how one plays this instrument. When struck, its bars give a very pure, bell-like sound.
The xylophone consists of wooden bars struck by hard rubber, polyball, or acrylic mallets. Like the glockenspiel, the xylophone essentially consists of a set of tuned keys arranged in the fashion of the keyboard of a piano. The modern-day western xylophone has bars made of rosewood, padauk, or various synthetic materials such as fiberglass or fiberglass-reinforced plastic which allows for a louder sound. It's rarely ever used in rock music and it's sound often gets it confused with a marimba.
Finally, the flapamba is a rare instrument that is seldom played, especially in rock music. Still, it's very similar to these other 4 already noted instruments. It consists of tuned wooden bars pinched on one side (over the node), and mounted over resonator boxes. Sliding the bars slightly forward or backward affects their tuning. Unlike a marimba or xylophone however, the sound is not as focused tonally, as it is a bit more percussive sounding (closer to tuned log drums). There is only one rock song that I could find that has a flapamba played on it, that being the album version of the Steely Dan song "Rikki Don't Lose That Number", played as an opening solo to the tune, but it is not heard on the shorter single version of the number. BTW, with that noted, number wise for our first 2 weeks of voting on this question, we will have 15 songs that have a vibraphone played on them, 13 a marimba, 9 a glockenspiel, 3 a Xylophone, and again, just one a flapamba.
One last thing on this question, and the fact that the Stones poll is asking about a song, really one of the very first Rock songs to feature one of these instruments in rock music. That was totally nothing but a coincidence, and only tonight when I started to write up this Poll Post and was writing about the song "Under My Thumb", did I even notice this!
To make your pick and see this week's song list and the players for this week's first Rock Poll question, just click on here: Classic Rock Poll, and when you get to this page, choose "Poll 1" to vote in this poll.
For our second Rock Poll this week, we have the Rock Video poll, and we ask this: Rate John Lennon's original video for "Nobody Told Me" (Click here for the video), from zero (lowest) to 10 (highest)
John Lennon in the "Nobody Told Me" video
"Nobody Told Me" was a posthumous song released on the Milk and Honey album on January 9, 1984, more than 3 years after his murder. Written by Lennon, it was recorded in the last months of his life, mainly following the sessions for his 1980 album Double Fantasy. It was one of the last songs that he recorded and had mostly finished before he was killed. He had made the recording as a demo for Ringo Starr, for Starr's upcoming solo LP. His wife Yoko Ono decided to instead keep the song after his death, and use it along with several other songs that John was working on for their next planned LP together. While it took 3 years for Yoko to get around to putting the LP together without John, she still had 6 new Lennon songs to include on the album, including this one and the unfinished "Grow Old With Me", with both becoming hits. "Nobody Told Me" was Lennon's last new single to reach the UK top 10, peaking at #6 (I say "new" since a reissue of "Imagine" reached #3 in December of 1999). It was also Lennon's last US top 10 hit, peaking at #5 on the Billboard Hot 100, and was his third single to enter the US top 10 posthumously.
There were 2 videos released for "Nobody Told Me". One, the one we aren't rating this week, wasn't compiled until 2003 for the DVD Lennon Legend: The Very Best of John Lennon, and features John and Yoko in archival footage from the early 1970s. The majority of the video's content was edited from newly transferred footage and out-takes from Lennon and Ono's 1972 film Imagine. Also featured in this music video are Phil Spector, George Harrison, Dick Cavett, Fred Astaire, Andy Warhol and Miles Davis. The first video made, and shown often on MTV back in the mid-1980s at the time of the song's release, is the one we will rate this week and is the better known of the two. It also was made up of clips that Yoko took from footage from Lennon's other videos (as was the case for all of Lennon's posthumous videos), along with a few film clips that were taken from homemade family films that were made before John's death. Perhaps one day we will place the 2 videos up against each other at the Beatles/Lennon poll, as we've have done in the past there with other similar VS poll questions, but for rating videos, the solo Beatles videos are never included with the Beatles videos, since they are solo efforts not connected to the band, so this video of course being a solo deal, gets counted and rated as a Rock video.
To watch, listen to, and then rate this week's Rock video, just click on this link: Classic Rock Video Poll, and when you get to this page, choose "Poll 2" to vote on this question.
Last week in the first Rock Poll we asked this question: What was the best performance by a Choir singing on a Rock song?
"Okay, ladies, we'll sing it this my way, this time"… The Bach Choir taking their orders from a Rolling Stone
"You Can't Always Get What You Want" by the Rolling Stones, with the London Bach Choir, took first place with 6.3% of the votes. Such a low percentage for the top pick, right off the bat tells you one thing for sure…. that this poll was very close indeed in its voting. You can check out the full, final results from this poll and see where the other songs ended up by clicking on the following link: Classic Rock Poll, week 764, Poll 1. Or, to see the Top 10 (well, Top 11, and this is getting absolutely ridiculous, as for the 4th week in a row, there was a 3-way tie again for the last spot… and last week I asked just what was going on here with the last spot and 3-way ties, and now it's 4 weeks in a row! What are the odds of this happening?) results from this poll at the list page, just click on here and head down to the very bottom of the page.
Last week at our Rock Video poll, we asked this: Rate Simon & Garfunkel's video for 'I Am A Rock (Live)' (Click here for the video), from zero (lowest) to 10 (highest)
Simon & Garfunkel in 1966 singing "I Am a Rock"
The top rating for this poll question wasn't anywhere as strong as the first time we asked about a Simon and Garfunkel video, that saw at the time what was the highest video score ever. But this time around, their video only saw a top rating of a "9" score, while taking in 33.3% of the vote. You can click on the following link to see the full, final results from this one: Classic Rock Poll, week 764, Video Poll. Or, to see where in the updated Video standings this one lands, just go here: Rock Video Standings list page. The standings can be found at the very top of the page.
As is always the case, we'll close up this Poll Post looking at this week's Beatles Poll, as we enter week 516 of polling and we will answer this question: Rate The Beatles' video for "Two Of Us" (Click here for the video), from zero (lowest) to 10 (highest)
Beatles playing "Two of Us" , from the Let it Be album and Get Back sessions
"Two of Us" was the opening song to the Let it Be album, released on May 8, 1970, after being recorded over a year earlier on January 30, 1969 for the Get Back sessions. Like all of the songs on Let it Be, it's release was held up after the Get Back album was abandoned by the Beatles and never released using that title (other than one song "Get Back", along with the tune "Don't Let Me Down", which was also from the same '69 sessions, but not on the LIB LP, with those 2 songs being released on time and together as an A/B single in April 1969).
"Two of Us" was written by Paul McCartney and its lead was sung jointly by both he and John Lennon. The song was originally titled "On Our Way Home" and Paul wrote it about his and John's relationship at the time, including the lyric "You and me chasing paper, getting nowhere", being about McCartney and Lennon and their contractual problems that were happening at the time the song was written. No question, by this time the two did have "....memories, longer than the road that stretches out ahead ", with the long road being the same contractual problems just noted. The full lineup for this one was: Paul McCartney – Co-lead vocal and lead acoustic guitar; John Lennon – Spoken words*, co-lead vocal, whistling, and rhythm acoustic guitar; George Harrison – Bass - played on an electric 6 string guitar; and Ringo Starr – drums. *Note that John's spoken words - while shown being spoken in the LIB movie, are not shown in this video (they were Lennon's clowning around remarks about Charles Hawtrey and the Deaf-Aids and Doris getting her oats).
This clip that we will rate, was also broadcast in the U.S. on TV, on The Ed Sullivan Show, on March 1, 1970. It became the final appearance by the Beatles on that program, the show that helped them become so popular in the U.S., so many years earlier.
Okay, so it's time to view and then vote on this vid by clicking on this following link: Beatles Weekly Poll.
Looking back at last week's Beatles poll, we voted on this question: Rate The Beatles' video for "Day Tripper" (Click here for the video), from zero (lowest) to 10 (highest)
Beatles playing "Day Tripper" , on UK TV in '66
Oh yes, we dug this video very much, with yet another 10 for the top rating for another Beatle video, taking in 61% of the vote. To view this poll's full, final results, just go here: Beatles Weekly Poll – week 515. Or you can look at the Beatles' Video standings both over at the regular Rock Video page (see the link at the Rock Video poll results above) or at the Beatles own video and movie page, here: Beatles Movie and Video Ratings and Standings list page.
So that does it for yet another Poll Post. I had a very long close here written up - actually written the other day before any of the rest of this Poll Post was written. But yes, it was just too long and really more a Mumbo Jumbo piece. It was titled after a Yahoo News article I read called "Live Your Life So The Entire World Doesn't Celebrate When You Die", and was about my feelings about the now dead asshole Rush Limbaugh, who croaked at the age of 70 last week from lung cancer. But I felt my feeling for this trash can of a human being were close to being as evil as he was, and I'm not at all an evil man, and that was why I decided not to close with it. Evil people (even after they drop dead) I guess can bring out evil in good people, too. But what I wrote could make for an interesting Mumbo Jumbo read, too. But more than likely I won't ever publish it, but damn it was great fun in writing it, too!
Anyway, I do hope you all have a great week ahead and it really is best to just think positive and at least always try to think positive about the future, too!
Keno
Gasland Thread
---
Post Follow-up
---
Note: Do not hit the "Post Message" button more than once, even if it is taking a long time to post your message. Doing so may cause a double post to appear and could slow down your posting time even more.
Filter Threads/Archives
---
---
Download your free, customizable Burton Networks Message Board now!
© 1998 - 2021 by Keno Internet Services, except where otherwise noted. All rights reserved.