---
IT'S A GAS, GAS, GAS!!
MESSAGE BOARD ARCHIVES/WEEKLY ROCK POLL POST
Return to Gasx3/Poll Post Board Homepage
---
Gasland Message
---
Name: Keno
E-Mail: keno@fairpoint.net
Subject: Poll Post for the week starting Monday, June 22
Date: Sunday, June 21, 2020
Time: 11:38:01 PM
Remote Address: 8.41.160.9
Message ID: 320601
Parent ID: 0
Thread ID: 320601

Poll Post for the week starting Monday, June 22
Time to talk about our new Rock polls that we are now voting on this week, starting off as usual with the weekly Stones poll, which enters week 1,092. For this new poll we ask: "All About You" VS "You Got the Silver". Which song either in part or fully about Anita Pallenburg, is the better one??
Anita Pallenberg and Keith-Richards, all those years ago
Notice, we aren't asking for the nicest song here, as both songs, written by Keith, were about his common law wife Anita, with one full of love and the other filled with insults. The one full of insults, the 1978 released "All About You", is somewhat disputed, as some fans claim it was actually written about Mick Jagger, back when the 2 were not happy with each other and after MJ took over total control of the Stones from Keith, after Keith went through his Brian Jones phase in the band of loving drugs more so than his job in the Stones. But the truth be told, while half of the song was aimed at Jagger for sure, half of it was written about his forever lost love for Anita. The two did have a bitter split, and Anita started to throw insults at Keith while praising her former lover and late Stone, Brian Jones – saying things about how Brian was such a better man, lover, and musician, and so much better an overall dude than Keith could ever be. We all remember that talk (well most Keef fans today pretend they don't), but us hard nosed Stones fans who were around back then after the two split remember it, and Keith then had to pay Anita a yearly sum of a lot of money to get her to shut up… and yes, it worked, as until the day she died, Anita never again said anything about Keith. So yes, money talks, or in this case - stopped the talk. But Keith did get back at her (and Jagger) in this song, with real nasty lyrics, to say the least.
On the other hand, "You Got the Silver", recorded in early 1969, was a true love song to Anita, and on its own an interesting song that featured the first non-instrumental Stones song release that Mick Jagger had no role in the final take of. It was also one of the last Stones songs that featured Brian Jones in a significant role, this time playing the autoharp (even if some fans are totally deaf to his playing and get his autoharp confused with Keith acoustic guitar). It was the third to last Stones song that Brian would play on (don't believe the incorrect talk/comments at YouTube that state this was the last song he played on, as it for sure wasn't. The last 2 songs BJ played on were "Midnight Ramber", recorded on the following day with Brian on the drums along with Charlie, and then a few weeks later in March, was the actual last song that he played on, "Honky Tonk Woman", which Brian played guitar on, and on which he may or not be heard playing on the released version. Officially no, he isn't on there, but more than likely he is heard playing on the song, even if the Stones didn't want us fans to know that at the time, since they were now promoting his replacement, MT, who is somewhat heard on HTW playing some rhythm guitar). So the lineup for YGTS was: Vocals, Acoustic & Slide Guitars: Keith Richards, Autoharp: Brian Jones, Bass: Bill Wyman, Drums: Charlie Watts, Piano & Organ: Nicky Hopkins.
Like the incorrect comments made about "You Got the Silver" at YouTube, the same applies to "All About You", too. One fool there claims this song is in part about Brian (it has nothing at all to do with him!), and a warning… do stay away from the link that is in these replies to his asinine comment, since one leads you to page with a virus. Then another person claims the tune is about several of Keith's girlfriends and not just Anita. Really? No, that isn't true either. Keith didn't ever have a lot of girlfriends, since he wasn't anything like his Glimmer twin brother Mick when it came to girls. As most fans know about Keith, is that he has been a one gal at a time guy, whom didn't mess on Anita too much at all (if ever). Yet Anita messed on him. So yes, the song was about both her and Mick - but nobody else. Believe me, that's a fact and forget the stories you many have heard, Keith has even talked about this. But I mean, who in their right mind thinks that "All About You" is about BJ - and would even suggest that?! The lineup for this one is: Vocals, Electric Guitar, Bass & Piano: Keith Richards, Electric Guitar: Ron Wood, Sax: Bobby Keys, Drums: Charlie Watts.
So, it's time now to vote for one of these 2 songs and which one you like more. To do that, just click on this link: Stones Weekly Poll.... And yes, as usual, you will be able to compare the 2 songs via music links to them, before you vote.
Looking back at the results for our Stones poll last week, we answered this question: "Stewed And Keefed (Brian's Blues)" vs "Munich Reggae". Of these 2 never released Stones instrumentals, which one is better?
VS
" Stewed And Keefed (Brian's Blues)" and "Munich Reggae" appeared on the 2 LPs shown above, amongst others
For this one, "Stewed And Keefed (Brian's Blues)" lead for the entire week and yes, ended up on top at the close of the poll. To see the results from this Stones poll, just click here: Stones Weekly Poll - week 1,090. You can also check out the final results from this poll at the Stones VS List Page 2: here. Just look under "songs" when you get there.
Okay, now let's move on over to this week's Classic Rock Poll, where we enter week 731 of polling, and as usual for this one, we'll be voting in 2 different Rock Polls. The first Rock poll asks this: Who was the most underrated member of the original Marshall Tucker Band?
The original Marshall Tucker Band, back in 1973
It could be argued that The Marshall Tucker Band was the first - if not one of the very first, Southern Rock bands to exist. Not Country Rock now - although they for sure fit into that genre too, but no question, they were a Southern Rock band.
For this one, really all six of the original members could be looked at as being the most underrated. While Toy Caldwell was for sure the true brains behind the band as the main songwriter, and he was also the main guitar man in the band and sometimes sang lead vocals, he kept himself in the shadows a bit, too. With that noted, lead singer Doug Gray, is the only remaining original member still in the group today, and it's been that way since Jerry Eubanks left back in 1996. For a lead singer (at least in the early days), he didn't really seem as much as a front man as most who take on that role are. But he was/is a very good singer regardless. Then there was Eubanks, who played several key instruments in the band, but who was also low keyed. He was the main keyboardists in the band, but he also added in most of the special instruments you hear in their music, like the flute, and sax at times, too, and he helped to give the group that special sound that not too many Southern Rock bands usually had in them. Then there was Toy's younger brother Tommy, who for the most part mainly only played bass (but who could play other instruments), and whom also wrote several of the songs for the group and for sure was also underrated. He was the first original member to be lost, killed in a car crash only 3 weeks after his middle brother Tim Caldwell, was also killed in a car crash. The family's 3 sons all seemed to be as doomed as talented, with Toy also dying young just 7 years after his 2 younger brothers were killed.
George McCorkle was yet another underrated member of the band, and another important guy in the band who played a big part in the group's guitar sound and who also was the one who you hear playing the banjo on many of their songs, too; while drummer Paul Riddle was as good as any other Southern rocker drummer was. So the truth being, all of the original band members were low keyed guys and all of them were underrated. But for our poll this week, you can only vote for one of them. Who will you pick in this week's first Rock poll? To make that pick, just click here: Classic Rock Poll, and when you get to this page, choose "Poll 1" to vote on this question.
For our second Rock question of the week, we have the usual Rock Video Polls, and we will answer this question: Rate Mungo Jerry's Video for "In The Summertime"
Mungo Jerry's lead singer, Ray Dorset
With summer just getting underway this past weekend, I wanted to run a video question about the summertime, and this one will do just fine, as it is a fun-loving song about the summer!
The band Mungo Jerry actually put out 2 different videos for this song, with this one, being the second one made, and the one that we will rate. It was filmed in London's famous Hyde Park in 1970. While Mungo Jerry might have been only a one hit wonder in the U.S. with this song, that went to #1 all over the world - and in time becoming one of the best-selling singles of all-time, selling over 30 million copies, in the UK and elsewhere (they were a UK band), they had several other #1s besides this one. Lead by lead singer Ray Dorset, their lineup did change often throughout the years and only Dorset remains in the band today.
Back in the early days of the group, Dorset did have a very freaky look, with his having the longest and thickest side burns in Rock music history - and perhaps the thickest sideburns ever grown on a man. They were so thick that they put Neil Young's famous sideburns to shame. Of course, today they are long gone and Ray looks like your average Joe. But his old look from back in the early '70s, while seen as being super cool back then, today those sideburns are made fun of by the younger generation of rock fans (from reading their stupid comments at YouTube); stupid rude kids who have no clue as to how things were back in '70 and kids who totally lack any coolness what-so-ever as far as being kids go. Just what is wrong with today's young generation Z anyway (and yes I know, us Baby Boomers' parents generation said the same thing about us Boomers when we were young, but we at least were cool)?
Anyway, to view and vote on this week's video poll, just click here: Classic Rock Poll, and when you get to this page, choose "Poll 2" to vote on this question.
Last week, in the first Rock Poll question we answered this: "Who was the most underrated member of Steely Dan, back when they were an actual band? (excluding Donald Fagen and Walter Becker)
Steely Dan in 1973, with David Palmer singing the lead vocals for "Reelin In the Years" on The Midnight Special TV show
3 of the 7 members were in the running for first place, with Jeff "Skunk" Baxter, Denny Dias, and Michael McDonald being those 3. While Denny Dias was my pick and I believe should have been the top choice overall, by just a few votes over Dias, the future Doobie Brother Baxter took first place. To see the full results from this poll question, click here: Classic Rock Poll, week 730, Poll 1. Or to see the list of the most underrated members of the 39 other bands that we voted on so far, just follow this link: http://www.keno.org/classic_rock/top_ten_lists_16.htm. You will see this list right up on top of the page.
Last week in the Rock Video Poll we voted on this question: Rate Paul McCartney and Michael Jackson's Video for "Say Say Say"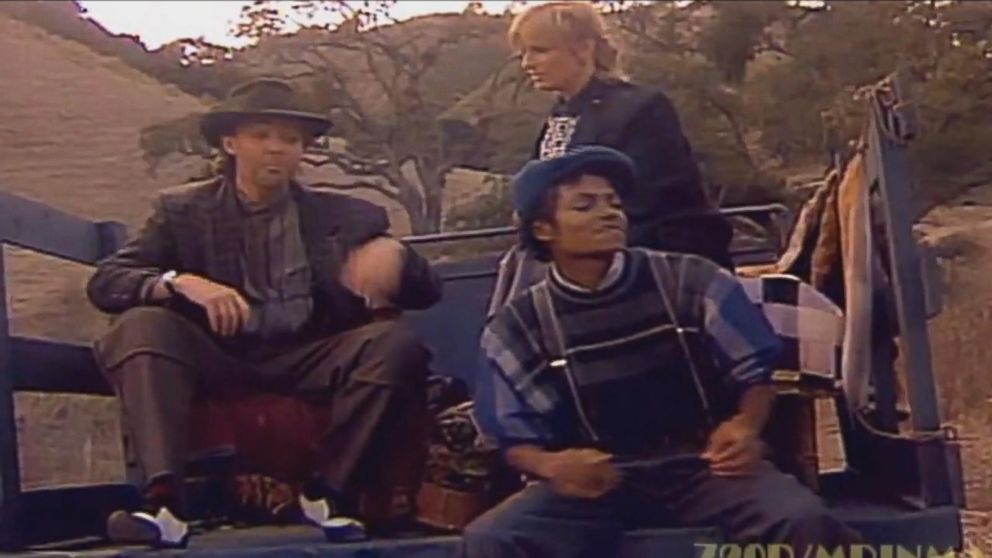 Paul, Linda and Michael after they ripped off a bunch of innocent people, from the video for "Say, Say, Say"
A "7" was the top choice in rating this video, taking in 24.6% of the votes. Spots 6 thru 9 took in 97% of all the votes. Our Rock Videos usually (well always) do a lot better than this one did. You can check out the full, final results from the poll here: Classic Rock Poll, week 730, Poll 2. Or, to see just how low this video lands in the video standings, visit the domain's all in one video page, here: Top Video Ratings and Standings Page.
As is always the case, week in and week out - we closeout the Poll Post with the Beatles Poll, where this week we enter week 483 of voting and yes, not meaning to sound like a broken record here, but we are still answering questions about how much we like or dislike the Beatles albums covers (and still got a few to go, too!). This week we ask: Rate the artwork for the front cover of the Beatles compilation album, Reel Music
Reel Music front cover
A clever name for this one, as all of the music on this album came from all of their movies, so yes, the songs were both "reel music" and of course "real" music. Released in early 1982 at the same time in the U.S. and UK, it was the first Beatles album released after John Lennon's assassination.
In the US and Canada, the album was issued simultaneously in limited edition gold vinyl pressings. In the U.S., it peaked at number 19 on Billboard's albums chart. But what about its cover? Do you dig it? I'd love to tell you who made the drawing that we see, but there's no info that I can find online. Plus my other question would be, why is Lennon shown 4 times (5 if you count the walrus shown) in the drawing while the others are only shown once each (although I believe Paul may be shown twice, as that might be a silhouette of him inside of the car that's hard to make out for sure, as to who it is).
Let us all know how you feel about this cover by voting in this week's Beatles album poll. You can do that by clicking on this following link: Beatles Weekly Poll.
Last week at the Beatles poll, we voted on and answered question: Rate the artwork for the front cover of the Beatles compilation album, The Beatle Ballads (UK)
The Beatle Ballads UK front cover
Well I guess we are back to rating another Beatle LP cover a "10" as the top pick. It had been a while since that score showed up as the top pick since we started to rate the compilation albums, after seeing mainly tens for the studio LP's covers. To see this poll's full results, just go here: Beatles Weekly Poll – week 481Or to see the album rating standings on the Beatles List Page, click on: Favorite Beatles Album Covers List Page. The standings can be found up on the top of the page.
Okay, so another Poll Post comes to an end. Summer is now underway and I realize this is most people's favorite time of the year. I myself dislike this time of the year and it's actually my least favorite season, as I just can't handle any kind of heat at all (other than the heat from a hot springs or hot tub, as that kind of heat I do love). Today's high here was 84F, just about as hot a temperature as I can stand. I do wonder why I am this way when most other people love such heat. But at least I live in a small town that rarely ever gets too hot, and what I like about the people here, is that most of them are like me when it comes to heat, they don't care for it either, unless like myself, it's coming from a hot spring(s) – which we have many of in this area. I guess that's why most of us live here, we all like snow (unlike most people) and like the other 3 seasons more than we like summer. But even I can find 2 things I like about the summer. I like the fact that you don't have to put on extra clothes and bundle up when you got outside this time of year… and…. You have no heating bills to pay!
Okay, so I hope all of you poll voters are doing okay and getting by with this terrible pandemic that is still happening in most places. I'm lucky that the state I live in is the only western U.S. state where things have improved big time, but as our governor warned us the other day, with just about all the other states that surround us seeing increased cases, just how long will we be able to make this claim? Well if we seal the state's borders that we share with our 7 neighboring states, we should stay okay. But of course, we can't really do that.
I hope all of you have a great week ahead!
Keno
Gasland Thread
---
Post Follow-up
---
Note: Do not hit the "Post Message" button more than once, even if it is taking a long time to post your message. Doing so may cause a double post to appear and could slow down your posting time even more.
Filter Threads/Archives
---
---
Download your free, customizable Burton Networks Message Board now!
© 1998 - 2020 by Keno Internet Services, except where otherwise noted. All rights reserved.