---
IT'S A GAS, GAS, GAS!!
MESSAGE BOARD ARCHIVES/WEEKLY ROCK POLL POST
Return to Gasx3/Poll Post Board Homepage
---
Gasland Message
---
Name: Keno
E-Mail: keno@fairpoint.net
Subject: Poll Post for the week starting Monday, June 8
Date: Monday, June 08, 2020
Time: 12:01:32 AM
Remote Address: 8.41.160.9
Message ID: 320587
Parent ID: 0
Thread ID: 320587

Poll Post for the week starting Monday, June 8
For this week's polls, we will act like it's the old lost Gasland days of the past and vote in 5 new weekly polls instead of 4 new polls for this week. As usual we will start off talking about the Stones poll, where we enter week 1,089 of voting and ask this question: "Now I Got A Witness" vs "2120 South Michigan Avenue". Of the only 2 released Stones instrumentals from the 1960s, which one is better?
VS
"Now I Got A Witness" and "2120 South Michigan Avenue"
Week 2 of looking at the Stones instrumentals that they made in the 1960s, and for this week, we'll look at what's really the only 2 ever released instrumentals from that era. Okay, yes, I know there was that hidden instrumental track from 1967 on Satanic Majesties (called "Cosmic Christmas"), that Bill Wyman played (keyboards) alone on, and which was indeed released, and yes, BJ and Keith played a guitar duo live for a show that the BBC aired in 1964 - a song called "Dust My Pyramids", but while technically you can call that a released song, since they played it live, it was never released on any records, other than on boots of course, so deep down, that don't really count. Guess I could also mention the song "And Mr Spector And Mr Pitney Came Too", which was released on the Russian CD version of Metamorphosis (which has 10 extra songs on it than the U.S. release and 9 more songs than the UK version has). I got a copy of it years ago, but today there's so few of the Russian version around that you can pay up to $75 for a new copy of it in the States, and about $25 for a used one. But yes, the Russian version is the best of the 3 versions released.
But getting back to the 2 songs that we are voting on this week, both of them were released in 1964, with "Now I Got A Witness" coming out first - released in the UK on their self-titled EP, and then released a few months later on their U.S. debut LP England's Newest Hit Makers.The lineup for this Nanker Phelge song, recorded on February 4, 1964, was: Guitars: Keith Richards & Phil Spector, Harmonica: Brian Jones, Bass: Bill Wyman, Drums: Charlie Watts, Tambourine: Mick Jagger, Organ: Ian Stewart, Piano: Gene Pitney.
For "2120 South Michigan Avenue", it was recorded on June 10 & 11, 1964 and first released in the UK on the EP Five by Five on 14 August, 1964, then released in the U.S. on the LP 12x5 in October of the same year, the lineup was: Bass: Bill Wyman, Drums: Charlie Watts, Guitar: Keith Richards, Harp: Brian Jones, Organ: Ian Stewart, Percussion: Mick Jagger.
To vote on this week's new Stones question, just click this link: Stones Weekly Poll.
Looking back at the results for our Stones poll last week, we answered this one: "Hear It" vs "Gold Painted Fingernails". Of these 2 never released instrumentals, which should have been released?
Boot covers for "Hear It" and "Gold Painted Fingernails"
Like last week, all the polls on the domain were real busy, and for this one, the top pick was "Both should have been released" – and I totally agree, with it taking in 32.6% of the votes. The least popular – which almost nobody voted for, well, 2.7% did, was the choice "Neither of them should ever be released". So us fans totally disagreed with the Stones management in not releasing these 2 songs.
To see the full, final results from this Stones poll, just click here: Stones Weekly Poll - week 1,088. You can also check out the final results from this poll at the Stones VS List Page 2: here.
Okay, let's now take a look at this week's Classic Rock Poll, where we enter week 729 of polling, and as usual for this one, we'll be voting in 2 different Rock Polls. The first Rock poll asks this: "Godzilla" vs "Frankenstein". Which song taken from a monster movie is the best?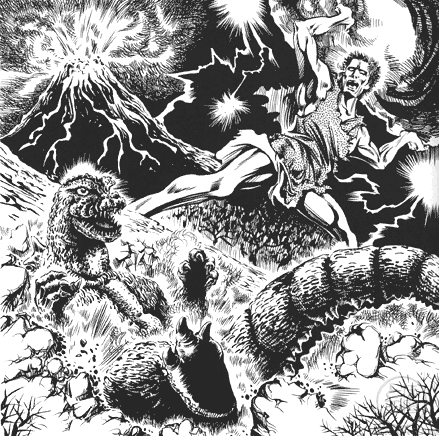 "Godzilla" vs "Frankenstein" This promo bit comes from a 1964 movie flyer that ended up never being made (thank goodness)
As we just finished up on a very long rock poll series at this first rock poll, for this week's first poll question let's do something different and something I don't think we ever done before. That is, while the second rock poll question will once again be a video poll deal, for the first question this week we will answer a Rock VS poll question - yes, the old VS poll that used to be the regular second poll question before the Video poll took over a year ago and frankly has been more popular. But it wasn't like the Rock VS poll wasn't popular either, it was, only thing was after so many years I was just running out of good matchups, as we had done the best ones already. But in time, well, I do think up some good ones here and there and this week we'll run both the VS and Video polls together for the first time!
Now, do note the 2 videos I linked to at the voting page for both songs are live takes - and yes, we usually go by the studio version of these songs and not live takes when we vote on them - and yes indeed - we should still do that when we vote this week. I know that you all know what the studio versions of both of these songs sound like, and these 2 live performances are so good, really so great, that I had to link to both of them - and yes, one day in the future, we will rate these vids in the Video polls. But for this week, while I know you'll enjoy both of these vids (unless you aren't a rock fan, and then why are you reading this if that's so?), just remember to forget about what you just saw when you go to vote, since the music and not the performance is what only counts in this poll, as this is a VS poll and you are to only vote for the song that sounds better to you - just not live but from the studio take, which both of these 2 performances are very close to sounding like anyway.
" Frankenstein" by The Edgar Winter Group, was released in 1972 on the LP They Only Come Out at Night and was Edgar Winter's biggest hit. Written by Winter, the song went to #1 on the U.S. charts and on other countries' charts, too. But in the UK, it only made it to #18. The song was named " Frankenstein" by the band's drummer, Chuck Ruff, since as he put it, the process to make the song turned into the same deal as making a Frankenstein monster, since it had so many parts to it and the band couldn't decided on what to keep or drop from it. After a ton of recording sessions for it over a few months, even after all of that, when they released it, they did so in two versions, with the album take almost 2 minutes longer than the single. Winter on the song played 6 different instruments (!), and plays in the live video (if I recall correctly), 4 different instruments. He would do this live all the time when he played the song, and lucky me, I got the pleasure of seeing his show from the front row, just feet away from him, 3 or 4 years ago here in Crestone at our now (and sadly) no more once famous music fest. But I was blown away by how such a complicated song could sound so damn good live! Today all of the members of the then Edgar Winter Group who played on this number, have all passed away, other than Edgar himself. Besides drummer Ruff, Ronnie Montrose was the lead guitarist, while Dan Hartman was the bassist. Plus no, Rick Derringer didn't play guitar on this song's studio cut as some claimed, but he did produce the number for the band, and in the future, starting in 1974, he played it live with the group. Derringer did become an official member of the group in '74, after Ronnie left to formed the band Montrose. I'm not sure who we are seeing in this video, if it's Derringer or Montrose on guitar. The clip says it was made in '73, so it should be Montrose here, but have you ever seen these 2 guys back then? They looked the same, both had the same exact long hair style and hair color, along with both having big and the same shaped noses. I can't tell them apart, well not until a few years later when their hair style changed. Of course, Rick is still with us today while Ronnie died tragically several years ago.
To vote in this week's first Rock poll, just click here: Classic Rock Poll, and when you get to this page, choose "Poll 1" to vote on this question.
For our second Rock question of the week, we have the usual Rock Video Polls, and we will answer this question: Rate Sam The Sham & the Pharaohs' Video for "Woolly Bully"
Mattie saw a Wooly Bully, and then told Hattie
Now this song was always looked at as a real fun number that everybody back in the '60s loved to dance to. When first made, it wasn't expected to be a hit and nobody even knew who Sam The Sham & the Pharaohs even were. But they were a band from Texas - who dressed up to look like Pharaohs (that, or they all looked like they were about to attend a toga party). The band was inspired to dress as they did thanks to seeing a costume worn by Yul Brynner when he was playing a pharaoh in the 1956 film The Ten Commandments. The band was led by organist and lead singer Domingo "Sam" Samudio, who wrote this song and whom was known by his stage name "Sam the Sham". Many thought Sam was Mexican, simply because he counts out the song's opening in Spanish (and in English, too: "Uno! Dos! One, two, tres, cuatro!"), and while he lived in South America for several years before making it big on his return to the States, he was actually part Basque and part Native American (Apache). Plus he never wanted the Spanish countdown in the song, he stated that on one take of the song, he was just playing around before the recording started and said what he did as a lead-in, and the song's producer, Stan Kesler, liked that take best, and while Sam asked him to remove the countdown, it was kept in there and actually setup the song in a unusual way for a English sung song played and sung by a bunch of American guys who looked like ancient Egyptians.
The lyrics sang in "Wooly Bully" are very hard to understand, and some radio stations down south banned the song because of that, thinking something was being said that wasn't (this was the mid '60s of course - when rock song censorship in the U.S. south was at its peak). Sam The Sham ending up having 2 big hits, this one and the follow-up to it, "Li'l Red Riding Hood", which I bet if you're a Boomer parent, you sung that one to your preteen kids, and today to your grandkids, at bedtime (well I did and my kids all loved that one, anyway). But both songs went to #2 on the charts in the U.S., with "Woolly Bully" named "song of the year" (for 1965), while being the first American record to sell a million copies during the British Invasion, and yet it never made it to the #1 spot on the charts, but it still sold more copies (over 3 million total) than any other song released in that year, making it the only non #1 song to ever have that happen to it.
The song would also show up in many major movies throughout the years, too. But for the video, as happens often with "film promos" of the '60s, there is no info available as to how it was made or where it was shown first. Yet I do recall seeing it as a boy back in '65 often enough on TV and thinking to myself, these guys are far out.... but what the hell are they saying? Today the video that we will see and rate - has lyrics shown too, so now you can actually understand just what Sam is singing, even if the "L-7" sung in the song means "a square", I still don't totally get why (even if I was told why)! "Let's not be a square, come and learn to dance" would have sounded better than "Let's not be L-7, come and learn to dance"... Or am I just being L-7 here? Me a L-7? Anyway, to view and vote on this film clip, just click here: Classic Rock Poll, and when you get to this page, choose "Poll 2" to vote on this question.
Last week, our first Rock Poll question asked: What is the Best Rock Song with Numbers in its Title (Part 7 of 7)
Last week's poll was the finale poll about numbers in song titles
So after 7 long weeks, we finally have a answer to this question. "2000 Light Years from Home" by The Stones took first place with 4.6% of the votes. Great pick, even if I didn't vote for it, and you can thank BJ for saving this number from the rejected song garbage can that it was in and bring it back to life for the group by playing several keyboard instruments on the song. The rest of the song in the Top 10 (thanks to ties there's 11 of them) are: "Eight Days a Week" - The Beatles (at 4.4%), "Two Of Us" - The Beatles (4.3%), "Hymn 43" - Jethro Tull (4.3%), "I'm Eighteen" - Alice Cooper Group (4.3%), "1999" – Prince (4.2%), "19th Nervous Breakdown" - The Stones (4.2%), "25 Or 6 To 4" – Chicago (4.1%), "5:15" - The Who (4.1%), "59th Street Bridge Song (Feelin' Groovy)" - Simon & Garfunkel (4.1%), and "If 6 was 9 - Jimi Hendrix (also with 4.1% of the votes).
To see the full, final results from this poll question, click here: Classic Rock Poll, week 728, Poll 1. Or, to see the Top 10 list page for this one and many other past polls, you can find that here at: Top Ten Lists, Page, 16. The results can be found at the bottom of the page.
I should also note that while we broke the record for the most votes cast ever in a poll on keno.org in this poll last week, with just under 1700 votes, we still didn't reach the 2000 marker yet, either. But damn, I'm happy to see us get that close to a goal that didn't even exist until 2 weeks ago, too! I'm sure it will happen sooner or later the way things are going!
Last week in the Rock Video Poll we voted on this question: Rate Tim Curry's RHPS Movie Video for "Sweet Transvestite"
Patricia Quinn and Tim Curry from "Sweet Transvestite" Don't get strung out, by the way Frank looks…
Well from looking at the final results, a lot more of you loved this song than hated it (few did), as the top pick for this one was a 10, taking in 24.4% of the vote. Spots 7 thru 10 were all very close in the voting. You can check out the final results here: Classic Rock Poll, week 728, Poll 2. Or, to see where this video lands in the video standings, just visit the domain's all in one video page, here: Top Video Ratings and Standings Page.
As is always the case, we closeout the Poll Post with the Beatles Poll, where we enter week 480 of voting and yes once again, we continue to answer questions about how much we like or dislike the Beatles albums covers. This week we look at these 2: Rate the artwork for the front cover of the Beatles compilation album, Rarities (UK), and with the second question asking: Rate the artwork for the front cover of the Beatles compilation album, Rarities (U.S.)
and
The Beatles Rarities UK front cover and The Beatles Rarities U.S. front cover
Yep, this is where we are voting in an extra poll this week. Reason is because in doing it in this matter, I want to make sure confusion doesn't get in the way of voting - since the Beatles had 2 different LPs titled the same, that were issued just 2 years apart - first in the UK, and then in the U.S. But yeah, they were 2 totally different LPs, since songs that were rare in the UK - weren't rare in the U.S - and vice a versa. These 2 LPs had different front covers, too, so to remove any confusion on what we are voting on for this week, and instead of asking these 2 questions over 2 weeks, asking them both now in just one week should remove any question on which LP we are rating, since you will see the 2 albums in question right here at the same time before you cast your vote and I will talk about their differences right now instead of a week apart.
The UK album, released on 2 November 1978, has a cover that is very plain, with text only on it, while the U.S. cover, released on March 24, 1980, shows the band on the cover in a small centered photo. Whereas the UK album was only released in the UK, the U.S. LP was issued in several other countries, including Australia, Canada, France, Japan and New Zealand. That helped this version to sell much better, and in the U.S. alone, it just missed the Top 20, as its top spot made it to #21. The UK release only made it to #71 on the UK Album charts. Of course, making the Top 100 chart anywhere is considered a great thing for most artists, but a Beatles LP only making it to #71? Not so great.
To vote on and rate these front covers, just click on this link: Beatles Weekly Poll.
Last week at the Beatles poll we asked: Rate the artwork for the front cover of the Beatles compilation double album, Love Songs.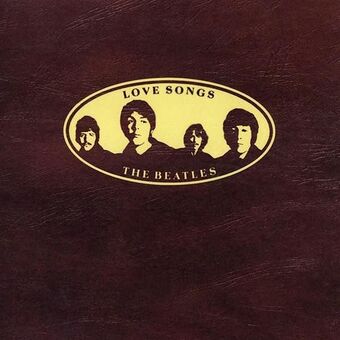 Love Songs front cover
Spots 8 and 9 saw the most votes last week, with "9" being the top pick, taking in 37.5% of the vote. "8" took in another 36.9% of the vote for second place, with the others spots way back in the voting. To see the poll's full results, just go here: Beatles Weekly Poll – week 479. Or to see the album rating standings on the Beatles List Page, click on: Favorite Beatles Album Covers List Page. The standings can be found up on the top of the page.
Now, in closing out this Poll Post, about that blog I promised and failed to deliver last week (yet again).... Well I actually started to write it on Saturday afternoon and got about a third of it written out, writing about putting up with the different wildlife that causes problems where I live and how us locals deal with it all. But then I was interrupted by a major hail storm that hit town. Being the town's weatherman, yes, that does get my attention. But this storm would have gotten anybody's attention - even in a town that sees 10 hailstorms on average each year. The hail was 90% pea size hail, so it wasn't that large at all and didn't cause any real damage - and it only lasted for about 4 or 5 minutes. But in that short amount of time, well small hail accumulates on the ground real fast (much faster than snow sticks to the ground), and so much came down at once (the noise of it hitting the house and metal roof was deafening), that we had 2 inches of hail on the ground when it ended - and it looked like it had snowed (if you like, see photo I took of my front deck about 10 minutes after the storm hit - here. Just go to the very bottom of the photo page to see it). So anyway, that dragged me away from writing my blog, and hours later when I tried to return to it - I found what I wrote earlier was boring to me, so I didn't finish adding anything to it. I mean, I've written about this topic so many times since I used to be the town's wildlife reporter for the local paper for many years, and I guess that's why I got bored reading about all that again. So the heck with writing about bears, coyotes, and other wildlife, I need to cover something else. Hopefully next week I'll get back to this thing.
Perhaps I should write about police brutality? Thing is, living in a town that has no police at all and is protected by one sheriff deputy, who everybody knows and likes, well that makes it hard for me to relate to what's going on today elsewhere. But yeah, I was mistreated by pigs back in my youth, since I was a Yippie, but that was so many years ago, too. Today as a senior, I'm appalled by the lack of respect the younger generation shows those of us who are their elders (if I hear another goddam kid say "OK Boomer" again, I just might kick the asshole in the teeth!). But now, I see that the police also have zero respect for us Boomers, too. The mistreatment of that 75-year-old man in Buffalo last week says it all, and it should be noted that he was white - so unless you're a normal looking middle-aged white man, the cops just don't give a damn about you, period. But that's what these protests are all about, the lack of respect from the police towards anybody who isn't a cop themself, or a white middle age man. Plus, it's clear that most of these police still don't get the message that the people are sending out to them, either. They not only knocked over and knocked out this old man, when he started to bleed from his head instantly - the pigs just walked on by as he laid unconscious in the street and didn't offer him any assistance! Then to show that the entire riot squad was filled with true, 100% pure pork pigs, all of the officers on that squad (more than 60 of them) all resigned from the unit that they swore to help out with - but while not quitting their normal police jobs! I say every one of them are traders and bad apples, and they all should be fired on the spot as police officers for doing this! If the city of Buffalo has any balls, they will do just that! I always thought that Buffalo was a real good, cool city, but after this - well that city has a black eye now and perhaps all sane people should stay as far away from that town as possible! I'll also note that I can't even remember the last time I referred to a cop as a pig. It's a word I still use a lot today to call corporate CEOs, and politicians, etc. But while I was a teen I called all cops pigs, it's a word I stopped using to call cops about 40 years ago, other than using it once in 1997, to describe this one pig in New Jersey who pulled me over in heavy traffic near the George Washington Bridge - simply because I was driving while hippie. Yet now all I'm seeing on my TV news is pigs everywhere! It's like watching the race riots from the '60s all over again, or like watching Chicago back in '68 when the pigs beat-up peaceful hippys and Yippies at the Democratic convention. That was the night I became a hippie and a Yippie myself. But while I got over hating the police and actually grew in time to like many of them, today all I'm seeing is pigs beating up innocent protesters once again (Note: to all of the stupid people out there, many of whom post on Yahoo News)… the protesters and looters are not the same people!! They are 2 different kinds of people, with the lowlife looters just taking advantage of the situation. Anybody who believes that the 2 are one - then those fools are a part of the problem themselves!). Anyway, I guess the only thing that was bad about the '60s were bad cops beating up on the peaceful anti-draft and anti-war demonstrators, and sadly today, that bad stuff from long ago is all back now and happening once again!
I do hope that regardless of all the madness and all the illness around us today, that you all still try to have a great upcoming week! Plus remember, to be smart and safe, wear a mask!
Keno
Gasland Thread
---
Post Follow-up
---
Note: Do not hit the "Post Message" button more than once, even if it is taking a long time to post your message. Doing so may cause a double post to appear and could slow down your posting time even more.
Filter Threads/Archives
---
---
Download your free, customizable Burton Networks Message Board now!
© 1998 - 2020 by Keno Internet Services, except where otherwise noted. All rights reserved.