---
IT'S A GAS, GAS, GAS!!
MESSAGE BOARD ARCHIVES/WEEKLY ROCK POLL POST
Return to Gasx3/Poll Post Board Homepage
---
Gasland Message
---
Name: Keno
E-Mail: keno@fairpoint.net
Subject: Poll Post for the week starting Monday, June 1
Date: Monday, June 01, 2020
Time: 12:24:54 AM
Remote Address: 208.38.201.193
Message ID: 320577
Parent ID: 0
Thread ID: 320577

Poll Post for the week starting Monday, June 1
Time to get this week's Poll Post underway (but late) for our 4 weekly polls, starting off with the Stones Poll, where we enter week 1,088 of voting and ask this question: "Hear It" vs "Gold Painted Fingernails". Of these 2 never released instrumentals, which should have been released?
Boot covers for "Hear It" and "Gold Painted Fingernails"
So we have here for this week, a VS poll with 2 songs going up against each other (as usual) - but - what is unusual, is that you get 4 choices to choose from in the poll's options. All you got to do is read the question to understand why. Some might love both songs and feel that both of them should have been released, while a few might dislike both songs and agree with the Stones that they were better off never released. Then of course, you might feel like one should have made the cut while the other shouldn't have. So we got all the bases covered here from which you can choose from!
Now, just of bit of info on both songs. "Hear It" was recorded on July 21, 1964 and is one of only three known Jones/Richards compositions (the other two are "Dust My Pyramids", and of course the wrongly credited "Ruby Tuesday"). I have heard that there are lyrics that go with this song, and then again, I have heard that no, there aren't and it was only ever meant to be a true instrumental. This number can only be found on different bootlegged Stones albums. A extended take of this instrumental version (or, some say it was a second take of the song) was released on the Russian CD version of Metamorphosis and credited to "Oldham/Richards" instead of "Jones/Richards", with a recording date unknown (more than likely the same exact date as the first take, or it is the first and only take, with just extended play - since there's no other session notes anywhere showing that this tune was ever worked on again at any other time). The lineup for this song was: Guitars: Brian Jones, Keith Richards & Jim Sullivan; Bass: Bill Wyman; Drums: Charlie Watts; Violin: Brian Jones, or an unknown violinist. I find it hard to believe they would have hired a violinist for a song that was never released, especially so early on when money was a lot tighter for the band's early sessions and when Brian played violin, so I bet it's him playing violin here. Jim Sullivan was a hired hand for the band in the early days and appeared on a handful of their early songs. While he was a session musician who also released 2 solo LPs, he is mainly known today because of his disappearance in New Mexico in 1975. He had stopped there overnight while driving from LA to Nashville for a recording session, staying at a remote ranch. He told a friend that he was going out into the desert for a short walk, leaving all of his money, papers, guitar, and clothes behind, and was never seen again by anybody. Neither he nor his body was ever found after a search was held. Sullivan's first record, titled U.F.O., released in 1969, was reissued after his disappearance, and it developed a cult following as (too) many claimed he was a victim of an alien abduction. While he left behind a wife and son and all of his belongings, and that alone makes his disappearance strange, I bet he just got lost, died from the elements and lack of water, and the searchers just missed finding his body.
For "Gold Painted Fingernails", this one was recorded in both July and August of 1967, but there's little info on it available. While credited to "Jagger/Richards", like "Hear it", Mick has nothing to do with it, so more than likely this one should have been a band credit. We do know that there were several different takes of this ditty that resulted in a few different boot versions out there of the song. I went with the take best known, a version which is found on most boots. The lineup for this one was: Guitar: Keith Richards; Harp (listed as "Mouth Organ"): Brian Jones; Bass: Bill Wyman; Drums: Charlie Watts; Organ: Nicky Hopkins. The organ isn't heard on all of the versions, but is prominent (along with the harp) on the take that we will link to in this poll. A somewhat interesting transcript of several of the takes can be read: here . It seems that Keith was mainly in charge of these sessions going by the notes shown on the linked to page, yet his guitar is manly heard in the background and not too much upfront.
To vote on this week's new Stones question, just click this link: Stones Weekly Poll.
Looking back at the results for our Stones poll last week, we answered this one: "Stupid Girl" vs "Yesterday's Papers". Both songs were supposedly about Chrissie Shrimptom. Which one is the better song?
Mick with his then gal of the mid '60s, Chrissie Shrimptom
All of our polls last week were busy, and for the results from this one, "Stupid Girl" won out by one single vote. I don't get it, to me, "Yesterday's Papers" is light years better a tune, but it isn't up to me, it's up to all of us, and just like you, even I have but one vote.
To see the final results from this Stones poll, just click here: Stones Weekly Poll - week 1,087. You can also check out the final results from this poll at the Stones VS List Page 2: here.
Okay, let's now talk about this week's Classic Rock Poll, where we enter week 728 of polling, and as usual for this one, we'll be voting in 2 different Rock Polls. The first Rock poll asks this: What is the Best Rock Song with Numbers in its Title (Part 7 of 7)
Our numbers, many different ways to say them
So, we have made it to the final round of this very long multi week/part question. It figured that there were several ties in this one, as voting was the closest in Part 6 than what we saw in any other parts. I say it figures since the one week of a multi week poll question where I would rather not see any of that, is in the second to last week of such a multi week question, as it becomes hard to figure out what songs might make the final cut for the last round - that starts off online directly after this round ends, and in turn that means I find myself sometimes removing and then adding in choices to the final round - sometimes after the final round has already gotten underway. But that wasn't the case for this one, since nobody voted in the poll in the last 10 minutes that Part 6 was still running. So anyway, we'll have a total of 29 songs to choose from for this week's final round. To see which songs those are and to vote for the one you like best in this week's first Rock poll, just click here: Classic Rock Poll, and when you get to this page, choose "Poll 1" to vote on this question.
For our second Rock question of the week, we have the Rock Video Polls once again, and we will answer this: Rate Tim Curry's RHPS Movie Video for "Sweet Transvestite"
Patricia Quinn and Tim Curry from the "Sweet Transvestite" video
For this week's Rock Video, we look at a clip from one of the most interesting musicals ever made, that being the Rocky Horror Picture Show. I'm sure most if not all of you know of this one (but if not, my review of it is here). This was the movie that started weekend midnight movie shows (at least across America anyway), and more so, the first ever movie with audience participation. Many folks went to see this one not so much for what was being shown up on the screen, but for what was going on inside the theater with its audience.
Tim Curry, who at the time was known more so as a Rock singer, starred in the movie as the insane mad scientist and alien, Dr Frank-N-Furter, and became a movie star after it was made and left Rock music behind. Susan Sarandon and Barry Bostwick, who while not in their first movies, also became big stars after this one became a hit. They were pretty much not that well known until they played the young engaged couple, Brad and Janet, who fall under the mad doctor's spell. Up and coming rock singer and sometime movie actor Meatloaf was also in this one, but he doesn't appear in the movie until just after this video clip that we are rating this week, finishes up (and also before Rocky, the man-made creature, is seen, too). The entire movie and all of the songs, including "Sweet Transvestite", were written by Richard O'Brian, who is also in the movie, playing Riff-Raff, Frank's "handyman" and whom is also seen in this clip.
As usual, there's a link to the video included at the voting page. I got a feeling that this one by week's end, will see perhaps a mix of both very high - and very low ratings. That's never happened before in these polls - if it actually happens this week, but I'm only guessing here as it is.
To view and vote on this movie video clip, just click here: Classic Rock Poll, and when you get to this page, choose "Poll 2" to vote on this question.
Last week, our first Rock Poll question asked: What is the Best Rock Song with Numbers in its Title (Part 6 of 7)
Last week's poll was all about the numbers
Besides very close voting in last week's Part 6 - we also saw an all-time record turnout of voters for this Rock poll and for all of the other weekly polls the entire domain! Yep, for the first time ever, we broke the 1900 marker, with 1,935 votes recorded. Cool! That breaks the old record by 101 votes! So, wouldn't it be something if maybe this week we could break the 2000 marker perhaps? Yeah, that would be even cooler. But anyway, the songs that made it into the final round from Part 6 were: "(Get Your Kicks on) Route 66" - Rolling Stones (6.8% of the votes), "96 Tears" - Question Mark and the Mysterians (6.7%), "Double Vision" - Foreigner (6.4%), "A Quick One While He's Away" - The Who (6.3%), and "Cloud Nine" - The Temptations (6.3%). To see the full, final results from this poll question, click here: Classic Rock Poll, week 727, Poll 1.
Last week in the Rock Video Poll we voted on this question: Rate The Buffalo Springfield's TV performance video for "Mr. Soul"
Stephen Stills, Neil Young, and a mystery man playing "Mr. Soul" on U.S. TV
The top pick for this one was a 10, taking in 32.6% of the vote. You can check out the final results from this one here: Classic Rock Poll, week 727, Poll 2. Or, to see where this video lands in the video standings, just visit the domain's all in one video page, here: Top Video Ratings and Standings Page.
Time to now look at the Beatles Poll, where we enter week 479 of voting and we continue to answer questions about how much we like or dislike the Beatles albums covers. This week we ask about this one: Rate the artwork for the front cover of the Beatles compilation double album, Love Songs.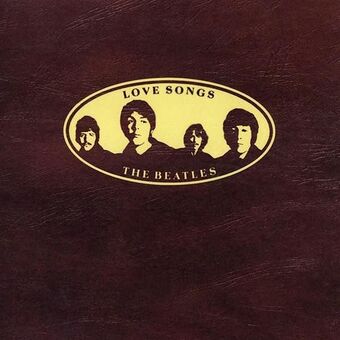 Love Songs front cover
Love Songs is, well was, yet another compilation double album by The Beatles that consisted of previously released Beatles tracks recorded by the Fabs between 1962 and 1970. It was released in the U.S. on October 21, 1977 and then in the UK on November 19, 1977. Like all Beatles albums, it sold great, even if all the songs were all very old ones. It went to #24 in the U.S. and to #7 in the UK – but – it was discontinued less than 10 years after it's released, yet to show you how much Beatles LPs are loved, it was certified with sales of over three million units by 2000 in the U.S. alone! Today you can still buy it either used, or if you wish to shell out a lot of bucks (like over $1000 plus dollars for the original cover), you can still find some brand-new unopen copies around these days.
The LP's original packaging was very interesting. It included an 11 x 11" booklet, with the songs' lyrics in it, calligraphy-style, on simulated parchment paper. For the first several pressings, the cover was in leather, and the Beatles' image (a re-working of Richard Avedon's 1967 portrait, featured in Look Magazine) was in simulated gold-foil, with the LP also available on yellow vinyl. Of course, we only care about the cover here for this poll question, but - do we rate that leaver cover? I would say no, since it was just a limited deal and few were able to get their hands on it. But that's up to you to decide on your own, I'll just rate it myself by looking at the cover while perhaps just wondering what it might have looked like in leather and gold-foil. This is one Beatle LP that I never had nor ever saw it with that special cover in person, either.
To vote on and rate this front cover, just click on this link: Beatles Weekly Poll.
Last week at the Beatles poll we asked: Rate the artwork for the front cover of the Beatles compilation double album, Rock 'n' Roll Music.
Rock and Roll Music front cover

>

Spots 7 thru 10 saw the most votes by far, with an "8" being the top pick, taking in 20.4% of the vote. To see the poll's full results, just go here: Beatles Weekly Poll – week 478. Or to see the album rating standings on the Beatles List Page, click on: Favorite Beatles Album Covers List Page. The standings can be found up on the top of the page.

So with that, we come to the end of yet another Poll Post! Here in this part of Colorado we saw something that we hadn't seen in ages – RAIN! I know in some places of the U.S. there's been record flooding, but here it was looking like we would see the driest May ever on record, with barely a trace of water, until 4 days ago, when it finally started to rain. While we still haven't seen a full inch of water yet here, the .66 of an inch to us is like flood waters! Plus it was all rain too, we haven't seen any snow other than a trace in the last 2 months, something that never happened here before in April and May, and with it now June 1, the snow season is officially over, with us seeing the 5th lowest snow totals ever for this past snow season, with our area and all of southern Colorado in a serve drought, to say the least – all thanks to climate change and global warming. Anybody who thinks all of that isn't real - are total fools. But in one good note in regard to snow, our ski areas had to all closed down in early March thanks to the pandemic, but with things slowly reopening up in Colorado, one ski area reopened on Wednesday, A Basin, and they got enough snow up there to stay open at least until the end of June. Last year they were open until after the Fourth of July weekend. Of course, they been sold out of lift tickets since they reopened, as the ski bums are loving the fact that they can still get some runs in after not being able to do any of that since the first week in March. But still, it's summer like weather for us here and perhaps where you live too. Yet I'm still worried about the months to come and if this virus gets going once again. I mean I'm jonesing for the NFL football season to start!... But if the virus comes back by fall, just what will happen?? But still, no need to worry about that right now, so why do I?

I hope you all have a great upcoming week!

Keno

Gasland Thread
---
Post Follow-up
---
Note: Do not hit the "Post Message" button more than once, even if it is taking a long time to post your message. Doing so may cause a double post to appear and could slow down your posting time even more.
Filter Threads/Archives
---
---
Download your free, customizable Burton Networks Message Board now!
© 1998 - 2020 by Keno Internet Services, except where otherwise noted. All rights reserved.