---
IT'S A GAS, GAS, GAS!!
MESSAGE BOARD ARCHIVES/WEEKLY ROCK POLL POST
Return to Gasx3/Poll Post Board Homepage
---
Gasland Message
---
Name: Keno
E-Mail: keno@fairpoint.net
Subject: Poll Post for the week starting Monday, March 23
Date: Sunday, March 22, 2020
Time: 11:21:50 PM
Remote Address: 97.107.69.29
Message ID: 320464
Parent ID: 0
Thread ID: 320464

Poll Post for the week starting Monday, March 23
Let's kick off the Poll Post tonight for our 4 weekly polls in the usual matter, with the Stones poll first in line, and where we enter week 1,078 of voting. This week we ask: Rate the Stones live TV performance video for "Time Is On My Side"
"Time Is on My Side" from The Ed Sullivan show
This one that we are rating this week was shown on U.S. TV back in October of 1964, on The Ed Sullivan show, and it's the second version (or second release) of this cover song by the Stones.
"Time Is on My Side" was written by Jerry Ragovoy (using the pseudonym "Norman Meade"). R&B singer Irma Thomas had a hit with this song in early '64 and then the Stones first take of it came out shortly afterwards. Recorded by the Boys first in June of '64, this first version had an organ played by Ian Stewart which opens the song and which was the main instrument heard in the number (and this one became known as the "organ version"), while featuring Mick as usual on lead vocals, and with Brian Jones and Bill Wyman singing the backing vocals. It was released as a single in the U.S. later that year and would become the Stones first Top 10 U.S. hit, peaking at #6 on September 25, 1964, while also showing up on the U.S. album 12x5.
The second version of this song, was recorded in Chicago on November 8, 1964, and released in the UK on January 15, 1965, on The Rolling Stones No. 2. This version opens with Keith playing a newer, lead guitar riff on the song and has the organ now heard only a bit in the background, so this would become known as the "guitar version" of the song. Also, on this take Keith is now singing the backing vocals along with Bill, with Brian taking a more reduced role in the song. In time, this second take would become the version that really had time on its side, as to this day it receives the most airplay and appears on most of the band's "best of" compilations.
A question that comes up every so often about this song, is who is singing the backing falsetto on it, Bill, Brian, or Keith? Well it's interesting that all but one of the several comments on YouTube about this, claim (or should I say "guess") it's Keith. But no, it isn't Keith, nor Brian, it's Bill! Looking at this clip we will rate, it looks more like Bill is singing this, but the bottom line is - and what those commenting on YouTube are forgetting, is that Bill is the only one out of the 3 who sang backing vocals on both versions - and on both versions we hear the very same falsetto.... Guess I should also note that an excellent live version of this song from the band's 1982 live LP, Still Life, reached number 62 on the UK Singles Chart. While I like Keith's backing vocal heard here (Bill stopped singing live after '67 or so for the band), no, there's no falsetto heard on this live take.
But let me now talk about this clip that we will rate this week. First, as I just noted, the "guitar version" of the song wasn't recorded until November of '64 and wasn't released until early in '65, at first in the UK only. Yet the band, 3 weeks before recording the guitar version, played this new version of the song live on U.S. TV. While I recall watching this live on TV, I don't recall it being a different version of the song. Then again, I was just a preteen back in those days and while I totally recall watching all of these shows that the Stones and Beatles were on back then, you go and try to recall everything you saw on TV from back almost 60 years ago (that is, if you're that old) and try to remember what you were thinking at the time. But anyway, while this is great fun to watch, there's 2 things wrong with this appearance for the Stones. Since I noted this for a couple of the other Stones songs before we voted and rated them, I feel it's only fair to note it again now. That is, just like what was wrong with some of their other early appearances on TV, we again have terrible camera work that we have to put up with whenever we watch this. Yep, like the other early TV shows that we already rated - while the Stones are playing fine on all of them, a couple got lower ratings because of these crappy camera shots, and this one we are about to rate is real bad in that regard. While Keith is playing his excellent lead guitar riff solo, he isn't shown at all!! Instead we get to either look at Mick - or – see screaming girls in the audience instead. Not even once, do we get to see Keith playing that solo. So no, this just didn't happen to only Brian, like when he played the lead guitar on TV for "The Last Time" and they didn't show any of him playing that - well it's the same kind of deal here for Keith. Do we let that slide when we rate this and go only with what we hear? Well we could, but we didn't do that with the other early songs that we rated ("The Last Time" only scored an "8") - and yes, it's the entire film clip that we are supposed to be rating, and not only the Stones performance. So, it's up to you to decide alone how you will go about rating this one.
To vote on this week's question and watch the video, just click on this link: Stones Weekly Poll.
Looking back at the results for our Stones poll last week, the question asked: Rate the Stones live performance video for 'Respectable'
Respectable video
Voters liked this video and gave it a 10 for the top spot, with 19.8% of the vote. To see the full, final results from last week's Stone poll, just click here: Stones Weekly Poll - week 1,077. You can also check out the final results from this poll at our new all in one video page here: Top Video Ratings and Standings Page. Or at the old Stones page here: http://www.keno.org/rolling_stones/stones_fans_top_picks_2.htm
Please note that I have one last thing to say about the results from this Stones poll (and the other 3 polls, too) at the close of this post.
But for now, let's talk about this week's Classic Rock Poll, where we enter week 718 of the poll and as usual, we will vote on 2 different Rock Poll questions. The first Rock poll has a brand-new question this week and asks: What is the best Rock Song written about history? (Part 1 of 3)
History in the making: Brian, Keith, Mick in the studio recording "Sympathy for The Devil"
If there's one thing we have a lot of at these Rock polls, is multi part polling. But when you're dealing with so many rock bands and artists, it makes total sense that would happen…. So for this question we look at songs written about historic events. While some Rock n Roll history will be noted, more so will be world history in general. I came up with 41 songs that made the list, so that's just enough for a 3-part poll. The normal rules we go by for a 3-part poll question are in place for this one, and after 20 years I think I don't have to really go over them again here, since most of you know them already.
To see all of the songs listed in the first round of this question, and to cast your vote in this week's first Rock poll, just click here: Classic Rock Poll, and when you get to this page, choose "Poll 1" to vote on this question.
For our second Rock question of the week, we have the Rock Video Polls, and will ask this: "Rate The Doors' fan made Video for 'L.A. Woman'"
Jim Morrison driving his '67 Shelby Mustang from the fan video
Well, if you recall the video question last week (which was actually a VS poll question), we asked for the best of the 3 main videos for this song, and whichever one came out on top, we would rate this week.
So the fan video it is! I'll talk about the close final results below, but to just recap what this video was about, as noted, it was put together by a fan around the year 2010 and it features the Doors and is loaded with action. I'll just repeat myself from last week now here with the same info I used then, so feel free to skip this next bunch if you don't feel like re-reading this again…. This video was put together nicely using old footage of Jim and the band (on and off stage), and with Jim driving his old 1967 Shelby Mustang (well, it wasn't that old back then) in the U.S. southwest desert in most of it (this was taken from the 2009 film When You're Strange, and filmed in 1969). There's also a couple of other movie clips mixed in to this vid, too (from movies where hot rods were featured- Bullitt and Vanishing Point)... Now we rarely ever rate fan videos in these video polls, only on rare occasions, but because of what you fans told me last week with your vote, we will vote on this one this week!
To view and rate this cool video, just click here: Classic Rock Poll, and when you get to this page, choose "Poll 2" to vote on this question.
Last week for our first Rock Poll, the question was: What is the worst Disco song made by a Classic, non-disco Rock band or Artist? (Part 3 of 3)
Disco does suck!
While the poll did very well gathering votes for the 3 weeks it ran, aren't you glad it's over with!? Anyway, the top pick was a clear choice, and yes, the great Peter Townsend perhaps made the biggest mistake of his music career when he took the greatest song he ever wrote and turned it into a damn disco song! The horror! Second place went to Phil Collins' second take of his hit "Sussudio" [Extended Mix]. Yeah, it's bad too! Yet I don't agree with the third-place choice, that being the Stones "Hot Stuff". Yes, I agree the Stones deserve being in the top 3 picked for this list – but just not this song.
To see where the other songs ended up in the polling, just click on the final results from this poll, here: Classic Rock Poll, week 717, Poll 1. Or to view the top results on the Top 10 list page, you can do so by clicking here: Top Ten Lists, Page, 16. The results are located at the bottom of the page.
Last week in the Rock Video/VS Poll we voted on this question: "L.A. Woman" by The Doors. Official Video released in 1985 vs Professional Skateboarders Video vs Fan Made Video. Which video is better?"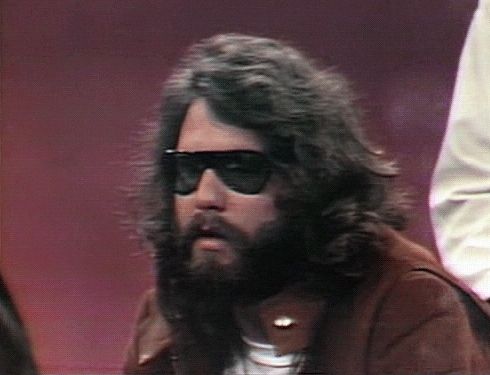 Jim Morrison of the Doors, in his final months of life
As noted above, the fan made video took first place. This was clearly a 2-choice race between the band's official video – made years after Morrison's passing, and the fan put together flick. I myself liked the fan video better, too. But the professional skateboarder's video did terrible, to say the least, receiving just 5 votes in the first 2 days - and not another vote for the rest of the week!
To see the final results from this poll, just go here: Classic Rock Poll, week 717, Poll 2.
As usual, we close out this Poll Post talking about the Beatles Poll. This week we enter week 469 of polling, and we'll continue on answering questions about how much we like or dislike the Beatles albums covers. We're almost done with the studio LPs, with just 3 to go including this week's question, which is: Rate the artwork for the front cover of the Beatles LP, Abbey Road
Abbey Road front cover
Abbey Road was the eleventh studio album released by the Beatles, on September 26, 1969. Named after the location of EMI Studios in London where most of the Beatle albums were made, the cover features the group walking across the street's zebra crossing, an image that became one of the most famous and imitated in popular music. The album itself was a pure masterpiece, perhaps their best ever made, as many feel this way, and while it wasn't the last released, it was the last recorded by the group (in the UK and U.S., the delayed Let it Be LP would still need to be released, and in the U.S., the last release of a new studio LP, Hey Jude would then follow).
But Abbey Road was indeed great all over, and fans just loved the cover and of course it had several clues to the 'Paul is dead' rumors that were going around at the time. Including the following; the cover photo was really showing the Beatles walking out from a cemetery in a funeral procession. The procession was led by Lennon dressed in white as a religious figure; Starr was dressed in black as the undertaker; McCartney, out of step with the others and wearing no shoes, was a barefoot corpse; and Harrison dressed in denim was the gravedigger. Then also, the left-handed McCartney is shown holding a cigarette in his right hand, indicating that he is an impostor and not the real Paul. But my favorite was how the Volkswagen parked on the street and shown in the photo, had a license plate numbered and lettered as "28IF", meaning that McCartney would have been 28 if he had lived. The person who owned the Volkswagen noted that after the albums release, his plates would keep getting stolen by Beatle fans and in time would have to get his plate number changed to get it to stop.
Before I rap this up, as a few of you know, I run a very successful "Colorado Cam" site on my (this) domain, and while it gets all kinds of hits to it's many pages, one of the most visited links is for the live Abbey Road cam that shows the very same zebra crossing on the Abbey Road cover. What's the connection to my Colorado Cams and the Abbey Road cam that's about 5,000 miles away from Colorado? Just a true and very strong love for the Fabs, that's all! But if you would like to check out the live Abbey Road cam directly from that site in the UK, just go here: http://www.abbeyroad.com/crossing. On a normal day, if you watch long enough, you will see fans taking pictures pretending they are the Beatles walking across the street. But right now with the damn coronavirus, that may not be the case as I believe the same madness is going on in the UK as what we are seeing here in the States, and that people and tourists are staying at home.
But getting back to this poll, it's time to vote on this album cover. To do that, just click on this following link: Beatles Weekly Poll.
Last week at the Beatles poll we asked: Rate the artwork for the front cover of the Beatles LP, Yellow Submarine
Yellow Submarine UK front cover w/"NOTHING IS REAL", which the U.S. cover lacked
Yet another Beatle album that is well liked, with a "10" coming in first with 26.4% of the votes. To see the poll's full result, just go here: Beatles Weekly Poll – week 468. Or to see the album rating standings on the Beatles List Page, click on: Favorite Beatles Album Covers List Page. The standings can be found up on the top of the page.
Now as I noted above, just a bit more on the final totals from each poll run last week. Ever since Gasland closed down over a year ago, the weekly polls, while still doing well enough, hadn't been as busy as they were in the last 2 or so years of Gasland. But not last week, all the polls did very well (maybe because everybody – or most everybody, is stuck at home thanks to the now worldwide pandemic?) But we had one of the better weeks that we have seen in the last 2 years or so. The total votes for the Stones poll was at 1490 votes – the 4th highest vote count ever there and second-best total this year. At the Beatles poll, we had 1578 total votes, it's second ever highest total, then for the 2 Rock poll questions, for the Video poll, which was actually a VS poll last week, 1325 votes were cast, which would be a record high vote count for the VS polls, or the second highest vote count for the Video Poll. Then for the main Rock poll, which is almost always our most voted on poll, we saw for the disco question, 1702 votes last week, good for the fifth highest vote count ever for that poll. The highest vote count ever still stands for this poll and all the polls, which is 1834 votes, so no, we have never seen a 2,000-vote count total before in one week for any of our polls. I also realize that's nothing compared to polls that a place like a big news site runs, but hell, I'm just running a few simple fan sites here, so I don't really care. I'm happy as long as 1,000 a week plus keep showing up to vote in each poll, each week. That's good enough for me, Ronnie!
In closing, I do hope all of you are hanging in there with this terrible coronavirus pandemic. I lost my last remaining blood aunt 2 days ago to walking pneumonia (which isn't supposed to kill you, but does old people), she was 86, and was my mom's little sister, and her kids noted that she wasn't tested for the virus since she became sick out of nowhere and died suddenly at her home. I won't be surprised if it was coronavirus. Regardless, like everybody else, I just want to see this go away asap. But it doesn't sound like that is gonna happen anytime soon. But with my oldest kid having a rare form of blood cancer, she's been told not to go out anywhere and not to see anybody, not even me! Her husband was away in Houston for 2 weeks and just returned to Colorado last week – and he had to be tested first before he could enter their home. He stayed in their camper until he was told he wasn't sick.
Considering how many of you still lurk at this board, I hope all of you are okay, yet my guess is some of you are sick with this. If so, I wish you the best – in fact I hope for the best for all of us, that we all stay healthy until this passes, and that we stay sane, too.
As usual, I thank all of you for voting in this week's and last week's polls!
Keno
Gasland Thread
---
Post Follow-up
---
Note: Do not hit the "Post Message" button more than once, even if it is taking a long time to post your message. Doing so may cause a double post to appear and could slow down your posting time even more.
Filter Threads/Archives
---
---
Download your free, customizable Burton Networks Message Board now!
© 1998 - 2020 by Keno Internet Services, except where otherwise noted. All rights reserved.