---
IT'S A GAS, GAS, GAS!!
MESSAGE BOARD ARCHIVES/WEEKLY ROCK POLL POST
Return to Gasx3/Poll Post Board Homepage
---
Gasland Message
---
Name: Keno
E-Mail: keno@fairpoint.net
Subject: Poll Post for the week starting Monday, Jan 13
Date: Sunday, January 12, 2020
Time: 11:52:17 PM
Remote Address: 97.107.69.29
Message ID: 320425
Parent ID: 0
Thread ID: 320425

Poll Post for the week starting Monday, Jan 13
Time to get our weekly Poll Post underway for our 4 weekly polls, and as usual we start with the Stones poll, where we enter week 1,068, and for this week we continue to ask about the Stones supporting cast, so here's this week question: What was Jack Nitzsche's Best Work heard on a Stones song?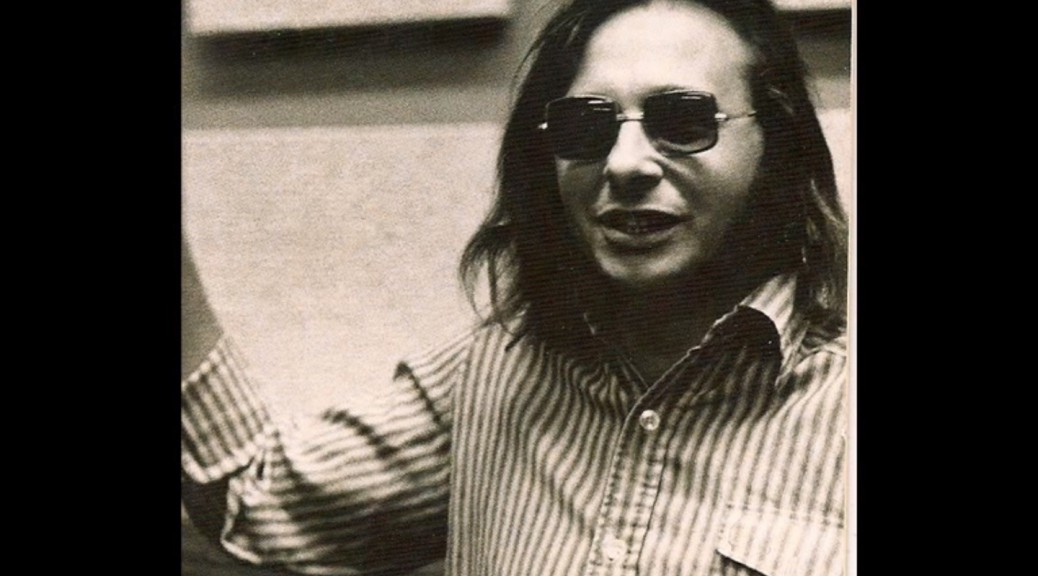 Jack Nitzsche in the 1980s
Jack Nitzsche was one hell of a piano player, among other things. Born in Chicago in April of 1937, he started out as the right-hand-man of producer Phil Spector. Besides being a great piano man, he also was known for being a music composer (his first hit single was written with Sonny Bono, with whom he penned the #1 song "Needles and Pins" by The Searchers), orchestrator, arranger, session musician, and record producer. He also wrote the film scores for more than 30 well known movies, too, including the Mick Jagger film Performance, plus The Exorcist, and One Flew Over the Cuckoo's Nest, to name a few. In 1983, he won an Academy Award for Best Original Song, for co-writing "Up Where We Belong". He was also one of the original members of the band Crazy Horse, and after that he played often for Neil Young on his solo albums. With the Stones, he was more so around in the early days and was one of the first session players that the band used, playing on 18 songs. Then one day while hanging with Jagger in the studio on a break, he suggested that they open up the new song the band was working on, "You Can't Always Get What You Want", with a choir – to add something different to the song, and after Jagger agreed to it, Nitzsche wrote the choral arrangements that the London Bach Choir would sing on the song.
But in the studio playing with the Stones, his piano playing was close to what we heard when Stu played with the band, a raw and dirty piano style, just the way the Stones liked it best. He also sometimes combined his piano and organ playing together, getting them to sound in a way that nobody else ever could while combining the instruments, including doing this on 2 Stones songs, and with the Stones crediting him for playing the "Nitzsche-phone" on those numbers, even if such an instrument never existed.
Nitzsche was also known as being a good sax player, too, and while he also played slide guitar with Neil Young, he never played any of those instruments on any Stones recordings.
Jack is well missed today. He suffered a stroke in 1998, which he never recovered from. He died 2 years later at the age of 62 from cardiac arrest, brought on by a recurring bronchial infection which he first came down with after his stroke.
To see the song list of the Stones songs that Jack played on and vote, just click here: Stones Weekly Poll.
Looking back at the results for our Stones poll last week, the question asked: What was Billy Preston's Best Keyboard Playing heard on a Stones song?
Billy Preston playing keys
So, after a full week of voting on this question, we didn't get an answer – yet, to which song Billy played best on. Of the 18 song we voted on, only 5 of them were in the running and took in almost 80% of the votes – with a tie for first place taking place between "Melody" - Played piano, organ, percussion, sang vocal harmony, and was songwriter (uncredited), and "Shine a Light" - Played piano and organ, with both taking in 15.8% of the first place votes. Third place went to "I Got the Blues" – which he played organ on (taking in 15.3%). So a runoff poll must be run – sometime in the next 2 weeks or so. So look out for that one happening soon!
To see the full results from this poll, just click here: Stones Weekly Poll - week 1,067.
Now let's check out this week's Classic Rock Poll, where we enter week 708 of voting, and as is the norm, we will be voting on 2 different Rock Poll questions for this one. The first poll's question is this: What's the worst Number 1 Rock/Pop song ever made?
Nope, not 25, but 32!
First make sure you read that correctly, we aren't looking for the best here like we usually do in these polls, but this time for the worst. Plus unlike what the photo above says, we got 32 of these songs to choose from, not 25! Hey, I had to come up with a photo/graphic real fast and this is what a Google search suggested. But let's talk about the poll question….
For the most part, these are all songs that made it to #1 in the U.S. on one of the major Billboard charts. But, there are 4 songs out of the 32 I list that actually didn't make it to #1 in the U.S., but did so in several other major countries, while making it to the Top 5 in the U.S. So those 4 songs will be in the song list, too, but that fact will be noted. Also note that I am not including Rap/Hip Hop songs on the list, or we might be voting for the next year on this one. So a song like "My Humps" by The Black Eyed Peas, looked at as being one of the all times worst #1 songs ever, won't be on the list, even if some might look at it as Pop. Also, I included one lone #1 Country hit single on the list, that being "Achy Breaky Heart" by Billy Ray Cyrus, since it's also looked at as a Pop song, and a Southern rock song, too. If you feel I forgot a real bad #1 song that should be listed, let me know ASAP, but I got a feeling I got all of them.
Now deep down it don't matter when these songs were released, but for the heck of it, I did count them up after I made up the list, but to note, I didn't look at the year the songs were made while putting the list together, either. Anyway, afterwards when I did look to see when they were released, well first, the songs listed just happened to be released between 1955 and 2006, and as far as the decades go, there's just 1 from the 1950s, 6 from the '60s, 7 from the '70s, 10 from the '80s, 5 from the '90s, and only 3 released since 2000. But no, that doesn't mean that bad songs aren't being released anymore these days, it only means that I, the list master, just has given up on new songs in the last 20 years and don't know that many new ones, good or bad, since I don't listen to... pay attention to, new music at all anymore, unless it's something an old classic rock band releases. But yes, my teen grandson does play a lot of new music up in his room that I can't help but hear, and while I like some of it, the stuff he plays that I don't care for, still isn't as bad as the 32 songs listed in this week's list. But the real question is, just how the hell did these songs that we will choose from, ever become #1 hits in the first place?
Oh, one last thing, I don't dislike all of these songs listed. Yes, a few I actually like, but I know that others despise them. Like "Ebony and Ivory" for example. Okay, it's very cheesy indeed, but not that bad to me, too. "We Built This City" is another one that many Rock fans dislike. I see it often on top of a list like this, but why? I think of all the songs listed, it's the best of the bunch, and while that may not be saying much (I mean, we got some real bad songs listed this week!), why does it suck so bad to so many? But hey, it did make it to #1, so I can't be the only one who actually likes the song, and hey, at least there's 2 songs listed that are okay with me.... No wait, I almost forgot "MacArthur Park", too, which I also like. Yes, I agree its lyrics are insane - I mean, who in their right mind would leave a delicious green cake out in a rain storm, and then write a song about it?! But damn, for a heavy drinking, mad movie actor like Richard Harris, he totally nailed that one on vocals! (and yes I know, the cake was just a metaphor for what the song was really about, but I can joke, right?…).
So anyway, to cast your vote in this week's first Rock poll for the worst #1 song ever made, just click there: Classic Rock Poll, and when you get to this page, choose "Poll 1" to vote on this question.
For our second Rock question of the week, we have the video polls, and ask this: Rate Simon & Garfunkel's live performance video of "The Sound of Silence"
The Sound of Silence – 45 single's sleeve
I can't believe I haven't yet run anything in the video polls by Simon & Garfunkel yet, but then again, they didn't really make any music videos, and there aren't too many live clips out there of them singing together, either, not that are available anyway to use for a poll like this. But this one is of them singing their first hit single, "The Sound of Silence", and comes from an October 29, 2009 reunion at Madison Square Garden, in their former hometown of NYC (well, they were from Queens to be exact, and today Simon lives in Connecticut and Garfunkel now lives in Jersey, the last I heard). Anyway, this clip that we will rate comes from the 25th Anniversary Rock n Roll Hall Of Fame Concert. To vote in this week's video poll and check out the video, click here: Classic Rock Poll, and when you get to this page, choose "Poll 2" to vote on this question.
Last week in our first Rock Poll, the question was: What is the best Song about being Stoned (Part 3 of 3)
My oh my was this one real close for 19 of the 21 songs that made the final cut. "Comfortably Numb" by Pink Floyd ended up being the top pick and winning the poll with 5.6% of the vote! Good pick, even if I didn't go with it myself. "White Rabbit" by Jefferson Airplane came in second with one less vote at 5.5%, and with just 2 less votes than that one in third was "Illegal Smile" by John Prine, the tune I voted for, with 5.3%.
To see the full, final results from this poll, just go here: Classic Rock Poll, week 707, Poll 1. Or you can check out the result from this one, here: Top Ten Lists, Page, 16. The results can be found at the bottom of the page.
Last week in the Rock Video Poll we answered this one:Rate Ram Jam's official performance video of "Black Betty"
Well no question about it, we all, other than for one lone voter, liked this video very much. Yep, 99.9% voted this one a 7 or higher, and with over 93% voting it an 8 or higher. The Top pick was a ten rating with 31.2% of the vote. To see the full, final results from this one, just go here: Classic Rock Poll, week 707, Poll 2. Or to view the video standings and where this one fits in now on that list page, you can do so by clicking here: Top Ten Lists, Page, 16. The results will be found near the top of the page.
Just for the heck of it and on a side note about the songs listed in the video standings on the Top 10 Page, well I guess I was in a mood to count on Friday when I put these polls together, and I see that now 29 videos have been rated by us as being "10s" (and that's not counting Stones or Beatles vids, which have their own, separate lists and pages), another 8 have been rated a "9", 2 have been rated an "8", and only one a "7". I would say that our voters are generous indeed when they vote, but then again, I do try to pick my favorite vids, too, when I choose videos to be voted on, and I guess these videos are all also loved by most of our voters, too. But sooner or later I guess I'll get to the poorer vids, too, and I will get to them, but more than likely, later and not sooner…..
We finish up this week's Poll Post talking about the Beatles Poll. Entering week 459 of polling, and we'll in the middle of answering questions about how much we like or dislike the Beatles albums covers, so here's the question: Rate the artwork for the front cover of the Beatles LP, Help! (UK release)
Help! (UK release album cover)
We did ask about this UK LP's cover in a VS poll last September against its U.S. cover and the results couldn't have been closer. I'm not gonna say which one came out on top since I don't wish to sway the vote in any way what-so-ever for this week's question. But you can always look it up if you have to know before you vote, but I say - do that after you vote, instead.
Help! was released in the UK on August 6, 1965, a week and a day before the U.S. Help! came out, so we will rate this one's cover first. The album cover shows the Beatles with their arms positioned to spell out a word in flag semaphore - or in layman's terms, the telegraphy system using flags to convey information at a distance by means of visual signals with hand-held flags. Information is encoded by the position of the flags…. But when the Beatles spelled out the word "H E L P" for the photo that would be used on the cover of their new movie's album, the photographer, Robert Freeman, who had shot many other Beatle covers in the past, didn't like how the arm's position looked when they spelled out the word, so he changed where the Beatles arms would be by re-positioning them so it would all look better, and what the Beatles were now spelling instead was the word... err, well, it was no longer a word, but the letters "NUJV" on the UK cover and "NVUJ" on the U.S. cover. So while the cover poses of each band member looked cool enough, they made no sense at all in the flag semaphore that they were sending out. So you could consider that in your vote if you want to, but I already know that all of us Beatle fans didn't care back in '65 and I bet that most of us still don't really care about that today, either. As long as the cover was cool looking, we were satisfied. But if you just hate this cover for any reason, well, I sure don't have to tell you how to vote.
Anyway, to cast your vote in this week's Beatle Poll, just click on this following link : Beatles Weekly Poll.
In last week's Beatle poll….the question was: Rate the artwork for the front cover of the Beatles LP, Beatles VI (U.S. release)
Beatles VI
This one didn't do as good as most of the other album's covers have done, but then again, it could have scored worst, too, but it did see the second lowest cover score so far, as a "7" was the top pick…. To see the poll's full result, just go here: Beatles Weekly Poll – week 458. Or to see the final results on the Beatles List Page, click on: Favorite Beatles Album Covers List Page for the top pick, found up on the top of the page.
So that's it for this week's Poll Post! I know some of you watched some of those football playoff games today, and my gosh, I'm not impress with the teams that are playing this year at all. How the hell did Houston blow a 24 to 0 lead to KC?..., and how did KC let themselves fall that much behind at home to a team that isn't anywhere as good as them? I don't care if they came back to win, they never should have fell that much behind at home if they were the great team I thought they were. Boy am I looking forward to next year when my Broncos will be 100% improved, hell, they were already improved in 3 of their last 4 games, thanks to starting their new QB – from yes, KC, in those games! Drew Lock is special indeed and I can't wait till this former Chiefs fan kicks his former home town's ass's next season. But yes, I know, that's next season, and right now only this season's playoffs matter. I was thinking KC was finally gonna win it all this year, but after today, I no longer think that way, SF will beat them, if they can get past GB next week, and I think they will… but don't care either way, and GB can beat KC, too. But I do expect to see KC winning their last game of the season - next week, so they will make it to the Super Bowl this year and lose their last game of the year there. But then again, what the hell do I really know?
I thank all of you who took the time to vote in our polls both this week and last week, too!
Keno
Gasland Thread
---
Post Follow-up
---
Note: Do not hit the "Post Message" button more than once, even if it is taking a long time to post your message. Doing so may cause a double post to appear and could slow down your posting time even more.
Filter Threads/Archives
---
---
Download your free, customizable Burton Networks Message Board now!
© 1998 - 2020 by Keno Internet Services, except where otherwise noted. All rights reserved.