---
IT'S A GAS, GAS, GAS!!
MESSAGE BOARD ARCHIVES/WEEKLY ROCK POLL POST
Return to Gasx3/Poll Post Board Homepage
---
Gasland Message
---
Name: Keno
E-Mail: keno@fairpoint.net
Subject: Poll Post for the week starting Monday, Aug 12
Date: Monday, August 12, 2019
Time: 1:00:25 AM
Remote Address: 97.107.69.29
Message ID: 320307
Parent ID: 0
Thread ID: 320307

Poll Post for the week starting Monday, Aug 12
Week 1,046 of the long running Stones weekly poll is upon us at this time, and this week's question asks this: It's Only Rock 'n Roll vs Aftermath, which album do you like best?

vs

or

We are now down to the last 3 weeks of matches left to go for the Stones Album VS poll (out of what will be 300 total battles when we finish it all up). This week it's the last match for the "It's Only a Rock 'n Roll Poll", Polls, and yes, after all of these past weeks and years of polling, well, it still was all just a rock n roll poll, but many of us liked it, and yes, we will still like it for 3 more weeks! This is also the final round for both LPs, and for the second week in a row, another decent matchup will take part here.
It's Only Rock 'n Roll enters its last round with a real nice record of 15 wins against 7 losses, and one tie, and sits in the Top 10, in the 9th place slot in the standings. Aftermath has an even slightly better record of 17- 6, and is for now 2 spots ahead of IORR in the standings, in 7th place.
To see the songs that appear on It's Only Rock 'n Roll, click here: IORR, and for the songs on Aftermath, for the first time in ages, I'll send you over to Wiki to see the songs from both versions, just remember, the Wiki web site is filled with a ton of misinformation on the Stones, but they will have to do this week since I only have the U.S. version listed on my Stones site. But yes, you can choose either the UK LP or the US release when comparing (go with whichever one you know best), but no, do not combine both versions when comparing the LPs. So for Aftermath US or UK, just click here: AM UK/US. Just remember when looking over the songs for the IORR LP and using the link provided here, to ignore my ratings for the songs that you will see on the linked to page, as I never wish to influence anybody with what I have down there for each song before anyone votes. You need to decide on your own which LP you feel has the better songs on it.
To vote in this week's Stones poll, just click on: Stones Weekly Poll.
Looking back at our Stones poll last week, the question was: Voodoo Lounge vs Blue and Lonesome, which album do you like best?

vs

This one was somewhat close at the start, but as the week grew old, VL's lead grew a bit longer, and while the final was no landslide, VL did win by 9 votes. To see the full results, click on: Stones Weekly Poll - week 1,045. Or, you can check out all of the past final results from all of our Stones Album VS Polls and view the updated, current album standings at the Stones VS Page 1.
Now let's head on to the Classic Rock Poll, where we enter week 686, and it was 50 years ago this week - holy shit – 50 full years - that the greatest rock n roll concert - or actually, the greatest rock n roll show and festival ever held, took place, that being Woodstock, of course! For what turned into a 4 day event, but planned as a 3 day show, ran from August 15 to 18, 1969 and yes, it's hard to believe that was 50 years ago. I've always said that it was the greatest show that I missed, mainly because of my age, while I was a teen back then, I wasn't old enough to drive yet or own a car, and while I lived in NY state, the fest site, which wasn't in Woodstock NY, but in Bethel NY, was about 4 to 5 hours away from where I lived, not counting traffic. It is funny how when living out here in the west, a 5 hour ride means nothing - as long as you got a car that is, but back east, you never consider driving for that many hours to go anywhere, in part because of the traffic, and the truth is, it's gonna take a lot longer than 5 hours back east to go that far because of the traffic, even in upstate NY!
Because this event was such a big deal in not only rock music history, but in history period, just by the number of people that it drew, around half a million at the site, with another million (estimated) who tried to go but couldn't get there because all of the roads within miles of the town and fest site - in all directions, were all closed down. Anyway, I will run 2 Rock poll questions in honor of this hippie fest and for just this week suspend the Rock VS poll, which will return in 2 weeks.
So for the 2 Rock poll questions this week, we will keep with the video polls that have been running and look at 2 of the performances that took place at Woodstock. So for our first poll, the question asks: Rate The Who's Woodstock performance video (Director's cut) of "See Me, Feel Me"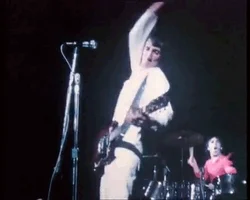 I knew I had to have one of the songs that we covered here this week to be by the Who, as they were one of the best acts at Woodstock, but I wasn't sure which song that they performed that night that I should pick to rate for this poll. Their take of "Summertime Blues" that night was as powerful and great as any other band has covered that song. But we already rated that one in the past here, so just a wonderfully played that night was "See Me, Feel Me", and yes, we will rate that one.
So to expand on what I noted above, many have stated that the Who's performance at Woodstock was not only the greatest performance at the fest, but the greatest live performance by a rock band anywhere, ever. That might or might not be so, since think of all of the other great live performances made by others that were never filmed and released in one of the biggest rock films ever released and seen, as this performance was. So maybe it's better to make the claim that this was the greatest performance ever filmed? Perhaps, but let's rate this one and see what our voters think. Yet the truth was, there were several performances over those 4 days back in 1969 that were just as great.
"See Me, Feel Me" of course comes from the Who's overrated rock opera Tommy. Overrated in my mind anyway, since the lyrics tell a story that to me, has to be one of the stupidest stories ever written (sorry Pete). But the music alone was fantastic - and while looked at separately, the lyrics are fine too, just forget about the silly story that the lyrics all combined tries to tell.
To vote in this week's first Rock poll and see the live video from the movie Woodstock, just click there: Classic Rock Poll, and when you get to this page, choose "Poll 1" to vote on this question.
For this week's second Woodstock Rock poll question, we will vote on this one: Rate Arlo Guthrie's Woodstock's performance video of "Coming into Los Angeles"
Like the first clip/video, this one also comes from the movie Woodstock, but unlike the Who's performance that we are also voting on this week, this one is more a salute to the attendees of Woodstock - who pretty much where the first concert goers anywhere, who started the tradition of smoking illegal marijuana freely in the open, but not only a salute to them, but a salute to weed itself. This is all being shown in the movie during Arlo Guthrie's performance of the drug smuggling song "Coming into Los Angles" that he performed at the event. But we actually see very little of Arlo here, other than in the beginning of this song, and instead we see those who were at the fest indulging in, passing around, and smoking mother nature, as Arlo sings away. The song itself is about bringing in 2 keys of weed into the U.S. on a plane. According to some, this one is yet another true story/song that Arlo tells us about a time when he was flying back into LA on a jet and Arlo caught word that the Feds planned to drug search everyone getting off the small plane that they were on, so he ate his entire stash of weed before the plane landed.
So for this one, while you can still rate how Arlo sounds singing this number, you will also have to consider how this part of the Woodstock movie was put together to tell a story about how so many people openly smoked the devil's weed together at the festival…. To vote in this week's second Rock poll and to see the live video from the movie Woodstock, just click there: Classic Rock Poll, and when you get to this page, choose "Poll 2" to vote on this question.
Now let's look back at last week's 2 Rock polls, the first question asked this: Rate Rod Stewart's video of "Forever Young"
Another rock video and yet another "10" rating for its top pick, although a closer vote took place last week than we have been seeing of late. To see the full, final results from this poll, just click here: Classic Rock Poll 1, week 685. Or to view the results at the list page, you can do that at this page: Top Ten Lists, Page, 16, it's the second list found on the page.
Looking back at last week's VS Rock poll, the question asked: "Tin Man" by America vs "Goodbye Yellow Brick Road" by Elton John. Which song that borrows from the movie The Wizard of Oz, is better??
I guess you can say that we looked at a much different major movie based on music last week. One of these 2 songs noted above won big… which one?... well just click on the following link to find out: Classic Rock Poll 2, week 685. Or to see the results on the VS list page only, please go here: VS Page 3, List Page 15 and look at the bottom of the page for its listing.
Let's wrap up the poll post as usual with the Beatles poll, where we enter week 437 of this poll, and this week's question asks: Of the 2 different U.S. debut Beatle LPs, which one is the better of the two?
VS
Guess you can say this is week 2 of looking at the U.S. forgotten Beatle LPs, this time looking at the twin debut LPs for the band released on 2 different labels. As noted here last week, there were 2 such releases since Capital records, who owned the U.S. rights to the band's albums, at first were blind and didn't realize just what they were sitting on and wasn't ready to release any of their albums yet. That in turned opened the door for Vee-Jay Records to grab the rights to the first release, and they released the first LP on January 10, 1964, and when Capital realized the major mistake that they made after seeing the Vee-Jay release shooting up to the top of the charts, they tried to block the sale of the Vee-Jay release while rushing their release with mainly different songs than what were found on the Vee-Jay record - 10 days later. Vee-Jay was allowed to continue to sell its release for 6 months after its release, and ended up in that short time selling almost 2 million copies and the LP was certified gold and platinum by the RIAA. Then after that time, the Vee-Jay LP disappeared from stores for good, and never allowed to be sold again. This I believe is the only such top selling album to have this happen to it and not re-emerge again in time, since it wasn't allowed to in its original form. But yes, all of the tracks did finally show up in November of 1964 on the LP The Beatles' Story which was released on Capitol, who by that time reestablished the rights to the songs found on the Vee-Jay album, but again, The Beatles' Story was a different album indeed.
So as just noted, these 2 debut LPs were indeed different, and there will be links on the voting page where you can check out the songs on each LP before you vote. To see these links and vote in this week's Beatle poll... just click here: Beatles Weekly Poll
In last week's Beatle poll….the poll question was: Compared to their UK counterparts, what was the best album from the Beatles American LPs that were released?
Rubber Soul and Yesterday and Today were the only 2 LPs to receive the majority of votes, bringing in 71% of the total votes between them. To see which LP came in first and were the other LPs ended up, just go here: Beatles Weekly Poll – week 436. Or to see the final results on the Beatles Albums list page, click on : Beatles Albums for the results.
So that's it for yet another week of polls!.... Today here in this part of Colorado, we had our first fall like day indeed, and it was only August 11! But it was cloudy and cool all day with rain for most of the afternoon and the temp in the lower 50s(F) for most of the day. Unlike back east in the U.S. where you get cloudy summer days with rain all day – that almost never happens here, but it did happen today, in the afternoon anyway. With the schools all reopening tomorrow here, I guess it was appropriate to see this fall-like weather. Yet for me, for the first time in 40 years, I won't have a kid or grandkid in school anymore to deal with. Gee that sure took a very long time to happen, but with my youngest grandson now finished with high school, I'm sure glad that is all over for good. Now I just got to figure out how not to get the weekdays all mixed up since none of them are work or school days anymore. But it is cool when Monday thru Friday are all like a Saturday. Yet too bad that you got to be old until that happens to you, but it is still cool regardless when that time comes around. I'll never get those who say they will never retire, it's like they are scarred that they are going to drop dead if they aren't working, or maybe be forgotten by everybody. But that doesn't affect us hippie like old timers at all, we all look forward to such days and still enjoy life to its fullest while staying as active as our bodies will let us be. Hell, I'm gonna go hiking up in the mountains tomorrow, that is - if the rain stops!
I hope all of you have a great week ahead and thanks for voting in all of our polls!
Keno
Gasland Thread
---
Post Follow-up
---
Note: Do not hit the "Post Message" button more than once, even if it is taking a long time to post your message. Doing so may cause a double post to appear and could slow down your posting time even more.
Filter Threads/Archives
---
---
Download your free, customizable Burton Networks Message Board now!
© 1998 - 2019 by Keno Internet Services, except where otherwise noted. All rights reserved.