---
IT'S A GAS, GAS, GAS!!
MESSAGE BOARD ARCHIVES/WEEKLY ROCK POLL POST
Return to Gasx3/Poll Post Board Homepage
---
Gasland Message
---
Name: Keno
E-Mail: keno@fairpoint.net
Subject: Poll Post for the week starting Monday, July 29
Date: Sunday, July 28, 2019
Time: 10:58:02 PM
Remote Address: 97.107.69.29
Message ID: 320292
Parent ID: 0
Thread ID: 320292

Poll Post for the week starting Monday, July 29
Time to talk about our 4 new Rock polls that we will be voting on this week, starting off as usual with the weekly Stones poll, which enters week 1,044 tonight, and this week's question is: Goats Head Soup vs December's Children, which album do you like best?

vs

The Soup Polls return this week - with 2 battles left to go for its host LP, Goats Head Soup. But this week will still be the last round of the Soup polls' series regardless, since there's only 5 more weeks left to these Stones Album matchups after this week and in turn that means that there aren't enough weeks left for us to get back to this series after this week. BTW, with that in mind, GHS's last battle will be against Sticky Fingers, which more than likely will be the very last round of this long running Stones poll series (6 weeks from now).
As far as GHS and its record in these matches go, it sits in 6th place in the album standings with 18 wins and just 4 losses. This week it takes on December's Children, which is one of the few Stones '60s LPs that has a losing record, at 9-13-1, while sitting in 15th place. This will be DC's very last battle.
To see the songs that appear on Goats Head Soup, click here: GHS, and for the songs on December's Children, click here: DC. Just remember when looking over the songs on each LP, ignore my ratings for the songs that you will see, as I never wish to influence anybody with what I have down there for each song before anyone votes. You need to decide on your own which LP you feel has the better songs on it.
To vote in this week's Stones poll, just click on: Stones Weekly Poll.
Looking back at our Stones poll last week, the question was: Beggars Banquet vs Blue and Lonesome, which album do you like best?

vs

Well as I have pointed out in the past few weeks, the last of the remaining matchups aren't the best of the bunch as far as seeing close battles take place, and last week there was no guessing which LP would be up on top by week's end. But to see the final totals and view by how much of a landslide BB won by, just click on the following link: Stones Weekly Poll - week 1,043. Or, you can check out all of the past final results from all of our Stones Album VS Polls and view the updated, current album standings at the Stones VS Page 1.
Okay, so now let's move on over to the Classic Rock Poll, where we enter week 684, and where we vote on 2 different poll questions in one week. At our first poll, the question asks: Rate Pink Floyd's video of "Another Brick in the Wall"
The song and video comes from the album The Wall, which was yet another Pink Floyd masterpiece of work. The single alone sold over 4 million copies worldwide. This video of the second part of this 3 part song has a young kid named Pink who dreams of rebelling against his very strict school, although as the video moves on its clear that the kids are the losers here, other than at the song's ending when they do finally revolt. The song (and album) was produced by Bob Ezrin, who was recommended to the band from their close friends from the U.S. band Alice Cooper, who produced them and this song. Ezrin suggested that Pink Floyd used a children's choir in the song, in the same way he used one on the Alice Cooper hit song "School's Out", which was yet another song that told a tale about kids rebelling against school authorities. It all worked out great for Floyd, with then also using children in the video, too.
There's a link to the video at the voting booth, so you can check it out again before you vote. Then to vote in this week's first Rock poll, just click there: Classic Rock Poll, and when you get to this page, choose "Poll 1" to vote on this question.
At the second Rock poll this week, known better as the Rock VS poll, we will vote on this question: "Everybody's Taking" vs '"I Guess the Lord Must Be in New York City". Both songs sung by Harry Nilsson and connected to the movie Midnight Cowboy. Which one is sung better?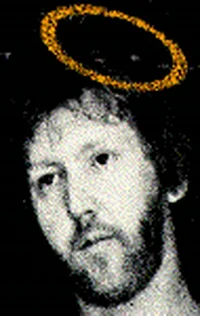 Both of these songs were connected to the 3 time Academy Award winning (including Best Picture) movie Midnight Cowboy, although in the end, only one of these songs was used in the film, that being "Everybody's Taking", which was written in 1968 - but not written for the movie. "I Guess the Lord Must Be in New York City" was written for the film, and both songs were sung by Harry Nilsson, who at the time was only known as "Nilsson" - and he was credited in the movie in that matter.
While sung by Nilsson, "Everybody's Taking" was written by Fred Neil and won Nilsson a Grammy Award for Vocal Performance by a Male (while his own song "I Guess the Lord Must Be in New York City" was also nominated for the same award). But "Everybody's Taking" was chosen over "I Guess the Lord Must Be in New York City" for the film Midnight Cowboy and became the movie's main theme, and actually had 2 different versions to it, featuring different musicians on its album version verses the soundtrack album that was released by United Artists Records in 1969. The song was also a Top 10 hit on the Billboard charts (at #6).
While "I Guess the Lord Must Be in New York City" was written by Nilsson for the movie Midnight Cowboy, it wasn't used in the film, yet it too became a big hit single for him anyway (his second hit), also in 1969. Nilsson felt this one was the better of the two songs submitted, and singing wise, he may have been correct. The tune would eventually be used in a different film – in 1971, in Lady Liberty, which starred Sophia Loren. This song made it to #7 on the U.S. Billboard Easy Listening charts and to #3 in Canada on its Adult Contemporary chart.
Both songs highlighted and showed that Harry Nilsson had a singing voice and vocal range larger than just about any modern day male vocalist around. But which of these 2 tunes did he sing better? To cast your vote in this week's second Rock poll, just click here: Classic Rock Poll, and when you get to this page, choose "Poll 2" to vote on this question.
Now let's look back at last week's 2 Rock polls, the first question asked this: Rate The Grateful Dead's video of "Touch of Grey"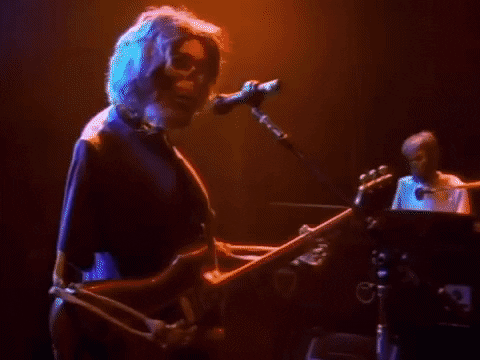 This video, the first and one of just a few made by this band, was a well-liked, at least going by our poll voters, with 31.8% of you voting it a 10.0 for the top pick (the 4th highest score ever in rating these Rock videos). Ratings of a "9.0" and then a "8.0" were voted on for the next 2 top picks, with those first 3 spots bringing in a total of over 94% of all of the votes in the poll!
To see the full, final results from this poll, just click here: Classic Rock Poll 1, week 683. Or to view the results at the list page, you can do that at this page: Top Ten Lists, Page, 16, it's the second list found on the page.
Looking back at last week's VS Rock poll, the question asked: Don Henley vs Glenn Frey. Which of these 2 Eagle bandmates was the better songwriter both while in the band and as solo artists?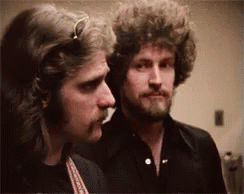 Not too close for this one, as Don Henley won by a nice margin. You can click on the following link to see the full results from this poll: Classic Rock Poll 2, week 683. Or to see the results on the VS list page only, please go here: VS Page 3, List Page 15 and look under the "Songwriters VS Polls".
We close out our poll post with the Beatles poll, where we enter week 435 of this poll, and this week's question asks: Which is the Beatles' best traveling song?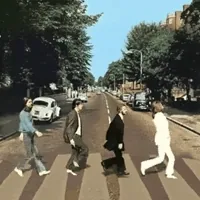 We already had asked this question in the Stones poll - twice, once in 2002 and then about 12 years later again by accident. Then a year or 2 ago somebody wrote in a poll suggestion to ask this question in the either the Stones or Rock poll, as it's funny how we do all forget which questions have been asked already. Thing is, it hasn't been asked yet in the Rock poll and maybe someday it will. But for this week, it makes for a great question for the Beatles poll!
I came up with 13 songs to list for this question. The one Beatle song to have the word "trip" in its title, "Day Tripper", won't be listed, since it isn't about that kind of trip. One choice that I did list might be a borderline song for this list, which is the instrumental tune called "Flying". Since there are no lyrics to this one, other than Ringo's humming, we can't be too sure what the song is about, and while Paul mainly wrote the song, he never has said, since it's mainly just an instrumental with humming. Many fans take this song for a drug song - about a drug trip on LSD, hence why it's called "Flying", they claim. But Paul never confirmed that, plus it was also claimed that the song was actually a tune that John dreamed about (the humming part) and where Paul got the idea to write music to it, after John told him about his dream. So maybe it came from a dream and not drugs? But John supposedly also noted that in the dream he was on a trip (not an acid one) and traveling around some town while humming "Tra la la la la la". Yes indeed, John had a few songs that came from dreams. So maybe the song was from a dream about a trip, and BTW, it was included on the Magical Mystery Tour album and soundtrack, which is of course, about going on a bus trip.
Now there's another 12 songs to choose from for this poll question, and some of them are true dandies indeed! The rest of these tune are clearly about taking a road trip, some by car ("Drive My Car"), two by plane ("Back in the U.S.S.R." and I guess "Flying"), one by train ("One After 909"), one by sub ("Yellow Submarine"), while the rest don't say how they would get around - other than they are traveling. "Ticket to Ride" had a double meaning to it, one that has a girlfriend leaving a guy (but it doesn't say what kind of transportation the ticket is for), and of course, the non-traveling title was mean to be about the prostitutes that the Beatles knew when living on the road in Germany playing gigs - before they made it big, and a "ticket to ride" was a clean bill of health card that the Hamburg hookers were given by the German government so they could practice their trade legally. Or was it that? McCartney supposedly said the title referred to "a British Railways ticket to the town of Ryde on the Isle of Wight", but Lennon, who actually wrote the song's lyrics, is said to comment that the song did described cards indicating a clean bill of health carried by the Hamburg prostitutes in the 1960s. A "ride" was British slang for having sex. But while these stories might or might not be true (they can't all be correct), the song is still about a gal about to leave her man behind by taking a trip to get away from him.
To vote in this week's Beatle poll... just click here: Beatles Weekly Poll
In last week's Beatle poll….the poll question was: 'Komm, gib mir deine Hand' (I Want to Hold Your Hand) vs 'Sie liebt dich' (She Loves You). Which German version of these 2 songs was better?
Verry very close voting in this one, but as close as the votes were, one song lead for most of the week and won out in the end. Which one? To find out, just go here: Beatles Weekly Poll – week 434. Or to see the final results on the Beatles VS page, click: here and look under "songs" for the results.
I thank all of you for continuing to take part in our polls each week! As of now, last week's Poll Post was the first one ever (in over 20 years) to not see any replies made to it. That saddens me a bit, but then again, only 14 people have passwords to post here, as all of the passwords from the Gasland board were canceled back when it closed down at the end of January. But while our polls have always seen fewer voters in the summer months, voting last week was up in all of the 4 polls run - from what was voted on a week before. Yet still, we usually see the same 5 or 6 posters replying here each week, just not last week. Since the person who was supposed to rework the board and split the old Gasx3 board into an archive board only while making this current board separate from the old Gas board, well that person never did that work and nobody else wanted to give it a try, as it seems many fear working in the old Classic 1990s ASP these days. So that's why new passwords were never given out, other than a handful given to 14 Gassers who always or at least sometimes, posted in the past Poll Posts. Just no comments by any of them last week, and while I have considered just making up one password for everybody and anybody to use and see how that works, I haven't. Guess deep down I rather just see few or no posts than having to deal with posters I don't know who could cause trouble here or even in the old archives. So while that won't ever happen, if you are a former Gasser or somebody whom I know – and are a good person, feel free to email me and I'll be happy to send you a password to post replies with to our weekly Poll Post!
Have a great week all, and try to stay as cool as possible!
Keno
Gasland Thread
---
Post Follow-up
---
Note: Do not hit the "Post Message" button more than once, even if it is taking a long time to post your message. Doing so may cause a double post to appear and could slow down your posting time even more.
Filter Threads/Archives
---
---
Download your free, customizable Burton Networks Message Board now!
© 1998 - 2020 by Keno Internet Services, except where otherwise noted. All rights reserved.