---
IT'S A GAS, GAS, GAS!!
MESSAGE BOARD ARCHIVES/WEEKLY ROCK POLL POST
Return to Gasx3/Poll Post Board Homepage
---
Gasland Message
---
Name: Keno
E-Mail: keno@fairpoint.net
Subject: Poll Post for the week starting Monday, July 8
Date: Sunday, July 07, 2019
Time: 11:27:01 PM
Remote Address: 97.107.69.29
Message ID: 320277
Parent ID: 0
Thread ID: 320277

Poll Post for the week starting Monday, July 8
Stones poll week 1,041 is here, so let's get this week's Poll Post going for our 4 polls by first talking about the Stones poll. This week's question is:Sticky Fingers vs December's Children, which album do you like best?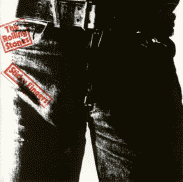 vs

This week's battle has the still undefeated masterpiece Sticky Fingers heading into its 23rd match with a record of 22-0, while sitting in first place in the standings. So this will be the LP's second to last round in this series (with Goats Head Soup the only other LP left for it to go up against after this week).
This week SF will take on December's Children, the 1965 LP that is only one of 3 of the many '60s albums that has a losing record in these battles, at 9-12-1, placing it in 15th place in the album standings (out of 25 spots).
To see the songs that appear on Sticky Fingers, click here: SF , and for the songs on December's Children, click here: DC. Just remember when looking over the songs on each LP, ignore my ratings for the songs that you will see, as I never wish to influence anybody with what I have down there for each song before anyone votes. You need to decide on your own what LP you feel has the better songs on it.
To vote in this week's Stones poll, just click on: Stones Weekly Poll.
Looking back at our Stones poll last week, the question was:Exile On Main Street vs Their Satanic Majesties Request, which album do you like best?

vs

Well this one was a match that we already knew which LP was gonna win from the get-go (kind of like this week's round). Yet the final results were closer than I expected to see. To see those results, just click on the following link: Stones Weekly Poll - week 1,040. Or, you can check out all of the past final results from all of our Stones Album VS Polls and view the updated, current album standings at the Stones VS Page 1.
Now let's move on over to this week's Classic Rock Poll, which enters week 681, and where we vote on 2 different poll questions in one week. At our first poll, the question asks: Of the most unusual songs made by a Rock band/Artist, which one was the worst?
Last week we asked the opposite of this question, so chances are you guessed I would ask this question this week. The first 2 weeks of asking these questions about unusual songs, where we are going with the same song choices each week, have gone well enough, so I might as well keep this list of unusual songs around for one final week to find the one song that was most unliked. Some of these songs, as we saw last week, are well liked, but I believe more of them aren't. So which song out of these 24 do you dislike the most? To vote in this week's first Rock poll, just click there: Classic Rock Poll, and when you get to this page, choose "Poll 1" to vote on this question.
For our second Rock poll this week, we have the Rock VS poll, which asks this question: George Harrison vs Tom Petty. Which of these 2 former bandmates was the better overall songwriter?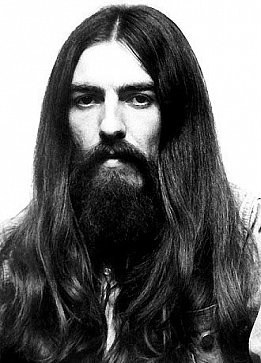 vs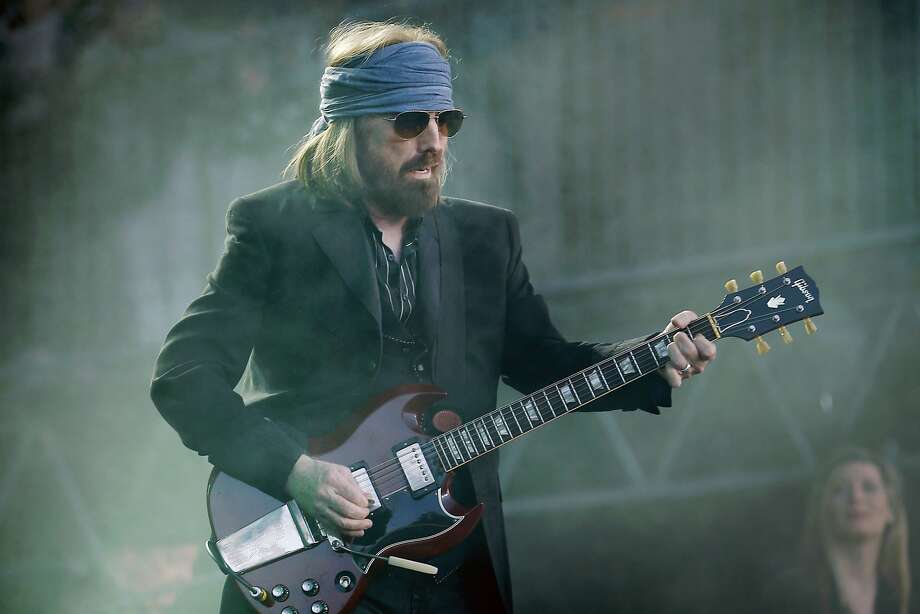 This is Week 9 of our songwriters' poll. This week we look at the 2 former Traveling Wilbury bandmates, George Harrison and Tom Petty. Of course both of them were rock n roll superstars long before the Wilburys brothers got together and formed their super group, with George in the Beatles and as a solo artist, and Tom as the leader of the Heartbreakers. Yet when in the Traveling Wilburys, they seemed to be - and were, the perfect fit to work together, too.
Now when comparing the two here, we aren't just looking at their songwriting in the Wilburys, but all of the songs they wrote throughout their careers. Both of them wrote many songs, and while Tom seemed to have written more hit singles than George did, George's biggest hits were much bigger than anything Tom ever wrote. So this should be a very interesting matchup for sure!
Very sad that both of these 2 true hippie guys are now gone thanks to drugs. George died of lung cancer because of his tobacco addiction, while Tom died thanks to an accidental drug overdose to pain meds. But as is the case with singers and musicians, their music lives on and still makes many of us happy to this day… To cast your vote in this week's second Rock poll, just click here: Classic Rock Poll, and when you get to this page, choose "Poll 2" to vote on this question.
Looking back at last week's 2 Rock polls, the first question asked: Of the most unusual songs made by a Rock band/Artist, which one turned out best?
"Crocodile Rock" by Elton John was the most liked song and top pick last week while receiving 9.4% of the vote. "Ma-Ma-Ma-Belle" by the Electric Light Orchestra, and mainly thanks to T-Rex's Marc Bolan's acid lead guitar playing on the track, took second place (with 8.5%), while in third place was "Coconut" by Harry Nilsson, also bringing in 8.5% of the votes - but with one less vote than ELO's song. To see where the other songs listed in the poll ended up in the voting, click here: Classic Rock Poll 1, week 680. Or to see the Top 10 finish only, you can do that at this list page: Top Ten Lists, Page, 16.
Looking back at last week's VS Rock poll, the question asked: Björn Ulvaeus and Benny Andersson of ABBA vs Barry, Robin and Maurice Gibb of the Bee Gees. Which songwriters were better?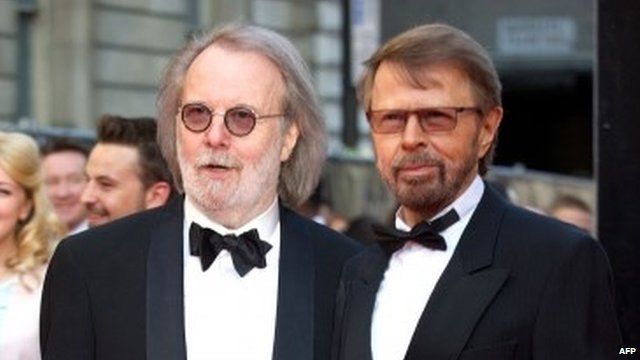 vs
This one was not close at all, with the Gibb brothers leading from the very start of the poll with a big lead that they never gave up. You can click on the following link to see the final totals from the poll: Classic Rock Poll 2, week 680. Or to see the results on the VS list page only, please go here: VS Page 3, List Page 15 and look under the "Songwriters VS Polls".
We finish up this poll post with the Beatles poll, where we enter week 432, and this week's new question asks: 'Revolution 9' vs 'You Know My Name (Look Up the Number)' vs 'What's the New Mary Jane'. Which is the most unusual Beatles song ever recorded?
vs
vs
I guess in running the Classic Rock Poll for the last 3 weeks and asking about unusual songs from different rock bands, well that lead to this week's Beatles question. These 3 songs, all written by John Lennon (with help from Paul on "You Know My Name") were all very weird indeed, with one more weird than the other. With this question, it isn't asking you to pick a favorite, or which one you feel was the best or worst of the 3, but which one was the most unusual Beatle song ever recorded, regardless if you liked or hated these songs. Really, of all of the Beatles songs, these are the only 3 that you could ask such a question about, and all 3 of them are very weird in their own way.
To vote for the one you feel is most unusual... just click on: Beatles Weekly Poll
In last week's Fab poll….the poll question was: Name your least favorite Opening and Closing song combo on a Beatles UK Studio Album
In what was perhaps the biggest landslide result in the history of the Beatles poll (I say "perhaps" here since I didn't get a chance to check for sure), the songs from the LP Yellow Submarine took in 98.4% of the votes to run away with the first place votes. But how could you not vote for those 2 songs? I actually like both of them, yet I still voted for them myself.
To see the full results from this poll, just go here: Beatles Weekly Poll – week 431. Or to see the final results on the Beatles Opening and Closing songs page, click: here and look under "songs" for the results.
So that does it for this week's Poll Post! Damn, as I type this out we are having a hell of a thunderstorm at the moment. Most thunderstorms we get here in Colorado come in the late afternoon, and we rarely ever see such storms at 11pm at night, but this one is a dandy indeed, just hope the power don't go out!
I thank all of you for taking part in our polls both this week and last! I hope your summer is going well and I hope that all of you have a great week ahead!
Keno
Gasland Thread
---
Post Follow-up
---
Note: Do not hit the "Post Message" button more than once, even if it is taking a long time to post your message. Doing so may cause a double post to appear and could slow down your posting time even more.
Filter Threads/Archives
---
---
Download your free, customizable Burton Networks Message Board now!
© 1998 - 2019 by Keno Internet Services, except where otherwise noted. All rights reserved.