---
IT'S A GAS, GAS, GAS!!
MESSAGE BOARD ARCHIVES/WEEKLY ROCK POLL POST
Return to Gasx3 Board Homepage
---
Gasland Message
---
Name: Keno
E-Mail: keno@fairpoint.net
Subject: Poll Post for the week starting Monday,March 4
Date: Sunday, March 03, 2019
Time: 10:42:42 PM
Remote Address: 97.107.69.29
Message ID: 320183
Parent ID: 0
Thread ID: 320183

Poll Post for the week starting Monday,March 4
It's time to get our weekly poll post underway for our 5 weekly polls, and as usual I start off talking about the Stones poll, where we enter week 1,023 of polling, and at this poll we always answer 2 different poll questions in the week. So for the first poll, here's the new question: Rate the Stones live video for "Everybody Needs Somebody to Love"
For this brand new poll we look at the TV performance of "Everybody Needs Somebody To Love", which the Boys played live on The Ed Sullivan Show, this coming from their appearance made on May 2nd, 1965. This was one of the very early songs where Brian and Keith played their famous weaving guitars on, and if you look closely enough, you can see they are playing the same exact cords at the same time for the song, even if Keith's style is a bit different than BJ's in how he plays, as he uses a bigger stoke with his right hand than Brain makes while striking his guitar strings, but it's still the same cords being played by the 2 of them. But of course with this being the mid '60s, you mainly only see a close-up of Mick for most of the song, although as far as filming a band playing live goes for 1965, I've seen a lot worst, too.
To watch the video and then rate it for this week's first Stones poll, just click on: Stones Weekly Poll and when there, then click on Poll 1.
For the second Stones Poll this week, the question is: Voodoo Lounge vs Out Of Our Heads, which album do you like best?

vs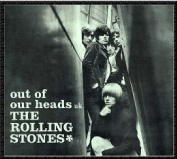 or

Since we vote in this Stones album VS series in the same order each week, the 2 polls series up next are both all finished doing battle, that being "The very Dirty Polls" (for Dirty Work, which of course lost every single round) and "The Big Bang Polls" (for A Bigger Bang). Therefor we will leapfrog 3 spots on over to the next series in line after them two and get to the series titled "I Put a Voodoo Spell on You Polls", featuring the 1994 LP Voodoo Lounge, which enters this week in its 22nd match-up (with 24 being the total number of rounds for each of all of the 25 albums that take part in these matches). VL sits in 16th place in the standings with a record of 9-12, which means if it can win its final 3 battles, it can reach the even .500 marker. To do that it must start off this week in beating a mighty '60s LP, Out Of Our Heads, which enters its second to last battle in this round, sporting a winning record of 16-6, and sits in the Top 10 in 8th place. Although I'm like most Stones fans and dig the '60s LPs more so than the newer ones, VL is an underrated LP IMO, and I feel it could made a good showing here this week. So we shall see! If nothing more, I believe that this week we will finally have a somewhat closer battle to watch shape up instead of what we have been seeing of late in these VS series, as at least these 2 LPs do match up a bit better with each other than the ones we have been voting on of late... BTW, for OOOH, since there are 2 different versions of the LP depending on if you listen to the UK or U.S. releases, as I always like to note, just go with the one version you know best when you compare it to VL for this poll.
A note before I link you to each album's song lists. I always link us up to the Stones official site for this info at each album's web page there. But I have no clue what is up at that site right now, as nobody can get to any of the album pages any longer! What the?? Why would they take down those pages at their own site? But all of those pages are right now redirecting to tour ticket selling pages! Are they that hard up for selling tickets? I find that unlikely, but whatever! So thanks to that issue at their own site, where I usually use those album pages to link to, for this week anyway, I have no choice but to link to the Stones album pages at Wiki. I don't ever link to the album pages at my own site, since over there I rate each song, and don't wish to influence anybody's vote. But the problem with Wiki is half the info that they give out there, especially for the Stones, is incorrect. But for now it will have to do I guess.
So to check out the song list for each album, for Voodoo Lounge, click here: VL, and for Out Of Our Heads U.S./UK, click here: OOOH.
To vote in this week's second Stones poll, just click on: Stones Weekly Poll and click on Poll 2.
Looking back at our first Stones poll last week, we answered this question: Rate the Stones official promo video for "Like a Rolling Stone"
Close voting in this one, with a 10.0 taking the top spot by one single vote!
To see the full, final results from this poll, please click here: Stones Weekly Poll 1 - week 1,022. The final results to this poll can also be found here: Stones Fans Top Pick List, Page 2, where you can also check out how all of the other videos that we have voted on in the past, have ended up, too.
The second Stones poll last week asked this question: Goats Head Soup vs Emotional Rescue, which album do you like best?

vs

Goats Head Soup won in a major landslide. To view by how wide of a margin the win was, just click on this link: Stones Weekly Poll 2- week 1,022. Or, you can see all of the final results and see the updated, current album standings at the Stones VS Page 1.
Let's now move on over to the Classic Rock Poll, where we enter poll week 663, and in this one we also vote on 2 different poll questions in one week. For the first Rock poll, this week's question is this: What is the best song made about a deceased person, somebody dying, or going to a funeral? (Part 4 of 4)
Okay, so we enter the final round this week for this question, where the top 8 songs from each part will go to battle against each other. I do like the choices of songs that we picked for the final round, and I must say that seems to be the case often enough with you very smart voters. We do know our rock songs very well, and as usual we chose some real good songs for the finial choices. Plus thanks to no ties in the first 3 weeks for the number eighth spot means we will have exactly 24 songs to choose from for round 4 (yet we actually had a 2 way tie for the 7th spot last week, so there wasn't an 8th spot last week because of that).
Which one out of the 24 songs will you go with this week? To see the finial list and vote, just click here: Classic Rock Poll, and when you get to this page, choose "Poll 1" to vote on this question.
For our second Rock poll this week, we have the Rock VS poll, which asks this question: "Saturday in the Park" by Chicago vs "Saturday Night's Alright For Fighting" by Elton John, which song about Saturday is better?
vs
"Saturday in the Park" by Chicago came out first, in 1972, and was written by the band's keyboardist Robert Lamn and showed up on their LP Chicago V. It was also a single and did very well, making it to #3 on the Billboard Hot 100 list, becoming the band's highest-charting single at the time. Lamn sings the main lead to this song along with the band's bassist Peter Cetera who sings other parts of the lead. He was inspired to write the song after visiting NYC's Central Park on the 4th of July in 1971 - as noted in the song ("I think it was the 4th of July") - even if the day of the week for the 4th of July actually was on a Sunday in that year. But Lamn noted he wrote the lyrics weeks later, after he was looking over film he shot on that day and he must have just gotten the day of the week wrong at that time.
Elton's John's "Saturday Night's Alright For Fighting" came out a year after the Chicago song in '73, on John's double LP Goodbye Yellow Brick Road, and was the first single released from the album, making the Top 10 in the UK, but only reaching #12 in the States – the one and only song out of a string of 12 songs, not to make the Top 10 in the U.S for him. Plus it was the poorest selling single out of those 12 songs, too. Yet today it's looked at as one of his best songs even made, and one of his best known songs, too… This number is hard rock all the way, and as close to heavy metal that John ever got, with Davey Johnstone's lead guitars totally on fire. The song's lyrics were as usual written by Bernie Taupin while the music (as usual) was written by John. As hard as it might seem to believe, this song was banned on many radio stations, since censors felt that the title would incite violence.
Now just remember, we are not rating the videos shown for this poll, which both show the songs being played live at shows from back in the '70s when the songs were still new. But it's the studio version of the songs that we are voting on only. The vides are just there so you can hear the songs again before you vote (if you like), and while it's cool to watch the live takes of these 2 songs (that's why I included them here) these live takes mean nothing as far as the voting goes.
Which one of these 2 songs do you like better? To vote in this week's second Rock poll, just click here: Classic Rock Poll, and when you get to this page, choose "Poll 2" to vote on this question.
Looking back at last week's 2 Rock polls, the first question asked: What is the best song made about a deceased person, somebody dying, or going to a funeral? (Part 3 of 4)
The top 8 songs picked from Part 3 last week and which will be voted on again this week in Part 4 were: Bohemian Rhapsody – Queen (4.8%), Hand of Fate - Rolling Stones (4.8%), Let it Be - The Beatles (4.8%), Knocking on Heaven's Door - Bob Dylan (4.7%), Funeral for a Friend - Elton John (4.7%), Highway to Hell - AC/DC (4.7%), In My Time of Dying - Led Zeppelin (4.6%), Mother and Child Reunion - Paul Simon (4.6%).
To see the full results from this poll question, just click here: Classic Rock Poll 1, week 662. .
Looking back at last week's VS Rock poll, the question asked: "Casey Jones" by The Grateful Dead vs "City of New Orleans" by Arlo Guthrie, which train song is better?
vs
It wasn't a close race at all, as Arlo Guthrie's cover won out big time. To see the poll's final results, just click here: Classic Rock Poll 1, week 662. Or to see the results on the list page only, please go here: VS Page 3, List Page, 15.
We close out the poll post as usual with the Beatles poll, where we enter week 414, and its brand new question, which is: What's your favorite one line lyric from a Beatles song? (Part 1 of 4)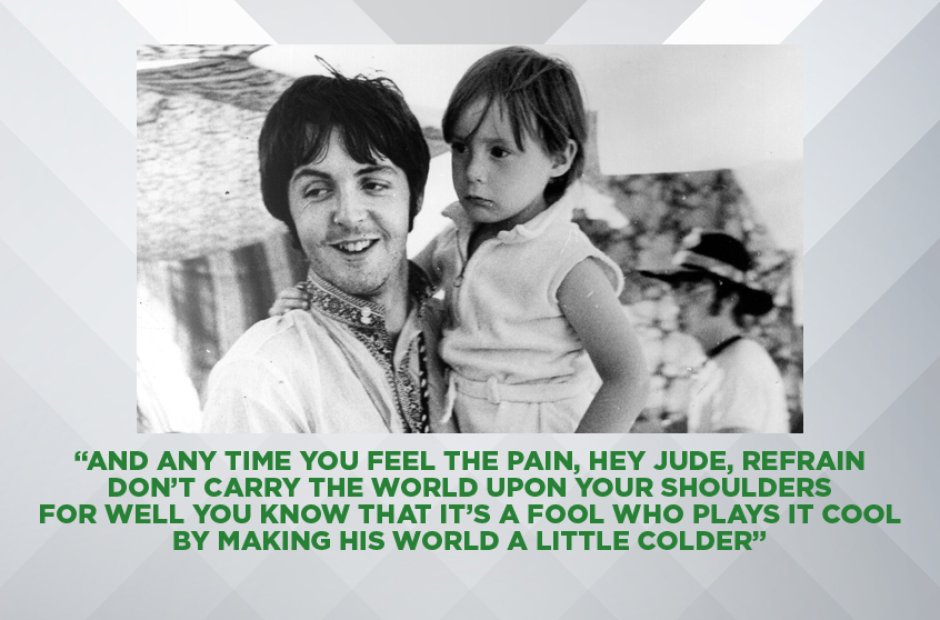 Although we did ask for the best overall lyrics from a Beatles song back in late March of 2015, this question is different, as we are only looking for the best one liners. We should see some totally different results on this question, just as we did when we asked these 2 different questions at the Stones poll a few years back, since the 2 questions aren't the same. Sometimes it's takes 2 or 3 lines written together to make one great lyric, but when looking at one line of a song's lyrics alone, you only get to go with that one single line, therefor the reason why the results can be so different between the 2 questions.
It was also hard to find a one line lyric with a good Beatle photo to use for the usual photo that I post up on top of the page, where as there are a ton of good ones with several lines of lyrics (like what I used instead), so I went with the above photo of Paul holding John's son Julian, which includes two lines of lyrics from the song that Paul wrote for and about the boy. But for the poll, remember, we are looking for just one line only, not 2.
After I came up with these lyrics, when breaking them up into 3 parts for the 4 week poll questions (since in the last part, we of course vote on the best chosen from the first 3 weeks), I didn't want to have, say, too many Lennon lyrics showing in one part and then too many Paul lyrics showing up the next week. So I took all of the lyrics and labeled who wrote each line to help avoid that from happening, since after all, if you can clearly see who wrote what on the choice, it makes breaking them up a lot easier. Then after I had all the choices broken up, I decided to just leave that info up there, since it all fit in the choice field's fine enough.
So the lyrics were broken up in 5 ways, with songs written by John, by Paul, by George or by Ringo - or finally, written by both John and Paul together. So in doing this, I was able to split up their lyrics evenly for each week, for the most part. As it turned out after I did this, I found that John wrote 41 of the lyrics that I had chosen, with Paul writing 36; while both of them together writing 3 more. George then wrote another 10, and Ringo wrote just 1. I guess that gives the disadvantage to John in this poll, since there will be more of his lyrics to vote on, meaning more of his votes will be split up, since he has more lyrics to choose for. But then again, you can look at it as he also has more chances to have his lyrics chosen, too, so perhaps it will all just even out in the end?
It was also interesting to see that for one line lyrics, Paul wrote the longer one liners than John did. I'm not sure what that means, other than you can get the feeling that it took John less words to say what he wanted to say then what it took Paul to say.
For Part 1, we have 31 lyrics to consider and yes, it's gonna be hard to pick just one lyric from the list if you love the Fabs like most of our voters do. To vote in this week's Beatle poll, please go here: Beatles Weekly Poll.
In last week's Beatle poll, the question was: Rate the Beatles live TV performance video for "Twist & Shout"
Yep, this one's top score was another 10, the same score that 21 of the 23 past Beatle videos that we have rated so far also received. To view the full result from last week's Beatles poll, just click here: Beatles Weekly Poll – week 413. Plus to view exactly how all 22 videos that we voted on so far have done percentage wise, just click on here for: The Beatles Videos and Movies Page, located over at the Lennon site.
So that takes care of yet another poll post. Hard to believe that it's now been over a month since Gasland closed; boy did February just fly by at lighting speed. Before you know it spring will be here!
I thank all of you for voting in and taking part in our weekly poll posts!
Keno
Gasland Thread
---
Post Follow-up
---
Note: Do not hit the "Post Message" button more than once, even if it is taking a long time to post your message. Doing so may cause a double post to appear and could slow down your posting time even more.
Filter Threads/Archives
---
---
Download your free, customizable Burton Networks Message Board now!
© 1998 - 2019 by Keno Internet Services, except where otherwise noted. All rights reserved.