---
IT'S A GAS, GAS, GAS!!
MESSAGE BOARD ARCHIVES/WEEKLY ROCK POLL POST
Return to Gasx3/Poll Post Board Homepage
---
Gasland Message
---
Name: Keno
E-Mail: keno@fairpoint.net
Subject: Poll Post for the week starting Monday, Feb 11
Date: Sunday, February 10, 2019
Time: 11:08:27 PM
Remote Address: 97.107.69.29
Message ID: 320155
Parent ID: 0
Thread ID: 320155

Poll Post for the week starting Monday, Feb 11
We get this week's Poll Post off and running once again with the old Gas board's name still up there on top, as the person who's supposed to fix the ASP problem which is holding the changes up, still hasn't gotten a chance to get to working on it yet, so things will remain the same for about another week or so I guess. No big deal overall, but still, it would be good to just get it all done and over with so we can more on from the old retired Gasland name once and for all.
But anyway, I'll start off the new week's poll post talking about the Stones poll, as we enter week 1,020 of polling, and at this poll I always ask 2 different poll questions in the week. So for the first poll, here's the new question: Rate the Stones official video for "Worried About You"
This week we look at the song "Worried About You" and it's official video, which was directed by Michael Lindsay-Hogg. This song was released in 1981 on Tattoo You, yet like all of the songs other than "Heaven" on TY, it was recorded years earlier, way back in late 1974 and in early '75 to be used on the Black and Blue LP, but then kept off that album in the last minute. The lead guitar on here was played by Wayne Perkins, who was auditioning for the Stones to be Mick Taylor's replacement, before Ronnie Wood was chosen instead. The song itself was first performed live in 1977 at a few shows, 4 long years before it was released, and then not played live again till 2002. Mick of course sings most of the song in falsetto.
This official video that we are rating this week is unusual indeed. In the first plus minute we only just see Mick at the electric piano, which he didn't even play on the song in the studio (Billy Preston did), then finally in the next minute plus we see Keith, and then after that, it's just the Glimmers who are shown. Then Ronnie finally shows up after the 3 minute mark has pasted on by, shown playing the guitar solo that he didn't even play on the song (he didn't appear anywhere on the song's studio take, as he wasn't a band member yet when the song was made). Charlie, who hates making videos period (as we can see often enough by his sullen look in most of them) isn't shown until the 4:20 marker (to his delight I'm sure), and Bill finally is shown about 20 seconds after that, with only less than a minute of the song and video left to play. But the late appearances of the band members is the only thing I dislike about this vid, as overall it's excellent otherwise (well, that is, also discounting the fact that the 2 main musicians heard playing on the song, aren't in the vid either, as the piano and the lead guitar is the main music we hear playing in this song).
To watch the video and then rate it for this week's first Stones poll, just click on: Stones Weekly Poll and when there, then click on Poll 1.
For the second Stones Poll this week we ask this: Let it Bleed vs Steel Wheels, which album do you like best?

vs

The Bleed Polls return to the action this week, featuring the 1969 LP Let it Bleed, which finds itself in second place in these Stones Album verses matches, sporting a record of 20-1, and losing out only to the undefeated Sticky Fingers. This week it takes on 1989's Steel Wheels, which is having a very hard time in this series, along with one of the worst records in these battles at 3-18, and sitting way down just 3 spots away from last place out of the 25 spots in the standings.
To check out the song list for each album, for Let it Bleed, click here: LIB, and for Steel Wheels, click here: SW.
To vote in this week's second Stones poll, just click on: Stones Weekly Poll and click on Poll 2.
Looking back at our first Stones poll last week, well first, for all of the polls last week, it was the very first full week of Gasland being closed, and I was a bit worried in how many voters we might lose with the message board closed down other than for the once a week poll post. But by mid-week I could see that all was fine, with no real drop off in the voting totals at all. So that was good to see and I just hope it all continues that way for now on.
Now, let's do look at the first Stones poll last week that answered this question: Rate the Stones live performance video for "(I Can't Get No) Satisfaction"
This video did perhaps as good as any Stones video has done so far, since not only was the top pick a "10", but 99.1% of the votes went to spots 7 thru 10, with the 6th place spot seeing the other 0.9% of the vote. So no real low votes for this video at all!
To see the full, final results, please click here: Stones Weekly Poll 1 - week 1,019. The final results to this poll can also be found here: Stones Fans Top Pick List, Page 2, where you can also check out how all of the other videos that we have voted on in the past, have ended up, too.
The second Stones poll last week asked this question: Sticky Fingers vs Blue and Lonesome, which album do you like best?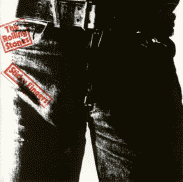 vs

Yes, as noted above, SF is still undefeated and nobody expected B&L to even come close in beating it. The only question all week as the landslide just grew larger each day, was would SF beat the all-time high score for first place in these album VS polls? Well no, it landed just short of that mark with 99.2% of the vote, the third highest score seen in the series. To view the final results and see just how few votes B&L got, click on this link: Stones Weekly Poll 2- week 1,019. Or, you can see all of the final results and see the updated, current album standings at the Stones VS Page 1.
Now let's boogie on over to the Classic Rock Poll, where we enter poll week 660, and in this one we also vote on 2 different poll questions in one week. For the first Rock poll, this week's question is this: What is the best song made about a deceased person, somebody dying, or going to a funeral? (Part 1 of 4)
This poll covers everything about death and dying other than dying in wars (since wars songs has been already voted on). That, and plus most songs about murder aren't listed either, other than a few, since we already ran a question on that years ago, too. Also, I couldn't note everything in the poll's question on death because of space limits, but in a nutshell, any song about death is covered, other than what I just noted above.
We will have 79 songs to choose over the next 3 weeks, then in Part 4 we will vote again on the top picks from Parts 1 thru 3. I ended up putting this entire poll together on Thursday night, since I didn't feel like running any of the polls I had made already. Now while this may not be a subject many like to talk about a lot, or even deal with, well, many others do like to talk about it, and there are a ton of Rock songs about death, dying, and going to funerals, too, so I think it will be interesting to run this poll. After all, it's something that everybody gets to experience sooner - or hopefully, later, no matter who you are.
To make your pick and vote, just click here: Classic Rock Poll, and when you get to this page, choose "Poll 1" to vote on this question.
For our second Rock poll this week, we have the Rock VS poll, which asks this question: "He's So Fine" by The Chiffons vs "My Sweet Lord" by George Harrison, which song is better?
Yes, here's a matchup we have never covered before, and these 2 songs were involved in the most known lawsuit ever filed over music for a plagiarism case ever, to this very day! But let me backup just a bit first.
"He's So Fine" was written for The Chiffons by their friend, a young and very poor 23 year old singer from the ghetto in Harlem named Ronnie Mack, in late 1962 and then released by The Chiffons in January of 1963. Poor Mack would not live to see any of the money he would make for writing this soon to be number 1 hit single (and The Chiffons biggest hit, too), since he laid in his hospital bed dying from cancer, and passed away shortly after the song was released. Songwriters Lamont Dozier and Eddie Holland were so moved by what happened to him, that they wrote the song "Jimmy Mack" for him, and that of course turned into a big hit, too.
"My Sweet Lord" was written and sung by George Harrison in November of 1970, coming from his triple album All Things Must Pass. It was also his first solo single, and it topped the music charts worldwide; while being the biggest-selling single of 1971 in the UK. In both the UK and U.S., it was the first #1 single for a solo and ex-Beatle. The song was of course written for the Hindu god Krishna. For the song's recording, playing with George were Ringo Starr, Eric Clapton, and the group Badfinger, along with Billy Preston - who George actually gave the song to record first and Preston's cover was actually released first, 2 months before Harrison's.
But of course, there was no happy ending to this one. Bright Tunes Music, the company which owned the rights to "He's So Fine", just had to spoil the joy that came from the song with a major lawsuit against Harrison, for "subconscious plagiarism" of Mack's tune. George claimed that wasn't true at all, and that he used the out-of-copyright song, "Oh Happy Day", a hymn, as his inspiration for his song. Still he lost the lawsuit to Bright Tunes Music. But George would get back at them a few years later on by buying out the company himself, before they collected any money from him! Plus in a nod to George, The Chiffons would cover "My Sweet Lord" themselves in 1975.
So which one of these 2 songs do you like better? To vote in this week's second Rock poll, just click here: Classic Rock Poll, and when you get to this page, choose "Poll 2" to vote on this question.
Looking back at last week's 2 Rock polls, the first question asked: Who was the luckiest or most overrated musician/singer/band in rock music to make it big?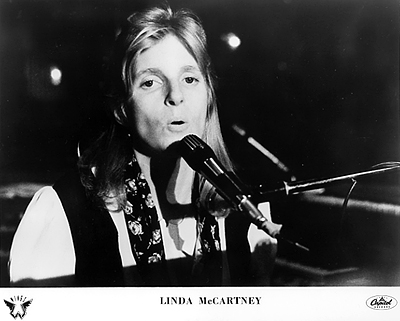 In a close battle for the top spot, Linda Eastman McCartney took first place by 2 votes over the asshole lowlife Kanye West, with the choice of "All the members of KISS" landing in third. My pick for most lucky went to good guy Ringo Starr, who came in 4th behind another untalented asshole like West, Sid Vicious.
To see the full results from this poll question, just click here: Classic Rock Poll 1, week 659. Or to see the Top 10 finish only, you can do that at: Top Ten Lists, Page, 14.
Looking back at last week's VS Rock poll, the question was: "Chapel of Love" by The Dixie Cups vs "Hey Paula" by Paul and Paula, which song about getting married is better?
VS
I don't know why I was thinking this one would be close, but well, it wasn't at all! "Chapel of Love" won in a major landslide!
To see this poll's actual total results, just click here: Classic Rock Poll 1, week 659. Or to see the results on the list page only, please go here: VS Page 3, List Page, 15.
Time to finish up this poll post as always talking about the Beatles poll, where we enter week 411, and the question for this week is: Rate the Beatles live TV performance video for "I Want To Hold Your Hand"
This is where it all started, well, in America anyway. The Beatles first ever appearance on U.S. TV, on the Ed Sullivan Show which took place on Feb 9 1964 (yes, I should have run the question last week, since the 55th anniversary date was just 2 days ago, but oh well).
This appearance was the shot in the arm that America needed, as just 2 months before JFK was killed and the country needed a boost and something to finally smile about again. We all did smile with this, that is, other than most of our parents perhaps. I recall my mom saying, "How can these young men have such long hair like that!", while my dad was saying, "They all look like girls with that hair and those long bangs!"... If they only knew what would follow.... actually, if we all only just knew what would follow! I was just a preteen myself and had already loved their new music that I had been hearing over the AM radio in the last few days before the show, while my 2 oldest sisters, along with their girl friend from next door, were all 3 screaming at the TV, just as they were doing the day before when they sat by the radio screaming over the live broadcast updates from JFK Airport of the Beatles first U.S. arrival! Of course, all of the teenage girls were doing this - everywhere! That reaction alone got me to declare the night of the TV show to say: "I'm growing my hair real long too, just like the Beatles!", to the horror of my parents. So for the next morning for school, my middle sister, instead of combing my hair straight back like mom did each morning for me with Brylcreem, skipped the greasy kid's hair stuff altogether (and I would never put that greasy crap in my hair again for the rest of my life!) and instead I had the dry look, as she combed my hair forward and straight down - so that I had bangs just like the Beatles had! The funny thing was, there were a few other boys at school that day who for the first time ever also wore their hair in that very same way! The Beatles already had their first non-music impact on America (and at the same time, almost put Brylcreem out of business!) while the WW2 generation flat out hated the new look, but the Boomers were just going crazy indeed over the Fab 4, and not just for their new long hair look, either! All of this started in America thanks to their appearance on Ed Sullivan Show.
To vote in this week's Beatle poll, please go here: Beatles Weekly Poll.
In last week's Beatle poll, the question was: Rate the Beatles live performance video for "All My Loving"
Okay, so I'm gonna sound like a broken record here if I were to say that yet again another Beatle video poll was run last week and it's top score was a 10…. So I won't repeat that, even if it would be a true statement. I also won't note that 17 of the 19 other Beatle videos that we have rated in the past have seen 10 ratings, too!
To see the full result from last week's Beatles poll, just click here: Beatles Weekly Poll – week 410. Plus to view exactly how all 20 videos that we voted on so far have done, just click on here for: The Beatles Videos and Movies Page, located over at the Lennon site.
So that does it for yet another poll post! I see that the mailing list (or Yahoo group?... or whatever you call that kind of format) that Fatmo started named "the new land of Gas!" is off to a very busy pace. I haven't joined in yet myself, as I needed a break from that kind of thing, but it is still cool to see the old Land of Gas still alive elsewhere on the net. Only thing is, I noticed I'm not getting every post, as I'll see answers being made to questions that I never saw the question to in the first place! But I thank Fatmo for starting that up, and if you would like to join them in posting there (where ever it is), you can do so by emailing newlandofgas@yahoogroups.com. If that's incorrect, somebody in the group please correct that for me, thanks!
I also thank you all for showing up week in and week out to vote in our polls!
Keno
Gasland Thread
---
Post Follow-up
---
Note: Do not hit the "Post Message" button more than once, even if it is taking a long time to post your message. Doing so may cause a double post to appear and could slow down your posting time even more.
Filter Threads/Archives
---
---
Download your free, customizable Burton Networks Message Board now!
© 1998 - 2019 by Keno Internet Services, except where otherwise noted. All rights reserved.