---
IT'S A GAS, GAS, GAS!!
MESSAGE BOARD ARCHIVES
Return to Gasx3 Board Homepage
---
Gasland Message
---
Name: Keno
E-Mail: keno@fairpoint.net
Subject: Keith Richards/SMR/LIB/Sue/Glam/PPM vs RS
Date: Monday, November 05, 2018
Time: 1:07:36 AM
Remote Address: 97.107.69.29
Message ID: 318566
Parent ID: 0
Thread ID: 318566

Keith Richards/SMR/LIB/Sue/Glam/PPM vs RS
This week at the domain's polls we will end (for now) one streak while bringing back a somewhat lost poll. First, for the last several months, one of our 3 main polls had seen at least one (more often 2) questions relating to rock videos, but that won't be the case this week. I really like video questions, even if they don't draw the most voters - they are fun to run - and I could ask them forever! So while we will see more of them in the future, it's time to take a break from them, too.... Plus also this week, the Rock VS poll returns, after not being run for over 2 months. Yes, verses polls have still been running every week anyway at the Stones second poll and also at the Beatles poll, too. But not at the Rock poll, where the VS battles all first started a very long time ago. Truth is, I've been running out of ideas for this poll at the Rock poll and well, after the Beatles album VS poll runs out in 3 weeks, and with the Stones album VS series almost finished too, we won't be seeing a lot of these kinds of polls in the future. But for now it returns this week at the second Rock poll and I'll write more about this week's question for that poll when we get to that part of the poll post.
But for now it's time to talk about this week's 5 weekly polls by starting off with the Stones Poll, where we enter week 1006. For the first poll the question it asks this: On a scale of zero to 10, rate Keith Richards as a guitarist.
Okay, so this week's its Keith Richard's turn to get rated - as a guitarist of course. Other than playing keyboards once in a blue moon, Keith doesn't really play too many other instruments, so I'll only ask about him in this matter instead of asking about him as a musician, since he's first and foremost a guitarist. Chances are that only Brian Jones - and maybe Bill Wyman, will have this question asked as "musicians" instead.
Now when rating Keith here, you can do so however you want to handle this. He's been around playing forever of course, and like I noted last week with Mick J, we are not just asking about Keith's playing in the Stones only, even if that's where most of his guitar playing is from. But do look at his solo stuff too, and his guest appearances on other artists' albums, too. But his timeline can be somewhat limited too, if you want it to be, again, since he's been around for so long. If you rather not include and rate the Keith of the late '90s and early '00s when his arthritis was getting in the way of his playing, then don't. But on the other hand, since he was playing during those years and the Stones were charging fans top price to see him play, you might want to consider that? But no, you don't have to let old age or illness get in the way of your rating and you can just consider how he played at his peak, if you rather just look at the talent he had in him before his hands grew old. Almost nobody in their 60s and more so in their 70s is gonna play as they did at age 22. So I won't look at these later years anyway - but - if you feel it should be considered, that's your choice to make. I'm gonna look at all of his years in his prime mainly, which is all of his early years anyway. So just go by whatever you feel is proper for this question.
Just how high do you rate Keith as a guitarist? To rate his playing in this week's first Stones poll, just click on: Stones Weekly Poll and click on Poll 1.
For the second Stones Poll this week we ask: Their Satanic Majesties Request vs Let It Bleed, which album do you like best?

vs

The Satanic Polls return to action for this week's Stones Album VS poll! Featuring the 1967 psychedelic Stones LP Their Satanic Majesties Request, this one is doing a bit better than average in these battles, with a record of 10-8-1, good for 12th place in the album standings. This week it takes on one of the Stones most loved LPs, 1969's Let It Bleed, which is doing better than any other Stones album - other than one, and is in second place of the standings with a 18-1 record.
So you think TSMR has any chance this week at all? No chance you say? Well, that doesn't matter since we got to run this poll anyway so we can finish up the series. So to see the song list for each album, for Their Satanic Majesties Request, click on: TSMR, and for Let It Bleed, click here: LIB.
To vote in this week's second Stones poll, just click on: Stones Weekly Poll and click on Poll 2.
Looking back at our first Stones poll last week, we answered this question: On a scale of zero to 10, rate Mick Jagger as a singer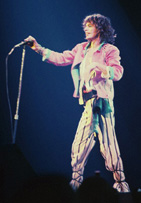 It's funny since I'm not always right when I guess beforehand what a poll question's result will be a week before the poll is run, but this one I guessed that MJ would get a "8" for his top pick – and sure enough, that was what the most of us chose as our top pick for his singing in the end, while taking in 21.2% of the vote. He just missed seeing a "10" by only 2 votes.
To look over the full, final results to this poll, click here: Stones Weekly Poll 1 - week 1005. Or, you can also check out the final results at the Stones Fans Top Pick Lists - Page 2, found under the "Individual Stones" section for Mick Jagger.
The second Stones poll last week asked this question: Steel Wheels vs Between the Buttons, which album do you like the best?

vs

Nope, this one wasn't close at all, as BTB won in a landslide. You can check out the final result here: Stones Weekly Poll 2- week 1005. Or, you can see the final results and see the updated, current album standings at the Stones VS Page 1.
Now let's move on to this week's Classic Rock Poll, where we enter poll week 646, and for this one we also vote on 2 different poll questions in one week. For the first Rock poll we have a brand new question that askes this: What is your favorite recording with "Susan" or some variation thereof in the title?
This week's poll is one of those rare Rock poll questions that will only have a one week run to it. That's because we have only 30 choices to choose from. This is also one of the rare polls that not only didn't I come up with the question, but I also didn't come up with most of the answers/choices to choose from, ether. The question was sent in from a guy who has written a bunch of album reviews for the domain's Rock site, Timothy Getz, who has also suggested a few other poll idea's for the joint in the past, too. So it was cool to hear from him with this suggest. I get so few poll suggestions in as it is anymore, since we have asked so many questions already and there's just a lot less new suggestions to come up with anymore that we haven't asked yet.
For this suggested poll, I only had to find maybe 10 more choices for it since Tim's list was very much complete. So I thank him for the suggestion and work in helping me with this question.
There are a lot of Rock songs with titles that include this one name. Yet it ain't in the top ten female names used in songs according to a Billboard list, and that surprised me (see here..... a future poll question list I guess?). But then again, I'm pretty sure that list doesn't just stick to names in titles only, but I think it also includes names that come up in the song's lyrics, so not the same thing if that's the case.
I myself was married to and lived on and off for over 30 years with a gal named "Sue", and I found it funny how some of these songs that used her name, she flat out hated, like "Runaround Sue", which I never understood, since she never ran around on me as the Sue in the song does! Guess it had something to do with most people not wanting their name being used in a negative matter; just like some folks don't want to see their name being given to hurricanes for example.
The Stones got 2 songs listed this week, but only one is an original, and yet it was not a Jagger/Richards written song, either (hint: a guy named "Wyman" wrote it). Dylan and Buddy Holly also got 2 songs each listed… Then, one song isn't even about a person named Sue, but "Sue" is in the title more than once! Anyway, we should have some fun with this one week poll question - so let's vote on it now....
To see the Sue song title list for the first Rock poll, just click here: Classic Rock Poll, and when you get to this page, choose "Poll 1" to vote on this question.
For our second Rock poll, as I noted above, the Rock VS poll returns this week after a long layoff. To restart it, I'll also restart a series that in time could have a lot of sub-series to it, and that's the Rock Sub-Genre VS poll. The way I've been running this one is to pick one subgenre of Rock and put it up for about 6 weeks against other subgenres of Rock music. So far we have done this for Punk, Heavy Metal, and R&B/Soul/Motown. For this new subseries we will go with Glam music. So the first new VS poll question in ages askes: Glam vs Hip-Hop/Rap, which music genre do you like more?
VS
Now let's face it (maybe with our faces painted?), "Glam" was really more of a look than a Rock music subgenre, but it is still considered one anyway, and I would say most of its sound was close to metal, or it was in between metal and hard rock perhaps, being a better way to explain its sound. But of course the look was the most important part of it anyway, with a ton of makeup and men looking like and even dressing up like the gals. In an odd way the Stones started the look, even if the band wasn't ever a Glam band, they were the first Rock band to wear heavy makeup in that way for their video for "Jumping Jack Flash". Singer Alice Cooper saw that video and talked his fellow bandmates in the group of the same name, to go a step further, and then David Bowie also join in around the same time and Glam was born.
Now some might say I'll throwing Glam a softball for its first battle, but hey, something has to go first against this rock subgenre, and I wanted to pick something that really was very different than it, and I believe Hip-hop/Rap is the right choice. Glam music often did tell a story, but it was music, while Rap might tell a story, the hip-hop (music) part of it really doesn't sound like anything close to Glam music at all.
So with sound do you prefer? To vote in this week's second Rock poll, just click here: Classic Rock Poll, and when you get to this page, choose "Poll 2" to vote on this question.
Looking back at last week's 2 Rock polls, and with it being Halloween week, we went with man/animal songs – that is, songs about people who were both man and wolf, and also a man who wanted to live like a ape-man. So the first question asked: Rate Warren Zevon's video for "Werewolves Of London"
For the first time since I've been running these video questions for this Rock poll, at least one of the videos, and most often both videos - seemed to always get 10 ratings. But last week neither one saw that number for their top pick. But both still did real good anyway, with both seeing ratings of "9" for their top picks. For the Zevon number, 25% of the voters gave it that mark. To see the full results from this first poll, just click here: Classic Rock Poll 1, week 645. To see how the other videos that we have rated so far for this Rock poll have done, go here: Top Ten Lists, Page, 14. It's the second listing on the page.
Looking back at last week's second Rock video poll, the question was: Rate The Kinks' video for "Apeman"
As noted above, this one scored a 9 too for its top rating, taking in 29.5% of the votes.
To see the full, final results from this second Rock poll, just click here: Classic Rock Poll 1, week 645. Plus again, to see how the other videos that we have rated so far for this Rock poll have done, and where this video fits into the list, please go here: Top Ten Lists, Page, 14. Again, it's the second listing on the page.
Time to rap up this poll post as usual with the Beatles poll, where we enter week 399 of voting, and ask this question: Please Please Me vs Rubber Soul, which album do you like the best?

vs

Time for week 2 of the "Pleasing Polls", featuring the Beatles first LP, Please Please Me. This week PPM takes on the album where the Beatles sound started to change and leave pop music behind, as 1965's Rubber Soul contained some new and different Beatles music on it indeed.
To see the song list for each album, for Please Please Me, click on: Please Please Me, and for Rubber Soul, click here: RS.
To vote in this poll, please go here: Beatles Weekly Poll.
In last week's Beatles poll we asked: Please Please Me vs Revolver, which album do you like the best?

vs

>

Well, finally a Beatles album poll where the final result wasn't close at all! You can click here to see which LP came out on top, and if Revolver, in it's very last match-up, remained undefeated or not: Beatles Weekly Poll – week 398. Plus the results will also show up on the The Beatles' Albums Page over at the Lennon site.

So that will do it for voting here at our polls for this week, but if you live in the U.S of A, then we all here got even more important polls to vote in this week, well on Tuesday that is, so do get out and vote so your voice can be heard and you have a say where you live, and really a say to the entire country on how it's people are feeling at the moment. Do notice that I'm not speaking here about any politicians at all, in keeping with the temporary ban of speaking about such bad stuff, since we aren't doing that here again until after the polls close tomorrow nite. But just reminding everyone to vote is very important and not putting down any one person or party, it's just reminding everybody to take part in something that is important and which isn't even allowed in some other countries. But if you don't vote, then you got no business talking negative or positive anywhere about the outcomes on Wednesday morning - or any time after that.

I thank all of you for voting here in our polls each week, and I hope all of you have a great week ahead!

Keno

Gasland Thread
---
Post Follow-up
---
Note: Do not hit the "Post Message" button more than once, even if it is taking a long time to post your message. Doing so may cause a double post to appear and could slow down your posting time even more.
Filter Threads/Archives
---
---
Download your free, customizable Burton Networks Message Board now!
© 1998 - 2019 by Keno Internet Services, except where otherwise noted. All rights reserved.