---
IT'S A GAS, GAS, GAS!!
MESSAGE BOARD ARCHIVES/WEEKLY ROCK POLL POST
Return to Gasx3/Poll Post Board Homepage
---
Gasland Message
---
Name: Keno
E-Mail:
Subject: RE: RE: Other Gassy get togethers
Date: Friday, September 14, 2018
Time: 3:02:19 AM
Remote Address: 97.107.69.29
Message ID: 317518
Parent ID: 317509
Thread ID: 317506

RE: RE: Other Gassy get togethers
Damn, I'd love to hear from SheRat again! It's been so long!
It may not have been the first Stones-fans gathering, but it seems to be the most memorable!
That's for sure!... I was at the very first Stones-fans internet gathering, in fact I helped put it together with one of the very first Gassers, Marilyn, who came in from Florida. It was held in 1999 the night before the Stones gig at the old and now torn down McNichols Sports Arena - in a bar located in southwest Denver. There were only 9 of us there - but it was a start of something that would happen many, many more times amongst internet Stones fans, mainly thanks to StonesDoug and his SHIDOOBEE board - as that place seems to live for get togethers. Here is a photo from that first get-together: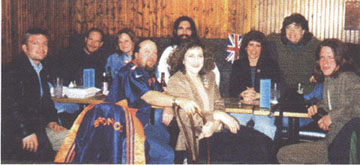 After the second Gasland get together that I got to go to, which was also held in Denver the night of another Stones show (note, it wasn't the second Gasland get together by any means, there were few held in other states, including the C10 of course), but this one was held downtown on the 16th Street Mall at the Hard Rock Cafe. Well it turned out that a second Stone's internet gathering was taking place directly across the street, held by StonesDoug, so after we had dinner and some drinks, we headed on over there and attended their party, too. But I got to meet 3 of the C10 at our get together that nite, too. Photo below was taken outside of the Hard Rock as we were heading to StonesDoug's party, but not everybody who was there that night is in the the photo. I'm in there, and so is Maxmister, Nanker, and Joey from the C10, the others in there are Lady Bear (who later on became Kalistongue), Jaxx (by then the co webmaster at RO but still a posting Gasser, too), Sir Moonie, and Payphone Al (Oh, I think this took place in '01... maybe '02?):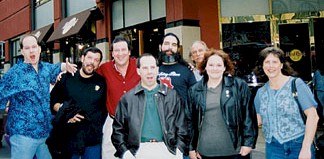 The third and last gathering I got to go to was also held before a Stones show, on Thanksgiving Day (around '07?? again...maybe, but it was the very last time the Stones played in Denver), and because it was a major holiday, there were only so many of us there (but the show was a sell-out of course). I can't recall exactly how many of us was there, Payphone Al and Ladybear were there for sure (LB and I went to the show together), as was LoveYouLive amongst others. Then LYL had gotten us (he, LB and I) front row B stage tickets at the last minute, so I gave my ticket that I already had to PA, who flew in from Florida in the last minute. I was sick that night, too, and plus my family wasn't too happy with me since I'm the main cook at Thanksgiving, and I delayed our turkey dinner until Saturday that year directly because of the Stones. But I was so sick that day it would had been hard to cook anyway, and I ate nothing at all the entire day. I only had a coke at the Brown Palace - where we all met to party before the show. LYL was staying there as it was and the 2 of us went upstairs to his room and smoked a fatty just before we left for the show, but even that didn't make me want to eat - but damn, did it get me high enough to feel a lot better and totally ready to hear the Stones play. Plus we had skipped the opening act and got there just minutes before they took the stage. It was great timing indeed. Although somebody took a few photos of that get-together, I never got to see them and have none to show you. But the Brown Palace was the nicest joint of the 3 Gassy gatherings that I went to. It's just one of those fancy places - 7 or 8 different U.S. presidents have stayed there, Molly Brown stayed there a week after the Titanic sank, and the Beatles and the Stones also have stayed there, too.
I've also had a few Gassers stay overnight at my place a few times, although that doesn't count as a true get-together I guess, since it was only one or two people at a time. But Maxmister and his late wife Debbie have been here, Undercover too, and I know I'm forgetting somebody else (sorry to who that is), and Ladybear has been here more than once - and she was also at my other home a couple of times too, while I have also stayed at her place in Denver a few times (come to think about it, we also together saw Mick Taylor in Golden, CO). Well, those were all overnight internet Stones get-togethers, so they were special too, and none of them would had happen without Gasland, since this joint is where we all met, and yes, Gasx3 was the very first successful fan run Stones internet message board, since the Stonesworld board wasn't fan run at all.
Gasland Thread
---
Post Follow-up
---
Note: Do not hit the "Post Message" button more than once, even if it is taking a long time to post your message. Doing so may cause a double post to appear and could slow down your posting time even more.
Filter Threads/Archives
---
---
Download your free, customizable Burton Networks Message Board now!
© 1998 - 2019 by Keno Internet Services, except where otherwise noted. All rights reserved.