---
IT'S A GAS, GAS, GAS!!
MESSAGE BOARD
Return to Gasx3 Board Homepage
---
Gasland Message
---
Name: Keno
E-Mail: keno@fairpoint.net
Subject: I Am Waiting/Harmony songs/Stones, Rock & Fabs VS
Date: Monday, May 07, 2018
Time: 12:52:16 AM
Remote Address: 66.36.114.222
Message ID: 315560
Parent ID: 0
Thread ID: 315560

I Am Waiting/Harmony songs/Stones, Rock & Fabs VS
So it's that time of the brand new week to talk about the 5 weekly polls that we run each week here, and as usual we start off with the Stones poll, where we enter week 980 (yep, just 20 weeks to go!), and as usual, we will run 2 different Stones polls in this one week. So this week's first question asks this: Rate the Rolling Stones video for "I Am Waiting"
This one came from one the band's performances on The Ed Sullivan (TV) Show in 1966 (note that the photo above is from them playing the song on Ready Steady Go, as there is no photo online from the Sullivan song that I could find). Brian plays the slide dulcimer for this song, an instrument that was never meant to be played with a slide and few musicians have ever tried to play it in this matter (Brian may have been the first to play slide on one, but I can't confirm that), yet when BJ played it on this song, he made playing slide dulcimer look so simple to do, when those who understand what it takes to play a dulcimer will tell you just setting up the instrument's strings to get the slide to play right, is hard enough to do as it is. Plus it can only be played in this way on an Appalachian dulcimer (and not to be confused with a bowed dulcimer, which is meant to be played with a bow and in the way one plays a viola or cello).
What is cool about this video, and something that should be considered with all videos, is just how real does the lip synching and audio dubbing look? The Stones had always played live when they were on the Sullivan show, but for this one Brian's hand had just come out of a cast a few days earlier, and they were worried he might not be able to play well enough on the song live, so for the first time, they didn't played live on Sullivan, and just mimed along to the recording, something that today you of course see in all modern day videos. But in this clip, from Keith's opening playing of his acoustic guitar, to Brian's dulcimer, it looks like they are playing live to what you are hearing, and they actually were, you just couldn't hear what was being played live since the music from the record was used on the soundtrack instead. But even MJ's vocals appear to be live, as they look spot on. If you had never heard this song before (and most watching the TV show hadn't at the time), you won't have had a clue that the Stones weren't in fact playing live here. The sad part was after this show, the Stones never played live on any other TV show again, other than Mick would sing the song live when the others just pretended to play. The band would go into the studio the day before a show and play the song live there and use that take for the TV show the next day (or for a new video - as they did this for the JJF makeup video, too), so in doing that it made it not only appear - but sound like they were playing live when they weren't. But they even stopped doing that around the time MT joined the band and after that used the music off of the record, and just pretended to be playing when they weren't.
Now a part of the next paragraph is a repeat from last week… but it's still important, so let me note it again…. First, a link to the video can be found at the voting page so you can view it before you vote… but also…. before you vote, do remember that yes, we are rating videos in this poll, so where I usually say at my close for a poll, that the videos are only there so you can hear the song before you vote - but don't vote on the video - well for this kind of question that doesn't apply at all, as you most definitely should vote 100% on what the video is all about for this question.
So just how will you rate this video? To cast your vote in this first poll, just click on: Stones Weekly Poll, and when you get to this page, choose "Poll 1" to vote on this question.
Now over to the second Stones poll, where we run the Stones album VS matchups each week, and the new question is: Steel Wheels vs The Rolling Stones, Now!, which album do you like the best?

vs

The Wheels of Steel Polls returns to the battlefield of the album VS polls this week, featuring the 1989 LP Steel Wheels. In this long running series, SW isn't doing well at all, with a losing record of only 3 wins and 14 loses, in 20th place, or just five spots from last place in the standings. This week it takes on an LP which is doing much better, 1965's The Rolling Stones, Now!, which has a winning record in this series of 10-6, good for 10th place.
So which LP will you go with?..... To see the song list for each album, for Steel Wheels, click here: SW. For The Rolling Stones, Now!, click on: TRSN.
To cast your vote in this second Stones poll, just click on: Stones Weekly Poll, and when you get to this page, choose "Poll 2" to vote on this question.
At the first Stones poll last week we answered this question: Rate the Rolling Stones video for "Saint Of Me"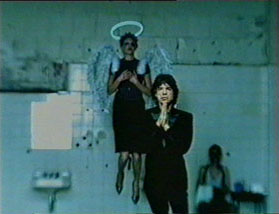 Although the Stones video poll last week saw most of the votes cast for spots 8 thru 10, the top vote was only an "8", while I was expecting it to do better than that. I liked this vid a lot myself, but why do Stones fans rate the Stones videos lower than when we ask the same video questions at either the Beatles polls or at the Rock polls? The Stones vids are the most likely to rate less than a "10" than what we seen at the other polls. But why? Maybe us Stones fans are a bit to critical? Or are their videos just not up to par and not what most Stones fans want to see from the band? I don't know the answer to that, I'm just asking here. But I can see from last week's results that I at least like the SOM video more so than the average Stones fans do. To see the final results from this poll, click here: Stones Weekly Poll - week 979, poll 1. Or, you can also check out how all of the other videos that we have rated in the past, by going here: Stones Fans Top Pick Lists - Page 2, under "Video Ratings".
Looking back at last week's second Stones poll, the question was: Undercover vs Between the Buttons, which album do you like the best?

vs

Oh well, most of us knew which LP would end up top when this one was over, but I was thinking a large landslide would have taken place…. but it didn't. To see the final results, just click here:Stones Weekly Poll - week 979, poll 2. Or, you can see the final results and check out the updated, current album standings at the Stones VS Page 1.
Over at the Classic Rock Poll this week we enter poll week 620, and just like as we do at the Stones poll, we vote in 2 poll questions a week in this one too. The first poll's question this week asks this: Who were the best harmony vocalists singing in a song? (Part 7 of 10)
Just 3 parts of this series is left to vote on now. This week we once again have another 27 great choices to choose from, and no, as is usually the case, it ain't gonna be easy to pick just one from this week's great list.
To cast your vote for this week's Part 3, just click here: Classic Rock Poll, and when you get to this page, choose "Poll 1" to vote on this question.
At the second Rock poll this week, known better as the Rock VS poll, we will vote on this new question: "The House of the Rising Sun" by The Animals vs "La Grange" by ZZ Top, which song about a house of prostitution is better?
VS
"The House of the Rising Sun" is an old traditional folk song set in New Orleans that's been covered by many throughout the year, with the Animals' 1964 take the most popular version, and since it was cut with a rock edge to it, it was called a "folk-rock" song at the time, with the organ being the lead instrument to the song, very unusual for the time. It has been argued that the song is and isn't about a brothel, some say it was about a wild bar known for a lot of fighting and where easy woman could be picked up. So it sounds that if it wasn't a whorehouse, it at least had connections to being close to being one.
"La Grange" by ZZ Top was one of the first early hits for the boys from Texas, coming out in 1972 and the tune is for sure about a real whorehouse in La Grange, Texas, known as the "Chicken Ranch". This is the same brothel that the well-known film The Best Little Whorehouse in Texas was about.
So which song do you like better? To cast your vote, just click on Classic Rock Poll, and when you get to this page, choose "Poll 2" to vote on this question.
Looking back at last week's first Rock poll, we answered Part 6 of this question: Who were the best harmony vocalists singing in a song? (Part 6 of 10)
In last week's round, 2 songs totally dominated the voting, "The Boxer" with harmonies by Paul Simon and Art Garfunkel (on the Simon & Garfunkel song, at 8.8%), and "Teach Your Children", with harmonies by David Crosby, Stephen Stills and Graham Nash (on the Crosby, Stills, Nash & Young song, at 8.5%). But of course, we take the top 3 songs from the 9 parts to go up against each other in the final round, and so for the last spot last week we had a tie between "Amie/Falling In and Out of Love" - Harmonies by Craig Fuller & George Powell (on the Pure Prairie League combo song) and "Walking the Dog", with harmonies by Mick Jagger and Brian Jones (on the Stones' song) with both at 6.4% of the votes.
What is most interesting in these results so far is where the Stones, Simon & Garfunkel, and The Beach Boys are doing great with already 4 songs in the final round each, the Beatles, who you would except the same results from if not better, only got 2 songs in so far. They have landed in 4th place in all of the other rounds where they didn't make it. They usually do great in these multi week polls, but again, at this rate they won't have too many songs in the final round for this series, not at this rate.
To see the full, final results last week's first poll, just click here: Classic Rock Poll 1, week 619.
In last week's VS Rock poll, we answered this question: "Rock and Roll Music" by Chuck Berry vs "Rock and Roll Music" by The Beatles, which version of the song is better??
VS
This one was as close as it could get without a tie. Yep, one song won out by just one single vote. Which song was that? Just click here to find out: Rock Poll 2, week 619. You can also check out the final results at the VS Classic poll results page at the Classic Rock site, by clicking here: VS poll page 3, list page 15.
We close out this poll post as usual with the Beatles poll, where we enter week 373 of polling, and ask this new question: Revolver vs Rubber Soul, which album do you like the best?"

VS

This week the Beatles Album VS polls returns to the fray and it's Revolver's turn to play host, and we'll call this new series "The Revolving Polls". Unlike the Stones VS polls that have been going on for ages, since there's so many LPs put out by the Stones, well that sadly isn't the case with the Beatles of course, and we just are running one series each for each Beatles LP. So for this revolving poll, there will only be 6 rounds, as the Revolver album has already taken part in 6 other battles already and sports a first place, undefeated perfect record of 6-0. Could it maybe turn out to be the Sticky Fingers of this Beatles album VS series? Well it still has half way to go, but it has already been matched up against what many fans would call the best Beatles albums and has even beaten Abbey Road, which I fond hard to believe when that took place. So maybe, and we're know that answer for sure in 6 weeks from now.
To vote in this new series, please go here: Beatles Weekly Poll.
In last week's Beatles poll we asked: Rate the Beatles official video for "The Ballad of John and Yoko"
Well, the final results to this one ended up like the final results to almost all of the Beatles video polls so far (but 2)! That is, a "10" was the top pick! To see the poll results, just click here: Beatles Weekly Poll – week 372. Or, you can check out the final results at: The Beatles Videos and Movies Page, which is located at the domain's Lennon Site.
So that takes care of another poll post for yet another new week. In Gasx3 board news, I did decide in the last few days that no, there will not be any new Gassers joining us on here from now on. Yes, it's pretty much been that way for the last year anyway, with the sign-up form only online for 2 out of the last 12 months. But with May here now, well we only got 8 months to go and it's looking like the Land of Gas will turn into an internet blog with a limited number of bloggers (those who are our regular posters today) and we're see just how well that will work out. You may or may not see one or 2 new posters join us in the next few weeks, as I promised 2 people who had emailed me in the last few weeks and who wanted to join us here, that they could get a new password if they wanted one, since they been waiting to join for a while, and both of them actually posted before in Gasland many years ago – way back in the last century, before we had a password system in place. But they would be the last 2, and then that's it, and the crew that we have here now posting, will more than likely be the sole survivors from the old and original Stones' It's A Gas, Gas, Gas Message Board. But it won't be a Stones board anymore, even if I know that we will still post – well, blog, about the Stones, we will blog about anything and everything. Guess the old "NSC" acronym won't be needed anymore after January of '19 either, but until that time, yes, still use it Gassers when you post off topic, since we are still a Stones board first until that time. But yes, it's been one long and strange trip for sure, but all trips must come to an end sooner or later, and the 20 year ride here is getting closer to crossing the finish line in a few more months.
As always, I thank all of you for voting in this week and last week's polls!
Keno
Gasland Thread
---
Post Follow-up
---
Note: Do not hit the "Post Message" button more than once, even if it is taking a long time to post your message. Doing so may cause a double post to appear and could slow down your posting time even more.
Filter Threads/Archives
---
---
Download your free, customizable Burton Networks Message Board now!
© 1998 - 2019 by Keno Internet Services, except where otherwise noted. All rights reserved.