---
IT'S A GAS, GAS, GAS!!
MESSAGE BOARD
Return to Gasx3 Board Homepage
---
Gasland Message
---
Name: Keno
E-Mail: keno@fairpoint.net
Subject: B&L/OOOH/BnB/Most cheesy band/Pill songs/Lennon
Date: Sunday, July 16, 2017
Time: 10:52:10 PM
Remote Address: 66.36.115.94
Message ID: 309788
Parent ID: 0
Thread ID: 309788

B&L/OOOH/BnB/Most cheesy band/Pill songs/Lennon
It's time to get this week's poll post going, starting off as usual with the Stones Poll, where we enter week 938 of polling and as we always do, we will vote in 2 poll questions for the week. The first question will ask this: Blue and Lonesome vs Between the Buttons, which album do you like the best?

vs

Week 7 of the Blue Polls, which features the Stones newest studio album, Blue and Lonesome, and yes, you read that right, it's week 7. Normally I'll run a new poll series for this Stones album VS polls for no more than 6 weeks, but with time running out on the Stones weekly polls (there's 62 weeks left), and with B&L only being polled 6 times now, since this was also its first run period in this series, well I need to run this LP a few more weeks now, so by the time we reach the polls ending, this one should, be like the others and be just about all matched up with every other album. It doesn't appear anybody is getting too bored with me asking about it too often anyway, and the only way to get all the LPs matched up before the poll ends, is to keep running the second poll question every single week, too, which I'll keep doing till week 1,000 gets here. Looks by my doing this that we will get all of the LPs matched up... other than the new album that they are recording right now, chances are we won't be able to get that one completed in time, since there shouldn't be enough weeks left to do so by the time it comes out and then I wait until everybody knows the new LP good enough before I start to match it up against the other albums.
But getting back to this week's first question, B&L will go up against the Stones 1967 release, Between the Buttons. BTB is not doing as well as you might think in these matchups, with a losing record of 6-7, placing it in 16th place out of the 25 spots in the standings. B&L is one spot above BTB, at 3-3.
To see the song list for each album, for Blue and Lonesome, click on: B&L, and for Between the Buttons, click here: BTB.
To cast your vote in this first Stones poll, just click on: Stones Weekly Poll, and when you get to this page, choose "Poll 1" to vote on this question.
The second Stones poll is where we normally run the Stones album VS matchups, and the week's second poll will ask this: Black 'n Blue vs Out Of Our Heads, which album do you like the best?

vs

or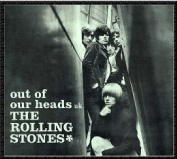 The Black 'n Blue Polls returns this week. Yes, we voted on BnB just 2 weeks ago, as a guest album in the Blue Polls, but it's now its turn to host the series again, for this week. The LP is another album having a hard time in these matchups, with just a 2-11 record, and in a 3 way tie for 23 place.
BnB goes up this week against 1965's Out Of Our Heads, which is doing very well in these battles, sporting a record of 9-4, good enough to be in the Top 10 in the standings, in 7th place.
To see the song list for each album, for Black 'n Blue, click on: BnB, and for Out Of Our Heads, click here: OOOH
To cast your vote in this second Stones poll, just click on: Stones Weekly Poll, and when you get to this page, choose "Poll 2" to vote on this question.
At the first Stones poll last week we answered this: Blue and Lonesome vs Steel Wheels, which album do you like the best?

vs

Well B&L is now up to the .500 mark after its big win last week. To see the final, not at all close results from this the poll, just click here::Stones Weekly Poll - week 937, poll 1. Plus, I'll add the results from this poll to the standings at the Stones VS Page 1, where at the top of the page you can check out the updated standings on how each album has done in these long running VS polls.
Looking back at last week's second Stones poll, the question was: December's Children vs Let It Bleed, which album do you like the best?

vs

This poll saw a major landslide, even more than the first question saw. I don't think I have to tell you which album came out on top, do I? To see the final results from this poll, click here:Stones Weekly Poll - week 937, poll 2. Plus, just like at the first poll, I'll add the results from this poll also to the standings at the Stones VS Page 1.
Over at the Classic Rock Poll, we enter poll week 578, and just like as we do at the Stones poll, we run 2 poll questions a week at this one, too. The first poll's new question this week, asks: Which pop/rock group/artist is the most cheesy?
We had a thread here at Gasland awhile back where the question asked: "What is you guilty pleasure when it comes to listening to cheesy bands/artists", and I thought that would make for a great Rock Poll question one day, and at first, well up to Saturday actually, I was going to go with this a bit fuller question: "What is you guilty pleasure when it comes to listening to cheesy bands/artists that most classic rock fans dislike?" But the more I thought of it, the more I realized that while that question made for a great Gasx3 thread question, for the poll maybe not. I felt that more fans would take part in the vote if I changed the question around a bit to read as you see it now, up above.
Now by "cheesy", for this question it referrers to "corny, or real lame" artists, and is not the same meaning as to what we looked for last week in the worst band poll we held, even if half the bands listed last week are listed again this week. Since some bands and artists can be and are both, some cheesy bands can be a good playing band, too, even if they are cheesy. The Eagles would be one band that is/was a very good band, but to many people (not me), they are pure cheese anyway. Also, if a group or artist only looked cheesy, well they still make the list - if only for that reason. Even a cheesy name can get a group on this list. Most of the bands listed sure don't look cheesy, but still were, while one or two of them looked totally cheesy, yet overall they really weren't cheesy as far as how their songs went.
Now, cheesy bands that weren't a real band or real person, don't count for this poll, and they aren't listed (i.e. The Archies, or the Chipmunks, etc.). However, this brings to mind Milli Vinilli, who were real, but total fakes as far as being real singers went, but I guess they could dance good enough, and they were real people, so they do get listed.
Just remember, we are not looking for the worst group/artist out of the bunch this week like we did last week. This week it has to do only with which band is the cheesiest, and again a band could be a good playing band - yet still be full of cheese.
So we have 52 artists listed this week in our poll, but we will cover all of them - at once, in this one poll only instead of breaking the choices up into more than one part, since I don't wish to spend too much time on this question, and next week we will be looking at cheesy songs - and there's so many of them that I more than likely will have to break up that list in two, or maybe even into 3.
To vote in this poll, just click here: Classic Rock Poll, and when you get to this page, choose "Poll 1" to vote on this question.
At the second Rock poll this week, known better as the Rock VS poll we will vote on this question: 'Medicine Jar' by Wings vs 'Everything Put Together Falls Apart' by Paul Simon, which song about popping pills is better?
This is the second week in a row featuring the great Paul Simon in the VS polls. I've been on a major Paul Simon thing for the last couple of weeks, listening to the Simon & Garfunkel station on Pandora radio, and on there they also play a lot of solo Simon, too. Gosh did Paul write so many major hits, he is right up there with Dylan, Lennon/McCartney, and Jagger/Richards, IMO.
His second solo album, released in 1972, and 7 years after his first one, contained this anti-drug song about poisoning yourself with barbiturates (downers) and amphetamines (uppers), which when this song came out was a major problem (at least in the US anyway), thanks to out of control doctors who got rich prescribing them to patients and causing widespread addictions. Today doctors are watched on what they give out and barbiturates have been replaced by other drugs now and are rarely prescribed anymore.
'Medicine Jar' by Wings, came out 3 years after the Paul Simon song, in 1975 and is also about popping pills, mainly 'blues and reds' meaning again, barbiturates. Paul McCartney only played the bass on this song and didn't sing on it, or write it, either. Lead guitarist Jimmy McCulloch wrote and sang the song. Still a young kid around this time, just 21 years old, but a veteran in the rock word after starting out as the lead guitarist in the band Thunderclap Newman, at the age of just 16. Plus as was the sad case in the rock world in those days, nobody really took any warnings that some of them even wrote about, and in Jimmy's case, he would soon after die from drugs, of morphine and alcohol poisoning, at the age of 26.
So I guess one can say that anti-drug songs are a waste of time, and I'll agree with that, since I dug both songs when they came out and yet was abusing downers myself in those days. The song's message didn't matter none to any of us in those days.
To vote in this poll, just click on Classic Rock Poll, and when you get to this page, choose "Poll 2" to vote on this question.
In last week's first Rock poll, we asked: Which pop/rock band or duo listed was the worst group ever?
Milli Vinilli was the run-away pick, and a good one, even if I didn't vote for them. But they were total fakers, so in a way, how could any other band be worst? Yet after this top spot pick, spots 2 thru 16 were all very close in the voting. To see the final results, just click here: Classic Rock Poll 1, week 577. Or, to just view the poll's top 10 picks, just click here for: Top Ten Lists, Page, 14
In last week's VS Rock poll, we asked this question: "I Am a Rock": Original by Paul Simon vs the original by Simon & Garfunkel, which version is better?
Yet another poll last week with not so close final results.… To see the poll's results, just click here: Rock Poll 2, week 577 You can also check out the final results at the VS Classic poll results page 2, at the Classic Rock site, by clicking here: VS Page 2, List Page 10.
Now to now close out this poll post we turn to the Beatles poll, where it's week 331, and the question is: 'Good Night' by the Beatles vs 'Beautiful Boy' by John Lennon, which Lennon song written for his sons, is better?
These two songs, written 12 years apart, were both lullabies composed by John Lennon for his two sons when they 5 years old.
"Good Night" was written for John's oldest son, Julian, in 1967, and recorded in 1968 by the Beatles - well, kinda of. Actually, John doesn't sing or even play on the song, nor does Paul, or George. Ringo is the only Beatle on this number, singing the lead vocals, while producer George Martin arranged and conducted the orchestra that plays the music we hear on this tune. John did sing the demo for the song, but he felt Ringo's vocals were better suited for this ditty than his own.
For "Beautiful Boy (Darling Boy)", John wrote this bedtime song for his son Sean in 1980, and he recorded it just months before his death, and shows the strong love he had for his youngest son. It was released first in 1980 on his LP Double Fantasy, and then as a single in 1981. Both Paul McCartney and Yoko Ono have said that this song is their favorite solo Lennon song.
Both songs have close to the very same endings to them, closing out with spoken words, with John wishing his sons a good night sleep, although for the Beatles song (which again, Ringo sang), John changed the closing lyrics just before the song was recorded, to where instead of having Ringo saying good night to his son, he had him say this instead: "Good night... Good night, everybody... Everybody, everywhere... Good night.". Yes, that was a grand way to close out the double White album, for sure.
To vote in this poll, go here: Beatles Weekly Poll.
In last week's Beatles poll we answered this question: Who was more of a musical genius in the Beatles, John Lennon or Paul McCartney?
Yet another poll that was inspired by a Gasland thread from a few weeks back, and it made for a great poll indeed! John Lennon was chosen as the top genius in the Beatles, but it was very close voting and Paul McCartney was only 7 votes behind him in second. The third choice, that they were equals also saw a lot of votes, too. But less than 1% of the almost 1,000 votes picked the choice that "neither of them were geniuses", it saw just 6 votes, so I think that settles the question if these guys were musical geniuses or not.
To see the final results, just click here: Beatles Weekly Poll – week 330. Or, you can check out the poll's top picks at the following Beatles list page: Beatles miscellaneous page which is located at the domain's Lennon Site.
Well, that does it for yet another poll post. How's your summer going so far? It got a lot better here this week after being hot early on and with 30 full days without a drop of rain, but then last week came, with temps mainly no higher than the upper 70s (F), with lots of both sun and rain every day. I don't think there are too many other places that can make that claim several times a summer, than where I live. But we have full sunshine each morning and early afternoon, then in the late afternoon it clouds ups and heavy rain (and hail) hits us in thunderstorms. Heck, I haven't had to water my veggie garden all week, plus the plants still get plenty of sun each day, too! Just hope it doesn't get hot again, but after another week passes, it's unlikely that will happen here again this summer.
Thanks to all of you who votes in our polls each week!
Keno
Gasland Thread
---
Post Follow-up
---
Note: Do not hit the "Post Message" button more than once, even if it is taking a long time to post your message. Doing so may cause a double post to appear and could slow down your posting time even more.
Filter Threads/Archives
---
---
Download your free, customizable Burton Networks Message Board now!
© 1998 - 2018 by Keno Internet Services, except where otherwise noted. All rights reserved.