---
IT'S A GAS, GAS, GAS!!
MESSAGE BOARD
Return to Gasx3 Board Homepage
---
Gasland Message
---
Name: Keno
E-Mail: keno@fairpoint.net
Subject: Almost there!... Best sung song poll + more
Date: Monday, January 09, 2017
Time: 12:41:23 AM
Remote Address: 66.36.116.94
Message ID: 305914
Parent ID: 0
Thread ID: 305914

Almost there!... Best sung song poll + more
What a way to start off the new year last week for all 5 of our weekly polls. I was hoping that we might break the 1,000 vote count at the Rock poll in the first week of '17, but no, we didn't make it there, we missed - by just 12 votes! Yes, only 12 votes short! Gosh, so close, yet so far! Will we ever hit that 1,000 marker? Or we will return back to our normal 800 or so vote count for the Rock polls? Well, I do think someday soon we will hit 1,000 votes in a week, but who knows when that will be.... but, hey, why not this week?
All 5 weekly polls broke their record vote count last week! We usually of late regularly seen one of the polls do that each week, but never before has all 5 polls seen that happen in the same week. That is was really something indeed! So where I normally thank everybody for their votes at the end of this poll post, let me say "thanks" to all of you for your votes right now!
Okay, so let's now talk about this new week's 5 new polls, starting with the Stones poll, which enters week 911. As usual, we run 2 polls a week at this one. The first poll question will be: What is the most underrated song on the Stones 12 v 5 album?.

Week 2 of looking for the most underrated song on each Stones studio album. 1964's 12 x 5 was the Stones second U.S. release, and yes, it was 12 new songs put out by 5 Rolling Stones. 5 songs on here were originally released on the U.K. EP Five by Five , and fans might argue that all of the songs on this LP were deep cuts and underrated, other than "It's All Over Now", which was well known and played often on the radio.
So which one of these 12 songs by these 5 Stones so you feel is most underrated? To cast your vote in this first Stones poll, just click on: Stones Weekly Poll, and when you get to this page, choose "Poll 1" to vote on this question.
This week at the Stones album VS poll we ask: Sticky Fingers vs A Bigger Bang, which album do you like the best?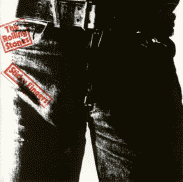 vs

This week it's the return of the Sticky Polls, featuring 1971's masterpiece,Sticky Fingers. SF is the only Stones album that's undefeated in this long running series, and it sits in first place in the standings with an 11-0 record.
A Bigger Bang was released by the Stones in 2005, and it's nice that after 11 years, we don't have to call it the band's last studio LP anymore. In these album matchups, ABB sits in 17th place, at 5-6-1. Do you think it has any chance against SF this week?
To see the song list for each album, for Sticky Fingers, go here: SF, and for A Bigger Bang, go here: ABB.
To cast your vote in this second Stones poll, just click on: Stones Weekly Poll, and when you get to this page, choose "Poll 2" to vote on this question.
At the Stones polls last week, in the first poll, the question asked was: What is the most underrated song on the Stones England's Newest Hit Makers album?

Looks like this is one very popular question, as a record number of voters took part in this poll last week. "Walking the Dog" was the top choice by a wide margin, taking in 21.2% of the votes while second place pick "I'm a King Bee" saw another 14% of the votes cast.
You can check out the full, final results from this poll, here: Stones Weekly Poll - week 910 poll 1.
Looking back at last week's second Stones poll, the question was: Exile On Main Street vs Emotional Rescuewhich album do you like the best?

vs

You really didn't think for a second that ER would beat out EOMS, did you? To see the final results, just click on here:Stones Weekly Poll - week 910, poll 2. I'll also add the results from this poll to the standings at the Stones VS Page 1, where at the top of the page you can check out the updated standings on how each album has done in these long running VS polls.
Now over to the Classic Rock Poll, where we enter week 551, and just like at the Stones poll, we run 2 poll questions a week at this one, too. In the first poll the question is this: What was the best Güiro, Jawbone or Vibraslap played in a rock song?
I always loved the sound of these 3 percussion instruments that all sound exactly the same when played. I always felt they weren't used enough in rock music, or really in any other music other than Latin music, where you hear it often. The güiro (aka scratcher) is the one of the 3 that you hear most often. Stones fans love its sound in "Gimme Shelter", and there's a few songs that it helped to make stand out even if it's only heard once or twice in the song, like early on in "Feeling Alright" (Joe Cocker's cover version), or on the song "The Low Spark of High Heeled Boys". Then of course you almost expect to hear it on songs by Santana, since they were one of the few Latin Rock groups around to make it big.
The Vibraslap (aka Vibraphone) is the newest of the 3 instruments, coming about in late 1967. It's looked at as a modern day version of the jawbone, made by its inventor because he kept breaking the jawbone's he played. So he set out to invent something new that sounded like a jawbone, but a new instrument that won't break. Brian Jones of the Stones was one of the first musicians to play the new instrument, on Hendrix's cover of Dylan's "All Along the Watchtower".
The Jawbone (aka quijada – its actual name) today you hear this the least of the 3, and yes, it's made from the real jawbones of the donkey, horses, or mules. The loose teeth are what make the rattling sound (and the part of the instrument that breaks most often). Although very popular in Latin America and played often there, it actually originated in Africa.
All together on the choice list, we have 28 songs listed, with 16 featuring the güiro, another 8 the vibraslap, and 4 more the jawbone. I also wanted all to know that this poll question was suggest by a Gasser, but somehow I can't find who it was who suggested this to me?? I usually, well always, write down the name/handle of whoever suggests a poll question to me that I use, But somehow I lost that info. So, to my Gasser friend who suggested this poll question and even listed a few of the songs that you will see in the option field, thanks for your suggestion and I'm sorry that I lost where I noted that this was your idea.
To see the list and vote, click on here: Classic Rock Poll, and when you get to this page, choose "Poll 1" to vote on this question.
For this week's VS poll, week 5 of the "Same title, different song" polls. This week's question is: 'The End' by The Beatles vs 'The End' by The Doors, which one of these 2 songs with the same title is better?
Gosh, both of these 2 songs are so very heavy and strong, with the Doors' song being a very long rock number - at 11:47, while the Beatles song is a short one, as it clocks in at just a bit over 2 minutes.
The Beatles number was the last track on Abbey Road. Some argue over where the preceding song in the LP, "Carry That Weight", ends, and where "The End", begins. But regardless, in this case, with this short song, you got to also consider all of the other songs of the medley that come just before it, since they all are tied together on the album and the lyrics to "The End" are really a part of those other songs.
But "The End" was the very last song ever recorded by the Beatles, and also the final song of the medley on side two, and again, the final song on Abbey Road (as long as you don't count the extra, hidden track that comes about 20 seconds after it). But while this song was titled to reflect the close of the LP and the medley, the title works out even to be more keen since it was the last song that the Beatles would ever record together as a band.
The lyrics to the Doors' "The End" were written by the group's singer, Jim Morrison, while the music was credited to the band members. A very long song that Morrison wrote about breaking up with a girlfriend of his. It is perhaps best known by one single line, which to this day still gets some people upset when they hear it, even if on the released studio version, the final 2 words were really just a jumbled scream and never sung (but they were sung live).
A note about the videos that can be found in the voting booth (for both songs); the one for the Beatles' song, only covers about a minute of the song, mainly since almost all of the Beatles music is blocked on YouTube and on other sites, and there isn't any full version of the song anywhere else on the net that I can find. I have found that Vimeo.com usually is the best bet to find some Beatle music at, and sure enough that's where I found this vid.
To make your pick and vote in this VS poll, just click on Classic Rock Poll, and when you get to this page, choose "Poll 2" to vote on this question.
In last week's first Rock poll, we asked: What was the best ever sung rock song? (Part 8 of 8) Well, we just missed getting those 1,000 votes, and I do know that a good question is what gets many to vote on the question in the first place.
So after 8 long weeks we finally got an answer to this question. Although I didn't vote for it, I totally understand how it was picked first and it is a good choice… I'm talking about the top pick, that being "Bohemian Rhapsody" by Queen - Lead vocals by Freddie Mercury; Operatic vocals by Mercury, Rodger Taylor, and Brian May…. Second place went to "Twist and Shout" by The Beatles - Lead sung by John Lennon; and third to "Bridge Over Troubled Water" by Simon and Garfunkel - Sung by Art Garfunkel.
To see the full, final results from this poll, click here: Classic Rock Poll 1, week 550. Or, to just view the final top ten picks from this poll, they will show up at Top Ten Lists, Page, 11.
In last week's Rock VS poll, we asked: 'Cocaine' by Eric Clapton vs 'Cocaine' by Jackson Browne, which one of these 2 songs with the same title, is better? The wrong song won this poll simply because it's better known, which is often the case. To see the results from this VS Rock poll, go here: Classic Rock VS Poll, week 550. You can also check out the final results at the VS results page 2, at the Classic Rock site, just click on: VS Page 2, List Page 10.
We finish up here with the Beatles poll, where it's week 304, and this week's new question is: Yellow Submarine vs A Hard Day's Night, which album do you like the best?

vs

Only 3 weeks to go with matching up Yellow Submarine with all of the other Beatle LPs. This week it's A Hard Day's Night's chance to get a whack at YS. This one was put together for the Beatles first movie of the same name, with 7 of the 13 songs in the movie.
To see the songs on Yellow Submarine before you vote, go here: YS, and for A Hard Day's Night's , click here: AHDN
To vote in this week's Beatles poll, please go here: Beatles Weekly Poll.
In last week's Beatles poll we answered this question: Yellow Submarine vs Beatles for Sale , which album do you like the best?

vs

Well, another week and another loss for YS… check out the final results, here: Beatles Weekly Poll – week 303.
That does it for this week's polls. Again, a big thank you goes out to all you who took the time to vote last week in record numbers.
Keno
Gasland Thread
---
Post Follow-up
---
Note: Do not hit the "Post Message" button more than once, even if it is taking a long time to post your message. Doing so may cause a double post to appear and could slow down your posting time even more.
Filter Threads/Archives
---
---
Download your free, customizable Burton Networks Message Board now!
© 1998 - 2019 by Keno Internet Services, except where otherwise noted. All rights reserved.