Keno's Classic Rock n Roll Web Site


ROCK 'N ROLL BIOGRAPHY
ALLMAN BROTHERS BAND
Formed: 1969 in Macon, Georgia
Years Active: 1969 - 1976, 1978 - 1982, 1989 - to present
Group's Main Members: Duane Allman, Gregg Allman, Richard 'Dickie' Betts, Berry Oakley, Butch Trucks, Jai Johanny Johanson, Chuck Leavell, Lamar Williams, Warren Haynes, Allen Woody, Derek Trucks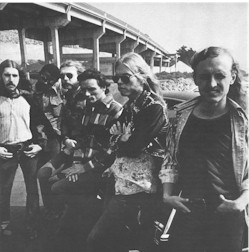 The Allman Brothers Band have sure had their share of ups and downs throughout the years. The band was formed by guitarist Duane Allman after a short spell as a session man for several artist including Aretha Franklin and Wilson Pickett. Duane had first been in a few bands with his brother, vocalist and keyboardist Gregg Allman. They first formed a garage rock n roll band called the Escorts in 1966, they then became a blues band and were called the Allman Joys. After that they formed a soul group called Hour Glass in '67 and recorded and released two albums. Even though these albums got good reviews they didn't sell and the band broke up in '68. After his gig playing sessions, Duane formed the Allman Bros. in 1969 with fellow guitarist Richard 'Dickie' Betts, bassist Berry Oakley, and two drummers, Butch Trucks and Jai Johanny Johanson (aka Jaimoe). But the band was in need of a lead singer and after several months Gregg agreed to join the rest. They then signed a record deal with Capricorn records.
Their first album, a blues, country rock album, The Allman Brothers Band, got great reviews but at first didn't sell so well. One song on the album, "Whipping Post" would later become one of their most loved live numbers for years to come. Around the time of the first album's release, the bands' sound was being defined on the road as they would play long jams and were an instant draw. Their next album released in 1970, Idlewild South, also got great reviews and sold better. A stronger album than the debut, it also contained a few more soon to be concert favorites, leading the way with the songs "Midnight Rider" and "In Memory of Elizabeth Reed". 1971's early summer release of the double album Live At The Fillmore East, would turn out to be considered one of rocks best ever live albums. It highlighted the great guitar interplay between Duane and Betts, also some great slide guitar by Duane and powerful vocals from his brother Gregg. Included on the album was an extended version of "In Memory of Elizabeth Reed" and two twenty minutes jams, the cover tune "You Don't Leave Me" and "Whipping Post" which timed out just short of 23 minutes.
Unfortunately with the band at its peak, just three months after Fillmore East was issued, tragedy struck on October 29 1971. Duane was badly injured in a motorcycle accident with a truck. He refused any treatment and returned to his home where he died a couple of hours later. The band was working on their next album when the accident occurred and finished it up as a five piece band with Betts taking over the rest of the lead guitar parts. The album was titled Eat A Peach, consisted of live and studio material including the live 33-minute "Mountain Jam" (based on Donovan's "There Is a Mountain"). On the album's cover was a drawing of an old peach truck with one mammoth peach, this in memory of Duane, who once stated that he would "eat a peach for peace" as an anti-war statement.
The Allman Brothers never replaced Duane's guitar, but did add a second pianist, Chuck Leavell to their lineup. Then one year and 12 days after Duane's accident, tragedy struck again as Oakley was also killed in a chillingly similar motorcycle accident, just a few blocks from where Duane had his. The band had just started work on their new album with the song "Ramblin Man" being Oakley's last contribution. They recruited bassist Lamar Williams to take his place. The resulting album, Brothers And Sisters, released August 1, 1973, was a bit more mellow and country sounding with Betts playing all the lead and slide guitar parts and singing more lead vocals on the album too. A good album but still not as strong as the other ones were, yet it still went to number one on the charts and "Ramblin Man" was a hit single reaching number two on the single's chart.
At this point Betts was the band's new leader.Drugs were also taking over the lives of most of the band's members with Gregg overdosing on two occasions. By '75 all of the band's members had done outside projects which was affecting what was left to record when they returned to the studio and recorded Win, Lose or Draw. The whole band wasn't even in the studio for most of the album's work with Gregg living in Hollywood with his new wife, Cher. His vocals were recorded over there, away from the rest of the band. The album was a major bust and got poor reviews. The Allmans broke up in 1976 following a notorious drug trial in which Gregg testified against a former road manager who had once saved his life after one of his overdoses. It was that or go to jail for Gregg and he squealed like a pig. The other band members quit the band in protest and vowed never to work with him again.
But time is great in healing wounds (so is the chance to make a lot of money again, too) and in 1978 a reconstituted band was formed with Allman, Betts Johanson and Trucks. Dan Toler was brought in as second guitarist. Leavell and Williams (who would later die of cancer in 1983) stuck to their guns and refused to join, and Johanson would be gone by '81. 1979's Enlightened Rogues was a commercial success for the group but the next two albums released weren't and the band broke up again in 1982.
A new incarnation of the band appeared in 1989 with a line-up of Allman, Betts, Warren Haynes on slide and lead guitar, Allen Woody on bass, Johnny Neel on keyboards, Trucks and Jaimoe still on drums, with Mark Quinones added to play percussion in '91. The reunion turned out a credible release: Seven Turns which sold well and got great reviews. Neel left after that and their next album Shades Of Two Worlds was also well received. In 1994 they met up with their old producer Tom Dowd again to put out another decent album Where It All Begins. In 1999, Trucks' nephew, Derek Trucks, joined the band on slide guitar.
Today they are still a major draw and still put on great shows that sell out. Their old material still sells great some 30 years later and they are still one of the most respected rock acts of their era.
- Keno, 2000
Addendum - On January 24, 2017, Butch Trucks passed away at the age of 69.
Addendum 2 - Gregg Allman passed away on May 27, 2017 from liver cancer, also at the age of 69.
Back to Rock Bio Page
- Rock Store -