Keno's Classic Rock n Roll Web Site


ROCK 'N ROLL BIOGRAPHY

THE ROLLING STONES
Formed: May 25, 1962 in London, England
Years Active: 1962 through present.
Group's Main Members: Mick Jagger, Keith Richards, Brian Jones, Charlie Watts, Bill Wyman, Mick Taylor, Ron Wood, Ian Stewart.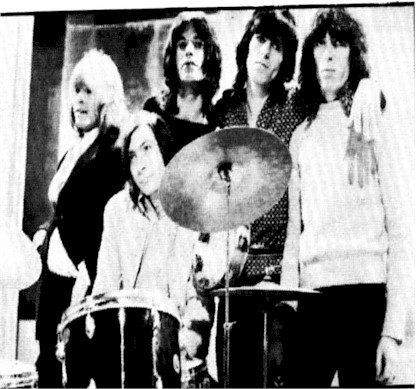 The World's Greatest Rock n Roll Band, they keep proving it over and over again. The Stones were formed by blues purest, guitarist and harp player Brian Jones in 1962. He wanted to start a R&B band and the first to join him was pianist Ian "Stu" Stewart, followed by guitarist Geoff Bradford. In June, Mick Jagger (vocals) and Keith Richards (guitar) joined them. Also to join the band at that time was bass player Dick Taylor, but no set drummer was to join at first. Bradford left the band shortly after Richards and Jagger joined. Several drummers would play with the band - Mick Avory (who later would join the Kinks), Tony Chapman, Charlie Watts and Carlo Little. Jones was the band's early leader and was the one to come up with the name, which he took from a Muddy Waters song. That December Dick Taylor left and Bill Wyman took over the bass duties. In January '63 Charlie Watts finally decided to take up on a earlier offer to join the band and the heart and soul of the Rolling Stones was now in place. The Stones started out playing small clubs. Their first studio work took place that March but it wasn't till they met Andrew Loog Oldham that things would start to click for them. Oldham signed the band to work for him and partner Eric Easton that May. But there would be one more change. Oldham didn't feel Stewart's image fit in with the rest of the band's and insisted on him being out of the main line up. Luckily for the Stones, Stu agreed to become their road manager and still play his fine piano in sessions for the Stones till his death in December of 1985.
Success came to the Stones rather quickly as they transformed from a blues band to a rock band. In the coming years the Stones would experiment with just about every kind of rock music out there. But still, they would never wander too far from the blues. It was Jones and Richards who wrote the blueprint for rock guitar weaving that so many other bands would soon partake in. Jones was also the first white man to play slide guitar and played it superbly. Richards in time would be know as one of rock's best ever rhythm guitar players and his guitar riffs became the trademark sound of the Stones. With Wyman & Watts the band had one of rocks best rhythm sections too. But with that all said and done, it was Jagger who was perhaps the main reason for the band's rise to the top. Jagger early on took over as the band's leader and as singer was the front man. His stage presence was unlike his contemporaries and the young fans just loved him.
By the mid sixties the Stones were the number two band in rock behind the Beatles. They would turn out a number of great songs written by Jagger/Richards that had instruments on them that were never heard before in rock music. This all came via the versatility of Jones, "a cat who could play any instrument" as Richards would later say about him. But by the late sixties things were not going well between Jones and Jagger/Richards. Jones wanted writing credit on songs he help write in the studio, which he would never receive. He also had a drug problem that was getting out of hand and on top of everything else lost the love of his life, actress Anita Pallenberg, to his now former best friend Richards in 1968. In May of '69, it was agreed that Jones would leave the band. Tragically, less than a month later his body was found at the bottom of his swimming pool. No credible explanation was given on how he got there and to this day many friends and fans feel foul play was involved. The band hired blues guitarist Mick Taylor to take his spot in the group. Taylor's guitar playing compared to Jones' was a world apart. Taylor played a more cleaner guitar than Jones and unlike Brian stuck to just the guitar. As the Stones entered the seventies he pretty much took over most of the lead guitar parts in the band as Richards' drug problems got somewhat in the way. While all this went on, Jagger remained the front man and continued to deliver songs vocally like no one else. It was during this time period that the Stones would become rock's best live act.With the Beatles now gone, the Stones were the true kings of rock. Unfortunately in December of 1974, Taylor suddenly quit the band. Some say it was over his lack of receiving writing credits that was the cause, a problem Jagger/Richards still hadn't addressed to the rest of the band. In April of '75 Ron Wood, guitarist for Faces was named as a temporary replacement for the upcoming tour. But just about everyone knew he would stick, and in time he did. Unlike Taylor, "Woody" seemed to fit in more with Richards' style of playing. For the first time since the Brian Jones days, Richards had someone he could guitar weave with again. The band's present lineup would stay intact for years to follow. In the mid eighties things got tense between Jagger and the rest of the band as Mick wanted to do solo projects and was seen as slipping away from the rest. For the first time it seem that maybe the end of the Rolling Stones was near. But by the close of that decade things were ironed out and the Steel Wheels tour was a huge success. In January of '93 Wyman quit the band and once again, like Jones and Taylor, a lack of credit for song writing was one of the reasons cited for his departure. To this day the Stones have yet to replace him. They have used several different bassist in the studio since and employ Darryl Jones to play bass on the road.
As of this bio's written date, the Stones have put out twenty six studio albums and another seven live albums. In addition numerous other live boots, compilations and greatest hits albums abound. Their top four "monster" albums were released between '68 and '72: Beggars Banquet ('68), Let It Bleed ('69), Sticky Fingers ('71) and Exile on Main Street ('72).
But to sum up all of this, no other bands or artists sing or lives the lifestyle of sex, drugs and rock & roll like the Stones do!
- Keno, 1999
Addendum - Charlie Watts passed away on August 24, 2021, at the age of 80.

Check out Keno's Rolling Stones Web Site for more info.
Back to Rock Bio page

---