Keno's Classic Rock n Roll Web Site


ROCK 'N ROLL BIOGRAPHY
ELTON JOHN
Born: Reginald Kenneth Dwight, March 25, 1947, in Pinner, Middlesex, England.
Years Performed: 1961 to present.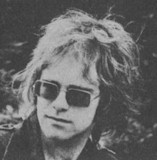 Michael Jackson might claim to be the King of Pop, but truth being, that title really belongs to Elton John. A true superstar, Elton has had huge success throughout the years including charting a Top 40 single every year from 1970 to 1996, and a four-year streak of 16 Top 20 hits in a row from 1972 to 1975, when he also had seven consecutive number 1 albums.
Elton was born Reginald Dwight in 1947. A product of a broken home, his parents divorced when he was a baby and he was raised by his mother. Encouraged by her, Reg started to play piano at the tender age of 4. When he was 11, he won a scholarship to the Royal Academy of Music, where he studied the piano for several years.
He formed his first band, Bluesology, in 1961 and turned professional in 1965 when they secured enough work backing touring American soul artists. Bluesology became Long John Baldry's backing band in 1966. Shortly after that, Reg was looking for more control and decided to either go out on his own or maybe join a new band. He tried out for lead vocalist with both King Crimson and Gentle Giant and also was doing some session work. It was around this time that he came upon a stack of song lyrics written by Bernie Taupin, a young unknown composer who was in search of someone to add music to his lyrics. At first they corresponded through the mail. During this time he changed his name to Elton John, borrowing the first name from his former band mate Elton Dean and taking the last name from John Baldry. The first time the John/Taupin moniker would appear was for the song "Scarecrow" in 1967.
John and Taupin were hired by Dick James to become staff songwriters at his DJM in 1968 at a salary of £10 per week. The two started to churn out many songs with Taupin taking an hour to write the lyrics for a song and John a little less than that to write the music. Over the next year and a half, the duo wrote songs for pop singers like Lulu and Roger Cook. Elton also started recording tracks for a solo career. His first few singles went no where, but one, "Lady Samantha" got some good reviews. He released his first solo album, Empty Sky, in June of '69. It received fair reviews, but like his first couple of singles, the album didn't sell. In 1970, he hired Gus Dudgeon to produce his second album, the self titled Elton John. The album's soon to be a classic single, "Your Song", was a hit, cracking the Top Ten in both the US and the UK (#2). A star was born with this album, but not yet a superstar. 1971 would turn out to be a very busy year for EJ with four releases. First, the momentum from Elton John was maintained with his next studio LP, Tumbleweed Connection, released in January '71. A loose concept album about the American West, it climbed into the Top Ten with AOR songs like the soulful "Amoreena" , the rocking "Burn Down the Mission" and the country "Country Comfort". That was followed by the February release of the soundtrack Friends, although not all the music was by John/Taupin, several were, including the single "Friends". In March, 11-17-70 was released. The album was recorded live from a special show put on for a NYC radio station. Neither Friends or 11-17-70 sold too well but Elton would be back on the upswing before the year's end with the November release of Madman Across the Water. Including classic songs like "Levon", the beautiful "Tiny Dancer" and it's title cut, the album was a hit. These John/Taupin tunes had a strong feel to them, just like the ones before, and things just kept building from there.
Elton's stardom would continue to grow with the 1972 release of "Honky Chateau". It became his first American number one album, spending five weeks at the top of the charts. Songs included a little bit of everything from the good time boogie of "Honky Cat", the light, somewhat psychedelic pop of "Rocket Man" and the haunting ballad "Mona Lisas and Mad Hatters". With this album Elton also had a solid backup band in place (who he would use exclusively on the next several albums); choosing session players from his first few albums: Davey Johnstone on lead guitar, Dee Murray on bass and Nigel Olsson on drums.
From 1972 through 1976, Elton John was just about as close to being unstoppable as anyone could get. In '73, Don't Shoot Me I'm Only the Piano Player came out. A great Pop album which included the hits "Daniel", a ballad and "Crocodile Rock" a take on '50s rock & roll. Other songs like "I'm Gonna Be a Teenage Idol" and "Elderberry Wine" were just filled with raw power which made his fans beg for more. They would get that just nine months later with the release of the double album Goodbye Yellow Brick Road, perhaps one of the best complete rock albums ever put out. Like his last two album's before, Yellow Brick Road's songs were all over the place, covering different kinds of musical styles from Pop, to Country, the Blues, Hard Rock and Reggae. It's biggest hits were "Bennie and the Jets", "Saturday Night's Alright for Fighting" and it's title cut. If some thought EJ wasn't yet a superstar before its release, there was no question afterwards. Elton's live shows, which were always full of action, were now instant sellouts, with fans camping out over night at ticket windows for a chance to see him perform.
Things would slowdown somewhat with the 1974 release of Caribou. An okay piece of work, perhaps somewhat uneven, but still it produced the hits "The Bitch Is Back" and "Don't Let the Sun Go Down On Me". Later in '74, he co-wrote John Lennon's number one single, "Whatever Gets You Through the Night" and he made a deal with Lennon where Lennon would join him onstage at Madison Square Garden on Thanksgiving Day 1974; it would turn out to be Lennon's last live performance and also lead to the reunion of John & Yoko.
In May of '75. he released the autobiography concept album Captain Fantastic & the Brown Dirt Cowboy. Captain Fantastic being John, the Brown Dirt Cowboy spelling out Taupin. Once again, this album would turn into a big hit, going to the top of the charts. "Someone Saved My Life Tonight" would be it's hit single and every song here was smooth with not so much of the experimentalism that was found on the preceding albums. One could really just sit back and listen to this album and learn the story of how life was in the early days for John and Taupin.
Late in '75 Elton decided to fire his backup band, making some of his fans unhappy. He did keep on Johnstone, who 25 years later would still be his main guitar man. Before the year was out he released yet another album Rock of the Westies. Hard to say if it was the new band or the fact that this was released a mere 5 months after Captain Fantastic, the album seemed a bit weak. But still, Elton was so hot that it still went to number one on the charts, marking seven consecutive number one albums.
In 1976, Elton came out of the closet when he revealed in an interview in Rolling Stone that he was bisexual. His new studio album released that year, Blue Moves didn't seem to be affected by the announcement as it still sold well, but some fans did seem unhappy with the news and his popularly began to shrink a bit. Elton, also at this time, decided that he would start to release albums less frequently and would cut back on touring. His relationship with Taupin also became strained after Blue Moves was released and the two would not collaborate for another four years. During this time EJ saw few hits and his albums that were released seem to be lacking.
In 1980 he was back with Taupin with the release of 21 at 33, which featured the Top 10 single "Little Jeannie". In '81 he had a hit with the song "Empty Garden (Hey Hey Johnny)", his tribute to Lennon. The album it was on, Jump Up, went gold. Elton would catch fire one more time with the release of 1983's To Low For Zero which included the MTV hit "I'm Still Standing" and Top Ten single "I Guess That's Why They Call It the Blues". Elton would start out 1984 with a surprise move, when he married Renate Blauel. That summer Breaking Hearts was released with the hit single "Sad Songs (Say So Much)". But his personal life had big problems as he had been addicted to cocaine and alcohol since the mid 70s and things on that end started to take a toll on him. He seemed to rebound in '85 at the historic Live Aid concert, delivering a very strong performance. Yet the next year, he would collapsed onstage during a concert in Australia. After that he would undergo throat surgery. In 1988 his four year marriage to Blauel would end in divorce. At this time he would also auction off all of his theatrical costumes, thousands of pieces of memorabilia and his extensive record collection and start to turn his life around and get off drugs. By 1991, he was sober. That April, the Sunday Times announced that EJ had entered the list of the top 200 wealthiest people in Britain. The following year, he established the Elton John AIDS Foundation, announcing that he would donate all royalties from his singles to AIDS research.
In 1993, Elton's new album Duets was released, songs included guests spots by Bonnie Raitt, Paul Young, k.d. lang, Little Richard, Don Henley and George Michael. Then in '94, five new songs (written with Tim Rice ) was found on the soundtrack to the blockbuster, The Lion King, with the album reaching number 1 on the US charts."Can You Feel the Love Tonight," would go on to win the Academy Award for Best Original Song.
The hits would keep on coming. In 1997, he and Taupin rewrote the hit song "Candle in the Wind", (originally a eulogy for Marilyn Monroe) following the tragic death of his friend Princess Diana. It became the fastest selling hit of all time in both Britain and the U.S. and his biggest hit ever. He then reunited with Lion King collaborator Tim Rice to write songs for Disney's Broadway musical adaptation of the story of Aida. Finally, in 2000 he released a companion live album One Night Only, recorded at Madison Square Garden during a TV special for American viewers.
Along with the Beatles and Rolling Stones, Elton John is Britain's most successful artist. He is still loved today and seems to like the role of being one of rock's elder statesmen. Long live Sir Elton!
- Keno, 2001
Return to Rock Bio Page.
- Rock Store -