Keno's Classic Rock n Roll Web Site


ROCK 'N ROLL BIOGRAPHY
CREAM
Formed: 1966 in England
Years Active: 1966 through 1968
Group's Main Members: Eric Clapton, Jack Bruce, Ginger Baker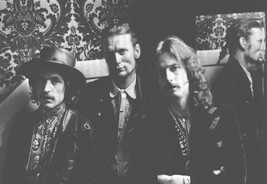 It is really hard to believe that Cream was only together for a little more than two years. They were rock's first power-trio and in their short history would sell millions of records and sell out concert halls everywhere. The band was formed as a blues-rock outfit in late 1966 with Eric Clapton on guitar and occasional lead vocals, Jack Bruce as its main songwriter, lead singer and bassist, and drummer Ginger Baker. Clapton was already pretty well know as a guitar hero in the UK and with Cream would soon be an international guitar playing superstar. He had been in bands like the Yardbirds and John Mayall's Bluesbreakers before Cream. Bruce also had been a member of the Bluesbreakers along with Clapton for a short time and had just left Manfred Mann when he joined up. Baker was the drummer for the Graham Bond Organisation , yet another band that Bruce had also been a member of. All three Cream members were looking to expand their music experiences and play music other than what was standard for the time period. No question that was what they ended up doing, playing long blues jams and extended solos live including everything from blues, to psychedelic, to hard rock.
Their first album, Fresh Cream was released in December of '66. Mainly a blues album, it was a hit reaching the British Top Ten in early 1967. Almost a year after their first release came the album Disraeli Gears. It was loaded with hits and made them big in the US, reaching number five. The hard rock song "Sunshine of Your Love," was the album's biggest hit with its great guitar and haunting vocals. "Strange Brew" was another hit and songs like "Dance the Night Away," "Tales of Brave Ulysses" and "S.W.L.A.B.R." all got substantial radio play. In June of '68 the double album Wheels of Fire topped the American charts and they were now considered one of rock biggest bands. One disc of this double album was recorded in the studio, the second recorded on stage in San Francisco. On this live disc Clapton fans would get to hear the Robert Johnson cover "Crossroads" for the first time. The studio disc contained the top ten single, Bruce's "White Room" (number 6 on the charts) as well as a grand cover of Albert King's "Born Under a Bad Sign."
It seem unreal that a band so hot would break up while at their peak, yet that is just what happened to Cream. Once again the three members wanted to break out and do something new. Cream played their last concert on November 26, 1968, at London's Royal Albert Hall. There would be one last album after the breakup to be released in early 1969 , Goodbye, it consisted of three studio tracks and three live tracks. One of those studio tunes would be the Eric Clapton-George Harrison composition "Badge" which is the album's best track. Goodbye may not have gotten the greatest reviews but it did hit number two on the charts.
Life after Cream was most rewarding for Clapton with a huge solo career. He did briefly belong to two supergroups, teaming up again in '69 with Baker in Blind Faith and then in 1970 he formed Derek & the Dominos. Bruce went on to form several different bands with several big name musicians and covered everything from blues, rock, folk and jazz. After Blind Faith, Baker formed a couple of bands including Ginger Baker's Air Force which put out a couple of albums. He was later in a few other bands and then got back with Bruce in BBM in 1994. He retired from the business in late '97 and bought a horse farm in Colorado which he ran until late '99 when he was being force out of the country.
-Keno, 2001
Addendum - On October 25, 2014, Jack Bruce died from liver disease at the age of 71.
Back to Rock Bio Page
- Rock Store -