Keno's Classic Rock n Roll Web Site


ROCK 'N ROLL BIOGRAPHY
DAVID BOWIE
Born: David Robert Jones, on January 8, 1947 in Brixton, England
Died: January 10, 2016 in New York, NY
Years Performed: Late 1964 to 2016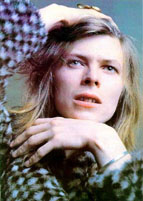 When talking about musical chameleons, you got to place David Bowie on the top of your list. The man has gone through so many changes that even his most loved fans might have a hard time time keeping up with him.
Born David Jones, on January 8, 1947, in England. He learned to play the first of his many instruments, the saxophone, at age 12, and started out performing at a rather early age, 16. His first single was recorded in 1964, playing sax with a band called Davy Jones and the King Bees. Shortly after that release, two other singles were cut, one with The Manish Boys, which also featured guitarist Jimmy Page, and then another with the Lower Third. These singles never caught on. In 1966 he change his last name when a another Englishman with the same name, Davy Jones, made it big with the Monkees. He picked the name David Bowie. After that (all this still happening in 1966), he released three mod rock singles on Pye Records, as David Bowie and the Buzz, but like his other singles, they went nowhere. In April of 1967, his first solo debut album was released, a folksy, pop sounding LP titled David Bowie, and things would continue to change, if ever so slowly, in the world of David Bowie.
After recording his first album, Bowie entered a Buddhist monastery for several weeks. After that he studied to become a mime, but all that was short lived and in 1969 got back into his music and released the album Man Of Words / Man of Music. The LP was not that popular, however, it's first single, "Space Oddity", was, and became a top ten hit in the UK. At that time, and for whatever reasons, Bowie got back into his miming again, in fact he went on tour and mimed at shows for his pal Mac Bolan and his band T-Rex. This is where he met his future Spider guitarist, Mick Ronsen. After the tour, Ronsen left T-Rex and the two of them worked on Bowie's next album, a guitar-rock album, which would be titled The Man Who Sold The Word, released in 1970. He also got married at this time to Angela Barnett, with whom he had a son, Zowie, the following year. Also in 1971, he recorded and released the pop/glam album Hunky Dory, which featured Ronsen, along with keyboardist Rick Wakeman. With this release he also had his first Top 10 success in the US, with the song "Changes". Up to this point different artists influenced Bowie's work, including singers Anthony Newley, Bob Dylan, Mick Jagger and Lou Reed. Also during this time frame, with each new album's release, he seemed get a bit more noticed in the UK, even if only a bit. Then came1972 and all of that would change.
If you were alive back then, and living in America, you more than likely don't recall much about Bowie until 1972. Beginning in 1971, Bowie began to develop his most famous incarnation, Ziggy Stardust, who was an androgynous, bisexual rock star from another planet. Bowie came up with the name, which was a variation of his friend's first name, Iggy Pop (who was known then as Iggy Stoogie). He also declared in January of '72, that he was bisexual. His marriage to Angie was now an open one, and he had several different male and female partners. He was now into the glam rock scene, big time, dying his hair orange and wearing woman's clothing most of the time. This all made for a build-up to his next album, which turned out to be so great an album, it really didn't need any hype at all. But that was besides the fact, and in late '72, the sci-fiction concept album, The Rise and Fall of Ziggy Stardust and the Spiders from Mars, was upon us all. His real life band, Ronson, bassist Trevor Bolder and drummer Woody Woodmansey, was re-named The Spiders, after Ziggy's band, The Spiders From Mars. Bowie himself became Ziggy, both on and off stage. His fan base grew overnight in the US and everybody wanted to know, and tried to guess, who Ziggy was a take-off of in real life. The Ziggy Stardust Tour was a major success, with outrageous costumes and outlandish sets. The album itself, hailed by critics as one of the best, most influential albums of rock, went straight to the top of the charts, while the single, "John, I'm Only Dancing" reached No.1 in the U.K. (It was not released as a single in the U.S). Also with the success of Ziggy, his 1970 album, Man Of Words, was finally released in the US with a new title, Space Oddity, and it became a US hit too. If all this wasn't enough, Bowie was also making it big as a producer, as he produced Lou Reed's big album Transformer and Mott the Hoople's All the Young Dudes, whose title track was written by Bowie and was yet another hit. Yes, 1972 was one big Bowie year, to say the least!
Bowie kept going strong the next year, releasing the LP Aladdin Sane, and then toured again as Ziggy Stardust. But at a London concert in July 1973, Bowie shocked his fans by suddenly announcing that "not only is it the last show of the tour, but it's the last show that we'll ever do." With that, Ziggy Stardust and the Spiders from Mars were no more. He then immediately released Pin-Ups, a collection of covers of mid-'60s British hits, and then mixed an album for Iggy Pop, Raw Power.
In 1974, with a new backing band in place, he released Diamond Dogs, another top ten hit, in part thanks to the hard rock, radio hit, "Rebel Rebel". The album's cover art showed Bowie as a half-man, half-dog creature; once again, very far-out! An elaborate and expensive American tour followed, and although every show sold out, the tour itself lost money every night because of the outrageous costs involved. He would also get into soul music, big time, on this tour, and a live double album would follow it, titled David Live, released later that year. His love for soul music would also show up in his next studio album, 1975's Young Americans, and he finally had his first U.S. number one single with "Fame," a song he co-wrote with John Lennon, who also sang backing vocals on the record.
More changes for Bowie would take place in 1976, as he entered the world of movie acting, starring in the science-fiction flick, The Man Who Fell to Earth. He also would changed his image again, cutting his hair short, dressing in 1930's era German clothing, and in turn, becoming known as the "Thin White Duke". He released the album Station to Station, with the Top 10 single "Golden Years", and went back out on tour. Following the tour, he moved to Berlin, and began collaborating with producer Brian Eno, which resulted in the new wave sounding, synthesizer-driven music of Low, released in 1977. Following that he helped produce Iggy Pop's album The Idiot, and went out on tour with him, playing piano. He then returned to Berlin and recorded 1978's Heroes, and then toured to support it. The '78 live album Stage would come from this tour. Bowie also appeared in his next film, Just a Gigolo, and also narrated a new version of Peter and the Wolf. Bowie then relocated to Switzerland and in 1979, he released Lodger.
The early 1980s was the beginning of MTV and music videos, and Bowie was ready for that too. Following the release of the album Scary Monsters in 1980, were the videos "DJ," "Fashion" and "Ashes to Ashes" - which was a sequel to his '69 hit "Space Oddity". He then took a break from recording and appeared in the lead role for the Broadway play, The Elephant Man, and appeared in two more films, Christine F (1982) and the vampire movie, The Hunger (1983). During this time he only went into the studio once, to record the hit song, "Under Pressure", with Queen. He also announced he was giving up drugs, would be leaving his label RCA for EMI, and that he was no longer a homosexual.
In 1983, he returned to music with the hit album, Let's Dance, which featured the then unknown Stevie Ray Vaughan on lead guitar. He also went back on tour for the album and like in the past, sold out all of his shows. His next LP, 1984's Tonight, was consisted weak by many, but it still had a hit single with "Loving the Alien", and the strong title track, a duet with Tina Turner. In 1985 he recorded another duet, covering of Martha & the Vandellas' "Dancing in the Street", with his old friend Mick Jagger. He also appeared in several movies during this time, Into the Night (1985), Absolute Beginners (1986), and Labyrinth (1986). In '87 he released the LP, Never Let Me Down, and toured behind it. Bowie then released a greatest hits boxed set called Sound and Vision and followed it up with yet another world tour, telling his fans that this would be the last time he would be playing his old material live. Again, the tour sold out.
It was now time for Bowie to change once more. He formed the band, Tin Machine, with American guitarist Reeves Gabrels, bassist Hunt Sales and brother Tony Sales on drums. They would release three alternative rock albums and then break up in 1993 without any real hits.
In '93, Bowie got married for the second time, to supermodel Iman. He also went solo again, with Black Tie White Noise. The album was released on his new label, Savage, but it went bankrupt and the album disappeared right after it's release. He then released the largely instrumental 1994 soundtrack The Buddha of Suburbia. In 1995, he reunited with producer Eno to record the industrial album Outside. Then in '96, Bowie appeared as his late friend Andy Warhol, in the film Basquiat; and that July he was inducted into the Rock and Roll Hall of Fame. In 1998 he released the electronica-themed album, The Earthing, to positive reviews. In late 1999, Hours, was released on Virgin Records.
As the new century was upon us all, Bowie would become a father again, with the birth of his first daughter, and this new century would bring us still more new Bowie music, with the release in 2002 of Heathen, on his new label, ISO. The re-release soundtrack to the Ziggy Stardust concert film, issued on DVD, followed in 2003, as did yet another new studio album, the arty Reality, with producer Tony Visconti.
David Bowie just keeps going on and on, with one of the most successful solo careers ever. All this for the good of his fans, and rock music in general.
- Keno 2003
Addendum - On January 8, 2016, his 69th birthday, Bowie released his 26th studio album, Blackstar. He would then die 2 days later from liver cancer, to the surprise of most of his friends and fans.
Return to: Rock Bio Page.
- Rock Store -