Keno's Classic Rock n Roll Web Site


ROCK 'N ROLL BIOGRAPHY
BOB DYLAN
AKA: Robert Allen Zimmerman
Born: May 24, 1941 in Duluth, MN, USA
Years Performed: 1961 to present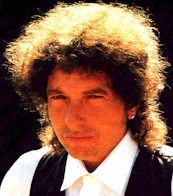 Where would Rock 'n Roll be without Bob Dylan? Well lyrically speaking, lost.
Dylan was born Robert Allen Zimmerman, on May 24, 1941 in Duluth, Minnesota. He grew up in the town of Hibbing, MN, where as a child he wrote poems. He taught himself how to play piano and guitar in his early teens and formed a couple of bands, Golden Chords and Elston Gunn and His Rock Boppers. He loved the early rock of Elvis Presley, Little Richard as well as the country and folk singers Hank Williams and Woody Guthrie.
While attending the University of Minnesota in 1959, he would play local clubs and talk about taking a road trip across America to experience what Guthrie had done. Around this time he changed his name to Bob Dylan, because he felt it sounded cool. Some who knew him them claimed he did it in honor of poet Dylan Thomas, even though Dylan denies it.
Dylan spent the summer of 1960 in Denver, CO, where he met bluesman Jesse Fuller. It seemed to have an effect on him, as he would change his style a bit, at least as far as playing live went. He now played with a harmonica rack, like Fuller did. He also decided at that time that he wanted to become a professional musician. In January 1961 he dropped out of school and headed for New York City to do just that, plus he also wanted to meet his idol Woody Guthrie. He started out playing in small clubs and coffeehouses in Greenwich Village, where he would soon make a name for himself. He also started to visit Guthrie in a New York hospital where Woody was dying from Huntington's chorea. Dylan would play to Woody some of his own songs. He wrote a song for Guthrie which would later show up on his first album called " Song To Woody".
It was at one of his first shows at Gerde's Folk City in the Village, where a story that would appear in the NY Times was written about his performance. In turn, the shinning review was read by Columbia A&R man John Hammond who would soon sign him. Hammond would produce Dylan's debut which was released in March of 1962. The self titled album, a collection of folk and blues standards, contained only two original songs. Dylan was only 21 years old at this point, but all ready had his nasal voice which made him sound a bit older and different from other singers.
After his first release he began to write songs in a frenzy. Many of these song were political protest songs. His next album, The Freewheelin' Bob Dylan, released in '63 was comprised entirely of original songs. The album was something nobody really expected so soon, a masterpiece. Already other performers started to cover songs from the album. Peter, Paul and Mary had a number 2 hit with the protest song "Blowin' In The Wind".
By the time his third album hit, The Times They Are A-Chang in 1964, Dylan was now a concert hit playing dates every night. But he was growing tried with the label tagged on him as a "protest singer and writer". The new album's title cut was of course another great protest song but he hinted that he wanted to change. On his next release, also in '64, Another Side of Bob Dylan, was just that. His least topical to date, and its finale cut, "It Ain't Me Babe," was in a way a goodbye to the folk movement he had helped reinvigorate.
1965 was one big year for Dylan. On top of everything else that would take place that year, his personal life would change too. He began a romantic relationship with fellow folk singer Joan Baez who he played live with, early in the year. He also wanted to get more into electric rock. He gave his folk song "Mr. Tambourine Man", which he was recording for his new album, to the Byrds to record as an electric arrangement and the song was a huge hit for them. When Bringing It All Back Home was released, it was a half-electric, half-acoustic album. Besides "Mr. Tambourine Man" it also had on it classics like "It's All Over Now, Baby Blue" and "Subterranean Homesick Blues" which featuring the famous line, "You don't need a weatherman to know which way the wind blows". Then at the '65 Newport Folk Festival with the Paul Butterfield Blues Band, he was booed off the stage when he started to play electric. Dylan being Dylan, could care less and told the crowd "that was the way we used to play and this is how we play now". Around mid 1965 he recorded yet another album, Highway 61 Revisited. It was his first full-fledged rock & roll album and included the hit single "Like A Rolling Stone", which clocked in at six minutes, the first single ever of such length to be put out by any artist. Around this time he also broke off with Baez and started dating a model named Sara Lowndes. They would marry by the year's end. Also in late '65 he would hire The Hawks as his touring band. They had played for Ronnie Hawkins, where they got the name, but would change names to "the Band" two years later.
In 1966 he released the double album Blonde on Blonde, with songs like "Rainy Day Women #12 & 35", "Stuck Inside of Mobile With the Memphis Blues Again" and "Just Like A Woman". The album sold over 10 million copies. But everything would come to a halt on July 29, 1966. Dylan was in a near-fatal motorcycle accident which broke his neck. He retreated to his home in Woodstock, NY to mend and spend time with his now growing family. A few months later, the Hawks joined him at a rented home in Woodstock called 'the Big Pink' and they began recording country-flavored tracks that were not meant to ever be released. The tapes made there would be bootlegged (and finally released eight years later) as The Basement Tapes.
Dylan return in December of 1967 with the country rock album John Wesley Harding, recorded in Nashville with a three-piece backing band, it would go to number 2 on the Billboard charts. The next album released in '68, Nashville Skyline was even more country, but some fans were growing tired with his new sound. Still it contained the hit single "Lay Lady Lay".
In 1970 the double LP Self Portrait was put out to hostile reviews. Rolling Stone magazine led the way, actually asking the question "What is this shit?" in their review of the album. But just four months later he released New Morning and the album was hailed as a comeback.
In '71 his book Tarantula was released and he made his first American concert appearance since his motorcycle accident five years earlier at the George Harrison organized Concert for Bangladesh. It would be his only live performance in the first half of the decade. In '72 he appeared in his first acting role Pat Garrett and Billy the Kid as Alias, Billy's sidekick. Dylan also composed the score for the movie and the soundtrack album was a success. The single "Knockin' on Heaven's Door" broke the Top 20. The movie came out in '73 and later that year Dylan was recording a new album and finally planning to tour again.
In January of '74 Planet Waves was released and would be his first number 1 album. He and the Band went on a sold out 40 show tour which in turn produced the two record live set, Before the Flood. Just before the tour Dylan and his wife Sara split. That breakup would toll heavy on his mind and his next album, Blood on the Tracks, released in '75 reflected what he was going through. This album also went to number 1 on the charts. Soon after Dylan was back on tour with the Rolling Thunder Revue, which featured old friends like Joan Baez, Arlo Guthrie, Mick Ronson, Jonie Mitchell, Roger McGuinn and poet Allen Ginsberg. The tour went on into 1976. During this time, Desire was released , it was his third straight number 1 hit album. Throughout the tour, Dylan showcased "Hurricane," a protest song from the new album that he had written about boxer Rubin Carter, who had been unjustly imprisoned for murder.
In 1978 he released a new studio album Street Legal and in 1979 the live album, At Budokan. Still in '79 he announced that he was a born-again Christain, and released a series of Christian albums, mostly to poor reviews. He returned to secular recording with 1983's Infidels, which was greeted with good reviews and once again made his fans happy.
Empire Burlesque, his self-produced follow-up to Infidels, was released in '85. In 1986, Dylan hit the road with Tom Petty & the Heartbreakers for a successful tour, but his album that year, Knocked Out Loaded, was received poorly. The following year, he toured with the Grateful Dead as his backing band. Then in 1988, Dylan embarked on what became known as "The Never-Ending Tour" a constant stream of shows that ran on and off into the late '90s
In 1988 he formed the group The Traveling Wilburys with former Beatle George Harrison, former Electric Light Orchestra leader Jeff Lynne, Tom Petty and Roy Orbison. The group represented three generations of rock stars and put out two great albums, Traveling Wilburys Vol. 1, and Traveling Wilburys Vol. 3, but they never toured.
Dylan would put out five more albums in the 90s: Under the Red Sky (1990) which was a album of covers, 1992's Good As I Been to You, World Gone Wrong in '93, MTV Unplugged in '95 and finally 1997's Time Out Of My Mind. In December '97, Dylan was honored in the U.S. for artistic excellence with the Kennedy Center Honors. Finally in 2001, he won the Academy Award for Best Song, "Things Have Changed". Even more of an honor is the fact that since 1963, hundreds of other performers have record many of his songs. No one else has written lyrics like Bob Dylan and I don't believe anyone else ever will. The man is a true living god.
- Keno, 2000
Return to Rock Bio Page.
- Rock Store -