Keno's Classic Rock n Roll Web Site


ROCK 'N ROLL BIOGRAPHY
ALICE COOPER
Formed:1964 (as the Earwigs), in Phoenix, Arizona
Years Active: 1964 through 1974; 2011
Group's Main Members: Alice Cooper, Michael Bruce, Glen Buxton, Dennis Dunaway, Neal Smith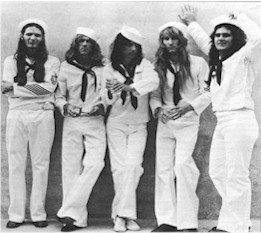 Once upon a time there was a very popular band called Alice Cooper. The band formed in 1964 in Phoenix, Arizona, when 16 year old high school buddies Vincent Furnier (vocals), Glen Buxton (lead guitar), and Dennis Dunaway (bass), joined up with fellow high school students John Speer (on drums), and John Tatum (on guitar), and formed a Beatles parody band, which they named "The Earwigs". The band was put together for one main reason: to score with the girls in their school.
Meanwhile a fellow student, Michael Bruce, was playing rhythm guitar in another band called "Our Gang". Bruce saw that his aggressive personality matched perfectly with The Earwigs, and in 1965 he joined up with them, replacing Tatum. Around this time, the band changed their name to "The Spiders".
The Spiders by this time changed into a Stones/Yardbirds like garage band, and recorded two singles--one of which, "Don't Blow Your Mind", was a hit in Phoenix. They also decided to changed their name once again, this time to "The Nazz" (inspired by the Jeff Beck/Yardbirds classic "The Nazz Are Blue"), and in late 1967, they moved to Los Angeles, California.
Around this time, because of creative differences, Speer was replaced on drums in the band by another Phoenix native, Neal Smith. By early '68 the band found out that Tod Rundgren had a band named The Nazz, so they came up with the name "Alice Cooper", at first if only for the shock value since they were an all male band. Shortly after, Furnier changed his name to "Alice Cooper", to add even a little more shock.
From the start Alice Cooper were no ordinarily band. Their live shows was unlike anyone else's and people who attended did not know what to make of the group. One night when they opened for the Doors, hundreds of fans left the hall because their music was so loud and the stage act so wild. But Frank Zappa, who was there that night loved what he saw and signed them to his Straight Records label. In early '69 their first album, Pretties For You was released. It wasn't well received and that summer the band visited Cooper's original home town of Detroit, Michigan. Before long the band moved there. It was the heyday of street-fighting, revolution rock in Detroit back then with the likes of the MC5 and Iggy Pop's Stooges. There the band found an audience that went crazy for them and treated them as stars. One night towards the end of a show, someone threw a live chicken on stage and Alice threw it back into the crowd. The fans were already in a frenzy by this time and the chicken was rip to shreds and thrown back on stage. Different stories spread across the country as to what happen that night but it was the first shocking, nationwide story about Alice Cooper and suddenly they were wanted everywhere.The thing was, they were also a great band. So, unlike the later to come punk bands of the 70s who did similar crazy things on stage but could not play their instruments well, the Alice Cooper band could, and stuck. Even though the band members were all heterosexual, they would come on stage in dresses and Alice would have on all kinds of makeup. They really were the very first Glitter rock act in addition to being one of the first Metal acts and the first shock rock and theatrical rock acts. In 1971 they had a new producer, Bob Ezrin and had their first big hit with the song "I'm Eighteen" that appeared on the album Love It to Death. That same year they released their fourth and strongest album Killer. Bruce's well written "Be My Lover" was a big hit and with Cooper's strong vocals the album went gold.
In '72 they released the LP School's Out, which sold ever better.The album's package was truly rememberable (like all their album designs). The album cover was made like the top of an old school desk and opened up like one. Inside the "desk" (for the first half million copies anyway) was the vinyl LP wrapped in paper panties which would later be banned as a fire hazard. With School's Out, Bruce and Buxton's guitar weaving was in full swing, and they were now an established hard rock guitar band with a great bassist and a heavy pounding drummer. Plus their live shows continued to grow more outrageous each year. By this time Bruce and Dunaway started to grow tired of the live theatrics and just wanted to play straight rock shows. But Cooper was the group's frontman and had no plans to change anything and a riff in the band was now slowing brewing. In 1973 their biggest album, Billion Dollar Babies was released and went to number one on both the American and British charts. By now heavy drinking was starting to take its toll on both Cooper and Buxton. Buxton in fact missed most of the sessions for Billion Dollar Babies, as Bruce took over most of the guitar parts for that album.
In early '74 their last album, Muscle Of Love, was released. In December of that year Alice announced that he would put out a solo LP and shortly after that the band folded. Although the entire band owned the name "Alice Cooper" they allowed Alice to use it for his solo act. In 1976 Bruce, Dunaway and Smith formed a group called "Billion Dollar Babies" but their album failed and they soon disbanded. In October of '97, Bruce, Buxton and Smith reunited for a couple of shows in Texas, which got rave reviews. Sadly just two weeks later Buxton suddenly died, his years of heavy drinking finally catching up with him. Alice meanwhile at first had a very successful solo career, then went bust. He made a comeback in the late 80s and although he may not sell as many albums today, he still sounds great.
- Keno, 1999
Addendum: The band Alice Cooper was finally inducted into the Rock 'n' Roll Hall of Fame on March 14, 2011.
Back to Rock Bio Page
- Rock Store -