Keno's Classic Rock n Roll Web Site


ALBUM REVIEW
THE BEATLES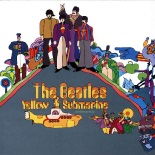 Yellow Submarine
Released – January 13, 1969, on Capitol Records. Produced by George Martin

John Lennon - Lead & Backing Vocals, Rhythm and Lead Guitars, Percussion
Paul McCartney - Bass and Acoustic Guitars, Upright Bass, Trumpet, Percussion, Backing Vocals, Lead Vocal on Track 3
George Harrison - Lead and Backing Vocals, Lead and Acoustic Guitars, Organ, Percussion, Violin
Ringo Starr - Drums, Percussion, Backing Vocals, Lead Vocal on Track 1
Additional Personal: George Martin – Piano on Track 6 (side 1), orchestral arrangement on side 2
All songs on side 1 written by Lennon/McCartney, except tracks 2 and 5 written by George Harrison.
Side one: Songs from the film
| | | |
| --- | --- | --- |
| # | SONG | RATING |
| | | |
| 1 | Yellow Submarine | 10.0 |
| 2 | Only a Northern Song | 5.7 |
| 3 | All Together Now | 10.0 |
| 4 | Hey Bulldog | 8.9 |
| 5 | It's All Too Much | 7.0 |
| 6 | All You Need Is Love | 10.0 |
| Ave | | 8.6 |
All tracks on side 2 written by George Martin, except track 7, by Lennon/McCartney, arr. Martin
Side two: Orchestral film score
#
SONG
RATING
1
Pepperland
No Rating
2
Sea of Time
No Rating
3
Sea of Holes
No Rating
4
Sea of Monsters
No Rating
5
March of the Meanies
No Rating
6
Pepperland Laid Waste
No Rating
7
Yellow Submarine in Pepperland
No Rating
REVIEW
Yellow Submarine was the tenth studio album released by the Beatles, and it was the soundtrack to the animated film of the same name. There are 13 songs total on this LP, but only 6 (all of side one) are rock songs and performed by the Beatles. Side two were orchestral scores from the film and are not rated above since they aren't rock songs and for this review, I'm only rating the rock songs.
This albums isn't anywhere as bad as some Beatles fans make it out to be, in fact, I find it to be a good album. Three songs rate a ten, although two of them "Yellow Submarine" and "All You Need Is Love", were previously released. That makes the only Paul McCartney written and sung song on the album it's only true 10. John Lennon's "Hey Bulldog" is an excellent tune and is a near ten.
George Harrison wrote and sang lead on two of the 6 songs on side 1, "It's All Too Much", which was written about the Sumner of Love, which took place in 1967, and contains some wonderful music on it, while "Only a Northern Song" is subpar and sang as if George might fall asleep before he finishes up singing the song, really the only poor track on the entire album.
Side 2 is non Rock music, and if you aren't into orchestral music, you won't care for it at all. Perhaps this is why so many Beatle fans dish this LP? Truth is, I was a young teen when this came out and hated it myself at the time. But once I grew up, I discovered that I liked orchestral music very much and today enjoy listening to side 2. "Pepperland" is by far the best of these songs, while "Yellow Submarine in Pepperland" is also very good, too. The other 5 tracks on side 2 are played a bit too slow for my tastes, but they would still get a passing grade by me anyway.
So if you haven't played this one in a long time, I say give it another spin, it just might be better than you remember it being!
- Keno, February, 2018
To listen to some soundclips from Yellow Submarine or to purchase it, click on: Yellow Submarine
Return to Rock Album Reviews