Keno's CLASSIC ROCK n ROLL Web Site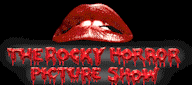 A look at the Movie & Soundtrack Review
The Rocky Horror Picture Show, a musical unlike any other, was released on the big screen on September 25, 1975, but didn't really catch on at first, not until it was decided to show the movie at midnight only. It became the first nationwide midnight move success story, and one of the all time favorite cult moves ever made, along with audience participation that alone is worth writing about. It is also the longest-running theatrical release in film history, and still in limited release as of this writing. This page is mainly set up to review the CD soundtrack from the movie - but first, you got to at least know a bit about what Rocky Horror was about, so please read on.....
- The Movie -
Original Musical Play - Richard O'Brian
Screenplay - Richard O'Brian & Jim Sharman
Executive Producer - Lou Adler
Director - Jim Sharman
- Cast -
Tim Curry as Dr Frank-N-Furter
Susan Sarandon as Janet Weiss
Barry Bostwick as Brad Majors
Richard O'Brian as Riff Raff
Patricia Quinn as Magenta
Little Neil as Columbia
Jonathan Adams as Dr Everett Scott
Peter Hinwood as Rocky Horror
Meatloaf as Eddie
Charles Gray as The Criminologist
The Transylvanians
Movie Summery
The Rocky Horror Picture Show, written by Richard O'Brian, was first performed on stage, then it went on to be made into a movie. The play and movie's story is based loosely on the old Frankenstein tale; in this case, a bisexual - transvestite - alien mad scientist, from the planet Transsexual, named Dr Frank N Furter (who's looks were in turn based after the then cross-dressing rocker, Alice Cooper), decides to build a man for his sexual pleasures. In the mix falls two square kids, Brad and Janet, who end up at Frank's mansion the night Frank is about to bring life to his creation. Frank likes to sleep around with everybody, and even though this is such an important night for him, he still must find the time to do Brad and Janet before the night is over. Several different kinds of sexual perversions are covered in this story, although in the simplest and cleanest way.
Audience Participation
Twentieth Century Fox, the movie's distributor, decided to show the movie at midnight, after its initial poor opening, and on April 1, 1976 at the Waverly Theater in New York City it had its midnight debut. The rest is movie history. To say it caught on would be an understatement, before long the movie was a midnight success all over the country and would play at midnight for many years to come (in fact to this day it is still playing on weekend nights at many theaters in the US and Canada). But there was more than just the fact that people would flock to see the movie - people in the audience would actually become a part of the movie, something never matched by any other movie, and it should also be noted that those who would view the flick for the first time, were called "virgins".

Audience participation first started to take place at the Waverly, and soon spread all over the country. Fans would dress up as different characters in the movie, and would shout out different lines at key moments of different scenes - example, when Janet places a newspaper over her head while walking in the rain, fans would shout out "Buy an umbrella, you cheap bitch!" (not to mention everybody in the movie house would also place a newspaper on top of their heads at this point, too). Movie fans would bring their own prompts to the movie houses, including rice - which was thrown during the wedding scene, candles, which were lit for the song "There's A Light" (later flashlights, when local fire departments banned candles in the theaters because of fire concerns), and when Frank is singing "cards for sorrow, cards for pain" in the song "I'm Going Home", playing cards would fill the air. That was just a bit, but not all of what the audience would do. It was something to witness and to be a part of. If you never saw the RHPS in the theater, and only saw the movie years later in your home, then you were missing something - and are still a virgin!
- The Rocky Horror Picture Show - CD -

Principal Musicians:
Count Ian Blair - Acoustic & Electric Guitars
Mick Grabham - Acoustic & Electric Guitars
Davis Wintour - Bass
B.J. Wilson - Drums
Rabbit - Keyboards
Richard Hartley - Keybords
Phil Kenzie - Saxphone
Vocals:
Tim Curry, Susan Sarandon, Barry Bostwick, Richard O'Brian, Patricia Quinn, Little Neil, Jonathan Adams, Meatloaf, Charles Gray, and The Transylvanians
All Music and Lyrics written by Richard O'Brian
| | | |
| --- | --- | --- |
| SONG | LEAD VOCALS | CD RATING |
| | | |
| Science Fiction/Double Feature | Richard O'Brian | 8.5 |
| Dammit Janet | Barry Bostwick | 8.6 |
| Over at the Frankenstein Place | Sarandon, Bostwick & O'Brian | 10.0 |
| Time Warp | Richard O'Brian/The Transylvanians | 10.0 |
| Sweet Transvestite | Tim Curry | 10.0 |
| I Can Make You a Man | Tim Curry | 7.1 |
| Hot Patootie - Bless My Soul | Meatloaf | 8.5 |
| I Can Make You a Man (Reprise) | Tim Curry | 7.5 |
| Touch-A, Touch-A, Touch Me | Susan Sarandon & the others | 9.0 |
| Eddie | Jonathan Adams & the others | 10.0 |
| Rose Tint My World: Floor Show/Fanfare/Don't Dream It/Wild and Untamed | RTMW - Vocal samples from the cast; DDI/W&U - Tim Curry | 10.0 |
| I'm Going Home | Tim Curry | 9.0 |
| Super Heroes | Bostwick, Sarandon & Gray | 6.1 |
| Science Fiction/Double Feature (Reprise) | Richard O'Brian | 7.5 |
| | | |
| Ave. | | 8.7 |

CD REVIEW
First off, not only do I not review movies at this site, but all the album reviews here must deal with Classic Rock Music. So is this album classic rock? Well yes, some of the music is, not all, but who really cares, as there is enough rock on this album to rock ya plenty!
I've seen the Rocky Horror Picture Show about 25 or so times in movie houses, including the old Waverly Theater in New York City, where all the madness connected to this flick started. I've also seen it countless times at home, and the bottom line is that the music from this musical and the CD soundtrack, is great stuff (BTW, I don't normally like musicals)!
The CD opens with the song "Science Fiction/Double Feature", sang by Richard O'Brian, the man who not only plays Riff Raff in the move, but who also wrote RHPS. O'Brian sings this one with his far-out horror movie like voice. The song explains in a nutshell what the movie is about, and it fits the mood nicely for everything else you will get to hear as the soundtrack plays on. "Dammit Janet" is next - and this ain't no rock and roll music that your hearing. This corny love song, sung mainly by Barry Bostwick - with a little help for Susan Sarandon and friends, sounds just like the kind of song your used to hearing in the old time musicals - yet I dig it a lot! Next up on the album is "Over at the Frankenstein Place", again, it might not be a rock song, but it is the first song that rates a ten, with Sarandon, Bostwick, O'Brian and others singing the lead at different times.
Now we start to get into the real rock 'n roll music, with "Time Warp", a frenzied song about a crazy dance that is full of life. That's followed by my personal favorite song, both in the movie and on the CD, "Sweet Transvestite" (Dr. Frank makes perhaps the greatest entrance ever made in any move, with this song). This hard rock number is sung by Tim Curry with all kinds of feeling and gusto - "I'm not much of a man by the light of day, but by night I'm one hell of a lover!".
It should be noted that not all of the songs from the movie are on the soundtrack CD, with that in mind, the next song heard on the CD is again Curry with the lead, singing "I Can Make You A Man" (aka "Charles Atlas Song"). No question, Curry has the best voice and was the best singer in the movie and on the CD, and he delivers this number with strong vocals.
Then it's time for Meatloaf (as Eddie, the biker freak and one of Frank's former lovers) who sings "Hot Patootie - Bless My Soul"(aka "Whatever Happened to Saturday Night"), this one has a strong 1950s rock feel to it and comes with a great sax - which Meatloaf gets down and plays in the movie - but it's actually played by saxophonist Phil Kenzie. Directly after Meatloaf sings this - and without giving away anything in the movie - just in case you haven't seen it yet, "I Can Make You A Man (Reprise)" is sang.
Next we get to hear a dirty, sexy song, "Touch-A, Touch-A, Touch Me", sang by Sarandon in such a clean yet stimulating way. I just love her vocal delivery on this one! Then Jonathan Adams sings the main lead on "Eddie" (aka "Eddie's Teddy") with a heavy German accent - which in turn just makes this tune great. Like so many of the songs, on this one several others take turns singing the lead, including a sample from Meatloaf.
The movie's floor show is next with "Rose Tint My World" which is broken up to different parts including "Don't Dream It" and "Wild and Untamed". For "Rose Tint My World", all the cast members get a shot at singing the lead (other than actor Peter Hinwood, aka Rocky, who didn't say a word in the movie and his singing parts were sung by somebody else - who is uncredited). Again the sax is wailing away on this one and it's just full of life. Curry sings the lead for the other two songs, "Don't Dream It" a very mellow song with wild lyrics ."What ever happened to Fray Wary, that delicate satin-draped frame, as it clung to her thigh, how I started to cry - 'cause I wanted to be dressed just the same....". Then after that and out of nowhere ""Wild and Untamed" takes over, and yes, it's a bit on the wild side compared to the last song that you just heard.
The ballad "I'm Going Home" then plays, and once again Curry's vocals are top notched. After this is the only song on the album that leaves little to be desired, "Super Heroes" , and then the final number, "Science Fiction/Double Feature (Reprise)", perhaps not as strong as when we hear it opening the CD (and movie), but still a cool song to rap things up.
In all, this soundtrack, like the move, is a trip. If you seen the picture, then you cannot help but vision all of the action taking place as each song plays. A treat to listen to, indeed!
- - Keno 2005.
To listen to some soundclips from The Rocky Horror Picture Show, or to purchase it, click on: The Rocky Horror Picture Show Soundtrack
To purchase The Rocky Horror Picture Show - DVD, click on: Rocky Horror Picture Show, The 40th Anniversary Blu-ray or Rocky Horror Picture Show - DVD
Return to Rock Album's Reviews